Date: Saturday 1st March 2008, 3.00pm

Venue:

St. James' Park



Conditions: Bright/gloomy

Newcastle

Blackburn Rovers




0 - 1

Teams
Half time: Newcastle 0 Rovers 0
90 mins N'Zogbia failed to win a free kick down by the corner flag and we were left flat-footed as Rovers counter-attacked with the one thing we lack - pace.

Warnock found Bentley, who raced away down the left flank and angled the ball infield for Matt Derbyshire. The substitute strode to the edge of our box before calmly beating Harper to claim all three points and leave SJP shell-shocked.

His goal celebration was apparently due to his having become a father this week. but while he was having kids, we were having kittens.......0-1
Full time: Newcastle 0 Rovers 1
Michael Owen commented:

"It was a cruel end. We had plenty of chances, myself being the main culprit.
"I probably had more chances in that game then I have in the last 10, so it is frustrating not to get one and frustrating not to get at least a draw. We deserved to win.
"But there are positives even though we are nearer the relegation zone now and we have lost another game.
"Everyone was far happier after this game than they have been after the last couple of games.
"After Manchester United and Aston Villa, there really was little to take out of the game, but on Saturday, we played really well and I blame myself for not converting any."

Kevin Keegan echoed those sentiments:

"We're not safe, by no means. Football can be cruel.

"This is a real body blow for us. It was something I think - no, I know - the players didn't deserve.

"We played some really good stuff today. We should have been two goals to the good at half-time and created five good chances in the second half.
"But thanks to not finishing things off and some excellent goalkeeping from Brad Friedel, it hasn't happened for us.
"Michael Owen went into the dressing room afterwards, put his hand up and said: 'Sorry guys.'
"On another day, he would have had a hat-trick. He's a top-class player and a top-class finisher, but he held his hands up.
"But what I am telling my players is that if you play like that from now until the end of the season, we won't have any problems.
"At least today we have created chances for Michael Owen, and you know that on another day, they will end up in goals.
"It was a really good performance but, at the end of the day, we've got beat and have to pick the players up again.
"I wouldn't say it was defensive naivety that cost us at the end. It was our genuine will to win a game that caught us out."
Mark Hughes said:
"It was a hard result on Newcastle but our concern is more about what we're doing and our ambition is to get into Europe.
"Obviously I have some sympathy for Kevin to lose one so late in the game as they are struggling for results, but it should not take away from the result we have been able to get today.

"It is a really important win for us. We viewed this as a very winnable game and we have been able to do that, so we are back on track.

"We always thought we could catch them on the break as we have the players in the team to do that.

"In fairness in the second half our passing was not as good as I would have liked. We created a number of chances but in good situations we picked the wrong option.

"It was a great finish from Matt Derbyshire. He has had a great couple of days he has just become a father with twins waiting for him back home, so it is fantastic for him and his family for him to score the way he did.

"It was a great ball as he did not have to break stride and it was a very cool finish.

"I think we lost once in ten games and that is not a bad run. We are back in the mix and we have a game against Fulham at home next and I would like to think we can get maximum points from that one

"Today was a good start for us. We have got ten games left and hopefully we can get as many maximums as possible."

Rovers reinforced their liking for the North East - winning on each of their last eight trips to teams on the Tyne, Tees and wear:

2007/08:
smogs: won 2-1
mackems: won 2-1
Newcastle: won 1-0

2006/07:
smogs: won 1-0
mackems: didn't play
Newcastle: won 2-0

2005/06:
smogs: won 2-0
smogs: won 1-0 (League Cup)
mackems: didn't play
Newcastle: won 1-0
Rovers in Toon - Premiership years

2007/08 Lost 0-1
2006/07 Lost 0-2
2005/06 Lost 0-1
2004/05 Won 3-0 og(Flitcroft), Shearer, O'Brien
2003/04 Lost 0-1
2002/03 Won 5-1 Solano, Robert, og(Grenko), Jenas, Bellamy
2001/02 Won 2-1 Bernard, Speed
1998/99 Drew 0-0 (FA Cup)
1998/99 Drew 1-1 Shearer (lost 4-2 on pens) (LC)
1998/99 Drew 1-1 Hamann
1997/98 Drew 1-1 Gillespie
1996/97 Won 2-1 Shearer, Ferdinand
1995/96 Won 1-0 Lee
1994/95 Drew 1-1 Lee (FAC)
1994/95 Drew 1-1 og(Flowers)
1993/94 Drew 1-1 Cole
Waffle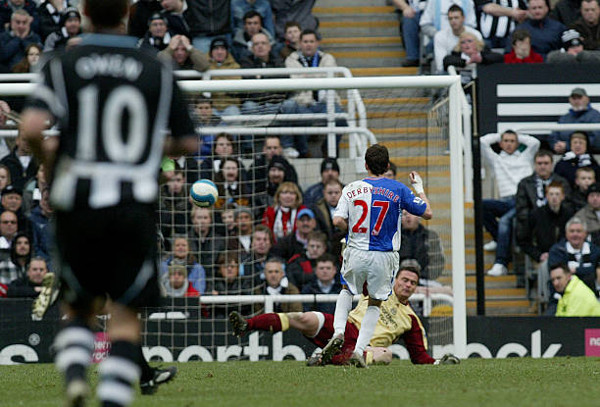 A new month failed to bring any relief, as the visitors recorded a third consecutive win at SJP and extended our miserable winless run to eleven league games.

This was a game that we should have won comfortably with Michael Owen squandering a number of scoring opportunities that he would usually convert with ease.

There was no lack of effort from the home side but the contest seemed destined to end badly when United failed to find the net before and after the break despite prolonged periods of territorial superiority.

Not for the first time Brad Friedel proved to be a formidable obstacle between the posts, his presence denying former team mate Owen a hat trick and yet again reminding Toon fans of what they missed (Friedel spent almost a year at SJP under Keegan but couldn't get a work permit).

The absence of Emre and withdrawal of Butt had seen KK forced to leave Barton on the field to try and keep a grip on the middle of the park, but another woeful display saw him openly abused by frustrated home fans.

It's a measure of our current plight that we are continuing to play Barton who is clearly not fit for purpose, although his passes did set up two of Owen's best chances.

A first sighting of Obafemi Martins in eleven games came with a quarter of the match left, his appearance from the bench turning the first vocal signs of dissent into roars of encouragement.

With Newcastle pressing at the Gallowgate End for a breakthrough that just wouldn't come, Harper had made one good stop from Santa Cruz to keep Rovers out.

But that warning wasn't heeded and with precisely 46 seconds of normal time remaining, we conceded a goal that was a cruel blow for both team and fans.

A trip to Keegan's former haunt, Anfield provides the next test, but there were some positives to be taken from this game in terms of commitment and industry.

This remains a results business though and good fortune continues to be in short supply.

It's hard to see where the next point is coming from, with this game being bracketed with the recent visit of Boro as winnable - but only one point from a possible six being taken.

Although results aren't acceptable, we are improving as a football team, with Enrique's recall today giving the Spanish youngster the opportunity to show his worth.

And although he remains shorn of pace and inconsistent with his crossing, this was one of Duff's better games in a black and white shirt as he inches back to fitness.

His toe poke past the post in the opening stages and Smith's header were both missed opportunities - but we simply weren't getting into those positions a month ago.

Crumbs of comfort then, but with Wigan and the mackems both gaining a point on us and weekend wins for both Birmingham and Reading, it's getting tight down there - pressure that was alleviated ever-so-slightly by Bolton's 3-1 home defeat by Liverpool on Sunday.

That meant that we retain 13th spot ahead of next weekend, when Fulham travel to Blackburn, Arsenal go to Wigan, Everton are on wearside and Man City visit Reading.

Were those games to go to form, our first point in three attempts at Anfield would bring tangible relief, but our away failings in recent seasons are the stuff of legend, with less than a quarter of points available being collected (23 points from a possible 96 last season and this one so far).
More and more this season looks as if it will revolve around a trio of home games - Fulham, Reading and the mackems.
Although we played better today, our lack of a killer instinct at one end of the pitch was always going to leave us vulnerable to being punished by one error.

And so it proved, this most dramatic of sucker punches as gut-wrenching as Graham Fenton's antics in a Rovers shirt - like watching a car crash in slow motion.

Keegan was able to pick up his shattered side after that April evening in Lancashire some twelve years ago - although three wins and two draws in our last five games helped the title end up at Old Trafford.

His motivational powers and ability to instill belief and unity into the team face ever sterner tests over the coming weeks, in the face of scarcely-concealed glee across the nation at our demise.

It's getting harder to remain positive, but this now becomes a test of nerve for all concerned.

Ten games with no reward other than the grim satisfaction of avoiding a disaster - and there shouldn't be an unsold seat for any of them. Your club needs you.

Biffa