Date: Saturday 8th March 2008, 3.00pm

Venue:

Anfield



Conditions: Sunshine and showers

Admission: £36

Programme: £3




Liverpool

Newcastle United

3 - 0

Teams
43 mins Facing the byline in his own box, Jose Enrique's sought to clear into touch rather than concede a corner, only to hit the ball off Jermaine Pennant and see it loop over a helpless Harper and into the unguarded net. 0-1
45 mins Steven Gerrard ripped through our static rearguard and Fernando Torres supplied an excellent finish on the stroke of half-time, with the crocked Milner giving way to Geremi before
the game restarted. 0-2
Half time: Liverpool 2 Newcastle 0

51 mins The home side strode down the centre of the field and Torres returned the compliment for Steven Gerrard to clip in a third and the 67th goal Liverpool have scored at Anfield this season in the 24 games played in all competitions. 0-3
Full time: Liverpool 3 Newcastle 0
Kevin Keegan commented:
"We are in a relegation battle, no question. Unless you win games that is the situation you are in.
"We have drawn two and lost six since I have been back and that is relegation form in any league in the world, not just the Premier League.
"It is not a surprise we have been sucked into the battle at the bottom. Now we must find something from within ourselves to get back out of it again.
"We must make sure this club not only survives but builds and goes forward. So that one day we can go to Anfield and genuinely feel we have a chance of beating a big-four club. That is what we are all after.
"We have to go to Birmingham next, and we also have Reading and Fulham soon. We still must get to 40 points, and we need four more wins to do that.
"We have the ability to pick ourselves up. We have had a few hammer blows in recent weeks but I am confident that with the players we have we can stay in this division.
"We do need luck. We will get a freak goal somewhere, we will hit the bar from 30 yards and it will go in rather than bounce out.
"Luck isn't going our way. And we needed every bit of luck against Liverpool because they are hitting good form now, and playing with the confidence that comes from winning and scoring goals.
"For 42 minutes we stuck to our game plan and Liverpool had very few opportunities. Then they got a freak goal and one straight afterwards, that changed everything.
"To find ourselves 2-0 down at the break after doing so well for a long time was a real kick in the teeth, especially at a place like Anfield.
"I told the players that they were not quite good enough. There were some good things, and some players gave their all.
"But we did not pass the ball well enough, and when we had the ball the question is, what can we do to hurt them. The answer was not enough in my opinion.
"With the players we have we should pass the ball better, we should keep possession better.
"That is what we must work on and work on pretty quickly. It's OK in training, but the transition is to take that onto the pitch.
"We had it last week against Blackburn and played really well. But we never got close to that against Liverpool. But playing Liverpool at Anfield is different to facing Blackburn at St. James' Park.

"There are no clauses that I can go if either side is unhappy.
"There are no problems there. I am happy with the relationships I have forged with the key people at the club, definitely.
"You won't get too many gaps between us.
"At this stage I wouldn't talk about things not going our way. I think it's crazy to do that.
"There are eight Premier League games left. We have 24 points left to fight for."
"I don't know where the quote came from that my one regret was that I am stuck with this squad. I didn't say that.
"I said my one regret is that I have not been able to add to this squad. That is a big difference."
Rafa Benitez said:

"You must be happy. We needed to win and we scored three goals and kept another clean sheet. We were also able to rest some players as well so it was perfect.

"Both Torres and Gerrard are playing well and that is important for us. If they have the space, with the quality and pace they have, they can kill defenders.

"Torres' goal was really good, Gerrard and Torres have a really good understanding and the goal came at a crucial time because it almost killed the game off. That helped us play with more confidence in the second half.

"The first goal was lucky, but the team was controlling the game. We were passing the ball well, but they were defending well and it was difficult to create clear chances. Sometimes you need the first goal and then after that it's easier."

It's now twelve Premier League games without a victory since December 15th 2007, when we beat Fulham 1-0 at Craven Cottage thanks to a last-minute Joey Barton penalty.

Our previous worst run in the Premier League came last season, when we endured a nine game winless streak between late September and late November 2006.

And the nightmare that was season 1977/78 saw us fail to win any of our final nineteen games, after a 2-0 win at Leeds on the second day of 1978.

Newcastle were unable to include Joey Barton in their squad for this game due to the terms of his bail release, which prevent him from setting foot in Liverpool.

Magpies @ Anfield: Premiership Years:

2007/08: Lost 0-3
2006/07: Lost 0-2
2005/06: Lost 0-2
2004/05: Lost 1-3 Kluivert
2003/04: Drew 1-1 Ameobi
2003/04: Lost 1-2 Robert (FAC)
2002/03: Drew 2-2 Speed, Shearer
2001/02: Lost 0-3
2000/01: Lost 0-3
1999/00: Lost 1-2 Shearer
1998/99: Lost 2-4 Solano, Andersson
1997/98: Lost 0-1
1996/97: Lost 3-4 Gillespie, Asprilla, Barton
1995/96: Lost 3-4 Ferdinand, Ginola, Asprilla
1995/96: Won 1-0 Watson (LC)
1994/95: Lost 0-2
1993/94: Won 2-0 Lee, Cole

With five games remaining to be played on the road this season, our Premier League away record of just two wins and two draws in fourteen attempts compares badly to the eventual tally recorded the previous seasons we've played in this competition:

93/94: 31 points from 21 matches (9 wins, 4 draws, 8 defeats, 31 goals scored)
94/95: 24 points from 21 matches (6 wins, 6 draws, 9 defeats, 21 goals scored)
95/96: 26 points from 19 matches (7 wins, 5 draws, 7 defeats, 28 goals scored)
96/97: 26 points from 19 matches (6 wins, 8 draws, 5 defeats, 19 goals scored)
97/98: 15 points from 19 matches (3 wins, 6 draws, 10 defeats, 13 goals scored)
98/99: 19 points from 19 matches (4 wins, 7 draws, 8 defeats, 22 goals scored)
99/00: 17 points from 19 matches (4 wins, 5 draws, 10 defeats, 21 goals scored)
00/01: 17 points from 19 matches (4 wins, 5 draws, 10 defeats, 18 goals scored)
01/02: 32 points from 19 matches (9 wins, 5 draws, 5 defeats, 34 goals scored)
02/03: 22 points from 19 matches (6 wins, 4 draws, 9 defeats, 27 goals scored)
03/04: 18 points from 19 matches (2 wins, 12 draws, 5 defeats, 19 goals scored)
04/05: 16 points from 19 matches (3 wins, 7 draws, 9 defeats, 22 goals scored)
05/06: 20 points from 19 matches (6 wins, 2 draws, 11 defeats, 19 goals scored)
06/07: 15 points from 19 matches (4 wins, 3 draws, 12 defeats, 15 goals scored)
07/08: 8 points from 14 matches (2 wins, 2 draws, 10 defeats, 12 goals scored)

PS: Our other four top-flight demotions came under the old two points for a win rule, but amending the stats to the current three point return gives the following totals:

33/34: 15 points from 21 matches (4 wins, 3 draws, 14 defeats, 26 goals scored)
33/34: 15 points from 21 matches (4 wins, 3 draws, 14 defeats, 35 goals scored)
77/78: 10 points from 21 matches (2 wins, 4 draws, 15 defeats, 16 goals scored)
88/89: 16 points from 19 matches (4 wins, 4 draws, 11 defeats, 13 goals scored)

Waffle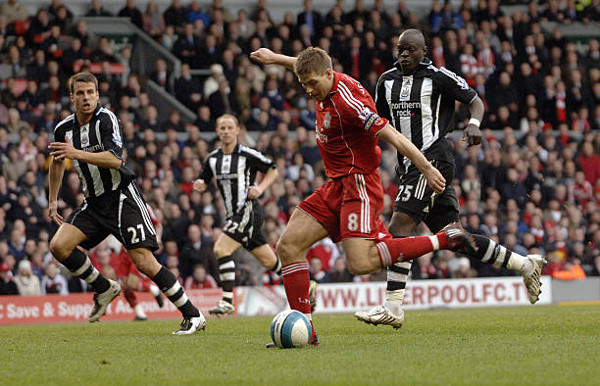 Our headline for this one was simple: "Not at the races."

And when the two squads doubtless rub shoulders again later this week at Cheltenham, that old adage about thoroughbreds and selling platers will never have been more fitting.

Quite frankly though, the knackers yard or glue factory would provide more fitting surroundings for our donkeys than the winner's enclosure.

Back in the halycon days of November we faced Rafa's Reds in the heady heights of 10th, falling three behind just after the hour mark, although the gap in class had been evident throughout.

And this was more of the same, except that the home side managed to reach that three goal tally quarter of an hour earlier and rouse a dozing Anfield in the process.

It was little more than we'd expected, but after 43 minutes of an unspectacular holding operation that had home fans a little restless, the bottom fell out of our world. Again.

Yet another startling collapse followed after a opening goal that is destined to feature on those footy f*** up DVDs.

Harper had fallen over and been beaten from the halfway line here last season - this time round his cries of "put it out" were ignored by the hapless Spaniard and the 'keeper was helpless as the ball looped over him.

And with our players seemingly trying to make sense of the farce that had just unfolded in front of them, the deadly duo of Gerrard and Torres struck again.

TV pictures showed an ashen-faced Kevin Keegan on the Newcastle bench in vaguely similar pose to that caught by cameras in the first of the infamous 4-3 games here

When Harper was picking the ball out of the net for a third time shortly after the restart, a rout looked on the cards.

But no more goals followed and substitute Obafemi Martins came as close as anyone with a 40 yard snap shot reminiscent of Supermac's cracker at Bolton in 1976 - except his found the back of the Burnden Park net while Oba's cannoned off the Anfield Road crossbar with Reina stranded.

It would be nice to write that we'd belatedly solidified and kept Liverpool at bay, but in reality the withdrawal of Gerrard and Torres and the clumsiness of their replacements Kuyt and Crouch had more to do with it staying at 3-0.

Perhaps a return to the formation that saw Faye stationed in front of the back four may have made us slightly less vulnerable to raids down the centre of the park - but that wouldn't have addressed the issue of Pennant finding wide open spaces down the right flank in the first half.

Enrique was having an uncomfortable afternoon before the opener, with Benayoun barely seeing the ball on the left flank and the Spaniard receiving minimal cover from N'Zogbia in front of him.

At the other end our challenge extended to forcing a handful of corners, but the ploy of dropping Smith into midfield and pushing Duff through the middle did little to make Michael Owen's second Anfield return as a Magpie any more productive than the first.

Time was duly played out and we trudged off to applause from the away fans, who in 2008 have paid a total of £145 to see their team concede an average of four goals on their four trips, scoring precisely once. And they wonder why we drink.

But really, did anyone honestly expect anything different - be they fans of either side, players or press box occupants? We've lost here with more talented, committed and in-form Newcastle sides, who showed a damn sight more commitment than was evident here.

Excepting what look like nailed on defeats at Spurs and Pompey, we now face what can be dubbed the four Premier League Fixtures of the Apocalypse: Birmingham, Fulham, the mackems & Reading.

We can try and keep ourselves warm by looking at the run-ins of other strugglers (Bolton and the mackems especially) but a good proportion of those twelve available points need to be won by our own sweat.

Question is though, do we have enough scrappers and people prepared to close down and harry opponents in the way that Wigan did on Sunday to stifle Arsenal?

While we'll take it gratefully though, to remain in the top flight due to the inadequacies of others would have something of a hollow ring to it - in our blacker moments there's a small, irresponsible part of us that would almost tolerate demotion if it saw the mercenaries disappearing away down Barrack Road, having failed to win the games that would settle our own destiny.

This really is the time for some responsibility across the piece; for players not to indulge the media by giving them yet more "time for action" quotes and more pertinently to quash any talk of new contracts.....Steven.

For supporters, just provide support and encouragement - and bums on (or near) seats.

Oh aye - and stop writing shite on message boards and spouting on phone ins about matches you haven't been to. None of our games after City are televised, none of our games are sold out...

Even if it is just a veneer of unity, we need to display a united front for the next two months.

The recriminations can begin on May 12th but until then it's a case of battening down the hatches and hoping that the next visit to Merseyside that closes our season will be a dead rubber.

We've watched on as we went down before, but the only time it came down to the last game was at Filbert Street in May 1992. Memories of the intolerable pressure of that day and the events on and off the field still provoke an involuntary shudder...

KK saw us through that day, but his current squad are showing little of the fight required. So far.


Biffa