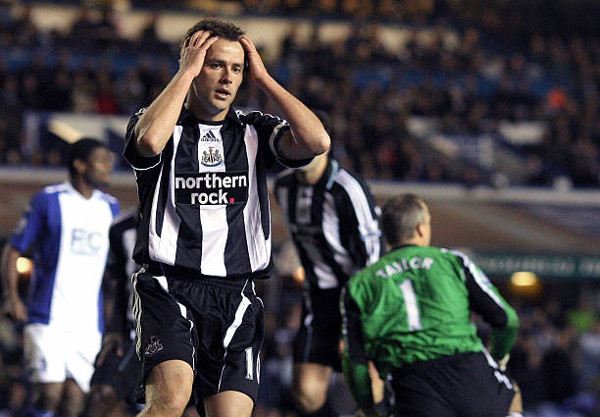 So when was the last time we came to this horrible place as underdogs, expecting to get beaten?

Even when we were thumped 3-0 here in our relegation season in 1977/78, Birmingham were down there with us and in a poor run of form, having lost their first four games of the season.
It's certainly been a while.
But we went into this one as second favourites with an appalling run which started under Allardyce but has continued with added interest under Keegan, so any sort of result was going to be welcome here.
Keegan's line-up was a bold one in that it included Owen, Martins and Viduka. Putting the lesser-spotted Australian in was something of a gamble given his length of absence. But at least it proved that Smith was droppable....
To see Geremi in midfield was disheartening and, for me, Barton's head is still all over the place so I didn't like the look of our middle three, although I had confidence in Butt, despite his inability to pass/shoot further than ten yards.
After the game Keegan sung the praises of Viduka, Geremi and Barton so perhaps that just shows what I know about football. Or did it...? I suspect that Keegan, with limited options, used his post-match utterances to try and gee those three up because to my mind they were awful.
Geremi's distribution and set-pieces were as bad as I've seen, Barton was slow, distracted and wayward, while Viduka was the proverbial lump of lard, reluctant to move more than a couple of yards and his holding of the ball wasn't great. There's lacking match fitness and then there's just bone idle swaggering....
But even those three were outdone by arguably our best Allardyce signing, Faye. His marking of McFadden was just plain embarrassing. Given better service, the Scot should have been clutching the match ball after this one.
There was no better example than the Birmingham goal, footage of which should be X-rated from a defensive perspective. McFadden turned Faye with ease and poked the ball past the advancing Harper who vainly appealed for a handball... or a new centre back....
At that point we looked dreadful. Jose Enrique's inaccurate long punts forward seemed to be our only attacking option, although it nearly paid off once when the ball ended up with Owen who fired narrowly over the bar.
If Big Sam was still in charge then howls of derision would have greeted the half-time whistle from the away end but Keegan's honeymoon period is being extended way beyond all reason.
That's not a bad thing, though, as hysteria wasn't going to help us much in the second half.
Whatever Keegan had said to his troops during the break up the road at Villa, he must have said the opposite here as we skipped out after the interval and looked surprisingly spirited.
Owen had a fantastic opportunity to equalise just yards from goal but his flick was palmed wide by Taylor. It was easy to think we had lost our chance and that the world was against us but minutes later Martins leapt to win a header, took a pass from Owen and drilled a low shot that was only parried.
Owen was fourth favourite to reach the rebound but he sprinted through the field and won the race by a toe to prod the ball into the empty net. He ran to the away end to rejoice just a few yards in front of us but such were the celebrations I didn't even see him.
Martins had come to life at this point and his flicks and sprints were hurting a clearly petrified home defence. The danger was we would push forward and get caught on the break again but Birmingham had completely lost their way at this point.
Viduka charged through the middle with Owen and Oba either side of him. Time stood still as the easiest of touches would put either of them through. Unfortunately Viduka also stood still and crashed to the floor sending the ball way too far ahead of his colleagues.
It was to be our clearest chance of winning the game, although Martins forced a good low stop from Taylor moments later. And then Keegan took off our number nine just as it he looked to be coming to the boil. A substitution that would surely have had the cameras picking up "you don't know what you're doing" being snarled at the dug-out. Not so, although it was certainly booed by a number of the away end.
Gung-ho KK had shocked everyone by going 4-4-2, although N'Zogbia did seem to be doing his best to stay 4-3-3 and to say we were "shoring things up" seemed a little odd. Conceding a goal would, of course, have been disastrous but all three points were definitely for the taking. Again, it was a decision that would have been lambasted had it been Sam or Souness.
City sub Zarate's orange boots flashed an effort just wide and thankfully our back four weren't put under any great pressure as three minutes of injury time came and went.
The players came over to celebrate a point won and that didn't seem inappropriate. Obviously they had to walk our way to get off the pitch but you get the feeling that they would have made the effort anyway. Another good sign.
If this doesn't give us the impetus to beat Fulham on Saturday then we really will be in trouble. The feel good factor might just be around the corner if we do grab the three points, anything less and it may never be attainable for Keegan & Co.
A phrase much stronger than "must-win" needs to be invented for Saturday....