Date: Saturday 22nd March 2008, 3.00pm

Venue:

St. James' Park



Conditions: Typically bizarre Easter weather: blue skies & snow flurries.


Newcastle

Fulham

2 - 0

Teams
6mins: Geremi centred from the right for Mark Viduka to turn and shoot low past Kasey Keller into the Leazes net for his sixth goal of the season. 1-0
Half time: Newcastle 1 Fulham 0
82mins: Michael Owen won a free kick when he was bundled over by Toon old boy Aaron Hughes.
The Newcastle captain then headed home Geremi's delivery at the Gallowgate End to register a fourth goal in his last seven games under Keegan. 2-0
Full time: Newcastle 2 Fulham 0
Kevin Keegan said:

"It was a great result and it might stop people saying Newcastle have not won under Kevin Keegan.

"The pleasing thing was the way the players stuck together and it was a really good team performance.
"We showed good character, got the goal early on and possibly should have scored two or three more. When we had to dig in the players stuck together and that was one of the things the players have been criticised about in the past.
"I felt there was a good spirit around the place and we just needed a win to endorse that.
"It was thoroughly deserved and I don't think anybody at Fulham could say any different.
"We deserved to win this game and we played some really good football in the telling areas.
"The crowd today really stood by us, they were fantastic as they nearly always are.
"These players are lucky that in such a season it would have been so easy to go the other way as a big club like ourselves shouldn't be fighting relegation.
"I think the players now realise what it takes to get out of the bottom and they have been led by Michael Owen who has been absolutely superb not just for his goals, but also his leadership on the field.
"He has worked, foraged, played in a couple of different positions against different teams, but he has never questioned anything - he is a great team player."
Roy Hodgson spluttered:
"I thought in the first half the performance actually was good, especially attacking wise."

"We were a goal down early which meant life was going to be more difficult for us but I thought we more than held our own in the first half.

"I was really looking forward to kicking on from there in the second half but we didn't play as well - I took a risk by sending on a third attacker, there was always the chance we'd get exposed at the back and that's what happened.

"I'm disappointed about our lack of chances in the second half. It's the final third that's been our problem and that's where games are won. The two goalscorers today - everyone knows their quality and their names.

"We need to keep working hard. We've still got two teams above us who we're near to and if we can get ourselves above them then we'll save ourselves. I still believe we can do it, I've got confidence in the players but I can't give any guarantees we'll do it."

Cottagers in Toon - all-time:
2007/08: won 2-0 Viduka, Owen
2006/07: lost 1-2 Parker
2005/06: drew 1-1 N'Zogbia
2004/05: lost 1-4 Bellamy
2003/04: won 3-1 O'Brien, Speed, Robert
2002/03: won 2-0 Solano, Bellamy
2001/02: drew 1-1 Dyer
1983/84: won 3-2 Wharton, Keegan, Mills
1982/83: lost 1-4 Keegan (pen)
1981/82: lost 1-2 Barton (LC)
1979/80: won 2-0 Rafferty, Withe
1978/79: drew 0-0
1974/75: won 3-0 Cannell, Macdonald, Cassidy (LC)
1967/68: won 2-1 Bennett 2
1966/67: drew 1-1 Noble
1965/66: drew 1-1 McGrath
1960/61: won 7-2 Gilfillan 2, Neale 2, Tuohy 2, White.
1960/61: won 5-0 Allchurch, Neale 3, Woods (FAC)
1959/60: won 3-1 Allchurch, Eastham, White
1951/52: lost 0-1
1950/51: lost 1-2 OG
1949/50: won 3-1 Hannah, G.Robledo, Thompson
1947/48: won 1-0 Stobbart (pen)
1946/47: lost 1-3 Shackleton
1938/39: won 2-1 Birkett, Bowden
1937/38: lost 1-2 Pearson
1936/37: drew 1-1 Smith
1935/36: won 6-2 Cairns, Harris, Pearson 3, Ware
1934/35: drew 1-1 OG
1909/10: won 4-0 Higgins 2, Rutherford, McCracken (pen) (FAC)
We got our first league win on home soil in seven attempts - our first three point return since Birmingham were beaten 2-1 in early December 2007.

Kevin Keegan saw our first victory in ten attempts under his stewardship and we ended a winless league run of fourteen matches, since that 1-0 victory at Craven Cottage in December 2007.

Fulham's main threat Jimmy Bullard made a first return to the ground where he suffered a career -threatening leg injury back in September 2006.

That day had seen the Cottagers record a 2-1 success, but this was to be their 32nd fruitless attempt since then to record a win on the road and failed to stop us claiming a first win double of the campaign.


Waffle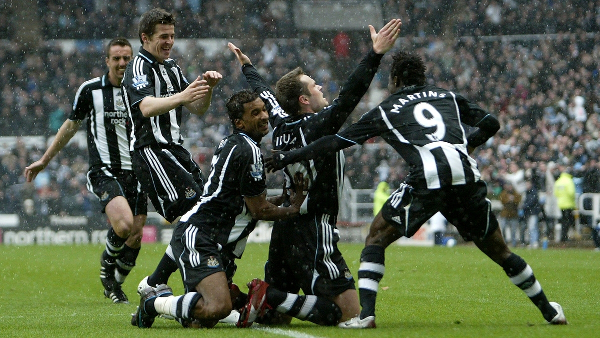 October 1983 and the Match of the Day cameras were at Gallowgate to cover Newcastle's home game with Charlton Athletic.

Less than 24,000 fans were present on that damp Saturday afternoon and some miserable weather and two open ends meant that many of those present were soaked.

But events on the field proved rather more heartening, as two Kevin Keegan goals saw his side scrape through 2-1.

John Motson's summarising soundbite remains lodged in the memory as much as the scenes of steam rising off a cavorting mass of Gallowgate Enders: "Keegan sees the fans happy".

A quarter of a century later and the perm may have gone, but the same guy finally had the same effect on the crowd - and the city. To paraphrase that credit card ad: smiling faces? priceless.

The elusive victory was achieved with McDermott at his side as he had been in 1983 and other former team mates including messrs Anderson, Beardsley, McCreery and Wharton sitting just yards away in the Milburn Stand.

And there may be slightly more youngsters present than in recent seasons, but a fair chunk of those encouraging and applauding were doing the same the first time round for KK, never mind the second coming in the 1990s.

Then as now, the only thing that really mattered was the team winning and entertaining in the process. The identity of the opposition was secondary, merely the team we were going to beat.

In that respect a 50K plus crowd was heartening, lessening suspicions that we'd partly succumbed to the big game hunter mentality, where casual fans buy tickets only when the occupants of the away dressing room have some alleged glamour and allure.

The media - and some fans - expected a revolution in the dressing room when KK returned, but in reality it's been a combination of little things once the transfer window ended with no arrivals.
It then became a motivational exercise - coaxing performances out of players and shunning others.

Owen - body language improving even from the Birmingham game, when his goal was followed by a sullen-faced celebration that was appreciated better from behind the goal than on TV.

He does genuinely look happier with life here - and that cannot surely be down to. It would be nice to think that Keegan had offered Owen some advice (and it had been accepted) about altering one's game to remain effective when that burst of speed is no longer there.

Barton - probably his most effective display yet for the club, both in terms of industry, accuracy and discipline.

Geremi - surely the 21st century Kevin Brock - didn't have a great game and frustrated on occasion with careless passes and duff set pieces, but got two over that mattered - both leading to goals.

Duff and Ameobi - not wanted on voyage and banished from the sixteen players named.

Enrique - frustrating but starting to show an improvement at both ends of the field.

The short-term element here is genuine, with the only thing mattering being the final league position this season. The likes of Enrique and Geremi may well only have weeks to go at this club, but are contributing to the fight.

And while Keegan has been lavish in his praise of Owen, only time will tell whether those comments are genuine or he's indulging in a little of the product promotion that Sir Bobby Robson adopted (his getting money for the misift Maric being the footballing equivalent of water into wine).

It's not all plain sailing though and there were enough areas of concern today to make us grateful that it was Roy Hodgson's travel sick side providing the opposition.

Mark Viduka quickly blew any dark clouds away with a typical strike, but his record of just two starts and one sub appearance in Keegan's ten games suggests that he's hardly gone the extra mile to aid the cause - something that the absent Turk also stands accused of.

Expect the fitful contributions of both of those players not to be forgotten come the summer. But for now though, it's nothing but positive noises about the Australian at least.

Back to the game and our failure to find a second goal led to some inevitable nervousness from a crowd who had seen the smoggies and Blackburn plunder vital late goals here recently to deny us.

However the vital second goal to dispel fears arrived with eight minutes remaining and for the first time in far too long we were able to collective relax.

Not a classic then, but now we're firmly at the business end of the season the ends justify the means. As we had at St.Andrews, there was an attempt to play football rather than randomly batter the ball upfield.

Against that though there was a woeful lack of pace throughout the side exacerbated by the removal of Martins once again, to mild disapproval from the crowd.

If one single moment encapsulated our work rate and industry, it was seeing Owen starting a counter-attack by bringing the ball out of his own penalty area.

Those long overdue three points and other results saw us lifted up to thirteenth spot, six ahead of third-bottom Bolton with seven games to play.

Our victory meanwhile was mirrored by a 1-0 success by the mackems, with Michael Chopra's goal at Aston Villa giving Roy Keane's side a first away win of the season.

That upcoming Tyne-wear derby could just yet be about nothing more than local bragging rights, rather than the survival battle that it looked a couple of weeks ago.

An undoubted confidence booster ahead of the visit to Spurs, our fortunes remain very much in our own hands and home successes against Reading and the mackems will surely banish any thoughts of relegation.

And then the real work can start.

Biffa