Date: Sunday 30th March 2008, 3.00pm

Venue:

White Hart Lane



Conditions: Perfect

Admission: £44 upstairs/£39 downstairs
(same as last season)

Programme: £3





Tottenham Hotspur

Newcastle United

1 - 4

Teams
26 mins Malbranque took O'Hara's pass down the Spurs left and angled over a cross for Darren Bent, who got in front of his marker Faye to head beyond Harper from about the penalty spot 0-1
45 mins+40 seconds Geremi was going nowhere down the United right and slipped the ball infield to Butt midway into the Spurs half, as the home side held off. He in turn laid it off left for Enrique, whose deep cross was ham-fistedly cleared by Woodgate back to Geremi on the right.

He rolled it back across the field for Nicky Butt to sweep home a low right-footer that Woodgate tried to block but missed, contriving only to unsight his 'keeper Robinson in the process 1-1
Half time: Spurs 1 Newcastle 1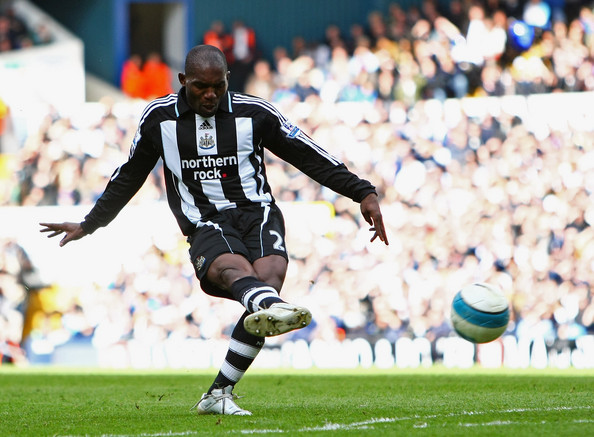 52 mins Viduka dummied an upfield pass from Beye on the edge of the Spurs box and as Martins leapt to head the ball, he was blatantly shoved in the back by Dawson. Geremi conferred with Butt before cutting a low right-footer into the net - abetted by Viduka moving his bulk from the five man wall at the right moment. Robinson was once again left flat-footed. 2-1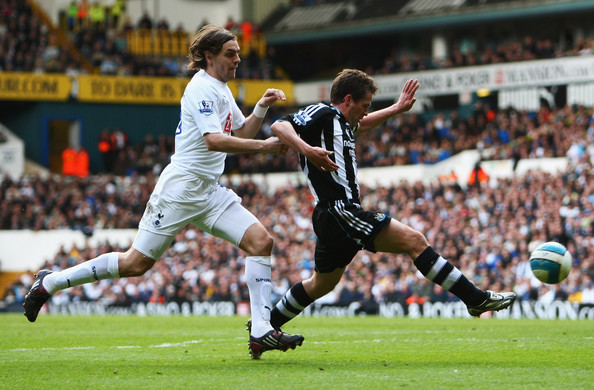 65 mins Martins picked up possession on the right hand touchline and cut infield, staying on his feet as O'Hara tried a two-footed lunge to block him. He recovered his balance to feed a pass to Viduka with his back to goal on the edge of the box.

The Aussie simply helped the ball on its way by back-heeling it into the box, to where Michael Owen was unmarked and looped a right-footed shot into the net from 12 yards, before running off to celebrate joyously with the away fans after turning to acknowledge his fellow strikers. 3-1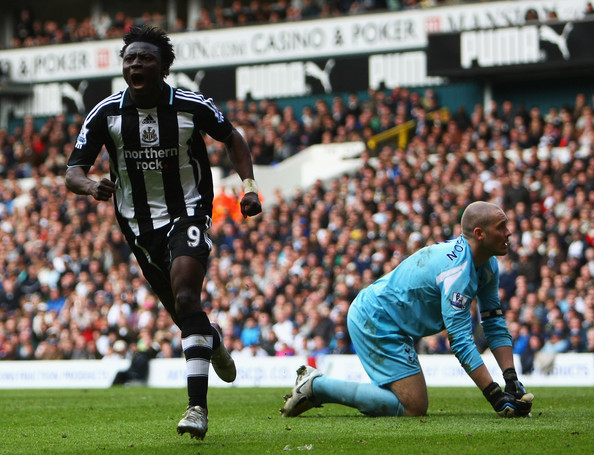 83 mins Oba's goal, Barton's creation - as the midfielder robbed a dallying opponent midway in the Newcastle half before racing to the loose ball and finding Obafemi Martins just over halfway with a low pass. The Newcastle number nine bore down on the back-tracking Tainio, ultimately leaving him in a heap on the edge of the Spurs box as he placed the ball beyond the advancing 'keeper. 4-1
Full time: Spurs 1 Newcastle 4
Kevin Keegan enthused:

"I'm obviously delighted. The performance was terrific. We went a goal down even though we were the better team. The team believed chances would come.
"We have players who know where the back of the net is. I said to the team at half-time the best team is drawing and it's not Tottenham. There wasn't a weak link in the team today. Everyone played a part.
"We outplayed them and they're a very, very good side. The goalkeeper's made at least two world class saves. Apart from their goal I can't remember Harper having a save to make. The header was superb.
"Faye was outstanding today. We had 11 leaders out there today. Nicky doesn't get many goals. It was a vital goal for us. He was tremendous. I thought Joey Barton was also superb today."
"We're definitely not safe yet but we can look up not down.
"We could catch Spurs up and we could catch up West Ham. People would have said that was ridiculous a few weeks ago.
"We have three home games and three away left and playing like this, I think the players will look forward to playing anybody.
"I'm saying to the staff that if we can add little bits to this it could be quite exciting. There is quite a lot here. Sometimes it gets lost when you are on a bad run.
"When they play like that you think we don't need an awful lot to set us alight, just two or three. And the players would welcome that. They will have to be very good players to better us.
"I might put a couple more forwards in next time!
"This is the right way to play with the players and fixtures we've got.
"You look at our defensive record and to try to defend puts pressure on your defenders. They know that maybe they can concede a goal and have enough to win.
"You dream about playing like that away from home. You dream about being 4-1 up with 10 to go. Reality in the Premier League is difficult.
"It could have been seven or eight - Robinson has made terrific saves, we've hit the bar and Michael Owen's missed a chance he would normally score."

On Owen's deep-lying midfield role:
"It is his position at Newcastle for the time being. I said this is the position you have to play in this football club because that is where you are most use for us - and he said that's fine.
"He never came up to me and said 'I'm a forward'. I think he's enjoyed it."

Nicky Butt added:

"The manager's getting his message across now and we've got our confidence back.

"It's taken a while but, even though he's a very calm man, he tells us exactly what he expects. He's very passionate about his football and knows how he wants it to be played and he's putting that message across. Hopefully we're proving that we have a bit of quality in our team and that, if we set our stall out right, we can score goals.

"Kevin Keegan's given us confidence in each other. He sets a high tempo in training, tells us what he expects and we've taken that onto the pitch in the last few games now.

"He knows what type of football he wants to play and he's been successful with it in the past.

"If we set our platform out right, then the lads up front can do what they want and that's great. People say he's not a great tactician because the way he plays is attack, attack, attack, but, at the end of the day, if we score more goals than the other team, then we're ok. It's what the fans love and it's nice to play that way.
"No one is hiding from the fact that it's been a horrible season. It's not been nice when we've been playing so badly but we've got a lot of quality here and hopefully we can add to that with some more signings in the summer and kick on.
"I've played in games this season where nothing went right, no one wanted the ball, no one wanted to try the things that are going to create goals and the confidence just sapped out of you but Spurs was the other side of the coin. Everyone was confident with the ball, trying to create opportunities for the forwards and that breeds even more confidence.
"As soon as you see players like Michael, Mark and Oba playing up front with confidence you just know you can cause any team problems. Now we've got a chance to end a bad season on a high."

Spurs coach Gus Poyet grumbled:

"It was a really bad day. This is the one you're not expecting to have. I've been trying to analyse things, but sometimes it's difficult because of emotions.
"We didn't start very well in terms of playing, but we got the goal. We relaxed after the goal. We didn't go for it. It was a problem.
"The second half was quite bad. But overall we had a terrible day today. It's difficult to single out one thing because there were too many things.
"You have to be careful what you say. I'm trying to be calm and not make a mistake, when I'm calm in a few days I can chat about this game.
"It's not only what's happened with the goals, but what happened before that. There were too many mistakes.
"It's disappointing as well to see the supporters leaving early. It's quite a sad day here. We have to look for a reaction.
"The season has not finished. We're playing for many, many things. It's going to be a long week for everyone at the club."

Magpies @ Cockerels - Premiership years

2007/08: Won 4-1 Butt, Geremi, Owen, Martins
2006/07: Won 3-2 Huntington, Martins, Butt
2005/06: Lost 0-2
2004/05 Lost 0-1
2003/04: Lost 0-1
2002/03: Won 1-0 Jenas
2001/02: Won 3-1 Acuna, Shearer, Bellamy
2000/01: Lost 2-4 Solano, Dyer
1999/00: Lost 1-3 Solano
1998/99: Lost 0-2
1997/98: Lost 0-2
1996/97: Won 2-1 Ferdinand 2
1995/96: Drew 1-1 Ginola
1994/95: Lost 2-4 Fox 2
1993/94: Won 2-1 Beardsley 2
Since going down 0-2 at White Hart Lane on the last day of 2005, we have won our last five games against Spurs, scoring at least three goals on each occasion (3-1 Apr 2006 home, 3-1 Dec 2006 home, 3-2 Jan 2007 away, 3-1 October 2007 home, 4-1 March 2008 away).

Obafemi Martins has scored in the last four of those games - and today along with Butt, repeated last season's feat of scoring at White Hart Lane.

NUFC: Premier League away high-winning margins:

1998/99: Coventry 5-1
2001/02: smoggies 4-1
2001/02: Bolton 4-0
2002/03: Leeds 3-0
2005/06: Blackburn 3-0
2005/06: West Brom 3-0
2005/06: mackems 4-1
2007/08: Spurs 4-1

Allardyce last 10 NUFC league games: 9 points, 9 goals.
Keegan first 10 NUFC league games: 9 points, 10 goals.

Geremi netted his first Toon goal (excluding the OG he notched for us while a Chelsea player @ SJP in May 2005). That made him the 86th Newcastle player to net for us in the Premier League of the 139 who have appeared (132 if the seven 'keepers to have appeared are discounted).

Current NUFC senior outfield players without a Premier League goal to their name are:

Carroll, Enrique, Kazenga LuLua, Ramage, Rozehnal and Smith.
(none of those have netted in any competitive game for us as yet ie Cups)

We've now scored 836 goals in the Premier League - 510 at home and 326 away.

Owen scored for the third successive game, a feat he's not managed in club football since 2003.

Waffle
An away supporter's lot isn't always a happy one and by our own standards this has been a testing season - lacking even the diversion of continental jaunts to distract from the league grind.

Ticket and travel prices are one thing, but increasingly the timing of kickoffs seem deliberately engineered to dissuade attendance. Add in a run of non-performances to that of the type we've been served up and the case for non-attendance becomes compelling....

But people still keep turning out, putting livelihoods, relationships, health & financial stability at risk.

Happily, this was one of those days that reminds you just why you go traipsing across the nation.

There wasn't even the TV excuse for this Sunday afternoon game, unlike our recent Monday night banishment to Brum or the upcoming Saturday nighter at Pompey that shows a callous disregard for supporters.

Despite all that, hopefully enough of those who endured the likes of Wigan and a trio of Arsenal defeats were present for some first-hand payback along with cracking goals and a genuinely heartening display.

Those fans not present could at least defy Sky & Setanta's failure to show this game and find a venue to view it on dodgy foreign telly (leading to great beer-soaking celebrations and folks quite literally dancing in the streets, so we're told....)

United once again found White Hart Lane a happy hunting ground as we won away for the first time in 2008, despite going a goal behind against the run of play.

And unlike that 1-0 victory at Fulham in December, this was watchable.

Fielding an unchanged lineup for a third successive game, Martins and Viduka hunted up front with Owen sitting behind, Barton and Geremi shoring up left and right flanks respectively.

The confidence boost that a point at Birmingham and that elusive victory against Fulham had brought was evident across the field.

And in a week when Kevin Keegan had likened his job to that of riding a tiger, his side plucked these Cockerels and ripped them to shreds in their own back yard.

Sunday saw the clocks go forward and so did Newcastle, Beye hitting the Spurs crossbar and both Martins and Barton having shots on goal in the opening ten minutes.

At the other end Spurs had only sporadically been within range of Harpers goal before he made a great instinctive stop from Woodgate on 13 minutes.

Just over ten minutes later though the Newcastle 'keeper was picking the ball out of his net, beaten by Darren Bent's glancing header.

To their credit though we maintained our positive approach - no sign of heads dropping today.

Across the field there were positives to be taken, with Barton rightly singled out for praise by the manager for his contribution and stamina, while Viduka also showed the deftness and physical presence in attack that we badly missed in his absence.

And although we finished with four goals, misses from Barton, Viduka, Martins and Owen could have made this an even more enthralling and emphatic victory against an totally uninterested home side.

Michael Owen may have had little to shout about for England in midweek but his Newcastle renaissance continued as he extended his ever-present record since returning from injury in December to sixteen games.

It's all a far cry from the last time we played on this ground in 2005, when Owen broke his foot and a muted away section slumped in their seats as we meekly surrendered 0-2.

His celebrations said it all - from stony-faced at Birmingham via slightly more satisfied against Fulham to full-blown delight here in front of the away fans.

Or maybe he was just as chuffed as we were that finally he'd received something in the way of a decent pass from a team mate - having waiting in vain for England, as he often has for us.

Delight then for coach Chris Hughton on his first return to the club he served as a player and who dispensed with his services as a coach earlier this season.

And satisfaction for owner Mike Ashley, seeing the club he bought complete a double over the one that a number of his associates are known to favour, causing big celebrations from his cronies.

However the day belonged to Kevin Keegan, who silenced doubters in the stands and press box by overseeing a competent, entertaining and disciplined display.

The most emphatic away league win of his entire Newcastle managerial career was also achieved by putting together a functioning side from what he inherited - this display and scoreline belatedly vindicating the decision not to add significantly to the squad in the transfer window.

And in a season of that's been big on drabness and misery, this was a massive and long overdue positive on a day when every player contributed to the cause.

Oba celebrated with his customary airborne acrobatics, but his manager must have felt like doing cartwheels on the touchline as a re-born United catapulted up the table in spectacular fashion.

After some challenging scorelines over the weekend, this three points nicely took the heat off us ahead of next week's home meeting with Reading and a chance to get closer to locking this season down mathematically.

However before everyone gets off our back and leaps on to the passing bandwagon, it's as well to consider the recent trophy success and consequent European qualification that caused a severe outbreak of sunbeditis here among Tottenham today.

We're well accustomed to coasting towards the end of a season - albeit never with the comfort of something ribbon-bedecked under our arms - so we of all people should be able to recognise that when it comes along.

That's not to devalue our performance, rather to try and avoid the wild media over-hyping that quickly replaced recent ritual rubbishings of the club complete with pictures of a downcast KK.

And as an aside, the half-fit Woodgate and consistently poor Dawson may have Carling Cup gongs, but did little to inspire confidence today. Let's hope our shopping doesn't start here with the latter.

The manager spoke about memories of our 5-0 at Antwerp being invoked by this win, but by recent standards this was from another planet, never mind Belgium.

If the first part of his job upon returning to this club was to put smiles back on faces, then Kevin Keegan achieved that objective today, as well as the more serious business of collecting points.

Keep on keeping on.



Biffa

PS1: Rahul and his stag do crowd, hope you enjoyed it!
PS2: Big Phil in Valencia, it's stopped snowing in Morpeth...