Date: Saturday 5th April 2008, 3.00pm

Venue:

St. James' Park



Conditions: mostly fine with occasional cloud and brief hail.


Newcastle

Reading

3 - 0

Teams
18 mins: Edgar and Faye exchanged passes just inside their own half before the latter pushed it forward over halfway to Butt, waiting unmarked on the edge of the centre circle.

He turned and picked out the advancing Obafemi Martins with a right-footed dipping pass that bounced once before he chested it round the tumbling Rosenior - although there was no contact.

Oba powered into the left hand side of the Reading box before turning inside Bikey and slipping the ball along the deck from 12 yards into the vacant Leazes End goal, with Hanhnemann helpless 1-0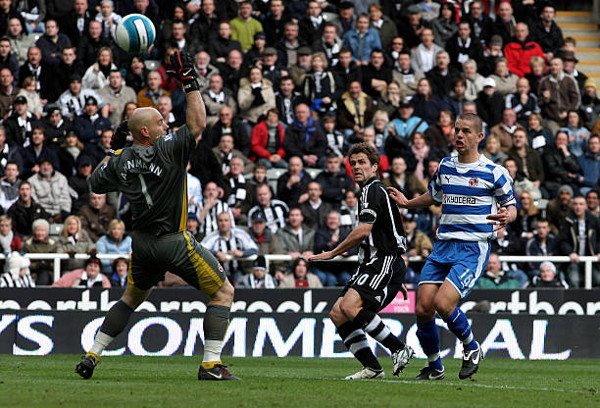 43 mins: A goal brought about by persistence, as Geremi initially picked up possession on the Newcastle right, finding Beye jogging forward on the overlap. The former Marseille man found his way blocked by Harper and Shorey, turning to feed the ball back to Geremi, who found space to cross but only managed a low, weak effort.

With Viduka in attendance, Ingimarsson pushed out a half-clearance back to Geremi, who laid it back to Butt in similar style to the same combination that had brought the equaliser at Spurs.

Butt shot again, only to see his right-foot blaster bounce back off Cisse and fall yet again to Geremi. This time he played a short ball back to Beye, who spotted Michael Owen pointing towards the right hand side of the box as he began his run.

One clipped pass and one clipped shot later and we were "home and hosed", to use KKs' favourite current expression, with Beye celebrating first by picking Owen up and draping him over his back, before exchanging a series of clenched fist salutes with the delighted Leazes end. 2-0

Half time: Newcastle 2 Reading 0

58 mins: Documentary evidence that nails the myth that our Australian striker never breaks sweat. Geremi brought the ball out of our box down the centre of the field, pushing it forward to Viduka, who shielded the ball from an opponent before releasing the ball on the half-turn to Beye in space down the right.

He galloped on and belatedly found Martins infield, who ran diagonally across the field before bisecting two defenders with a forward ball that found Viduka with his back to goal on the edge of the Reading box.

In typical fashion he held it up before feeding Beye as he ran beyond ex-mackem Oster into space, with the defender opting not to have a shot as he had at Spurs, instead pulling the ball back to Mark Viduka, who clumped it into the corner of the net from eight yards. 3-0

Full time: Newcastle 3 Reading 0

Kevin Keegan said:



"

The players deserved everything they got.

"Without ever reaching the heights of the Tottenham performance, we played some good football, we defended well when we had to, and we limited a committed Reading side to one shot on goal.

"The front three all got a goal apiece, and the midfield I thought were superb.

"Joey Barton got man of the match but I think you could have given it to four or five players.

"I thought Habib Beye was outstanding. If there's a better right-back in the Premier League than him, I'm sure there are one or two, but I'm not sure they are playing as well as he is.

"We've got the confidence and belief that comes with getting a few results. There's no way you could look at that squad of players, with the quality and experience we have, and say they can't play good football.

"They just lost their way a bit. Some results hurt, like conceding six goals in the second half against Manchester United.

"They've taken a lot of knocks, even since I've been here, but they've not felt sorry for themselves and they've bounced back.

"I would have thought we're safe, though mathematically we're not. We have taken 10 points from four games and we're starting to play with the confidence and style this group of players should be playing with. It's confidence more than anything.

"Michael is a very clever player, Obafemi has great composure and Mark scored after some great play. They are like chalk and cheese – the third must be something else.

"With all the movement we've got, we need someone to stand still, and (Viduka) he's the one.

"You'd like to think we are at the start of something that can be good again.

"It would be nice if we can finish this season by continuing to play our football and send the people away from here for their holidays thinking: 'Wow, next season could be very good for Newcastle United.'

"This will still be a poor season for Newcastle United - it won't be remembered with pleasure by the fans, but we can plant the seeds for next season. I don't want to be known as the manager who got the lowest points.

"Tayls came in with a virus and we took him out on the pitch but it was obvious he was too weak to play in a game like this.

"But there were no problems putting David Edgar in. He tried to win a couple of balls that Franz Beckenbauer in his prime wouldn't have won, but the longer the game went on the more assured he looked.

"He's been terrific since I've been here. He's captained the Reserves, and I felt he deserved his chance."

Steve Coppell said:

"In the first 15 minutes we were the better team. But we didn't have a cutting edge.

"The first goal from Martins was vital and came from a slip by Liam Rosenior. And the second from Michael Owen just before half-time was a hammer blow.

"They were on the front foot in the second half after Viduka got the third and were able to pass the ball about. Newcastle have quality finishers and in Martins, Owen and Viduka they have a hell of a threesome.

"This result is one to put behind us - we need to aim for the points that will make sure we are in the Premier League next season.

"I was disappointed in our display when I thought today might have been an opportunity for us.

"I am fully aware of their power going forward but I feel that over the course of the season they have yet to be consistent defensively.

"But today was another building brick for them and Kevin must be very pleased with the performance of the young lad at the back alongside the rest of the players.

"This time he is King Kev. He's only got the chance to enhance his reputation rather than harm it.

"It's one of those clubs everyone would like to see do well, just to see what would happen.

"It's been talked about for 20,30 years that it is a huge club - in a way it would be nice to see it."


First time we've won three consecutive Premier League matches since December 2006.

Michael Owen scored in his fourth successive Premier League game, becoming the first Newcastle player to achieve this since Alan Shearer in November/December 2003.

It was also his first career goal against the Royals.

Our current tally of 38 points with five games of the season remaining is five points behind last season's final total of 43. That had been our lowest return in the fourteen seasons of Premier League participation (not including this current fifteenth).

Royals in Toon:

2007/08 won 3-0
2006/07 won 3-2
1989/90 won 4-1 (FAC)
1989/90 won 4-0 (LC)
1968/69 won 4-0 (FAC)
1899/00 won 2-1 (FAC)

KK's sole signing to date, Lamine Diatta became the 140th player to represent Newcastle in the Premier League when he appeared off the bench for the closing stages.

NUFC: 513 Premier League home goals - 72 different scorers (plus OGs)

95 Shearer
30 Beardsley
29 Cole
27 Ferdinand
25 Lee
22 Solano
18 Ameobi
18 Speed
15 Bellamy
14 Robert
12 Dyer
9 Watson
8 Martins
7 Elliott, Fox
6 Albert, Cort, Dabizas, Ferguson, Glass, Kitson, Owen, Viduka
5 Asprilla, Bowyer, Jenas, Ketsbaia, Milner
4 Barnes, Bernard, Clark, Emre, LuaLua
3 Allen, Bramble, Gillespie, Ginola, Howey, Hughes, N'Zogbia, Andy O'Brien, Parker, Sibierski.
2 W.Barton, Beresford, Cordone, Gallacher, Griffin, Hamann, Mathie, D.Peacock, Sellars, 1 Acuna, Andersson, Batty, Beye, Bracewell, Butt, Cacapa, S.Caldwell, Dalglish, Domi, Edgar, Faye, Gavilan, Guivarc'h, Kluivert, Saha, Taylor, Tomasson, Venison, Viana.

+ 16 Own Goals

Seasonal totals and top scorer(s) (home games only):

1993/94 51 (Cole 22)
1994/95 46 (Beardsley 8)
1995/96 38 (Ferdinand 16)
1996/97 54 (Shearer 20)
1997/98 22 (Barnes 4)
1998/99 26 (Shearer 9)
1999/00 42 (Shearer 17)
2000/01 26 (Cort 5)
2001/02 40 (Shearer 12)
2002/03 36 (Shearer 7)
2003/04 33 (Shearer 15)
2004/05 25 (Shearer 5)
2005/06 28 (Shearer 6/Ameobi 6/Solano 6)
2006/07 23 (Martins 5)
2007/08 23 (Viduka 6)


Waffle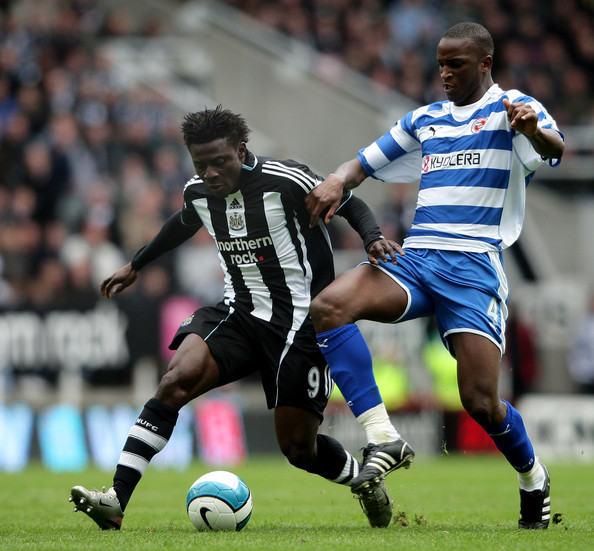 Kevin Keegan's ploy of playing a front three once again brought dividends as we extended our winning streak to three matches and the trio all found the back of the net.

Set to name an unchanged side for the fourth consecutive game, United were forced to reshuffle when Steven Taylor reported in sick, David Edgar stepping up from the bench for his first league start of the season and Diatta being added to the subs list.

The visitors opened brightly but failed to seriously test Harper and were en route to another blank away day from the moment Martins opened the scoring, before Owen then doubled the lead.

That second goal was a fitting return for a dazzling period of play before the break in which Reading were incapable of gaining possession and we visibly grew in confidence.

And the second half began in similar style, KK's side delighting the home fans with extended passing sequences that brought cheers for each successful completion.
Viduka's cool finish then made it seven goals in a week for United and ten in four games since we went on the offensive - little wonder that a noticeable rendition of "are you watching Big Fat Sam?" came at this point from the Gallowgate End.

The pace then inevitably slackened off, with Damien Duff and Alan Smith appearing as subs and Joey Barton continuing with his so-far fruitless attempts to break his goalscoring duck at SJP - shooting at the 'keeper and volleying just wide.

Enjoyable though they all were at the time, later televised reruns of our goals in this game brought as much satisfaction as post-match analysis of the Spurs ones had done, as the nuances in play and movement became more evident. Team goals of a type we just weren't scoring previously.

The sponsors awarded Barton the man of the match and while he had an encouraging game and once again drew the comment that he's becoming an asset rather than a liability, the cleverer performance had come from our right full back.
Certain local hacks have damned Beye with faint praise in recent write-ups of him as if he'd suddenly become proficient - our take on things is that his inclusion in a defence with Faye had started to pay dividends before KK took over.

And in retrospect, one of the biggest nails in Allardyce's coffin was driven in when Beye, Faye, Martins and Geremi all went off on Nations Cup duty - although Sam wouldn't have deployed them in the same way as KK - leaning towards playing the Senegalese duo only.

True, Reading were poor throughout but could have been ahead with a little more guile round our box - the livewire/lunatic loanee Lita scoring twice for Charlton this afternoon when his presence at St.James' rather than Home Park would have caused us some anxiery.

Progression here was again evident, with the vague stirrings at Birmingham in the second half leading to a better showing against Fulham and that victory giving us the platform to exploit the failings of the White Hart Lane mob.

And here against dour opposition we showed both patience and composure, allied to confidence on the ball and ability to both read and make passes - qualities that were all largely absent during our win-free, football-free times.

If the two wins this season over Spurs dovetailed a run of grim displays, then our losing to Reading in Berkshire and beating them on Tyneside provided the biggest contrast in terms of our attitude and approach - going from a defensive position built on fear to something more rational and less alien to the players entrusted to obey the orders.

If it carries on like this for much longer we'll be releasing an end of season DVD (something that was just too embarrassing to do last year).

As ever though, the media will lurch from one extreme to the other - just watch the same people who sought to bury KK now falling over themselves to praise him in OTT terms.

That's not just in the papers though, but on TV - notably a Shearerless Match of the Day, but also the SkySports pundits.

These three points banished all talk of one R word - Relegation - replacing it with another - Revival.

The P words still need to kept in mind though as much as ever: proportion and perspective.

Biffa