Date: Saturday 12th April 2008, 5.15pm
Live on Setanta

Venue:

Fratton Park



Conditions: Pre-match rain showers gave way to blue skies and bright sunshine - right in the eyes of those gathered in the front of the away end.

Admission: £34 (last season £26)

Programme: £3

Portsmouth

Newcastle United

0 - 0

Teams
Half time: Pompey 0 Newcastle 0


Full time:
Pompey 0 Newcastle 0
Kevin Keegan commented:

"There were lots of chances but a combination of good keeping and players being over hasty kept it at 0-0. A draw was right but a 0-0 draw - I'm not so sure.
"We had other chances and probably should have won the way we played.

We've come up against a really good team with an exceptional goalkeeper who in any other season would be named player of the year for the way he's performed.

"I know he's been nominated by the football writers for it but if he doesn't win it they should strike a special award for him. He's that good.

"You look at it through rose-tinted glasses when you manage Newcastle. I can remember some good chances against Schmeichel, smacking against his head or face I think it was, and David James has had such a season hasn't he? He could save it with his cap at the moment.
"And then I can think of chances that Defoe had, so I don't think I can come here and say we deserved the win, but we certainly deserved at least a draw.
"It is a sign of progress and that is what I have said to the players because we are disappointed not to get anything out of this game.

"The defence know that if they do concede a goal, we do have goals in us to get back into the game, which I do not think they felt six or eight weeks ago when I first came.

"I think Michael's future does lie there. I think he is a clever footballer and I think that withdrawn role means that you cannot mark him out of the game. He doesn't give it away very often.

"At the moment, it is a fantastic way that he is playing in that role. It gives Fabio Capello a nice problem.
"We need to tie him down to a new contract and I am almost certain that he will sign it, as certain as you can be. He will lead the club for the next three of four years.
"But getting a point here is certainly another good result although both Harry and I are bound to say it's two points dropped on chances.
"We've come up against a really good team with an exceptional goalkeeper who in any other season would be named player of the year for the way he's performed.

"Michael Owen was superb. He's in a new position for us, linking the midfield and attack and people just don't realise how fit he is.
"The Newcastle fans haven't seen him that much because of injuries but he's come back and played 20-odd games now.
"He's our leader now and covers phenomenal distances during matches. He's a fantastic player and I didn't know how good he is when I had him with England."
'Arry ventured:

"The lads have been great and did well in midweek to win at West Ham but I think they were a bit tired today.

"We have played an FA Cup final and two premier league games in 7 days without conceding a goal and winning 2 out 3 of the games so we cannot be too unhappy can we.

"I know it might be seen as two points dropped in the quest to catch Everton but they still have some very tough games to go - and I would rather have our fixtures than theirs - so we still have a fantastic chance to finish fifth.

"That was a save by Jamo. The shot hit his head and went over.

"He's had two great seasons for us and I couldn't tell you how many points he's been worth to us in that time. He hasn't had too scary moments for us although there were one or two today.

"But it's great for him to be nominated in the player of the year shortlist even though I'm still convinced Ronaldo will win it".
Toon @ Fratton Park:

This was the 34th meeting of the two sides here and so far we've won 11, drawn 8 and lost 15.

Our last top flight success came in the final away game of the 1988 season in glorious sunshine.

2007/08: Drew 0-0
2006/07: Lost 1-2 Emre (pen)
2005/06: Drew 0-0
2004/05: Drew 1-1 Dyer
2003/04: Drew 1-1 Bellamy
1992/93: Lost 0-2
1991/92: Lost 1-3 Quinn
1990/91: Won 1-0 Brock
1989/90: Drew 1-1 Quinn
1987/88: Won 2-1 Lormor, Scott
1983/84: Won 4-1 Beardsley 2, Keegan 2
1964/65: Won 2-1 Cummings, Robson
1963/64: Lost 2-5 McGarry, Hilley
1962/63: Lost 1-3 McGarry
1958/59: Won 5-1 Curry 3, Eastham, Taylor
1957/58: Drew 2-2 Curry, Hill
1956/57: Drew 2-2 R.Davies 2.
1955/56: Won 2-0 Curry, Keeble
1954/55: Lost 1-3 Keeble
1953/54: Lost 0-2
1952/53: Lost 1-5 Keeble
1951/52: Won 4-2 (FAC) Milburn 3, G.Robledo.
1951/52: Lost 1-3 Milburn
1950/51: Drew 0-0
1949/50: Lost 0-1
1948/49: Lost 0-1
1933/34: Lost 0-2
1932/33: Lost 0-2
1931/32: Lost 0-6
1930/31: Won 2-1 Bedford, Lang
1929/30: Lost 0-2
1928/29: Won 1-0 Harris
1927/28: Won 1-0 Seymour
1923/24: Won 4-2 (FAC) Seymour, Harris, Low, Gibson
This was our 67th meeting with Pompey in all competitions and so far we have won 29, drawn 17 and lost 21. Both sides still await their 100th goal in these fixtures.

PS: From the Portsmouth News (a story we ran with the headline: Copper comes a cropper):
A police motorcyclist escorting the Newcastle football team out of Portsmouth crashed into a parked car. The officer suffered two broken arms in the crash and had an operation at Queen Alexandra Hospital to repair one of the broken bones.

The crash happened in Hampshire Terrace, Southsea, following Pompey's 0-0 draw with Newcastle at Fratton Park on Saturday.

Team coaches are always given police escorts out of the city, and as the coach travelled towards the M275 one of the two police motorcyclists ran into the back of a silver Vauxhall Vectra about 8.25pm.
Waffle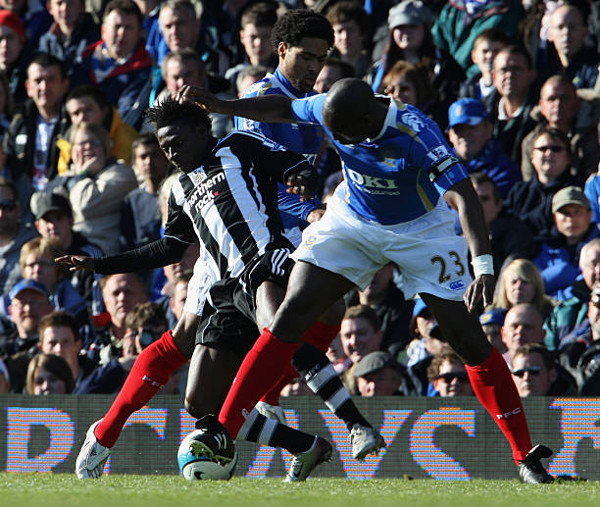 Our headline from this one was "United miss the cut" which may have misled some into thinking they'd tuned in to online coverage of the US Masters from Augusta.

However we were referring to the final score from Fratton, which could also have read Barnet 0....

This outbreak of folically-related punning stems from the 71st minute incident that almost gave us a fourth consecutive win.

Unfortunately at that point, Pompey 'keeper David James managed to atone for Sylvain Distin's miskicked clearance by blocking Michael Owen's snap shot from just six yards.

While it was obvious from the away end that we hadn't scored, it only became clear from TV replays that the vital contact that was sufficient to propel the ball over the crossbar had come from the top of the keeper's head.

Post-match, James confirmed that, "I would not have been able to make that save if I'd had my hair cut."

This draw meant that we extended our unbeaten run to five games and emulated the feat of the current top five in the league - Man U, Arsenal, Chelsea, Liverpool and Everton - in taking a point on the south coast.

That's a result few would have forecast after our 1-4 home humiliation at the hands of Pompey last November - or even a month ago before our recent renaissance.

In truth this wasn't a classic, those away fans who made considerable sacrifices to get to the rearranged teatime kickoff not rewarded for their efforts with a goal to cheer.

Geremi came as close as anyone with a powerful effort in the second half, while Viduka saw a mishit close-range shot blocked before the break.

Martins gave another whole-hearted performance and wriggled through to test James at one point, before dragging his shot wide of the goal in added time.

With Pompey having played in midweek after their Wembley success there was a certain lethargy about them - while we frequently and frustratingly lost possession, as well as squandering numerous set pieces.

Owen was left to rue the one that got away as he failed to register for a fifth game in a row, but at the other end Steve Harper extended his shut out record past the four hour mark.

The chief threat to his goal came from in-form striker Jermaine Defoe, but Harper blocked his sole effort on target and watched as two other chances went wide.
Match referee Phil Dowd came in for some stick from the Pompey fans for his portly appearance and failure to award a penalty kick for Steven Taylor's handball.

Replays confirmed though that the fit-again defender had inadvertently deflected a shot onto his own hand - which would have an absolute travesty had it been penalised.

With four games remaining, we remain in twelfth position, ten points ahead of third-bottom Bolton.

Victory next week over the forces of darkness would mathematically secure our top flight status* and also see us exceed our lowest-ever Premier League points total on home soil (currently we have 26; 1998/99's total was 27).

*assuming that the Trotters won at Boro on Saturday.
Biffa