Date: Sunday 20th April 2008, 1.30pm
Live on Sky

Venue:

St. James' Park



Conditions: Euphoric.


Newcastle

mackems

2 - 0

Teams
4mins: Geremi swung over a fine cross from the right and Owen bamboozled the hapless McShane with a dazzling run to guide a powerful header beyond Gordon and right into the corner of the Gallowgate net. Hi-de-Hi! 1-0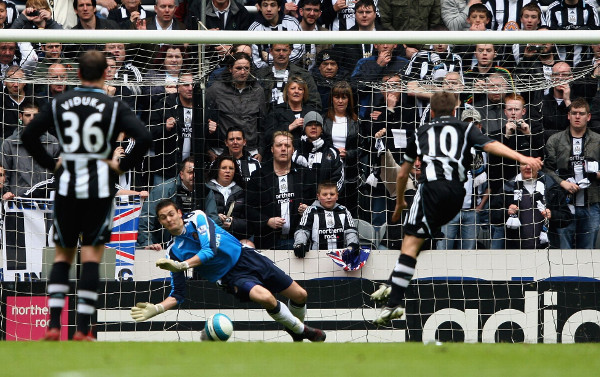 45mins: Beye's cross was intercepted but Michael Owen then telegraphed the clearance and gave it back to Beye. This time the full-back found Owen and his tight one-two with Viduka saw Owen chip the ball over a sprawling Higginbotham. A stray arm from the defender blocked the ball and referee Dean pointed to the spot.
Owen said afterwards he was going to place it but Joey Barton told him that Gordon always dives right, so he should blast it down the middle. His blast was straight at the mackem 'keeper but happily he couldn't prevent it going in. 2-0
Half time: Newcastle 2 mackems 0
Full time: Newcastle 2 mackems 0
Kevin Keegan said:

"It is very special to win a derby match, even though we did not play well. We started well and got an early goal. We also got the penalty at a psychologically good time and we won the game.
"We played 50-60% compared with what we could do. Our passing was not as good as it could have been, but the attitude and endeavour was spot on. And the atmosphere was magnificent. I think we got an atmosphere like that because the supporters are happy with what we have done in the last few games rather than our performance on the day.
"I don't care what anybody says, you can go around the world twice if you like and you would not get an atmosphere like that anywhere else. During the game Terry McDermott turned to me and said it was just like the old days. He's probably right, it used to be like that every week as the fans came into the ground motivated and happy because of what they had seen last time.
"The players here have not seen the atmosphere like that because of the season we have had. I told them they are the best in the world and you can earn an atmosphere like that every week if you keep these results coming. In the last five minutes or so I was just soaking that atmosphere up.
"I think he (Owen) will stay. He likes it here and we want him here. He is the most important signing we have to make. He is a key player, a leader who leads by example. I think the fans are seeing the very best of him and they like what they see. I'm delighted.
"It would be foolish to search the world for players and not keep the ones who are proven and have the character needed to play for a club like this. We have to keep the quality we have.
"The fans know a great player here. They like their heroes to get sweat on their shirts, like Alan Shearer and Peter Beardsley. Michael is no exception to that.

"If they don't like him now they never will. They had to learn to love him because of the games he has missed with injury, but I'm sure they won't have a bad word said about him now.

"I read somewhere that he (Ashley) could have bought Leeds or Newcastle, so I just said to him, 'Aren't you lucky you bought Newcastle?'
"No disrespect to Leeds, but you just can't buy that. He has, but you can't normally buy an atmosphere like that in a stadium.
"You have never heard anything like that at the end. I don't care how many times you come to the stadium, when it goes like that and you hear them singing, it's absolutely the only place in the world to be, as far as I am concerned.
"I have played at Liverpool and I have played in derbies, I have played in the Maracana, I have played in the Nep Stadium, Liverpool, Boca Juniors but this is the best place in the world when you are winning.

"I've told the players it used to be like that before kick-off. It's a tough place if you are not going well, but hey, they are the rules of the game."

Michael Owen added:

"My contract is up next year, but I'm very happy here - this is probably the most exciting time since I came to Newcastle.

"I couldn't be happier with the new manager - I've enjoyed playing under him - and the fans, and I'm in probably the best part of my Newcastle career so far, hoping there will be even better times ahead.
"I'm like anyone: you want to push for things and get a trophy, and speaking to the manager about his plans, I know he certainly wants the same success.

"If everything that Kevin Keegan wishes for comes true then there will be a really bright future for Newcastle United.

"He said he had big ambitions and was going to target big names. He wants to get this club back to where it belongs."
Roy Keane uttered (good luck in making any sense of it):
"At this level, you tend to find the teams around the bottom, we seem to give the teams nearer the top a helping hand.

"We have done that in so many games this season. We did it last weekend and we have done it again today. They were two really bad goals to concede.

"In the second half, it would have been nice if we had scored one to make it interesting when Kenwyne had a good chance, but it wasn't meant to be."


The 139th Tyne-wear derby saw us register our 51st success, while the forces of darkness lag behind on 43, with 45 stalemates.

Since we lost at SJP in November 2000, we've won six and drawn the other three of these fixtures - which equals the best-ever unbeaten sequence in this fixture (by us in 1967-78).

And in terms of actual results this is an unprecedented period of dominance, with six Newcastle victories and three draws in the current sequence (1967-78 saw us win three and draw six).

Owen's brace were the 209th and 210th we've scored in this fixture while we prevented the mackems from adding to their 205 strikes.

He also became the first Newcastle player to net a penalty in a Tyne-wear derby @ SJP since Peter Beardsley back in January 1985. The last spot kick award had been in November 2000, when Alan Shearer saw his effort saved - that one, Beardo's and Owen's all coming at the Gallowgate End.

Owen's opening goal was quick, but not as rapid as Craig Bellamy's here against the red & whites at the Leazes End in September 2002, timed at 83 seconds.

KK extended his 100% record in these games to five:

29.03.92: won 1-0 (h)
18.10.92: won 2-1 (a)
25.04.93: won 1-0 (h)
04.09.96: won 2-1 (a)
20.04.08: won 2-0 (h)

(and as a manager against the red & whites, KK can add two 3-0 wins by his Man City side in season 2002/03 to that list - his Fulham side never faced the mackems)

United v smb @ SJP since 1980:

2007/08: Won 2-0 Owen 2 (1pen)
2005/06: Won 3-2 Ameobi, og(Caldwell), Emre
2002/03: Won 2-0 Bellamy, Shearer
2001/02: Drew 1-1 Bellamy
2000/01: Lost 1-2 Speed
1999/00: Lost 1-2 Dyer
1996/97: Drew 1-1 Shearer
1992/93: Won 1-0 Sellars
1991/92: Won 1-0 Kelly
1989/90: Lost 0-2
1989/90: Drew 1-1 McGhee
1984/85: Won 3-1 Beardsley 3 (1pen)
1979/80: Won 3-1 Cartwright, Cassidy, Shoulder



Waffle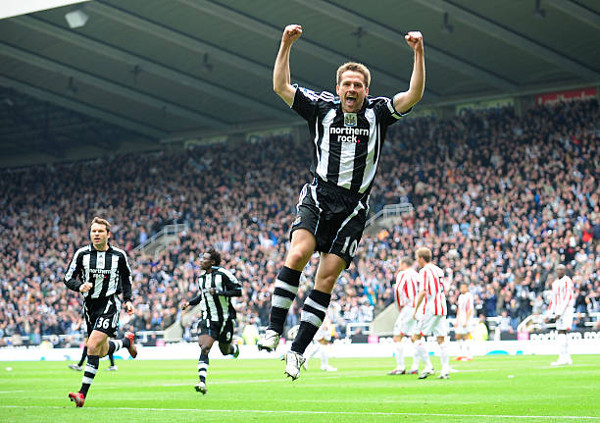 Before the season started we'd earmarked this as a relegation decider; United sailing towards Europe under Big Sam, pausing only to jettison Roy Keane and his small town rabble overboard.

Barely a month ago however, that scenario was embarrassingly untrue - with our top flight status being on the line. Never mind continental jaunts, the chances of us going to Merseyside looked dicey.
In the event, an upturn on the banks of both Tyne and wear made this less of a survival struggle - although the red and whites remain mathematically at risk, with three "interesting" games to play.
On today's showing they deserve to tumble, but three wins in a row before their home loss to Man City will probably be enough to preserve their top-flight status and result in the Labrador walker being handed another wheelbarrow full of Euros to fritter away.

What a shame that the Irish currency is no longer punts......

The seeds for a success that was simultaneously the simplest and least memorable of our six game unbeaten run came before kickoff, with a pre-match programme putting us firmly on the front foot.

Both teams entering to be greeted by a mass display of black & white cards held aloft, home fans already charged up by Consett-born opera singer Graeme Danby and his stirring on-pitch rendition of The Blaydon Races.

This culminated with the baritone taking up a defiant, flag-brandishing pose in front of the away fans, leaving the field to an encore of "Toon Toon, Black & White Army" that had the desired effect. We'll probably get an FA charge....

The response from the unwashed hordes on Level Seven was as insipid as their side's performance in an opening half that was as comfortable as any in living memory against this lot.

Owen's third goal in as many home games cranked up the volume still further and saw heads drop among the visitors, who responded with some brutish tackles rather than counter-attacks.

For the remainder of the half United failed to capitalise on their dominance but were never in any real danger of conceding, Harper & Co. laying the foundations for a third successive clean sheet.

With territorial advantage but a certain lack of efforts on target, a second goal was vital to putting the mackems out of their misery and hopefully propelling us on to further net-bulging endeavours.
That opportunity was suitably handed to us, and while it wasn't the greatest penalty from Owen he duly reached double figures in the league for the season - ending the game as a contest before half time.
The second period saw us lose our way slightly, KK himself expressing some surprise post-match that his side didn't kick on from their great half-time position.

However there never looked any danger of him failing to extend his 100% record against them and consigning the mackems to a ninth successive winless derby.

Owen failed to claim a second hat trick in our colours (and a first on SJP since that Liverpool one a decade ago that had him rubbing his hands in delight). A left foot strike would also have given him another perfect hat-trick, having already done the deed at West Ham.

However, he did look genuinely elated at the final whistle - although he had departed from the field by the time Beye and Taylor took their leave, having soaked up the applause and deposited their shirts in the crowd.

Martins was in a slightly wayward mood but still looked like terrorising the visitors every time he picked up possession cutting in from the left both before and after the break, only to shoot at Gordon rather than pull the ball back.

That second piece of selfishness saw Duff readied for action and he duly replaced the Nigerian to leave us short of pace - something that the arrival of Andy Carroll for Viduka hardly remedied.

Viduka and Butt had both queried the formation once Martins had left the pitch and the switch to 4-4-2 didn't seem a smooth one as Owen still stayed deep and Viduka made his point to the bench about nothing coming down the right flank after Geremi tucked inside. Not that it mattered.

Although the visitors huffed and puffed (especially in the case of the portly Andy Reid), Kenwyne Jones lacked support up front and found Harper more than equal to the one genuine goalscoring opportunity that came his way.

Having had elastic bands flicked at him all afternoon, substitute Michael Chopra made a belated entrance and was loudly jeered onto the pitch - his every touch receiving the same treatment.

Few expected him to be cheered in the style of David Kelly in 1997, with his defection to the dark side (via Cardiff) seen by many as a preference rather than a necessity.

However his reception was maybe more hostile than even Chops himself had anticipated - with those who didn't boo him joining with choruses of the equally cutting "4-1, even Chopra scored."

Perhaps he'll need to don a SMB T-shirt to redeem himself before absolution will follow - hopefully doing the deed when we're back at Wembley, like Lee Clark....

So, satisfaction and pleasure rather than the genuine elation that a hatful of goals would and should have brought.

But regardless of the opposition, this was a victory that confirmed our Premier League status - and is worth celebrating for that alone, never mind those alleged bragging rights that are now re-conferred.

After this season's traumas, it's no bad thing that we've avoided a "Kelly v Portsmouth" moment, but in time to come, Owen's equaliser at St.Andrews may be looked upon as the point at which relegation became revival.

And before the bandwagon disappears out of sight, remember that this derby victory moved us closer to our lowest Premier League points total of 43 - that's closer to, not past it.

At the present time therefore, this side has achieved less than our previous incarnations featuring the collective gimpery of Messrs Rush, Andersson, Maric, Georgiados, Gavilan, Brady, Fumaca etc.

Taking the one point required from the possible nine available to us to equal that total shouldn't be a problem, but there's still a bit more required from the side to repay those who stuck with them pre-KK.

Our season didn't end today, even if the threat of demotion was finally removed.

By contrast, our opponents still face a nervous end to their campaign; Birmingham's stuffing by Villa the only bright spot on an otherwise dismal day for them.
Their followers sensed early on that they were making up the numbers - and were reduced in their post-match squawks to jibes about how a half-decent team would have humped them.
The DJ finished up with "Beautiful Day" and "Big River", but "The Beaten Generation" was more apt for the huddle on Level Seven whose lack of any defiant response spoke volumes.

A season that simply couldn't end quick enough for us a month ago has now belatedly become a thing to cherish and enjoy - with a discernible buzz in Toon again about next season and Keegan's plans for world domination.

For now though, a reassertion of regional superiority was most welcome.

Biffa/Niall
(with thanks to Preston Mag & Jogger for pics).