Kevin Keegan said:

"I would rather be a lucky manager than a good one, but Obafemi's goal was not down to luck and we could have had two penalties ourselves in the second half.
"We did not start well and it made it look like there was a gulf between the two sides for a while.

"We did not deserve to be level but we had to go out and get the next goal because that would be the most important one.

"We could not get the goal but we still showed a bit of character and played some decent stuff at times.

"There are plenty of positives for me to take out of the game - it was not our best performance by any means but we showed we have still got enough ability in this side to cause anybody problems.

"It's our job to help Manchester United win the title and it's not easy for me to say that - I'm only kidding. The thing I like about this League is that there's an integrity to it.
"If we were in Spain now, we'd be getting an offer of a bonus from Manchester United to beat Chelsea. Definitely. It happens and it's allowed. That can never happen here.
Asked if he thought Fergie would send him a case of wine for beating Chelsea on Monday he replied:
"I doubt it! Not a good one anyway. It'll be one of those Chateauneuf du Plonk!
"I'm only kidding. I don't have a preference who wins the title. The best team usually win — except the time when we lost it. That time the best team came second.
On Oba:

"I have never worked with a player like him. He can do fantastic things. I mean, he came on against Liverpool earlier in the season and he rattled the crossbar shooting from the halfway line. It would have been the goal of the decade."
Hammers Boss Alan Curbishley said:

"I think Taylor has tried to leapfrog him (Ljungberg) and landed on him. He has been raked all down the side and front of his face and cracked a rib. That's another one out for us but we are hoping he will be okay for the Euros.

"We were playing ever so well for 40 minutes and could perhaps be even more in the lead. We just had a crazy couple of minutes.

"It was a terrific ball - the type that Martins feeds on - and Tomkins just got caught under it but that's another learning curve for him.

"That turned the game in their favour. But I'm delighted with the way we played, for the whole game really, but obviously two wasn't enough."
Hammers v Magpies - Premiership years:



2007/08: Drew 2-2 Martins, Geremi
2006/07: Won 2-0 Duff, Martins
2005/06: Won 4-2 Owen 3, Shearer
2002/03: Drew 2-2 Bellamy, Jenas
2001/02: Lost 0-3
2000/01: Lost 0-1
1999/00: Lost 1-2 Speed
1998/99: Lost 0-2
1997/98: Won 1-0 Barnes
1996/97: Drew 0-0
1995/96: Lost 0-2
1994/95: Won 3-1 Lee, Mathie, OG
1993/94: Won 4-2 Cole, Lee 2, Mathie

The last occasion that we recovered from going two goals down to earn a point was also against the Hammers - with efforts from Milner (45) and Solano (53) restoring parity at SJP in January 2007 after we trailed 0-2 after 22 minutes. The referee that day? Uriah Rennie.

And one has to go back to the 2003/04 season to find when we last managed an unbeaten run of four Premier League away games - a draw at Wolves in Nov 2003 being the first of seven games away from SJP without defeat.


Waffle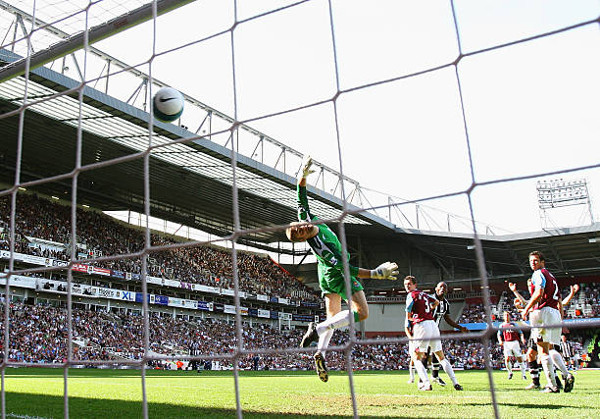 The Magpies snoozed in the sun for 35 minutes on Saturday afternoon, allowing the Hammers to race into a two goal lead before we'd crossed over the halfway line.

However, Kevin Keegan's side recovered sufficiently before half time to level the match and do enough to extend their unbeaten run to seven and make it nine games since we last lost to the claret & blues.

The injury that put Abdoulaye Faye's appearance against the mackems in doubt saw the Senegal defender miss out at the Boleyn Ground, with David Edgar stepping up from the bench in preference to Lamine Diatta.

The Canadian international was a bystander though when his side fell behind on ten minutes and struggling again midway through the first half when Ashton doubled West Ham's lead.

While the defender paid the price for some indecision on what was only the fifth senior start of his career, a generally sluggish display by his colleagues up until that point was being punished.

Harper's wayward kicking was matched by Barton's inability to get into the game and also Geremi's lack of cover in front of Habib Beye on the right.

The latter had been picked up by the home side, who funnelled attacks down that side of the field and had squandered a couple of chances before taking the lead.

Although Ljungberg departed on a stretcher with a broken rib after a clash with Taylor, that made little difference to the one-way traffic towards Harper's goal.

Rather than try to build on their lead however, Curbishley's side sat back and were to be punished.

Michael Owen's first meaningful act was to get to the front post on 36 minutes, only for James Tomkins to block his goal-bound header. However just six minutes later the same defender was unable to prevent Oba from netting his ninth Premier League goal of the season.

And scarcely had the away section calmed down than they were celebrating again, Geremi scoring his second goal in successive capital city outings for us.

The second half lapsed into the sort of season-ending stalemate that had been half-expected, with both sides cancelling each other out.

Penalty shouts at each end of the field were rightly ignored by the irritating but mostly competent Uriah Rennie, while West Ham had more goal efforts but of the mostly high and wide variety.

Harper made one fine save to tip over Ashton's fierce rising shot as the game entered the closing stages, while at the other end Green was equal to Oba's shot after he wriggled past two opponents.

Injury had deprived the Hammers of the services of a trio of ex-Newcastle players (Bellamy, Bowyer and Dyer), with the latter being singled out for some abuse by sections of the travelling support.

Scott Parker though did play the full game and seemed anxious to get one over on his former employers, with a couple of over-zealous challenges and some of the tail -chasing meandering that frustrated his former fans.

The final seconds of the game then saw Nolberto Solano appear from the bench to great applause from Toon fans, who had sung his name at various times during the day.

David Edgar meanwhile had recovered from his indifferent start to make some morale-boosting interventions, before leaving the field near the end to with a head wound that required eight stitches.

Attention now switches to the next games for both sides, with the Hammers travelling to Old Trafford for a Saturday lunchtime kickoff, before title rivals Chelsea come to SJP for Bank Holiday Monday afternoon's match.
Biffa