Date: Monday 5th May 2008, 4.00pm
Live on Sky

Venue:

St. James' Park



Conditions: Cloudy but hazy sunshine just about emerging by the end.

Newcastle

Chelsea

0 - 2

Teams
Half time: Newcastle 0 Chelsea 0

61mins: Bennett penalised and booked Faye for catching an opponent with his trailing foot down the Chelsea right, just outside the box. Drogba opted to stand over the ball rather than make his way into the Newcastle area and when he flighted over the free kick, Ballack scored his third goal in a week by heading unchallenged past Harper in the Gallowgate goal, having stepped away from the stationary Smith 0-1

82mins: United were left helpless by a passing move involving Essien, Ballack and Lampard that worked the ball upfield and into the box, Malouda running on to convert with a grasscutter. 0-2

Full time: Newcastle 0 Chelsea 2

Kevin Keegan said:

"During my time here - and I've got three years left - Newcastle will not be a Champions League club.

"That's what I want to tell the fans, I don't want to mislead them. We'll try our best and if one of them (the top four) hits a brick wall and falls by the wayside and we can jump in there I'll be delighted, but realistically it's going to be tough.

"At the moment we're a million miles away from them (Chelsea).

"This league is in danger of becoming one of the most boring but great leagues in the world. The top four this season will be the same top four next year.

"But what I can say to Newcastle fans is that we'll be trying to get fifth and win the other league thatís going on. We should make a run of that.

"Providing the owner backs me - and I've no proof of that yet, but no doubts he will - I can get three or four players in and if I can do that - and we have luck and no injuries to key, key players - then we might be able to win the 'second league' in the Premiership.

"I think it's very, very exciting to finish fifth in the league for Newcastle. You'd be mad in my position to say we can get in the top four next season. You can't ask an owner to spend that kind of money or get the players to come to this club that you would need to get in the top four.

"We lost out on Modric to Spurs and that tells you something. It's a blow - it's not the end of the world.

"I'm still optimistic for this club in terms of where it's been in the last couple of years.

"Six weeks ago I asked the club to tie him (Owen) up, it's not happened yet. It's disappointing but it's not the end of the world. I've not told Michael in the six weeks I've been talking to him about staying that if he stays here he'll get Champions League football or we'll win the Premier League.

"I'm not misleading anyone there. If we finish fifth it'd be a massive achievement considering where we are now.

"I didn't say I hadn't got any money to spend this summer, I said I haven't got enough to make up that gap to the top four.

"I think Mike Ashley will support me. I don't think there will be a problem there, but the problem might be getting the players. I get on great with the owner because I never talk to him! Thatís better than some managers at the moment! No communication is good now!

"But however much money he gives me the biggest challenge is getting players to come to you when they've got three or four alternatives. And if they're really good players they will have three or four alternatives.

"Even if someone gives you a barrel-load of money you have to be honest and say you're not going to get the best players. There's a pecking order - If I'm a player and I get the option to go to Chelsea or Newcastle, the Press would slaughter me, asking where my ambition was (if I chose Newcastle).

"All the great players will go for where the honours are and if they don't make it there they'll drop to a Newcastle.Ē

Chris Mort subsequently echoed those sentiments:



"We don't want to do a Leeds. It doesn't make sense.

"This club had £100million-worth of debt which has now been cleared and it would be foolish to stretch it beyond its limits.

"I thought Kevin's comments were quite sensible.

"I'm not sure what people's expectations are but I don't think most Newcastle fans would be greatly surprised by what he had to say.

"There are those who are naturally optimistic but it does no harm to come out with some realism and say that if we get fifth we will have done well. He's right.

"I wasn't taken aback by Kevin's comments. He says what he feels. We have just come out of a relegation battle so you can't have people surprised when the manager says we aren't going to get into the Champions League.

"This is a long-term building project and we are very happy with Kevin. He's a very enthusiastic character who has got the team playing good football.

"We were disappointed to lose to Chelsea but he's got the team playing well.

"We have started talking about who we will be bringing in and Kevin will have the final say. He has to have that.

"We are very happy with where we are but Kevin is quite right to say we shouldn't expect Champions League football.

"It's going to be tough for anyone to break into the top four. Someone might sneak in there occasionally and there are a number of sides who will have a go but it is incredibly difficult."

Avram Grant celebrated an early birthday present - he turned 53 the following day - to say:

"I have been coming here for more than 30 years to visit English football (we think he meant the country in general rather than Gallowgate...)

"One thing I learned is that you never know what is going to happen until the end here, not like in other countries.

"Sometimes I know I am too positive and too optimistic but I believe in the tradition of English football. First we need to win; it is not easy to play in Wigan and I don't believe Steve Bruce will give the game to Man United.

"(Manchester) United did a fantastic season. Normally they would be champions well before now but this season they have a team that has given them a good battle. We need to wait and see, but especially in English football anything is possible."

"We played today against a manager, Kevin Keegan, who represents the beauty of English football in that he always tries to give his best - and I believe it will be the same at Wigan."




Blues @ SJP - Premier

League

:

2007/08 Lost 0-2
2006/07 Drew 0-0
2005/06 Won 1-0 Bramble
2004/05 Drew 1-1 og(Geremi)
2003/04 Won 2-1 Ameobi, Shearer
2002/03 Won 2-1 og(Hasselbaink) Bernard
2001/02 Lost 1-2 Shearer
2000/01 Drew 0-0
1999/00 Lost 0-1
1998/99 Lost 0-1
1997/98 Won 3-1 Dabizas, Lee, Speed
1996/97 Won 3-1 Shearer 2, Asprilla
1995/96 Won 2-0 Ferdinand 2
1994/95 Won 4-2 Cole 2, Fox, Lee
1993/94 Drew 0-0

Since being beaten at Anfield in early March, we'd won four and drawn the other three of the seven games played going into this fixture. Fourteen goals had been scored, four conceded.

Our run of three consecutive home wins and clean sheets came to an end, Ballack scoring to break our defences down after 331 minutes.

This was Chelsea's 13th away win in the league this season (draws at Liverpool, Portsmouth, Spurs - defeats Villa, Man United, Arsenal) The are undefeated in the league since December (20 games).

This was Chelsea's first victory in six league visits to Tyneside, but they did beat us here in the League Cup last season.

Last season's 0-2 reverse at the hands of Blackburn (12 months to the day) was the first time that we'd lost our final home game of the season since going down 1-2 to Hull City in 1990/91.


Waffle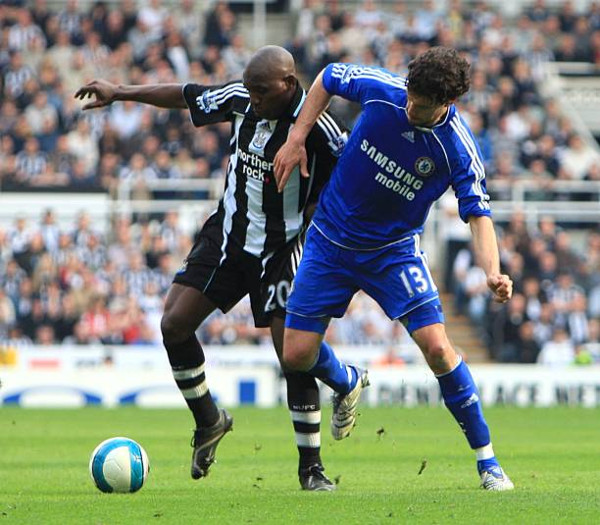 A defeat that in no way was unexpected or undeserved made the finale to our home campaign something of a comparative damp squib, but left players and manager taking the applause from the centre circle.

That there was no post-match lap of honour was a common sense decision from United and an acceptance that vast tracts of this season have been wretched and overall unworthy of celebration.

But enough positives have emerged in recent weeks for people to recognise that there has been a resurgence in our fortunes and an increase in on-field effort and enthusiasm. Enough to sell the season tickets anyway - which looked like being a monumental task at the start of this year.

The opening forty five minutes had seen us take advantage of a slightly listless display from the title chasers, shading the half and seeing two near misses from Michael Owen, either of which would brought the house down had they beaten Cech.

Unfortunately, Escape to Victory was the only footballing fairy tale televised this Bank Holiday - and the crowd were treated to 45 minutes each of the positive & negative sides we've shown this season.
Our demise began with the withdrawal of Viduka at the interval and his replacement with the headless chicken that is Alan Smith, turning back the clock to our victory-free, incoherent non-performances.

If Nicky Butt was attempting to furnish his former Old Trafford colleagues with silverware via controlled aggression, then Smith's game plan appeared to be to start a fight or dance himself dizzy.

Incapable of finding space, unwilling to attempt more than the most basic pass and routinely out of position thanks to his schoolboy ball-following antics. Anyone care to guess where was he playing?

And things only got worse when the docile Duff shambled on. With Geremi having been running on empty all day all we lacked was a cameo non-performance from Babayaro to complete a trio of Kings Road duds.

It was probably appropriate that Allardyce was present, as his former charges instantly surrendered the initiative to a resurgent Chelsea, who encountered little resistance when they raised their game.

A handy reminder though that we remain a work in progress and that the chopping out of Carr is only the first act in what needs to be a fairly extensive and ruthless programme of personnel changes.

So to the final whistle and those post-match words of wisdom, dissected as if they were a major work of theology rather than end-of-season soundbites. Well, if you can't beat them, join them....here we go:
Keegan is half-right in saying that we're a million miles away from the top four, after a season when we've taken precisely one point and three goals from our eight matches against them. But he seems to be talking about the current form of that quartet and their performance across the whole season.

While he was handing out Soccer Circus leaflets at Braehead the opening months of 2007, we faced said big four at SJP - and avoided defeat against them all, taking six points from a possible twelve. That didn't make us title contenders (or keep Roeder in a job) but it proved that we weren't quite whipping boys.

As ever, the problems we have are mostly of our own making and become evident against teams who have even less chance of breaking into a Champions League spot than ourselves.

Beating Chelsea or Man U is only worth the same as beating Boro or Pompey - and it can be argued that avoiding losing against the latter trio is more valuable in a "don't give your rivals the points" fashion.

A lack of preparation, inappropriate tactics and a bad attitude among certain players have been our downfall more often than a lack of talent.

If KK believes that the way to our hearts is with more mega money "trophy" signings from God knows where, then he's guilty of falling into the same crowd-pleasing trap as our former Chairman. Buying the 2008 version of Albert Luque for twice the price is unacceptable, even if the deal "makes sense".

The problem we seem to have is that football has moved on (not progressed) in the three years since KK relinquished his position at Man City and that he cannot work in the same unimpeded way that characterised his previous reign here - and led to his departure when PLC hired hands sought to meddle.

Keegan famously convinced Robert Lee to move to Tyneside - nowadays the two wouldn't even have spoken to each other before the deal was brokered. You lose something there surely, in terms of the manager weighing up his potential signing, even if the schmoozing ability of KK is now life-expired.

The reaction of Obafemi Martins to KK's appointment at SJP is a classic example: the player having to resort to Google and YouTube to find out who his new gaffer was. The emerging generation of players don't know who Keegan is - and the older ones who do don't fit into our profile of worthwhile signings.

Is Keegan flexing his muscles because the Modric deal went the same way as Woodgate - and the faces brought into the club to do the all this new-fangled fixing failed? Only time will tell on that one.

So what do we end up with? A home defeat against the most potent away day side in the country, followed closely by some slightly unexpected comments that the manager quickly sought to clarify.

Too late though, as his words were seized upon by hacks impatient at not being able to write "trouble in Toon" headlines by our recent unbeaten streak. Showdown, D-Day, crisis talks... you get the picture.
What if we'd won this game? One can almost hear the soundbites that would have rolled off KK's tongue in his post-match reverie. Stirring rhetoric about this being a unique, special place that would be lapped up by those watching on TV in city pubs - and promptly dismissed in the time it takes to buy more beer.

But would they have any more gravitas and significance than Keegan's actual comments? No, because they're both transient and liable to alter like the weather. Remember his departure the last time and the variety of reasons he gave for leaving, ranging from the "feeling sorry for Gerry Francis as we beat Spurs 7-1" to the later "revellations" (sic) about the PLC.

Stick around, there'll be another batch of quotes on the way soon. Thursday in fact, when KK next speaks to the media.

Post-Allardyce, we need to be in a position where we're challenging Villa, Man City, Everton and whoever else drags themselves out of the lower reaches of the league. There's a confidence Keegan can do that.

We already know we're eminently capable of clobbering the beautiful people of White Hart Lane - who now seem to who have moved on in two decades from poaching our own talent to copying our wish list.

Woodgate and Modric choosing them over us may have annoyed KK, but we cannot get overly-excited about missing out on either.

They both join a club routinely lauded as gatecrashers at the Premier League party by themselves and their friends in the press, but who rather annoyingly keep screwing things up.

So they've signed a promising young midfielder with the world at his feet - Jermaine Jenas anyone?

It's for that reason and the masses of other profoundly average players clogging the league that the opportunity to be competitive in this league remains open to us. If KK didn't think he could put out a side superior to those Sven, Moyes or O'Neill can construct then he'd never have unpacked his bags again.

Ever since Ian Woan scored at the City Ground twelve years ago, I've not believed we could win the league - and seen nothing on the field in the intervening period to alter that mindset.

But there have been great days and near misses along the way - coupled with some memorable football from some magnificent players.

Much of that was orchestrated and inspired by our current boss - who has a damn sight more going for him in the recruitment department than his charmless predecessors (would you sign for Souness, Roeder or Allardyce if anyone else wanted you and you didn't know all the words to The Blaydon Races?)

There's hope and there's expectation.

We hope to improve, we hope to be challenging for something slightly more credible than the Intertoto Cup. We expect to get competence, entertainment and commitment for our hard-earned.

Nothing there is unrealistic, nothing there leaves us open to charges of mass self-delusion. That applies equally to Keegan's comments. What a pity that it differs from other people's world view of him. And us.

The one imponderable in all this is what the owner thinks of Keegan's comments. From where we stand though, the supportive quotes from the Chairman would seem to render talk of bust-ups invalid.

Biffa