Date: Sunday 11th May 2008, 3.00pm

Venue:

Goodison Park



Conditions: Sunshine first half,
cloud, rain, thunder & lightning second half

Admission: £33 upper tier (last season £33)

Programme: £3





Everton

Newcastle United

3 - 1

Teams
28mins Duff was booked for impeding Pienaar down the Everton right close to our box. Fernandes floated over the consequent free kick for Yakubu to head home unchallenged at the Park End for his 20th goal of the season - the first Evertonian to reach this total since Peter Beardsley in 1992 0-1
Half time: Everton 0 Newcastle 0

47mins Charles N'Zogbia was upended in the area by Joseph Yobo, allowing Michael Owen to convert from the spot with a low effort that went under Howard and prevented the Toffees 'keeper from matching Neville Southall's clean sheet record of 15 in a season. 1-1
70mins Fernandes delivered again after Owen was penalised and when Taylor managed only a partial clearance, Lescott was on hand to net his eighth goal of the season (ten inc UEFA Cup). Only Owen can beat that overall total (Oba equalling it) are you listening Smith, Viduka et al? 1-2
82mins Leon Osman tumbled over Taylor in the area and a spot kick was rightly awarded, with Yakubu giving Harper no chance. That was the Nigerian's fourth career goal against us - two each for the Smoggies & Everton, although he failed to net in three Pompey appearances against us 1-3.
Full time: Everton 3 Newcastle 1
Kevin Keegan commented:

"Today is all about Everton. They are an inspiration to everyone. They do not have a massive squad, but they invested well last summer and they have taken fifth spot, which is a terrific situation to be in.

"They are together as a team, they play for each other. And they have a lot of very, very good players.

"They are the ones to look at. Maybe I wasn't quite right when I said that the top four is always the same, but nearly. But it must be said that if they (Everton) can do what they have done, why can't we?

"They are where we want to be. And in David Moyes they have an excellent manager.

"I was talking to Bill Kenwright as we walked back down the tunnel after the game and he was obviously very proud. But I told him that we are after his club's position next season."
David Moyes uttered:

"We deserved it. We have been in the top five since new year, and our form has been coming back in recent games.

"We finished on a good note, with a good performance. All we lacked in the first half was the finish to underline our superiority at that stage.
"We got word that Aston Villa were leading but the players kept to their job, and all credit to them.

"But I don't feel that we showed any nerves. We passed the ball well, and produced a really, really good performance. There was character and confidence.

"I wanted to win, I wanted 65 points. In many other seasons, that would have got us into the Champions League. When we did achieve that a couple of years ago, we did it with 61 points.
"This is one of my most pleasing seasons at the club, but I always prefer to think that the most pleasing season is still to come."
Toon at Goodison -
Premiership Years

2007/08:
Lost 1-3 Owen (pen)
2006/07: Lost 0-3
2005/06: Lost 0-1
2004/05: Lost 0-2
2003/04: Drew 2-2 Shearer 2 pens
2002/03: Lost 1-2 Robert
2001/02: Won 3-1 Bellamy, Solano, Acuna
2000/01: Drew 1-1 Unsworth og
1999/00: Won 2-0 Hughes, Dyer
1998/99: Lost 0-1
1997/98: Drew 0-0
1997/98: Won 1-0 Rush (FAC)
1996/97: Lost 0-2
1995/96: Won 3-1 Ferdinand, Lee, Kitson
1994/95: Lost 0-1 (FAC)
1994/95: Lost 0-2
1993/94: Won 2-0 Cole, Beardsley
Since that First Division title-winning night at Grimsby in 1993, we've failed to end our away campaign with a victory in fifteen attempts:

2007/08 lost 1-3 at Everton
2006/07 drew 1-1 at Watford
2005/06 drew 0-0 at Birmingham
2004/05 lost 0-2 at Everton
2003/04 drew 1-1 at Liverpool
2002/03 drew 2-2 at West Brom
2001/02 lost 1-3 at Southampton
2000/01 lost 0-3 at Liverpool
1999/00 drew 0-0 at Derby
1998/99 lost 0-2 at Leicester
1997/98 lost 0-1 at Blackburn
1996/97 drew 0-0 at Man U
1995/96 drew 1-1 at Forest
1994/95 lost 0-1 at Blackburn
1993/94 lost 0-2 Sheffield United

Our last away season-closing success in the top flight came at Portsmouth in May 1988, where we won 2-1.
The defeat meant we ended the season by equalling last season's record low points tally of just 43 points. Only 14 of those came on our travels which is an outright record.
The 65 goals we have conceded this season beats our previous worst, 57, in the 2004/05 campaign and our goal difference of -20 doubles our -10 three years ago.

This has been our joint shortest post-war competitive season of just 43 games including cups. That total was last achieved in 1958/59 (before the League Cup began) and is well under our highest total of 59, recorded in 1968/69.

We bade farewell to Reading and Birmingham City on Sunday, who joined Derby County in being relegated to the Championship.

Everton had been the only side this season not to have been awarded a penalty kick in the Premier League this season - until eight minutes from full time.

Only three of the Newcastle team that started the final game of last season at Watford were in the XI selected for this closing fixture - Taylor, Owen and Butt.

With Ramage, Harper and Carroll involved at some level in both games, the ten ins and outs are:

Absentees: Given, Solano, Carr, Milner, Dyer, Pattison, Ameobi, Onyewu, Alan O'Brien, Huntington.
Inclusions: Beye, Faye, Smith, Duff, LuaLua, Enrique, Cacapa, N'Zogbia, Forster, Tozer.

Martins and Emre missed the final game of the season once again....

Ben Tozer made his first senior appearance on the bench for the club but wasn't called upon.
PS - Any notion of us pinching the Fair Play UEFA spot from Manchester City - after we moved ahead of them in the disciplinary table - can be discounted. The Fair Play table is compiled using a multitude of various other factors, not just the yellow and red cards count.

Waffle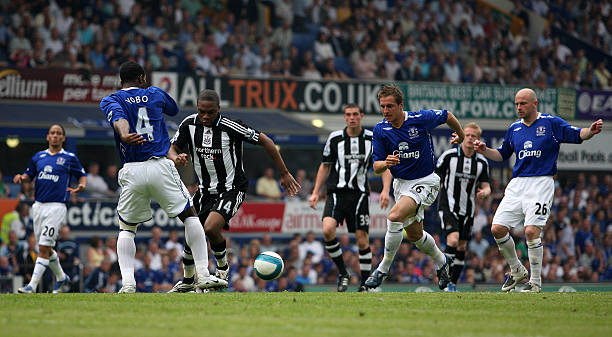 The hosts secured their place in Europe for another season, celebrating with a lap of honour.

Meanwhile we exited stage right, back in our own default position of being at loggerheads.
Correctly estimated at being a million miles away from the top four by our own manager, presumably that leaves us around 875,000 miles adrift of Everton - twenty two points and seven places ahead.

This result was academic, the performance expected. And the nervousness shown by home fans when the scores were level was purely due to their side's own self-destructive tendencies, rather than the endeavours of the visitors.

A team picked out of necessity duly went through the motions and were saved from a final day howking by Newcastle's man of the match Steve Harper - who made a couple of noteworthy stops and found fortune on his side for once on Merseyside when one clipped off his glove but rolled wide.

At least we had a rather more varied absentee list this time round than usual: Barton's bail ban from Liverpool, Geremi's family bereavement and injuries to Edgar, Given, Martins, Milner, Emre & Viduka.

But of those who did feature, N'Zogbia managed to keep his mobile phone in his pocket this time round and was the pick of the outfield players, but that wasn't saying much.

Faye's half time withdrawal raised eyebrows inside and outside the dressing room, while Duff and Smith marked what will hopefully be their final appearances with yellow cards (at least Butt avoided adding to his tally, meaning he won't carry any suspensions into next season).

We ended up playing a massive fourteen less games than last season under Roeder. By the time we got to Vicarage Road, we were probably entitled to be physically and emotionally spent - and that was just the fans. What was the excuse this season? Certainly not Euro 2008...

Don't think that we're not grateful for our 43 point haul though - even if it was our joint lowest in this competition, it's a damn sight better than it looked nine games ago, when we had just 28.

Even though we signed off on a low note after last week's reminder of how far we've fallen, it was thanks to our own recent efforts this was a game as meaningless as Boro's demolition of Sven & Co.

The off-field uncertainly that currently surrounds Manchester City though extends to ourselves, after a season that concluded amid a muddle of mixed messages from - and about - the Magpies.

Attempting the impossible task of making sense of this season, the chance to have a happy ending and dismiss all but the last three months would have been much appreciated. Bad man goes, good man comes, disaster averted, strike up the band.

But those seven weeks of comparative calm since the revival began at Birmingham ended with a final week's swansong of two defeats. And they sandwiched apparent internal strife that saw the return of words like "furious" "crisis" and "showdown" to media reporting of the club.

Now that the immediate concern of maintaining top flight status has retreated, that all-important bigger picture has to be considered. And at this precise moment, we're unsure as to whether it's been hung on the wall upside down, or back to front.

Our own Good Friday agreement was officially decreed as "peace in our time", with Chris Mort taking the Neville Chamberlain role to say "It was a good meeting: it was both productive & constructive."

However, making messrs Mort, Ashley and Keegan travel 276 miles for that meeting had unpleasant echoes of when our previous AGMs were staged in the capital for reasons of personal paranoia.

Bearing in mind that those three amigos returned to Tyneside to sit round the same table at that night's Sir Bobby SJP shindig, it would seem logical that the other participants Dennis Wise, Derek Llambias and Tony Jimenez didn't fancy a trip to the Toon. That looks like the tail wagging the dog.
But if Friday's meeting location added credence to those who worry that this is now a club run from London, then our media coverage in 2008 would appear to render that almost beyond question.

It's becoming an increasingly thankless task to cut through layers of information, gossip and hype to find out the reality of the situation on Barrack Road.

The local media appear to be increasingly marginalised and reduced to making back pages out of soft quotes from pliant players or retreads of tales lifted from the nationals.

Meanwhile, we're treated to the unedifying spectacle of nightly revelations about us appearing online and in the next morning's papers courtesy of The Mail and stable-mate The Evening Standard.

The latter is posted on "This is London" - which beams through cyberspace like a 21st century Lord Haw Haw. London Calling, this is London Calling....with more doom-laden tales for the Toon Army.

"Owen contract snub", "Keegan on the brink", "Newcastle out of Toon". The list is apparently endless; the level of detail sufficiently high to suggest that they are coming from informed sources i.e. "Wise cancels charity golf day in Ealing".

But after consistently lampooning most of the major personalities involved via references to "Fat Ash", "Dennis the Menace" and a variety of Keegan-based mockery, it's unclear precisely who is doing the leaking - or planting.

Repeated references to a difference in philosophies over player recruitment are telling though, with Keegan said to be looking for "established internationals" (including Owen) while others target "so far undiscovered players who will grow in value".

We're not coming over all provincial here - and certainly not harking back to a time when this club required Geordies in every position - make no mistake, this was broken before and needed fixing.

However, the current instability causes concern and raises the question of why Keegan was ever approached - never mind appointed.

If Ashley didn't quite drive into Newcastle waving from an open top car, there was still a good deal of bonhomie, be it in Blue Bambu, the Black Bull or at the Britannia Stadium and a sense of liberation after what had gone before him - and seemed to have no end point, until a mad few weeks in 2007.

This apparent recluse appeared on smogside in his black and white shirt and then at regular intervals in the away end. Not at Goodison though, where he was soberly dressed in the directors box.

At whose instigation though? His own, his advisors or KK as a result of Friday's summit meeting?
All plausible, with the possibility of a fan-led backlash caused by the aforementioned media tales.

And Keegan's view of the club owner watching from the away end in his "King Kev" shirt could potentially be construed as negative, if one examines our recent history.

The final straw for Allardyce may have been the miserable 0-0 draw at Stoke, but Ashley standing among thousands of fans singing "we're sh*t and we're sick of it" at Wigan fatally undermined Sam.

It took a fortnight for Ashley to do what it took Freddy two months to decide. And if the latter had been in behind the goal at the JJB when we lost there in the League Cup rather than being abused as he sped off, Souness might have gone sooner.

Enough. We end where we started then - up our own backsides.

A year older but no wiser and feel nothing but relief that another non-event of a season was no worse and we didn't quite plunge to the depths that we feared. Of the future though? Who knows.

There should be confidence that the club can progress under its current leadership and that we make an impact in all the domestic competitions playing football that's worth watching.

Instead there remains an uncertainty among supporters that no statements can dispel - only a sustained period of unity and an end to our perpetual party trick of shooting ourselves in the foot.

Unfortunately we've been waiting for that to happen at SJP for most of our supporting lives.

We'll be here next year - God willing - but hand on heart, we can't say that about a single person on or off the field at SJP currently.

Except probably Terry Mac.

Biffa

PS: Can we record our usual thanks to the fixers, moles, bar staff and fellow sufferers who keep this site functioning - some of whom are based in London. The never-ending tour continues.