In association with NUFC.com

Date: Wednesday 6th August 2008,
@ 7.45pm

Venue:

St.James' Park



Conditions: Damp

Admission: £15

Programme: £2

Newcastle United

PSV Eindhoven

2 - 2

Teams
3mins An unmarked Steven Taylor headed home a Geremi corner in front of an almost deserted Leazes End 1-0.

8 mins James Milner and Geremi combined to set up Danny Guthrie who strolled into the area and converted a low shot 2-0

32 mins Shay Given blocked Amrabat's shot, but the ball fell for Afellay to drive it home via a heavy deflection off Manco (who PSV credited the goal to) 2-1

Half time: Newcastle 2 PSV 1

71 mins United failed to clear the danger as Afellay juggled the ball with his back to goal, before slipping a pass to Amrabat, who shoti crisply past a helpless Given.2-2


Full time:
Newcastle
2 PSV 2
Kevin Keegan commented:

"I really enjoyed tonight and I thought the lads, especially in the first-half, put on a great show.

"We deserved that early lead and we started fantastically. We've played two midfielders, James Milner and Damien Duff, in attack and they have done magnificently well.

"We had plenty of chances to win the game but PSV are a good side and they punished us twice. It was a real step up tonight and I'm very encouraged by our performance.

Don't forget we've still got a lot of players to come back, but the lads who played tonight have all done extremely well and it sets us up nicely going into Saturday's game with Valencia."

On Owen:

"Michael will want to play and maybe have half a match (against Valencia on Saturday), but I've told him I won't risk him.

"He'll be fit for Manchester United as long as he doesn't have any setbacks. He's just started running again and done a lot of strength work. He's a very fit boy.

"We must get some football into him again now but we can do that internally without throwing him into a game five days after his comeback."

On Smith:

"He's got a sore ankle.

"I knew when I left him out that it would cause you (the media) to ask questions but I can't treat him any differently to anyone else. I haven't risked anybody.

"He's a smashing lad, he's very very popular at the club and he can play in a lot of different positions, so he's a valuable player for us."

On Martins:

"Definitely (playing against Valencia) at this stage, because he trained today."

On transfers:

"I honestly believe we will probably get two more players in at least - and maybe three - and we'll work hard with a quality squad. You look at the players we used tonight and look at the players that weren't there and I think we have a very strong squad."

On Milner:

"He made the goal very cleverly for Danny Guthrie.

"Sometimes people say that his delivery lets him down but against PSV it was top class.

"He's played up front but he could play anywhere, if you asked him to play full-back he could.

"He's worked extremely well and has never stopped running - he's a gem of a player.

"Everyone at the club loves him. He works hard in training and wants to improve himself. And I really think we are yet to see the very best of James Milner and that could be very exciting."

Magpies v PSV - Previous meetings:

1996/97 won 3-2 (n) FR @ Dublin, Gillespie, Tomasson 2
1996/97 lost 0-1 (a) Champs Lge
1996/97 lost 0-2 (h) Champs Lge
2003/04 drew 1-1 (a) UEFA Cup, Jenas
2003/04 won 2-1 (h) UEFA Cup, Shearer, Speed
2006/07 lost 2-3 (h) FR Ameobi, Luque
2007/08 drew 2-2 (h) FR Taylor, Guthrie

Waffle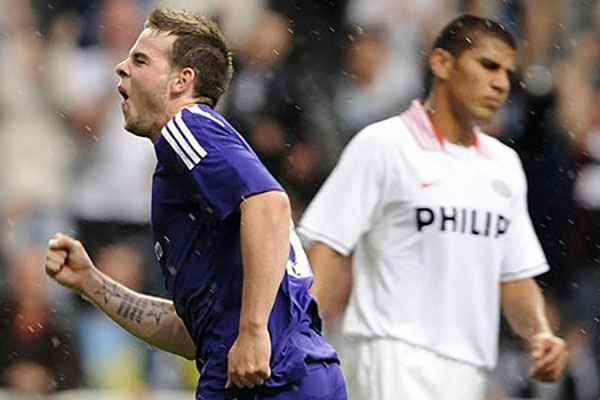 Despite fielding a starting XI with no recognised forwards, United ended their three-game scoring drought with two goals in the first eight minutes of this friendly encounter.

Sporting their purple away kit again, new signings Danny Guthrie and Jonas Gutierrez made their first appearances at SJP - Sebastien Bassong completing a trio of home debutants when he appeared as a second half substitute.

With less than three minutes on the clock, Steven Taylor opened the scoring, before Danny Guthrie notched his second strike of the pre-season just five minutes later to reward those who turned out.

With Gutierrez doing his best to make an impression in front of his new fans, United were looking to push up at every opportunity and Duff should have added another before half time.

By then, however, the Dutch Champions had woken up and deservedly halved the deficit, after coming to grips with our revolutionary 4-6 formation - where every midfielder except Nicky Butt took turns in getting upfield.

The rain that had started just after kick-off made for a full -throated encounter that was a million miles away from the strolling non-events of our two games in Palma.

And nobody exemplified that increased momentum and industry more than Milner, who exploited the space allowed him by the PSV defence to push on and see his fierce shot well stopped.

The midfielder also worked his way into dangerous positions by the PSV byline, but a lack of bodies in forward roles saw his service frustratingly wasted - and when Geremi did get to the far post, his weak effort hit the 'keeper when a goal seemed likely.

With substitutions an inevitable feature of such a game and a lack of experience on our bench, a loss of rhythm was to be expected and the visitors pressed forward.

An equaliser duly arrived and the closing stages saw half-chances at both ends, but no further goals - that at least giving the home side some much-needed confidence from avoiding another defeat.

Among the players watching from the stands was Oba Martins and along with Michael Owen, his return to action just cannot come quickly enough

However, in their absence, United at least showed some forward threat and progression from the recent non-displays in their pre-season and with Martins set to feature against Valencia, the team may take on more of a conventional look.

It makes a welcome change to be able to report positive things when talking about matters on the pitch, rather than injuries, transfer, takeovers, court appearances or god knows what else....

The only thing that should really matter to fans is what happens on the pitch - what a shame that so often round these parts it seems as if that's of secondary interest to the other sideshows......

Biffa