In association with NUFC.com

Date: Wednesday 24th September 2008 Kick-off 7.45pm

Venue:

St.James' Park



Conditions: wretched

Programme: £3





Newcastle United

Tottenham Hotspur

1 - 2

Teams
Half time: Newcastle 0 Spurs 0

62 mins Lennon found

Pavlyuchenko unmarked who nodded past Given for his first Spurs goal 0-1

66 mins A poor Coloccini pass was turned into a calamity by a prancing Taylor who inexplicably tried to dummy O'Hara but gifted him the easiest of goals to effectively end the contest. 0-2



90 mins A parried cross fell to Owen to sweep home at the Leazes end.1-2


Full time:
Newcastle
1 Spurs 2
Caretaker boss Chris Hughton commented:

"Irrespective of what has gone on re: the club, when you are on a run of defeats, then it does affect confidence.

"All you can do as coaches is pick the players up, look at the positives from the game – and irrespective of how disappointed we are at this particular moment, there are some positives from the game – and that's what we have got to centre our thoughts on now.

"We have a game on Saturday that I still believe we are capable of winning.

"What they (new owners/coach) will find is a great bunch of players that I couldn't have asked more of.

"They have gone through the difficulties of everything that has gone on, which are outside of their control, and applied themselves in the best way they can."


Juande Ramos:

"The fact that he (Roman) scored his first goal brought him lots of happiness and brought the team the peace of mind to keep playing and playing well. It helped the team to achieve what it has achieved tonight.

"It helped the team to achieve what it has achieved.

"We have had a period without victories and the team was nervous.

"Things were not going very well, but this victory has given us some peace of mind.

"I believe we deserved to win. In the first half, everything was equal and the two teams were playing at more or less the same level.

"But in the second half, we scored two goals and Michael Owen's goal came at the very end, so yes, we deserved to win."


Smallest crowd here since the ground was extended. One has to go back to a League Cup
tie in August 1992 when
14,083 were present v Mansfield Town
for a smaller attendance.
Smallest SJP crowds - Premier Years:

21.09.1994 27,208 v Barnsley (League Cup)
28.09.2006 27,012 v Levadia Tallinn (UEFA Cup)
17.09.1998 26,599 v Partizan Belgrade (UEFA Cup)
24.02.2005 26,156 v Heerenveen (UEFA Cup)
17.01.2007 26,099 v Birmingham City (FA Cup)
22.09.1993 25,887 v Notts County (League Cup)
12.09.2001 25,633 v Brentford (League Cup)
23.07.2005 25,135 v Dubnica (Intertoto Cup)
23.11.2006 25,079 v Celta Vigo (UEFA Cup)
25.10.2006 25,028 v Portsmouth (League Cup)


24.09.2008 20,577 v Spurs (League Cup)



This was our 121st League Cup game and our 50th defeat, having won 54 times.

187 goals have now been scored and 160 conceded, not including penalty shootouts.

Spurs in Toon - Premier Years:



2008/09: lost 1-2 Owen


2007/08: won 3-1 Martins, Cacapa, Milner
2006/07: won 3-1 Dyer, Martins, Parker
2005/06: won 3-1 Bowyer, Ameobi, Shearer
2004/05: won 1-0 Kluivert (FAC)
2004/05: lost 0-1
2003/04: won 4-0 Shearer 2, Robert 2
2002/03: won 2-1 Speed, Shearer
2001/02: lost 0-2
2000/01: won 2-0 Speed, Cordone
1999/00: won 6-1 Shearer 2, Speed, Dabizas, Ferguson, Dyer (FAC)
1999/00: won 2-1 Glass, Dabizas
1998/99: drew 1-1 Ketsbaia
1997/98: won 1-0 Barton
1996/97: won 7-1 Shearer 2, Ferdinand 2, Lee 2, Albert
1995/96: drew 1-1 Ferdinand
1994/95: drew 3-3 D.Peacock, Gillespie, Beardsley
1993/94: lost 0-1
Full record against Spurs:
| | | | | | | |
| --- | --- | --- | --- | --- | --- | --- |
| | P | W | D | L | F | A |
| SJP | 64 | 26 | 17 | 21 | 112 | 91 |
| WHL | 64 | 20 | 11 | 33 | 76 | 119 |
| League | 128 | 46 | 28 | 54 | 188 | 210 |
| SJP | 5 | 3 | 1 | 1 | 11 | 4 |
| WHL/OT | 7 | 3 | 1 | 3 | 11 | 6 |
| Cup | 12 | 6 | 2 | 4 | 22 | 10 |
| Tot | 140 | 52 | 30 | 58 | 210 | 220 |
Waffle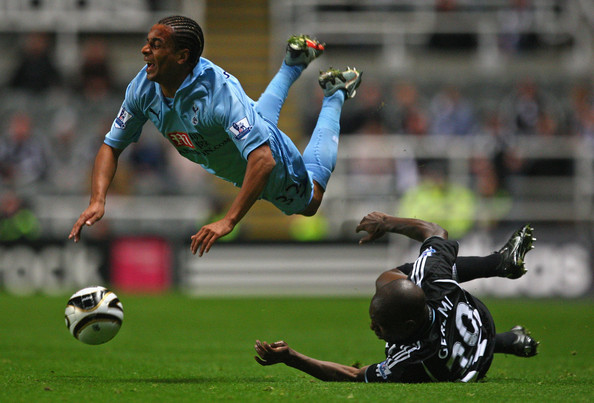 Unlike the Statue of Liberty, there isn't any official inscription on the Angel of The North.

Were the words from the US monument to appear there however, "Give me your tired, your poor, your huddled masses yearning to breathe free" would be fairly apt.

The Liberty monument was a gift of friendship to the people and gifts are something that Newcastle have handed over in abundance lately, being particularly generous in the last twelve days.

To the list of struggling Sand Dancers and Italian debutantes can now be added beleaguered Spaniards, as a third club desperate for a result to kick start their season had the good fortune of a fixture against a rudderless Magpies.

Press speculation of a lowest-ever crowd in the Premier League era proved to be correct - although we're duty-bound to compare it to the crowds who watched the other all-Premier ties: 14,366 for Blackburn v Everton and 15,339 for Portsmouth v Chelsea.

And of course there's the 3,915 Boro recorded in 2001 against Northampton. Now that's cobblers.

Most hacks seemed to have grasped that a televised midweek tie in this competition was never going to attract a massive crowd even if Ashley was still in the posh seats and KK in the dugout.

As it was though, the full row of VIP seats in the Directors Box sat empty, with not even alleged MD Derek Llambias smirking his way up from his Benfleet bolthole.

And on the bench, one chant from the away section dedicated to him brought a brief smile and an acknowledging wave, but otherwise Chris Hughton looked as forlorn a figure as he had done 11 months earlier when occupying the opposite technical area.

That night he stood alongside Martin Jol in the latter's final game as manager and doubtless contemplated a brief, meaningless spell of caretaker management before a probable departure. For 2007, read 2008.

It's hard not to feel some sympathy for him in his present predicament, routinely dismissed as being part of the cockney mafia, although Keegan was at pains to point out the appointment was his alone.

Actually it's hard to feel much of anything for Hughton at all though - the London Terry McDermott having survived 83 managers at White Hart Lane by perfecting the trick of being almost invisible.

Certainly whatever insights about his old club that he imparted to his temporary charges before this game got no further than the steps of the player's tunnel.

A team that selected itself due to injuries, suspensions and the lack of any viable alternatives from the fringe/reserve players was lacking in most things, notably confidence and spirit. There's also a healthy dose of ill-fortune floating around, but that's partly self-induced.

However in the opening 45 minutes that also applied to the visitors as neither side could hit a barn door. A running battle between Coloccini and Pavlyuchenko saw the attacker take a boot in the groin and later retaliate with a fist in the defender's face was just about the highlight - apart from a spot of impromptu moonwalking from Geremi as he stumbled and slipped after another stray pass.
Spurs belatedly seized something approaching the initiative after the break, pushing forward and pressurising a United midfield collectively running through treacle - laughingly encapsulated by one attempted break by Duff across half way that saw him robbed with embarrassing ease.

Is Heather Mills available?

And with Martins becoming increasingly frustrated at a lack of passes, Owen forced to reprise the type of midfield role that Peter Beardsley dropped into at the end of his first spell and Zog in full headless chicken mode, things got no better.

As we saw at Coventry in the last round though, teams of limited ambition or talent can still score goals though via set pieces. Therefore it's a particular irritation to have to report that our efforts in this department varied between the inept and shambolic - Zog's added time corner being the worse of a very bad bunch.

Following the example of Hull and the Hammers, the least worst team on show prevailed - abetted once again by a helping hand in defence.

That's not just Taylor's meathead attempt at dribbling though, we also include the non-jump by Coloccini for the opener - the Argentinean defender's form having steadily ebbed away in recent weeks as he's come down to our level.

The result was a first-ever cup success for the Cockerels on this ground and an end to our familiar litany of "they don't like it up north" jibes about paper hats etc.

Massively depressing then, not just in terms of the result and the inevitable premature ejection from this competition in its' 48th glee-free season, but in the manner of the defeat. It's hard to see even a glimmer of hope or a grain of optimism when considering Saturday, as Blackburn arrive looking for a fourth consecutive victory and clean sheet here.

On a curious night, rumours of Venables arriving in a 'Red Adair' capacity were interspersed with widespread claims of the death of Paul Gascoigne. Both were later denied by the persons concerned, but only served to heighten the surreal times we live in at present.

The current Spurs boss used the phrase "piece of mind" after this game - we're just in pieces meanwhile and not quite sure who minds. Certainly not the owner, who appears intent on running this into the ground.

Biffa