Half time: Chelsea 0 Newcastle 0
JFK burbled:

"I won't apologise for playing for a draw. We planned to let Chelsea play in front of us. We lived on our nerves and tried to break when possible.

I don't think they created much, although Shay Given made two world-class saves.

"As far as I'm concerned it was the best team performance I've seen since I've been here.

"It feels like a win in the dressing room. We drew a week ago and it felt like a loss, when they equalised in the 89th minute. But this feels like a victory.

"The deal was to be in charge until the club was sold, and nothing has changed, to be honest but I have been informed that I am here for another month, and that will bring us up to the transfer window. So if I can twist (Ashley's) arm and get a few quid out of him, I can buy a couple of players.

"The club has not got a buyer yet, but people are talking to them. So far, nobody has come up with the cash. Mike said they were Americans, but the offer they made was well below his estimation of what the club was worth.

"I'd like to think I'd get another job, but it's a fickle business to be in and you never really know.

"Most of the time it wasn't a case of my ability, given what I'd done in the game, but it was the case that I never got interviews because of my health. After the heart attack, it's been impossible for me to make my case to anybody.

"I eat, drink, smoke football. I love watching it. I can go anywhere in the world to watch games and want to stay in it. I had a four-year contract left when I had my heart attack, but was ordered to take two years off, and then you're the forgotten man.

"I kept banging on doors and this one's come out of the blue. I'm going to do all I possibly can to make sure it leads on to another one."

Gene Hackman commented:

"Newcastle played very well, fantastic. They played for a draw and one million per cent they are the winners.

"They are better than us because they think only of a draw and got a draw where as we played for a win and didn't get it. Today we didn't win one point, we lost two. But it is my mistake and my mistake alone.

"Sometimes it is more easy to win away than at Stamford Bridge. When you are away, the home fans pressure their team to attack us, but when you are at home they don't want to attack us. I said congratulations to the coach and his team. They had a strategy to draw and it worked.

""I didn't want to change tactics as we were playing well.

"We had 70 per cent of the ball and 10 shots on goal. How many chances did they have? How many shots on goal? None, zero. They came to draw and they drew. We needed a special player.

"All the people know I have some problems with my team.

"I have injuries, suspensions, players coming back very late from international duty.

"The players who played today tried very hard, but didn't arrive in front of goal free on many occasions and the goalkeeper made two or three great saves.

"I don't need new players, just the players already here in the condition to play. Nothing more.

"Whenever I gain one player I lose another. I've received Ballack and Drogba for the game against Bordeaux, but lose Deco. It's very difficult.

"Arsenal is a different game. They don't play to draw, they play only to win. It's not easy but they offer for us something different than clubs like Newcastle. They don't put 10 ­players at the back."





This was only our third clean sheet of the season in sixteen league and cup games.

It's also our first away clean sheet of the season and the first since the 0-0 draw at Portsmouth in April 2008 - that Fratton Park stalemate also being our last 0-0 draw anywhere.

While we've kept clean sheets at SJP against them (most recently in April 2007), the last time we came away from Stamford Bridge without conceding a goal was in April 1983 - a 2-0 Toon win.

Shay Given thefore emulated the feat of Kevin Carr that day, while John Anderson - our right back a quarter of a century ago - was present and describing the event for BBC Radio Newcastle listeners.

Toon @ Stamford Bridge since a victory:

2008/09: Drew 0-0
2007/08: Lost 1-2 Butt
2006/07: Lost 0-1
2005/06: Lost 0-1
2005/06: Lost 0-3
2004/05: Lost 0-4
2003/04: Lost 0-5
2002/03: Lost 0-3
2001/02: Lost 0-1 (LC)
2001/02: Drew 1-1 Acuna
2000/01: Lost 1-3 Bassedas
1999/00: Lost 0-1
1998/99: Drew 1-1 Andersson
1997/98: Lost 0-1
1996/97: Drew 1-1 Shearer
1995/96: Drew 1-1 Ferdinand (FAC)
1995/96: Lost 0-1
1994/95: Drew 1-1 Hottiger
1993/94: Lost 0-1
1992/93: Lost 1-2 Lee (LC)
1987/88: drew 2-2 Goddard, Wharton
1986/87: won 3-1 Thomas 2, Beardsley





Full record against Chelsea:

P
W
D
L
F
A
SJP
64
34
16
14
98
65
SB
65
10
18
37
68
125
League
129
44
34
51
166
190
SJP(FA)
5
1
1
3
5
9
SB/SA

6

2

2

2

7

7

SJP(LC)
2
0
0
2
0
3

SB
2
0
0
2
1
3
Cup
15
3
3
9
13
22

SB(CS)

1

0

0

1

0

3

Tot
145
47
37
61
179
215
Both Butt and Beye managed to avoid what would be their 4th bookings of the season - unless they can get to the end of February 2009 without reaching 5 then they face one match bans.


Waffle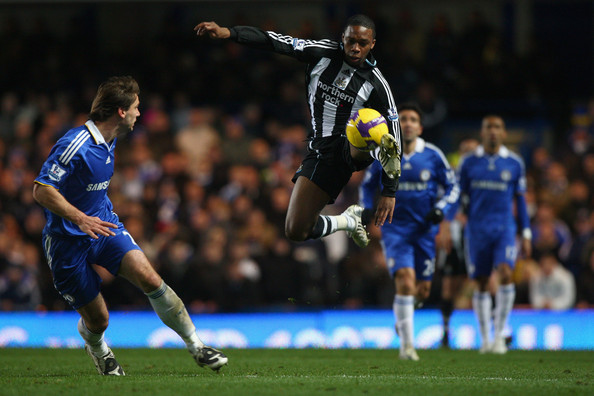 Anniversaries a-plenty were on our minds as we made what always seems to a back end fixture here in SW6 (that's back end of the year, not back end of a pantomime horse - although the difference has been marginal at times....)

It was 22 years to the day since we'd last tasted success here and we also noted the fact that 45 years ago in Dallas the other JFK saw his time in office ended by a lone striker.

The bare facts remained though; we'd lost eight on the bounce here, scoring precisely once. Our table- topping opponents meanwhile had just kept four successive clean sheets, bouncing back from losing an 86-game unbeaten home league record to Liverpool by popping five without reply past the mackems.

More pertinently for Joe, the visit of his team to the capital had been billed by himself as D-Day
for Newcastle United, coinciding as it did with a summit meeting at which the future of the club - and therefore Kinnear - was to be discussed and revealed by Ashley & Co.

In the event though, nothing came to pass - the forecasted leathering on the pitch absent and events off-field already signposted by the interim boss as being in abeyance due to adverse trading conditions.

There again, it's difficult to take anything on board that JFK says unquestioningly - with genuine doubts remaining about the validity of what he says about non-team matters and where he gets his info from. We're still trying to get to grips with a rolling contract that has an end date - originally for a month, then after this game, then after the smoggies, then until the end of the year. Or is that season.

And his regular gig as gossip columnist for Ashley seems to be running into a few problems, when Keith Harris (actually handling the attempted sale) makes his own public statements that don't tally. The conclusion there is that JFK is either better informed, deliberately trying to talk in riddles or taking whatever knowledge he's gleaned and remixing into a trumpet-blowing format. Or maybe all of these.

The more unsettling element to all of this though is regardless of the manager's tittle-tattle, for Harris to be mentioning due diligence in progress and then slipping in talk of February or later suggests that those currently looking at the books are edging back from a bid. That's the show stopper.

All this should be about is the footie, not the FTSE - and on that score, Kinnear was bang on when he spoke about this draw feeling like a win, compared to last week's Wigan stalemate being akin to a loss.

Taken in isolation, this point and the equally deserved one at Old Trafford would indicate a team starting to gel and get the basics of organisation and defending in order.

In both cases, our competency meant that a home victory wasn't a foregone conclusion - but there was a world of difference between the Old Trafford display and the Stamford Bridge one. JFK may have hinted at an attacking mindset, but his game plan and formation said otherwise.

If nothing else though, that's the sort of siege mentality that makes every point sacred and to be fought over - that's where we are, that's what we need.

We gained a wholly deserved point today when organisation and commitment saw us adhere to a game plan from start to finish. Not since the 1999 Highbury stonewalling of Dumas, Karelse & Co. had we survived such severe capital punishment.

And those pundits who awarded Given man of the match presumably based that on stats that read 25 shots for Chelsea and just two for the visitors, rather than the evidence of their eyes.

The 'keeper made one outstanding save from Frank Lampard and was involved both when an offside Joe Cole bundled the ball home (chalked off) and he was correctly adjudged not to have carried the ball over his line.

That latter incident was a near thing, but called correctly - and if anything caused by the absence of grass from the actual goal at the Shed End, the Stamford Bridge grassed area extending only to the touchlines, before giving way to (slippy) astroturf.

Even a smartarse ball boy was running onto the pitch to place the ball in an attempt to speed up Given's kicking, but that actually succeeded in wasting more time - something that the home fans seemed oblivious to.

It's a great shame that Newcastle didn't manage to get the ball down to the other end for long enough at that point for our 'keeper to have administered a good old fashioned thick ear on said urchin.

That opportunity never came about as we missed a forward outlet to hold the ball up, Martins lacking the sense to make smart runs or the physical presence to tussle with Terry & Co.

Owen sat in a centre midfield position reminiscent of Clarence Acuna and Des Hamilton (if he'd been much deeper he'd have been on the District Line) while Duff also scurried around in his attempts to cover those behind him - a role he'd surely never filled during his medal-winning spell playing here.

The defence worked well throughout; restricting Given's involvement and denying Anelka the chance to add to his eight goals in four games, leaving him two away from a Premier century and us unable to use our "French Connection" headline in homage to Blues boss Popeye Doyle/Gene Hackman/Big Feeeel.

Suspicions that this was going to be a long afternoon were raised when Bassong emerged wearing gloves, but both he and Coloccini tackled, covered and headed as required and left an unimaginative home side ultimately frustrated, despite their midfield riches. When you need all of the help you can get from any quarter, Maradona's decision not to use Sideshow Fab in Glasgow this week was a positive.

Kinnear deserves credit for instilling some belief in his side that that this wasn't a foregone conclusion and changing his mind about the Taylor replacement (as recently as the Fulham game he'd gone on the record to say he thought Cacapa was better than Bassong - thank the Almighty he's rethought that).

And his tactical masterpiece was at least partly due to Scolari lacking the personnel or the inclination to pressurise Jose Enrique at left back. That was presumably highlighted in scouting reports as a weak point, in the same way Fergie sent his side out to target our makeshift left back at Old Trafford three years ago (Peter Ramage).

Our weakness in that position was highlighted last season by a certain former manager, but nothing was done about it, unless one counts acquiring a Spanish striker and a Uruguayan crock, which is ultimately where we came in.

So before everyone starts glad-handing JFK and believing his patter, it's as well to recall that we sank back into the bottom three again on Monday. We've got to do it all again on Saturday. With goals.

Plenty of C words have been bandied about so far this season, but the most important and elusive is consistency - nobody else is capable of it yet, resulting in the current log jam at our end of the table.

Ultimately though this is a tale of reduced circumstances, as we glorify in a 0-0 draw, after never crossing the halfway line in anger. That's no cause for more than the briefest of celebrations.

Biffa