Date: Saturday 6th December 2008, 3pm

Venue:

St. James' Park



Conditions: Mixed





Newcastle United

Stoke City

2 - 2

Teams
8 mins Jonas Gutierrez threaded the ball into the Gallowgate penalty area to Michael Owen, who slotted home a low shot for the opener. 1-0

24 mins Geremi sprayed a great ball out from central midfield to Obafemi Martins down the left, who supplied the perfect low cross for Michael Owen to knock the ball in at the back post. He collided with the upright in doing so, but thankfully avoided injury 2-0
Half time: Newcastle 2 City 0

60 mins A classically simple long-ball goal, as Sidibe beat Bassong to flick on Sorensen's long kick to Fuller. The sub steered his way round Coloccini and slipped the ball across the six yard line, for the unmarked Sidibe to ghost past Taylor and rifle home
. 2-1

90 mins
Cacapa's poor header played Bassong into trouble down near the touchline on the Stoke right. The slightest of contact by the Frenchman on Fuller had the adjacent linesman flagging and indicating an elbow in the back of a visiting player. Glenn Whelan drove the free kick over, with Danny Higginbotham's flick on putting it at the feet of Abdoulaye Faye - right in front of goal.

The former Toon defender swept home a right footed shot from six yards - with Gutierrez failing to block with a last-ditch lunge - before setting off on a celebratory run, finger pressed to his lips.

JFK was rightly incensed by the free kick decision and sent to the stands, later collecting another FA charge to go with the one for Fulham he has to answer this week. 2-2
Full time: Newcastle 2 City 2
For the second game running, Chris Hughton came out to speak to the media, saying:


"In defence of Joe (Kinnear), we have to realise is that it is a very emotional game. We were very unhappy with the decision that led up to the goal. I think it was for perceived comments, but from where I was, I certainly didn't hear anything - that's what I think it was for.
"The linesman had given a decision some four minutes before that, which having seen it again, is exactly the same as our thoughts were at the time - that it wasn't a free-kick.
"It was an old-fashioned shoulder charge, both players competing for the ball, and the free-kick was given. Some four minutes later, he give another free-kick in a similar position which again we felt wasn't a free-kick.
"To be fair to the lad Fuller he never tried to make a meal of it, he was on his feet, he had control of the ball."

JFK later told The Journal:

"I'm going to defend myself against any charge because on this occasion I have done nothing wrong and I'm determined to clear my name. I still haven't been told exactly why I was sent from the dug-out, but I believe it was for supposedly saying something to the linesman.
"I don't know because I've not been told by the referee. I will fight this because I'm frustrated and disappointed it has happened. The thing that I find strange is I've no idea how the linesman has heard what I've supposedly said from where he was standing and with all the noise that was going on.
"Chris (Hughton) was having his say and I did say something, I know what I said, but I'll wait until I have to give my defence before I talk about that any more.
"There was plenty of noise around, the fans behind the linesman were absolutely furious and they were saying plenty to him as well, the whole place went crazy.

"I'm not blaming the linesman or the referee. It's not their fault Stoke scored, we defended the free-kick badly and that was why they scored.
"It's our own fault we conceded a goal in injury time because we knew they were dangerous from set-pieces and we switched off at the crucial moment.
"The free-kick should never have been given, it wasn't a foul, there was barely any contact at all and I couldn't believe it was judged to be foul play. Mistakes happen though.
"We've dropped four points in our last two home games and if you think back to the Manchester City game, we've dropped six really. Against City they were given a penalty which never was and we had a player sent off for it which was another major blow for us to deal with.
"Against Fulham there was a foul in the build-up to their second goal which the referee ignored and those things are really difficult to take. If we had a couple more points the league table would look a lot better for us.
"We have been getting a raw deal in recent weeks and we can only hope that turns for us in the second half of the season. When you think about all the injuries we've picked up as well, lady luck hasn't really been kind to us has she?

"But we are soldiering on and things will turn in our favour as long as we keep plugging away."

Michael Owen added:
"We had a few meetings earlier on in the season and things were going fine. Then the manager left as did someone on the board who we were negotiating with - talks haven't picked up since.

"Before it's gets twisted again, that's not me snubbing Newcastle - they've got bigger things to fry than sorting out my contract, or the contracts of Steven Harper, Shola Ameobi, Mark Viduka and Nicky Butt - there are a lot of people out of contract.
"They haven't got round to talking with the players. There has been a lot of turmoil at the club and I suppose they have been shuffled to the back of the queue.
"We needed someone to steady the ship - there has been so much surrounding the club this season, as well as other seasons, it seems to attract unwanted publicity.
"He (JFK) has come in and has had a steadying influence on the club and has done really well.
"We're quite hard to beat - we've had a lot of draws and if we can turn those into wins we'll be on the right road."

Tony Pulis
commented:


"I was desperately disappointed in our defending in the first 20 minutes. We were insipid, I thought the back four were poor.

"The rest of the team worked very, very hard as a group, but were let down by the back four.

"For the first time this season, I really, really got stuck into a few people at half-time.

"We shook it around a little bit and the response was absolutely fantastic, and we are desperately disappointed we have not won the game to be honest."

Abdoulaye Faye rewrote history to add:

"I like Stoke better, I'm happier, it's closer and is more like a family.

"It's the atmosphere, and the team - everybody's closer. We go out together as a team. It's different to Newcastle."

That's the same Abdoulaye Faye that burnt his bridges at SJP late last season, when he decided that he was too tired to continue in a game - that's a strange sort of team spirit.....

Potters @ SJP - last ten:

2008/09 drew 2-2 Owen 2
2007/08 won 4-1 Owen, Cacapa, Milner, Duff (FAC)
1989/90 won 3-0 Kristensen 2, Quinn
1984/85 won 2-1 Waddle, Anderson
1978/79 won 2-0 Connolly, Withe
1976/77 won 3-0 T.Craig, Burns, Nattrass (LC)
1976/77 won 1-0 Cannell
1975/76 lost 0-1
1974/75 drew 2-2 Tudor, Keeley
1973/74 won 2-1 Gibb, McDermott


Full record against Stoke City:

P

W

D

L

F

A

SJP

34

24

7

3

84

28

VG

33

7

9

17

28

51

League

67

31

16

20

112

79

SJP

(TM)

1

1

0

0

2

1

VG

(TM)

1

0

0

1

0

1

SJP

(FA)

4

4

0

0

11

4

VG/BS

3

1

2

0

5

3

SJP(LC)
1
1
0
0
3
0

VG
1
1
0
0
4
0

Cup/TM

11

8

2

1

25

9

Tot

78

39

18

21

137

88
That's now four points out of nine against the three promoted sides at SJP this season (a draw with Stoke, win over West Brom and a defeat by Hull).

Three former Magpies were in the Potters starting XI - Andy Griffin and the two Fayes. Our former Potter, Shola Ameobi was missing through injury.

Waffle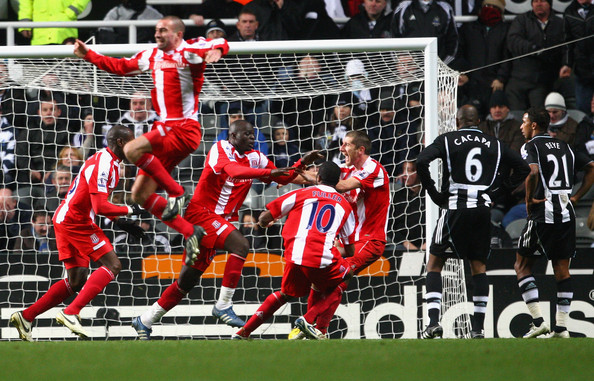 The travelling fans summed it up nicely at the end - and in language familiar to our manager - with choruses of "2-0 and you f***ed it up."

That was interspersed with their now-traditional airing of "Delilah" - although switching to another Tom Jones hit would have more fitting - "It's Not Unusual" or "Just Help Yourself" coming to mind...
Those who came expecting to see United return to winning ways meanwhile left bewildered, having been served up equal measures of competent entertainment and brainless buffoonery - Half Toon show, half Goon show, if you will.

And while the Potters left praising Pulis for his tactics, they may also reflect that the ease with which they repelled United after the break meant that they should have constructed an equaliser far earlier than in the last seconds - those fabled long throws being less effective than free kicks today.

They could even have emulated Hull in making SJP the venue of their first-ever Premier League away win, had their manager brought Ricardo Fuller into the fray any earlier, having given the home side a two-goal start as his own team struggled to adjust to their changes.

As it was, The Magpies played out a fourth successive draw, letting slip a 2-1 lead at home in the closing stages of the game for the third time this season.

In an echo of the last home game against Wigan, the goal that turned three vital points into just one came thanks to a close-range effort from a discarded defender. Titus Bramble had left us red-faced last time and today it was the Late Show - starring fellow ex-Mag, Abdoulaye Faye.

After successive 0-0 draws on the road, JFK had vowed to go for the jugular from the first whistle and his team took that instruction to heart, Michael Owen netting twice in the easiest 45 minutes we've played this season.

Stoke simply weren't in it, and it looked to be merely a question of how many we were going to score, with United even managing to serve up a decent corner for once - 44 minutes, N'Zogbia.

That all changed after the break though, with the absence of a hamstrung Nicky Butt compounded when Danny Guthrie failed to reappear for the second half with a hip problem.

With no midfielders on the bench, that forced JFK to switch Gutierrez into the centre, Habib Beye pushing forward down the right flank and Steven Taylor coming on behind him.

But even that reshuffle couldn't excuse the lack of ambition as we seemingly looked to absorb pressure and hope that the pace of Owen and Martins would expose the Potters' back line.

Stoke woke up to the fact that we were sitting on our backsides and boosted their attack with an extra body from the bench, halving the arrears almost instantly. Steven Taylor had intervened shortly after the break to foil one attack, but that warning wasn't heeded.

Having elected to try and stonewall the game for 30 minutes through to a conclusion, Martins was again sacrificed, removing any semblance of pace or threat from our attack and exacerbating theories that we're not actually fit enough to play the full 90+ minutes.

Thus invited to push us back into our own half, Stoke duly obliged and the nerves of the home crowd were echoed by that of the team, as possession was gifted away time and time again.

Abdoulaye Faye had already missed a last minute opportunity when Given's punched clearance was played back in. But when a second chance presented itself within the first seconds of the five minutes of added time, he duly obliged.

So, another one of those draws that seem like a defeat and further evidence that with the minimum of injuries in a particular area, we're short-handed and lacking adequate replacements.
Noises are being made about January acquisitions, but like the sale of the club, actions speak louder than words. And after all, the last stab these lot had at bringing in reinforcements backfired badly with Gonzalez and Xisco.

JFK may now share our belief that the world (and officialdom) is against us, but his attempt at a siege mentality is only being partially successful up to this point.

Quite simply at this point, our attempts at seeing games out are failing too often for comfort. Some of the players may have changed, but the problems that frustrated the dreaded Allardyce remain evident.

All we can really do is plod on, trying to tighten up and retain our belief. In what exactly, we're not sure.

Biffa