In association with NUFC.com

Date: Sunday 21st December 2008 Kick-off 3pm

Venue:

St.James' Park



Conditions: Ultimately fruitful




Newcastle United

Tottenham Hotspur

2 - 1

Teams
12 mins A classic example of effective route one football: A foul down the Spurs right by Enrique on Lennon saw the Spaniard booked, but when Bentley swung over the resultant free kick, it went straight to Given.

His right-footed punt downfield bounced first time 15 yards outside the Spurs box and was seized upon by N'Zogbia, who raced past three defenders to bear down on Gomes in the Gallowgate goal.

Checked by a defender, the Frenchman picked himself up to scoop a right foot shot beyond the 'keeper and inside the post from eight yards for a fantastic opener. 1-0

29 mins Danny Guthrie's pass to Shola Ameobi found the latter player caught in possession in the centre circle, only for Dawson's upfield clearance to drop beyond our back line.

Pavlyuchenko was well offside but uninvolved as Modric sped forward, steadied himself and fired past Given from the edge of the area - TV replays confirming that he had in fact made his run from an onside position 1-1

Half time: Newcastle 1 Spurs 1

90 mins Bassong's long hopeful ball forward to Viduka was half-headed away by a defender, falling nicely into the path of the advancing Duff. He chested the ball down, controlled it on his knee and threaded a pass through to Viduka in the Spurs area, taking a back-heeled return and getting beyond the last defender to stab it first time into the empty net from seven yards.

Duff celebrated with his team mates in front of the Milburn Paddock, leaping the advertising hoarding to greet the fans in that area and getting booked for his exertions 2-1


Full time:
Newcastle 2 Spurs 1
JFC (Joe, former Cockerel) commented:

"I'm looking upwards now - and if I could guarantee my players would stay fit, I would be looking up all the time.

"I'm very proud of our record. I have a good relationship with the players, which I hope continues and I'm getting the best out of them.

"I remember when I came in, I was told it was for six weeks and that's probably the reason why other people turned it down.

"I would have come for six days but what has happened in the financial world has changed things in my favour and the fact the club is not sold means I carry on.

"I knew the terms from day one and I'm glad I did. I have nothing to lose.

"It makes a change to be honest because we've had similar experiences go against us, so for once I'm pleased it's gone our way.
"I think we've gradually improved and got better as a unit. There's more harmony within the club and more confidence for sure.
"We just stuck at it today and there wasn't too much between the two sides. Tottenham are a decent side and it was always going to be one of those games where the next goal was going to be the winner.
"Thankfully the substitution came off. We soldiered on and the people that came off the bench for me have done exceptionally well. All in all, the whole team have responded to everything I've asked of them.
"Pavlyuchenko was definitely offside and I think most of our back four put their hands up for him - then we were too late to react and Modric shot through.
"I don't think Modric was offside but Pavlyuchenko was. It's that old chestnut of whether he was interfering with play of not. I'm just thankful it didn't cost us in the end.
On Owen's contract offer:

JFK said that the player's representatives are expected to meet Derek Llambias in the next "three or four days".
"The length of contract is perfect, he is happy with that, it just boils down to terms. We have to sit down with Michael and the people who represent him and try to strike a deal.
"I don't think there is anything else we can do, we have both really got to agree on a number. As far as I have been informed, that's supposed to be in the next three or four days."

Update - Owen statement released 24 hours after this game:

"Following speculation about my future at Newcastle United, I have decided today to make it clear that I am committed to the club until at least the end of this season, and I have informed them I do not want to make a decision about my future until that time.
"I hope this will be seen as a positive step and not seen as being disloyal in any way.
"I am happy here and enjoy the challenge. It is simply a matter of seriously thinking about my future as I was 29 last week and my next career decision is a crucial one.
"My decision is not about money. I told the club some months ago that I would accept a reduction in my wages.
"I have no intention of leaving Newcastle United during the January transfer window and want to assure the fans that under Joe Kinnear's passionate management, I am committed with the rest of the players to ensure that the club ends the season on a high."

Kinnear responded by saying:

"Michael told me in person about his decision and I fully understand where he is coming from.

"We have a great relationship as captain and manager and that will certainly continue.

"He is focused on scoring goals for Newcastle United and helping us keep progressing this season.

"Michael will consider his options in the summer but I am still optimistic that he will stay with us when it comes to making a decision.

In the meantime I have no doubts whatsoever that he will continue to give 100 per cent for Newcastle United.

"Having gone six games unbeaten we are a very happy camp at Newcastle United and Michael Owen plays a big part in that as skipper.

"I'm looking forward to him continuing to score goals for us as they will be crucial in what we do for the rest of the season."
'Arry Redknapp:


"At half-time, I came in and said to the players, 'I wouldn't take a point here today, there are three points for us if we go out and attack it in the right way'. To come away with nothing was very disappointing in the end. We didn't deserve to lose, that's for sure.
"The game was their for us to win at half-time and I certainly would have taken a point. To get beaten like we did in injury time was a big blow. We had the chances and kept the ball well but we were hit by a sucker punch.

"In our position you have to pick up points. We were the better team in the first half and had we taken the game by the scruff of the neck we could have killed them off."

Spurs in Toon - Premier Years:


2008/09: won 2-1 N'Zogbia, Duff
2008/09: lost 1-2 Owen (LC)

2007/08: won 3-1 Martins, Cacapa, Milner
2006/07: won 3-1 Dyer, Martins, Parker
2005/06: won 3-1 Bowyer, Ameobi, Shearer
2004/05: won 1-0 Kluivert (FAC)
2004/05: lost 0-1
2003/04: won 4-0 Shearer 2, Robert 2
2002/03: won 2-1 Speed, Shearer
2001/02: lost 0-2
2000/01: won 2-0 Speed, Cordone
1999/00: won 6-1 Shearer 2, Speed, Dabizas, Ferguson, Dyer (FAC)
1999/00: won 2-1 Glass, Dabizas
1998/99: drew 1-1 Ketsbaia
1997/98: won 1-0 Barton
1996/97: won 7-1 Shearer 2, Ferdinand 2, Lee 2, Albert
1995/96: drew 1-1 Ferdinand
1994/95: drew 3-3 D.Peacock, Gillespie, Beardsley
1993/94: lost 0-1
Full record against Spurs:

| | | | | | | |
| --- | --- | --- | --- | --- | --- | --- |
| | P | W | D | L | F | A |
| SJP | 65 | 27 | 17 | 21 | 114 | 92 |
| WHL | 64 | 20 | 11 | 33 | 76 | 119 |
| League | 129 | 47 | 28 | 54 | 190 | 211 |
| SJP(FA) | 4 | 4 | 0 | 0 | 13 | 1 |
| WHL/OT | 5 | 1 | 2 | 2 | 5 | 5 |
| SJP(LC) | 2 | 1 | 0 | 1 | 4 | 3 |
| WHL | 1 | 0 | 0 | 1 | 0 | 1 |
| Cup | 12 | 6 | 2 | 4 | 22 | 10 |
| CS | 1 | 0 | 0 | 1 | 1 | 2 |
| Tot | 141 | 53 | 30 | 58 | 212 | 221 |
First goal of the season for Charles N'Zogbia - his last came in September 2007 against West Ham at SJP.

Second goal of the season for Damien Duff - and his first-ever league goal at SJP for NUFC.

Waffle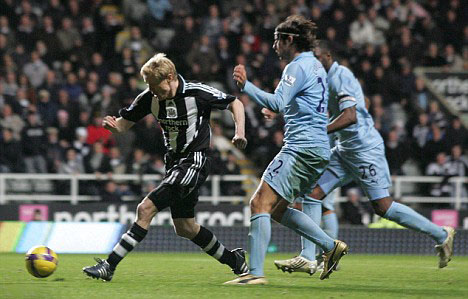 Tinseltoon time at SJP then, with the matchday DJ giving a pre-match airing to the Pogues and Kirsty MacColl's timeless "Fairytale of New York".

Had he closed proceedings with that seasonal classic that would have even more appropriate - as Irish eyes were certainly smiling by full time, after what amounted to a fairy tale of Newcastle.

There again, given JFKs (failed) X factor audition in the midweek press conference*, he'd have doubtless been landed with another FA charge if he'd joined in the "scumbag/maggot/cheap lousy faggot" refrain within earshot of the fourth official.....

*(Kinnear supplied an atonal rendition of the version of "Molly Malone" he was serenaded with when on the playing staff at White Hart Lane).

Quite how we won this is remains open to question, with our attacking forays seasonally adjusted to the bare minimum for the final hour of this game. That came after conceding a freakish equaliser that ended our dominance and also coincided with our being deprived of yet more forward pace.

Without the services of Martins due to a groin problem, JFK paired Owen with Ameobi and left Viduka on the bench. Sadly Shola lasted barely half an hour before succumbing to yet another injury (this time a hamstring), with his last act being to lose the ball and set up their goal.

That brought on the lumbering Aussie and left us in a not dissimilar situation to the last home game against Stoke, when our increasing inertia invited the visitors to push us back towards our own goal.

But while our midfield was stronger than it had been against the Potters, we failed to threaten as a forward force. Only the occasional left wing thrusts of N'Zogbia gave us any sort of momentum and too many hopeful forward punts being swallowed up by the Spurs defence.

The Frenchman twice made rare excursions down the left flank to the byline - whipping one cross over that nobody could reach and finding Viduka the next time, whose flick sat up nicely for Michael Owen, but ended up well over the bar in the Leazes End.

With the game moving towards the closing stages, the noise at SJP had fallen even further than the mediocre levels earlier in the game, betraying the fact there was no hint of anything to inspire the home fans to try and shout the team home.

Having been waiting for a break in the play for almost ten minutes, Dicky Duff finally arrived from the bench with only two minutes of normal time remaining, as both sides seemed happy with a point.

The change paid an almost instant dividend though, as the winger worked his way into the Spurs area before slipping the ball home to bring the crowd belatedly to life. A special mention at this point once again to those who had left their seats by that point in favour of an early bus/pint/whatever.

Unlike the previous two home games though this time there was to be no late defensive disaster - Campbell seeing sight of goal in the dying seconds but directing a weak header at Given.

United duly registered a fifth league win of the season and extended their unbeaten record to six games, all of which took us up to 12th position in the table. That's ahead of both the mackems and smoggies and one place behind our next opponents Wigan on goal difference (although Steve Bruce's side have played one game less).

Joe Kinnear looked a contented man as he faced the press again - although he had some sharp words for those who questioned stories printed that morning, claiming that he'd allowed his name to be put forward for the vacant mackem manager's job.

What of the man who has still to tire of telling people precisely how he turned down the "Noocarsel" job though? There is no finer sight in football than a hangdog 'Arry - whose hand movements in the away dugout at one point made it look as if he'd smuggled in his precious bloody Wii (online here)

I don't want a lot for Christmas, but leaving Bruce with a similarly lemon-sucking expression at 5pm on Boxing Day would be mighty fine. God knows it's long overdue, as is our return to winning ways.

Biffa

PS: A special mention to Steven Rubin and his two pals, who made it across from South Africa to cheer on the Magpies to victory.

They accurately predicted the scorer of the winning goal and also supplied our new nickname of Dicky Duff - which came from a TV commentator in their home country getting tongue-tied during a previous Toon game, when Nicky Butt passed to the man from Ballyboden....