In association with NUFC.com

Date: Sunday 28th December 2008. Noon. Live on Sky

Venue:

St.James' Park



Conditions: Crushing





Newcastle United

Liverpool

1 - 5

Teams
31 mins Carragher kept possession on the Liverpool right, guiding the ball through to Mascherano, who evaded Owen's challenge to set Benayoun into the Newcastle box. He waltzed past Enrique and pulled the ball back from the right for Gerrard to convert from 12 yards via Given's left upright 0-1

36 mins Like Gerrard, Hyypia had also had a practice run with a misplaced header. When his second opportunity came though he made no mistake, rising above Coloccini to head home Gerrard's outswinging corner - despite the whole of the home side being back in the Gallowgate box 0-2

45 mins Our first corner of the game exposed Liverpool's fraility from set pieces, Guthrie's flag kick from the Leazes/Milburn corner being met by Edgar, who got ahead of Carragher to head home from six yards, just past the near post 1-2

Half time: Newcastle 1 Liverpool 2

50 mins Game, set-piece and match, as another corner was played in, bouncing once before appearing to be diverted goalwards by the hand of Lucas. As Given and four defenders paused expecting a handball, Babel tried vainly to backheel the ball home, before having time to poke it home past a still-static United 1-3

66 mins A simple give and go from Gerrard, who pushed the ball to Lucas, then set off down the Liverpool right, looking to be fractionally beyond the luckless Coloccini when he took the return ball in his stride, taking it on into the box and dispatching it past Given with a flick of his right boot 1-4

77 mins Edgar cut down substitute Ngog with seven minutes of him coming on, the youngster having beeh given space in the area after Geremi stood and watched as Babel moved past him. Alonso fired the penalty right-footed past the diving Given's left hand 1-5


Full time:
Newcastle 1 Liverpool 5
JFK:

"I think we have just seen the title winners. And I think we've seen the best performance from a single player for a long time in Gerrard, he was magnificent.

"Without a shadow of a doubt they are the best team we've played this season. They were head and shoulders above us. They are an exceptionally good side. It was such a one-sided game because they are a world-class team.

"You have to take your hat off to Liverpool. Without Shay Given it would have been even worse. The only positive from the game is that he has proven he is the best goalkeeper in the league by a mile.

"The Liverpool game and the injury problems are a real downer. We were just getting something together and then we get all those injuries. Somebody said to me 'Happy Christmas Joe' – I felt like throttling them.
"The only positive is the supporters, who were absolutely unbelievable. They supported the team all the way, even when we were 5-1 down, and they are an absolute credit to this football club. I just want everyone to know that it is really appreciated and we're doing our best to repay them.
"Perhaps looking back I was a little bit gung ho going for it in the second half by bringing on Shola but I didn't think we could afford to sit back and try and defend and hit them on the break because they were attacking so well. As it was the second goal killed us (the third one in our eyes, like...)

Mike Ashley used the match programme to make his first official communication to fans since his Statement of September 14th 2008, with the emboldened segment going out as a press release:

"As we come to the end of the year, I hope each and every one of you Newcastle United fans inside St.James' Park today has enjoyed a very merry Christmas - and that you all go home smiling today after a win against Liverpool to end 2008 on a high.

"Nobody would pretend the last few months have not been difficult for all of us connected with Newcastle United following Kevin Keegan's departure in September. But I've always seen New Year as a time to look forward and not back and now is the time for everyone who holds the club dear to their hearts to do just that.

"On the pitch things have certainly been going well of late. I'm writing this for you before the game at Wigan but Joe Kinnear and the boys were on a six game unbeaten run going into the Boxing Day match and with 5,000 travelling fans behind them they'll have been going flat out for another win.

"When we turned to Joe in late September we did so in the hope his vast experience would help us out of the tough position we were in. I offered him the post on a short-term basis at first, he accepted without hesitation and after raising spirits and steadying the ship, I thought it was only right to hand him a longer contract.

It took away any uncertainty around Joe and now away from the pitch, I am happy to end the uncertainty fans may have had about the future direction of Newcastle United. I know just how important that is to you.
"I have withdrawn Newcastle United from the market, and for me 2009 will be the year in which we drive the Club forward together. Even when I haven't been at games I have remained a keen supporter, kicking and heading every ball and cheering the team on TV and being the first to congratulate Joe whenever there's a good result.
"When I took the decision to put the Club up for sale in September I made a point of saying two things were very important.
"Firstly, any potential buyer would have to show they had the best interests of Newcastle United at heart and had both the commitment and finance to be worthy custodians of such a fine football club before I would even consider doing a deal.
"And secondly, I gave you my word that as long as I remain owner, this Club would continue to be run responsibly at all levels. I hope you will accept that I have stood by that pledge.

"When I bought Newcastle United I was always committed to developing and investing in our youth structure and that has continued. Now our Academy side sit top of the table after a long winning streak and retain an interest in the FA Youth Cup.

"And it goes further, as the launch of our School Skills Programme will see over 100,000 children in Newcastle and North Tyneside receive the benefit of expert coaching as we look to develop the stars of the future. The North East has produced some great talents down the years but they haven't always been picked up first by our club and I want that to change.

"I am the first to accept there have been times this season when you would have liked to have heard more from me direct, particularly at certain points. There have been reasons why I have not have been able to do that, but in the new year we will look to communicate with you more about what we are doing at St.James' Park, be it through the club's official website, programme and magazine as well as the wider media.

"On the subject of the Press, I have been in discussion with News Group Newspapers Ltd. with regards to a story published in the Sun about me in September whilst I was in New York. Those discussions haven't settled this matter so I have had to sue them.

"I am no different to you when it comes to having a private life so when I am a guest at a party I think I should be left in peace and not expect to see my picture splashed all over the front of a national newspaper.

"For the record, at the time I was in New York I still believed Kevin and everyone else, including myself, could still resolve things and continue working together at Newcastle United. I did not throw a party and I certainly wasn't celebrating Kevin's departure, nor did I pay a huge bar bill or travel to the States by private jet.

"As well as fighting to protect my privacy I wanted you supporters to know what happened. I would still hope the matter can be settled and I would donate any monies paid to me to the Newcastle United Foundation. There are no legal costs for Newcastle United to cover in this matter as it is about my privacy as an individual.

"Back to football, and with the January transfer window approaching, we'll be working closely with Joe to see what can be done to strengthen the squad. With the FA Cup still to come and this Barclays Premier League being one of the tightest anyone can remember, there is still lots to play for between now and May.

"We've seen how quickly you can climb up the table after the wins against Portsmouth and Tottenham Hotspur - and by the way, I wish I had a pound for every time I've had to tell people I'm NOT a Spurs fan and never will be!

"When I looked at the table after the Spurs win I saw we were only five points off a top six place, so great credit to Joe, his coaches and the players for that. And if, like me, you like a gamble now and again then what price a flutter on us reaching that top six?

"It's time to look forwards and upwards. And I sincerely hope all supporters of Newcastle United will see the New Year as a new start in many ways.

"Have a Happy New Year and wherever you are celebrating I hope you have a cracking night!"
As the Spanish Waiter sat in the Director's box recovering from recent surgery, stand-in Sammy Lee said:


"We are pleased with the performance but the nature of this football club is we will look at what we need to improve upon, and there were elements of our game that can get better.

"We could have scored more than five but for Shay Given who was very good for Newcastle but to win 5-1 we must be pleased with that. All we can do is focus on doing our job.

"St James' Park is never an easy place to come and get three points but we have done that. Full credit to our boys with the way they always work hard and they are willing to improve every aspect of their game.

"We've had our critics this season but we know our job and what we want to do. We know there is improvement to be made and we will be working very hard to ensure we do improve in certain elements of our game."
We've started conceding penalties again - after giving away six in our first twelve league games of the season then none in six, this was our second in successive games. That now makes it eight in twenty - all but one of them converted.

Reds @ SJP - Premier League Years:

2008/09: Lost 1-5 Edgar
2007/08: Lost 0-3
2006/07: Won 2-1 Martins, Solano (pen)
2005/06: Lost 1-3 Ameobi
2004/05: Won 1-0 Robert
2003/04: Drew 1-1 Shearer (pen)
2002/03: Won 1-0 Robert
2001/02: Lost 0-2
2000/01: Won 2-1 Solano, Dyer
1999/00: Drew 2-2 Shearer, Ferguson
1998/99: Lost 1-4 Guivarc'h
1997/98: Lost 0-2 (LC)
1997/98: Lost 1-2 Watson
1996/97: Drew 1-1 Shearer
1995/96: Won 2-1 Ferdinand, Watson
1994/95: Drew 1-1 Lee
1993/94: Won 3-0 Cole 3
Full record against the Reds:
P

W

D

L

F

A

SJP

74

29

23

22

108

90

Anfield

73

11

14

48

76

166

League

147

40

37

70

184

256

SJP

(FA)

4

4

0

0

6

1

Anf/W

5

0

1

4

3

13

SJP

(LC)

1

0

0

1

0

2

Anf

1

1

0

0

1

0

Cup

11

5

1

5

10

16

Tot

158

45

38

75

194

272
First selection of Hungarian reserve defender Tamas Kadar as an (unused) substitute.

David Edgar became the tenth player to net for us in the Premier League this season, following messrs Martins, Owen, Xisco, Taylor, Duff, Ameobi, Barton, Guthrie and N'Zogbia.

This was Edgar's second senior goal, coming almost exactly two years on from the first - a long shot at the Gallowgate End against Manchester United on New Year's Day 2007.

Steven Gerrard's brace came ten years to the day that he first appeared for Liverpool against Newcastle, in a 4-2 success at Anfield on December 28th 1998. Gerrard didn't net that day and it took until Boxing Day '05 for him to score against us, since when he's grabbed five in six games.

Waffle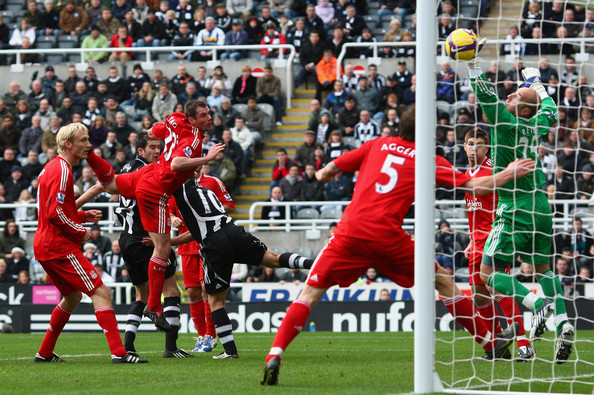 Festive printing schedules meant that Mike Ashley's message to supporters wasn't fresh, but the owner's suggestion to back the club he couldn't sell to break into the top six meant just one
thing to us - Sports Direct had bought a chain of betting shops.

Coming less than 48 hours after the energy-sapping, injury-giving, suspension-prompting JJB muddle, the visit of a table-topping side unbeaten in eight league outings was hardly an ideal way to bring down the curtain on a momentous, but mostly bewildering 2008.

And if the Noon start was rough on the players, that unholy start time was even more of a burden on the punters, forced to watch this sober. Quite frankly though, no amount of respite (or drink) would have prepared us adequately for what was about to unfold - the footballing equivalent of a rabid animal clamping its fangs onto and refusing to let go. But enough of Steven Gerrard.

The England midfielder's on-field contribution may have been followed by post-match misadventures once he returned home, but there was little chance of him running into the trouble given the wide open space across the middle of the park.

Nicky Butt had laboured through the Boxing Day game - being played out wide at one stage - and looking to be struggling then with an unspecified injury.

That didn't augur well for this contest and so it proved, with the clearest illustration of our deficiencies coming when he managed almost an hour despite running on empty, lacking even the energy for an ill-timed challenge that would have brought a booking and consequent suspension.

Replaced by Geremi - who pinged one free kick off the woodwork - we looked little better and Gerrard departed quarter of an hour later, his work for the day having been done.

While central midfield was to be where we allowed Liverpool through and a suspect defence exposed Given far too regularly, the visitors had alternatives available if required: Keane being returned to the bench despite scoring three in two games.

While he cooled his heels though and there was no Torres, this was still torrid, right from the off.

Shay Given was called into action within the opening seconds and almost defied the visitors single- handedly as shots rained in on him, with N'Zogbia also clearing two off the line.

The inevitable breakthrough came though - quickly followed by another goal against us for the former toon trialist. Those two efforts separated Owen's sole contribution to proceedings, converting a Duff centre from close range just as the Irishman was wrongly flagged offside.

For all that though, Newcastle walked off the pitch to applause - having reduced the arrears in time added on and turned what looked to the most misplaced of causes into something decidedly more interesting.

Unfortunately within five minutes of the restart the procession had recommenced - extinguishing any thoughts of salvaging something from this game that Edgar's goal and some other dubious Liverpool defending of crosses had raised.

And that really was that - an amazing display from Given culminated in a late yellow card after he launched the ball high into the stands out of disgust at another refereeing decision - shortly after having not been penalised for a similar act of frustration.

Also decidedly fortunate was Taylor, who had followed through on Reina earlier - presumably in frustration after misjudging a header as we conjured up a rare half-chance. That's hardly the sort of composure you'd want to exhibit in front of one's future employers - or so he thinks.

When your goalkeeper is your man of the match and you concede five, that speaks volumes.

At least JFK didn't bemoan his lack of luck this time - the first defeat that he's spoken after when he's not used that line. Lack of luck isn't having a left-sided defender or anything worth picking in reserve.

If any side was unlucky today, it was Liverpool. However they ultimately got lucky - seventh or eighth time lucky, to be precise. Never mind more shots than us, they had more attacks.

Ultimately though we learned nothing new: we're an average team who can win, draw or lose against other average sides but receive regular reminders of the distance a certain ex-Manager
once measured as a "million miles" that we're away from better sides.

PS: renowned expert Mark Lawrenson attempted to explain Newcastle's predicament by them having had four people picking the team in 2008 - well, the way we count it's five: Allardyce, Pearson, Keegan, Hughton and Kinnear.

There was only one owner though - and that's where the buck stops.

Time for the bucks, pounds or euro to start methinks, if only to try and shore up his investment, regardless of his festive flannel. Money talks.

Biffa