Date: Saturday 3rd January 2009,
3.00pm

Venue:

KC Stadium



Conditions: cool and clear

Admission: £24.50

Programme: £3






Hull City

Newcastle United

0 - 0


(White shorts and white socks)

Teams
Half time: Hull 0 Newcastle 0
Full time: Hull 0 Newcastle 0
JFK had "a sore throat", leaving Chris Hughton to say:

"I think given the fact that we are the away side coming here, probably we edged it, certainly on scoring chances. We are probably more aggrieved we didn't come away with the win, but they are a very good side and showed they have a good squad. It was a typical cup tie."

"We have got used to that type of performance from him (Given). He is a top quality goalkeeper and a top quality individual - but we wouldn't expect anything different from him."
"I have seen it (the Given incident) again, and as per normal you look at the reactions of players.
"Their players are always going to see it going over the line and ours could see it for what is was, hit the crossbar, went into Shay Given's hands and certainly not over the line.

"Every now and again his (JFK's) throat gets a little sore - he does a lot of shouting on the touchline."
Jonas said:

"I was happy with my performance when I came on – I wanted to do well and prove that I deserve a place in the starting line-up next week. I felt stronger as the match went on and was disappointed not to get the goal at the end.
"It was one of my best performances for the last few weeks and I got a bit of space to attack the defence, which I was happy about because I spent most of the game defending against Liverpool. With all the injuries that we have we have to be happy with getting into the next round. We showed we can battle and we can work hard."
"I know all about this tournament in Argentina. I used to watch it on television when I was a boy . I was looking forward to playing in it. It was a difficult match but I think that we had the best chances to win. We want to do well in the Cup and it is important that we go on and win the next match."
"I never want to be on the bench for any game. No player wants to be on the outside of the squad and I am no different but it is the boss' decision and I have to respect that.
"I understand – and it makes me want to fight and battle to get back into the squad. It is only natural that we all want to play in the team, but I want to start.''

Clyde out of the Ant Hill mob drawled:


"Both sides endeavoured to win the game, no doubt about it.
"I am pleased with the performance. It is getting the balance right between entertaining, winning football and that clean-sheet mentality. In the last two games we have got back to that ugly side of the game.
"We'll be going up there in a positive frame of mind to try and win the game.

"The result was about right.....we could have been more fluid in our passing, but we've taken Newcastle United close and that was their full-strength team.

"You can go on about goal line technology but it is inconclusive and impossible for the linesman to give that.
"Shay does look like he has stepped over the line to save the ball. Damien Duff has done fantastically at the back post to get a touch, certainly if he doesn't Michael Turner scores.
"Some of the team have given me food for thought. In the last two games we have got back to being an ugly side when we're not on the ball and that's pleased me. We didn't play as much pretty stuff as I'd wanted.
"But Michael Owen was bang at it today and we kept him quiet and got a clean sheet into the bargain and I'm ecstatic about that. We seem to have got that mindset back.
"It's nice to be in the fourth round draw - it is a distraction but we've got a very big squad. It'll give an opportunity to other players again. Ryan France didn't get on the pitch so there might be a chance at St James' Park along with Nicky Featherstone.
"Tom Cairney, who's an 18-year-old boy, just missed out as well at the weekend after being in the squad. There might be the opportunity now of going to St James' Park and giving them a bit of experience."

After two previous visits in friendly matches, United made their competitive debut at the KC Stadium - just over two months ahead of our first scheduled league visit.

There were first club appearances in the FA Cup for Coloccini, Bassong, Guthrie and Gutierrez, with all but Guthrie making their debut in the competition.

Third airing for the purple kit, after the Carling Cup tie at Coventry and league game at Fulham.

Newcastle's Third Round Record - Premier years:

2008/09 Hull City (a) drew 0-0
2007/08 Stoke City (a) drew 0-0 (won replay)
2006/07 Birmingham City (a) drew 2-2 (lost replay)
2005/06 Mansfield Town (h) won 1-0
2004/05 Yeading (a) won 2-0
2003/04 Southampton (a) won 3-0
2002/03 Wolves (a) lost 2-3
2001/02 Crystal Palace (h) won 2-0
2000/01 Aston Villa (h) drew 1-1 (lost replay)
1999/00 Spurs (a) drew 1-1 (won replay)
1998/99 Crystal Palace (h) won 2-1
1997/98 Everton (a) won 1-0
1996/97 Charlton (a) drew 1-1 (won replay)
1995/96 Chelsea (a) drew 1-1 (lost replay on pens)
1994/95 Blackburn (h) drew 1-1 (won replay)
1993/94 Coventry City (h) won 2-0
Total record against Hull City

:

P
W
D
L
F
A
SJP
5
3
0
2
14
7
BP/KC
4
2
1
1
8
6
League
9
5
1
3
22
13
SJP(FA)
3
2
1
0
7
3
BP/KC

5

2

2

1

6

2

SJP(LC)
1
1
0
0
2
0

Cup
9
5
3
1
15
5
Tot
18
10
4
4
37
18
Waffle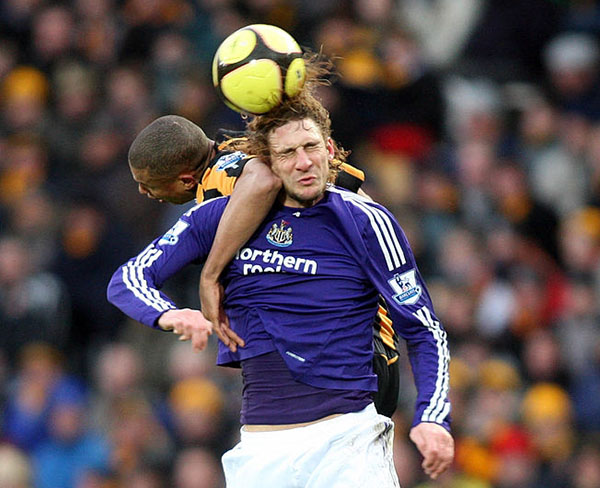 Back to the land of white telephone boxes then and an afternoon when whatever magic the FA Cup may still possess was kept well-hidden from view.

Our first fixture 2009 at least brought an end to our losing run, but two below-strength sides served up an unremarkable 90 minutes, when at times it was debatable who wanted to win less.

Some amber ambivalence from the home side seemed obvious in Brown's selection and the lack of adventure from his players, while United had spent the week paying lip service to the importance competition and ended up fielding what was their only team, weak or otherwise.

Shay Given took his place to good applause from the away end, no tension evident on either side following the emergence of ghosted comments expressing discontentment with the situation at SJP.

It had been suggested that he could have lost his place for this game in favour of Harper (who is yet to sign a new deal), but whatever notional value gained by stopping Shay being cup-tied would have been offset by the consequent negative reaction from both fans and media to his omission.

To a certain extent the same situation applied to Michael Owen - although an ineligibility for cup duty will hardly deter Mark Hughes from his alleged raids on SJP, given City's Third Round implosion at the hands of Nottingham Forest.....

Sebastien Bassong had returned from suspension to partner Fabricio Coloccini in central defence, with Steven Taylor at right back and Jose Enrique continuing down the left. United however were forced into a change before half time, Charles N'Zogbia leave the field with a leg injury. Damien Duff switched from right to left with Jonas Gutierrez arriving from the subs bench to patrol the former.

The visitors shaded the early stages, twice going close through Owen and then Andy Carroll's shot. However Given was called into decisive action to pull off a one-handed save to deny Daniel Cousin before the interval.

As expected, Danny Guthrie was repeatedly booed by the home support as a result of the challenge that broke Craig Fagan's leg at SJP last September, with the Newcastle midfielder also being singled out for some rough treatment from the City players.

Hull were left to question match officials for a second successive home game, after a 72nd minute header from Michael Turner was touched onto the goal frame by Duff, before Given grabbed it.

City players appealed as the United 'keeper indicated he'd kept the ball on the right side of his goal line - while TV replays were inconclusive. However home fans were more vociferous in complaining than their own players, which tells its own story.

Nicky Butt's first half booking was his fifth of the season, meaning he will now serve an automatic one match suspension against West Ham. Gutierrez also found his way into Chris Foy's notebook for not retreating from a free-kick to move within one pointless yellow card of his own ban.

The Argentinean winger proving our main threat in the closing stages, but was unable to supply a killer pass for his colleagues and continues to shy away from shooting opportunities.

With time running out and a replay looking inevitable, both sides belatedly rallied and finally brought the crowd to life, as gaps began to appear at both ends of the field. Given made a further another noteworthy stop while Owen took Butt's knockdown first time but volleyed harmlessly over.

No goal came though and while there was satisfaction that Newcastle have now posted clean sheets in four out of their last five away games, we added an extra game to a schedule that is already testing the limits of the first team squad to breaking point and beyond.

For the third successive season we're left requiring a home replay to advance to the Fourth Round, where a low-key home tie against League One sides Millwall or Crewe awaits.

As a diversion from the business of staying in the top-flight, this tedious tie was remarkably similar to the usual thin fare we're faced with. At least it was slightly cheaper than usual though...


Biffa