In association with NUFC.com


Date: Sunday 22nd February 2009, 4pm Live on Sky

Venue:

St.James' Park



Conditions: abrasive





Newcastle United

Everton

0 - 0

Teams
Half time: Newcastle 0 Everton 0

Full time: Newcastle 0 Everton 0
With Joe Kinnear watching from home -having just been discharged from hospital in Sutton Coldfield after triple heart bypass surgery - his stand-in Chris Hughton said:

"Kevin (Nolan) is what he is. He is a competitive player, as are players like Nicky Butt and Steven Taylor. It's disappointing that we lose him because he is a good player.
"I would say on the challenge itself that I didn't think there was any intent or malice.
"We accept that he did catch the lad. Kevin has apologised to the lad and also to David Moyes, and it's one we need to pick ourselves up from and go on from here."
"I am very happy and delighted for this group of lads. We knew it was going to be tough to start with against a very good Everton side, although they were missing a couple of players.
"But having gone down to 10 men so early, the resilience and the character we showed, this group of lads deserved what they got."
David Moyes said:


"It was undoubtedly a red card and undoubtedly a bad tackle, but I don't think Kevin Nolan is that type of player. Ee had no width, we were limited as to who we had and we ended up patched up throughout the team.
"We're disappointed that we've lost Mikel Arteta – it's a massive blow to us – and it's disappointing that we've not beaten Newcastle.
"I thought we were good enough to do so the way we've been playing but credit Newcastle, they made it hard for us, got people behind the ball and we found it difficult to break them down.
"Before the game today I thought that the injuries had finally caught up with us. For the first time I've had to start playing people really out of position but we've done it before and we'll do it again and get on with it.
"It was definitely a missed opportunity. If you play for the best part of an hour against 10 men we'd have hoped to have taken all the points.

"I think we had more chances when they had 11 men than 10 and we should have been a couple of goals up but we weren't and when you get opportunities in this league you have to take them just like when Newcastle had one and they didn't take theirs.
"In the end we were just too patched up to get any real rhythm or flow to our game."

Toffees in Toon - Premier years:


2008/09 Drew 0-0

2007/08 Won 3-2 Butt, Emre, Owen
2006/07 Drew 1-1 Ameobi
2005/06 Won 2-0 Solano 2
2004/05 Drew 1-1 Bellamy
2003/04 Won 4-2 Bellamy, Dyer, Shearer 2
2002/03 Drew 3-3 Dyer 2, OG (LC) (lost on penalties)
2002/03 Won 2-1 Shearer, Bellamy
2001/02 Won 6-2 Shearer, Cort, O'Brien, Solano 2, Bernard
2000/01 Lost 0-1 No scorer
1999/00 Drew 1-1 Shearer
1998/99 Lost 1-3 Shearer
1998/99 Won 4-1 Ketsbaia 2, Shearer, Georgiadis (FAC)
1997/98 Won 1-0 Lee
1996/97 Won 4-1 Ferdinand, Lee, Shearer, Elliott
1995/96 Won 1-0 Ferdinand
1994/95 Won 2-0 Fox, Beardsley
1993/94 Won 1-0 Allen
Full record against the Toffees:

| | | | | | | |
| --- | --- | --- | --- | --- | --- | --- |
| | P | W | D | L | F | A |
| SJP | 75 | 41 | 18 | 16 | 137 | 74 |
| GP | 75 | 19 | 15 | 41 | 89 | 145 |
| League | 150 | 60 | 33 | 57 | 226 | 219 |
| SJP(FA) | 1 | 1 | 0 | 0 | 4 | 1 |
| GP | 4 | 1 | 0 | 3 | 1 | 5 |
| SJP(LC) | 1 | 0 | 1 | 0 | 3 | 3 |
| GP | 0 | 0 | 0 | 0 | 0 | 0 |
| Cup | 6 | 2 | 1 | 3 | 8 | 9 |
| CS | 1 | 0 | 0 | 1 | 3 | 5 |
| Tot | 157 | 62 | 34 | 61 | 237 | 233 |
Kevin Nolan became the fifth Newcastle player to be dismissed this season, after Danny Guthrie (Hull h), Habib Beye (Man City h), Sebastien Bassong (Wigan a) and Nicky Butt (Blackburn a).

First clean sheet for Steve Harper in his last seven appearances (three last season, four this time round).

Almost uniquely at SJP this season, Louis Saha failed to find the net against his old club - having managed to do so at SJP when playing for Fulham and Manchester United.

Nolan now misses our next three fixtures, beginning with Sunday's trip to his former side Bolton. Steven Taylor though has now had the threat of suspension lifted after managing to avoid a fifth yellow card of the season - those previous four now being ignored.

Special mention must be made of the haircuts sported by Jo and Fellaini, the latter of which led to some reminiscences from punters of a certain age of cartoons of yesterday - the Hair Bear Bunch,

Altogether now, "In the Wonderland Zoo....."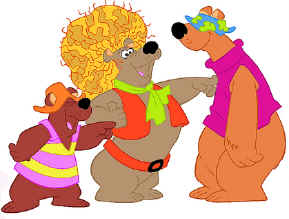 Waffle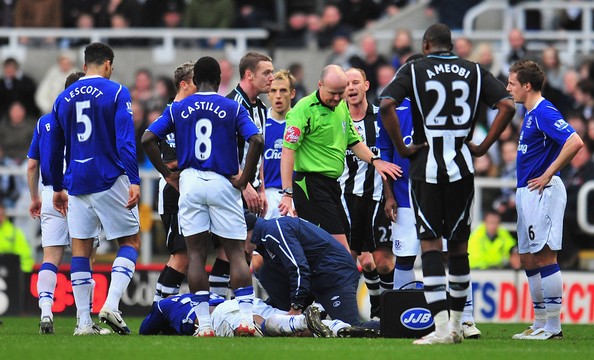 While much was made of the injury blows that forced David Moyes to make two alterations to his side before the interval, perhaps one player who didn't make the starting XI at all had the most significant effect on the eventual full time stalemate.

The Toffees have made something of a speciality in snatching away points this season through Tim Cahill goals, with the Aussie indulging in corner flag shadow-boxing following winners at Stoke, the smoggies and Man City, plus an Anfield equaliser.

Thankfully though suspension had ruled him of this fixture and in the absence of their talisman, Everton gradually ran out of ideas despite their numerical superiority, Steve Harper enjoying a reasonably comfortable afternoon as we extended our unbeaten run to three matches.

His opposite number Tim Howard was similarly under-employed, with almost our only cohesive attack seeing Peter Lovenkrands clip his weak shot wide with the goal seemingly at his mercy - maybe our missing man Michael Owen would have made the difference, as he did last season when netting the winner in this game, albeit with his shoulder.

That Lovenkrands effort came after half an hour of the most turgid fare imaginable, which had barely begun before Arteta departed on a stretcher and was completely disjointed thereafter - although the visitors at least had efforts on target - Yobo and Rodwell both seeing goalbound shots blocked in the six yard box.

Just as thoughts were turning towards a reshuffle and a desperately-needed injection of pace in the shape of Martins (serenaded by home fans almost since the first whistle), the pivotal passage of the game arrived; Nolan's moment of madness delivering a two-footed lunge on Anichebe.

TV replays confirmed the recklessness of the challenge and referee Mason correctly sent him off, leaving us with seven minutes of added time and the whole of the second period to negotiate in pursuit of the point that now looked to be a genuine achievement rather than a minimum return.

We got there though with something to spare, as the visitors desperately missed the prompting of Arteta and in their injury-hit state looked patched-up and unimaginative. Ring any bells?

For United, Ameobi's shambling display was greeted with relief by the crowd, whose applause of him reflected that (it's hard to decide what's more depressing; Kinnear's contract offer or Shola's three year extension - both betray a complete lack of ambition). Oba meanwhile was on a hiding to nothing almost immediately, as Lovenkrands had little left in the tank and the returning striker was forced to try and lead the line singlehandedly in our numerically-reduced state.

Viduka remained rooted to the bench aside from an occasional meander down the touchline, but then failed to dirty his boots in Monday's reserve game against his old smoggy side - it's not as if he needs any match practice though is it, after the ten minutes of action at West Brom that left him panting like an old pit pony, his first action since that Boxing Day constitutional. What a joke.

Alan Smith though did appear for his first senior game of the season since the Goodison defeat last May, having eased himself back in with a couple of reserve outings. Smith has now been out of action long enough for folks to forget just how bloody woeful he was last season, but now finds himself slotting into a key midfield role in the absence of Barton, Guthrie and now Nolan.

Home debutant Ryan Taylor had put in extra shifts on the training ground to hone his free kick technique but launched a right-footer a yard over the bar in the first half - and had a relatively uncomfortable afternoon when his first touch failed him and he was caught in possession. Against that though, he covered some ground down the right, dropping back to allow his namesake to head upfield on various occasions.

Jonas Gutierrez came on for Damien Duff after the interval and arguably had the best opportunity to break the deadlock when Oba played him in on goal. The winger had netted in his last outing - for Argentina - but still awaits his first United goal and tragically (for those who took odds of 100/1 on 1-0, Jonas) this time saw his attempted chip over Howard sail well wide and into the Gallowgate.
Thus ended our fifth fruitless attempt to win a home game (four in the league) and with the next three opponents at SJP travelling from Old Trafford, The Emirates and Stamford Bridge, things hardly look likely to take a turn for the better on Barrack Road in the coming weeks.

The point took Newcastle back above Portsmouth on goal difference into 14th spot, as we finished the weekend five points above the bottom three. However, we subsequently slipped back to 15th on goal difference as a consequence of Spurs winning 2-1 at Hull on Monday night.

Forgetting about that daunting trio of home games for a moment though (when our chief aim needs to be avoiding heavy defeats that would dent our goal difference), the upcoming trips to Bolton, Hull and Stoke promise to be anything but pleasurable in terms of entertaining football, but all represent fantastic opportunities to grind out results against teams at the wrong end of the table - with the small but tangible bonus of ongoing cup involvement for the Tigers.

On that basis, the display of Bassong today was as encouraging as anything, with Enrique also plugging away to good effect and Coloccini managing not to make any of his periodic ricks. We've now managed to avoid defeat in our last three games with the same back five, which has to put us in good 'heart' for the coming fight, if we can use that word....


Biffa