In association
with NUFC.com


Date: Saturday 24th July 2010, 3pm

Venue: Carrow Road

Conditions: Dull, sunny intervals

Admission: £15

Programme: £5 - a total rip-off, as the programme (£1.50) was only available to buy sealed with a City magazine.





Norwich City

Newcastle United

2 - 1

Teams
39 mins Ryan Taylor's thoughtless back pass was picked up by Wes Hoolahan. He evaded both Fabricio Coloccini and James Tavernier before laying the ball across the six yard box for Chris Martin to walk the ball in from point-blank range. Quite what Tim Krul was standing appealing for remains a mystery, not only was Martin behind the ball but it wasn't even played forward.... 0-1

Half time: Canaries 1 Magpies 0

47 mins The newly-arrived Shola Ameobi turned in the box to shoot through John Ruddy's legs, after some good work from fellow new arrivals Wayne Routledge and Xisco. 1-1

75 mins A right wing cross from recently-arrived City substitute Anthony McNamee ended up in the United net thanks to United's James Tavernier, getting the vital touch to divert the ball past Tim Krul who should have stopped it. 1-2

Full time: Canaries 2 Magpies 1
Newcastle manager Chris Hughton said:

"It was certainly a tough game - I think what Norwich showed they are a team with a very good rhythm.
"They, of course, have been back earlier than we have and have played more minutes on the football pitch than we have and it was the type of test that we needed. I never like losing any games, irrespective of whether they are pre-season games or game during the season, so that was disappointing to lose the game, but it didn't stop us making the changes that we wanted. It was about everybody gelling and getting another 45 minutes under their belt and then we can push on next week.
"Were Norwich worthy of their win? Yes they were. I thought over 90 minutes they were better. I thought we had a very good period in the second half and were able to create chances, so no excuses that way. The opposition today was very good opposition that have got a lot of momentum in their game, have played a system that they have played for the last year and know the system very, very well and of course it was a real test for us. They are ahead of us with their games and this is the type of competition that we want at this stage of pre-season.
"I have said all along that we need to make additions to the squad. We know it's going to be a tough season and we know we will go through periods where we pick up injuries. We have to be prepared for that. I don't think this game really changed anything – we knew that we needed players and we know that it will be tougher to get through injuries to key men next year.

"We need to bring in players in the right positions and we know that we need to strengthen, but as I have said before, the nucleus of the squad will be those that won the Championship last season – they deserve their opportunity. "I thought James (Tavernier) did very well, especially considering he's a player who plays most of his football at right-back. Without Steven Taylor and James Perch, who picked up a slight knock on Thursday, we were a bit light at the back so I had to ask him to play the 90 minutes.

"If I look at what we've got at this moment, defence is probably the area where we're a little bit light. With Steven Taylor and James Perch missing, we had young James Tavernier, who is normally a right-back, playing at centre-back, young Shane Ferguson at left-back and Wayne Routledge playing in a very unfamiliar right-back position. Defensively, we are stretched.

"A lot of clubs are still assessing what they've got. In terms of the bigger clubs, once they've made a decision on what they've got, then they will decide who they can let go on loan. It's a situation where we have to try to be on the pulse as much as we can and hopefully we'll be there to make a decision when we need to.

"We have three keepers at this particular moment. We have a young goalkeeper in Ole Soderberg who won't be fit for the start of the season and it is our prerogative at this moment that we have to make sure we look after ourselves.""Fraser had a very, very slight injury and it was our choice not to risk him. He would have loved to have come back here where he had a very, very enjoyable, and what I have been told from very good authority, outstanding season.
"We are still making decisions as with any potential players that can go on loan, but he is very much a Newcastle player and one that we feel has a very bright future with us," said Hughton. He has improved as a keeper. Paul Barron was able to see him more and we are not only delighted what he has done for Norwich, we are delighted what Norwich have done for us."
Goalscorer Shola Ameobi added:
"There's not really an established order at the moment, which maybe wasn't always the case in the past when someone like Alan (Shearer) was around. Chances will come along for all the strikers, and you have to take them when they arrive.
"It's going to be a big year for me personally, but then every year's a big year. I was chosen to start the season last season and I scored a hat-trick in my first home game, but then I got injured, Andy got into the side and finished as top scorer. Things like that happen.
"Nobody knows what's going to happen this season – you just have to make sure you give your all and make sure you're in the best possible shape to show the manager that you're ready for the task ahead."

City boss Paul Lambert commented:

"As I said after Dagenham and Stevenage, these matches are about getting fitness and more time on the pitch for the lads It's great for their confidence and the way we played today was excellent at times, some of the football was terrific. It was good for the crowd whose support today was great as always.

"They're a very good side and Chris (Hughton) has got them going really well and I wish them luck in the Premier League. We have got to try and do well in the Championship."


Shola Ameobi and Xisco returned to the squad after missing out at Carlisle last week through injury and Jóan Símun Edmundsson appeared for the first time at this level - although he is a full international for the Faroe Islands. The midfielder turns 19 on Monday and made six reserve appearances - scoring once - for United last season.

(The original teamsheet included Edmundsson, but when the teams came out he had made way for Haris Vuckic).

Neither Fraser Forster nor Steve Harper were involved, with Tim Krul starting between the posts and Academy 'keeper Jak Alnwick on the bench as cover, his first senior side call-up. Harper was officially rested, while Canaries old boy Forster was reported to have a minor injury.

Also absent through injury were Steven Taylor, Dan Gosling, Danny Simpson, Tamas Kadar, James Perch and Kazenga LuaLua while Jonas Gutierrez is still on his holidays. Brad Inman and Patrick McLaughlin weren't included, while Ryan Donaldson is on international duty with the England U19s.
Magpies @ Canaries:

2010/11 lost 1-2 Ameobi (FR)
2006/07 won 2-1 Ramage, N'Zogbia (FR)
2004/05 lost 1-2 Kluivert
1994/95 lost 1-2 Fox (pen)
1993/94 won 2-1 Beardsley, Cole
1988/89 won 2-0 Mirandinha
1987/88 drew 1-1 P.Jackson
1986/87 lost 0-2
1984/85 drew 0-0
1981/82 lost 1-2 Waddle
1977/78 lost 1-2 T.Craig
1976/77 lost 2-3 T.Craig (pen), Gowling
1975/76 won 2-1 Nulty 2
1973/74 drew 1-1 Cassidy
1972/73 won 1-0 Macdonald
1964/65 drew 1-1 Robson
1963/64 lost 1-3 McGarry
1962/63 lost 0-5 (FAC)
1962/63 won 2-1 McGarry, McKinney
1961/62 drew 0-0
1938/39 drew 1-1 Clifton
1937/38 drew 1-1 Imrie (pen)
1936/37 won 5-1 Smith 3, Pearson, Leighton
1935/36 lost 0-1
1934/35 lost 0-2*
1911/12 drew 0-0*
1910/11 drew 1-1 Veitch (Hospital Cup)*
1910/11 won 3-0 Shepherd 3 (Hospital Cup)*

* played at The Nest, all others at Carrow Road.

Waffle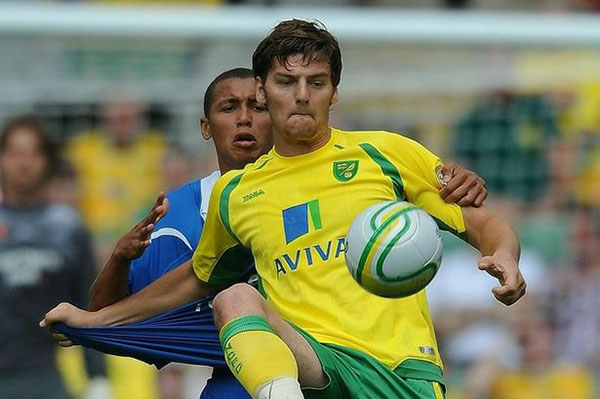 From Norwich, it's the quiz of the week....who scored the winner at Carrow Road?

Unfortunately for Chris Hughton, whether it was a City or United player, it was certainly a Magpies goalkeeper that picked the ball out of his net.
Newcastle slipped to defeat against Championship new boys Norwich City in their second pre-season friendly of the season on Saturday afternoon.
Trailing just before half time to a Chris Martin effort that came about due to a sloppy Ryan Taylor backpass, a much-changed Magpies side were level soon after half time through Shola Ameobi.
However, their first outing in their new blue away kit ended in defeat when a cross was headed past Tim Krul by what looked to be a combination of City's Chris Martin and United's James Tavernier.
Kevin Nolan captained the side and in the absence of Steven Taylor and James Perch, Chris Hughton paired Fabricio Coloccini with youngster Tavernier in central defence, while Ryan Taylor appeared at right back.
Wearing number nine, Andy Carroll had the first decent chance of the afternoon in the opening moments, but placed his effort wide of the target. Tim Krul then turned a Chris Martin effort round the post on 13 minutes as the home side forced a series of corners without making a breakthrough.
The City striker did better six minutes before half time though, putting his side ahead with an unmissable chance. United almost provided an instant reply through Nile Ranger on 42 minutes, but after finishing well he was wrongly adjudged to be offside.
Chris Hughton made seven changes ahead of the second half and as he had at Carlisle, gained an instant return when one of them - Shola Ameobi - levelled the scores. Routledge had gone to right back in place of Taylor, while Xisco made his Magpies comeback at right midfield, with Tavernier staying in central defence, this time partnering Mike Williamson.

Ameobi then had the chance to score his and Newcastle's second but shot across goal, before Haris Vuckic tested Ruddy with a shot. Tim Krul then came to his side's aid on 65 minutes with a fine double save to deny Martin again and then Chris Surman with the follow up shot.
He was beaten ten minutes later though, when a right wing cross from recently-arrived City substitute Anthony McNamee was headed past Krul. The Carrow Road PA credited Martin with a second goal but his lack of celebration seemed to confirm that contact came via Tavernier. However, Martin claimed the goal in a post-match interview, although TV footage confirmed he actually was nowhere near the ball.

Again Newcastle looked to respond quickly and within a minute of the restart, Xisco somehow managed to muck up a free header that he really should have buried. Into the closing stages and Peter Lovenkrands beat Ruddy with a looping header from Ferguson's cross, but unluckily saw it rebound back off the crossbar.

While the result is as irrelevant as any other friendly match, the difficulties faced by Chris Hughton in central defence were a genuine concern, with James Tavernier plugging a gap in a role we've never seen him occupy. The thought of him filling in at Old Trafford against Rooney & Co. in our opening fixture doesn't even bear thinking about....

Niall Mackenzie