In association with NUFC.com


Date: Saturday 11th September 2010, 3pm.

Venue:

St. James' Park



Conditions: deflating






Newcastle United

Blackpool

0 - 2

Teams
45 mins James Perch struggling to contain Luke Varney as the Derby County loanee threaded his way into the Gallowgate End box from the left flank. With Mike Williamson also in attendance, Alan Smith impetuously dived in with a tackle that irritating whistler Lee Mason deemed to be a penalty. Steve Harper guessed wrong and dived to his left as Charlie Adam steered a low shot towards the opposite corner. 0-1

Half time: Newcastle 0 Blackpool 1

90 mins With Newcastle committing resources upfield, Blackpool broke quickly after Ben Arfa's shot on goal was blocked. Adam led the charge and with Marlon Harewood making a dummy run out the left, headed infield and laid the ball off to DJ Campbell on the edge of Leazes area. The striker juggled the ball between his feet before shooting beyond Harper's right hand with a fine curling drive. 0-2

Full time: Newcastle 0 Blackpool 2
United Manager Chris Hughton said:

"We certainly created enough good chances to win a couple of matches. I can't fault the commitment of my players, we just didn't have enough fortune or quality and came up against a very good keeper. It's a defeat we didn't deserve, but we were at home and we don't like losing points at home.
"It was a tough afternoon. If you go back to where we were a few weeks ago against Aston Villa, we probably had eight good chances and put six of them away. We had the equal amount of chances today but we were unable to score and it was a reality check for us from where we are and what a tough division we're in.
"All you ask from your players is to get in the right positions and to put the ball in the back of the net and today we didn't.
"We conceded a goal just before half-time which put us on the back foot coming out for the second half. You have to give them credit as they kept the ball in periods of the game which they were able to do so and that frustrated us. But it's points lost for us not least for the percentage of the ball we had."
Ian Holloway commented:

"I am more than delighted with that. If there was a better word than delighted, I would like to think about it now and say it. I might make my own up - phantasmagorical, whatever. If you think about the end of last season, the trouncing we got here, if you look at how short a period of time it is, if you look at the quality they have got, I am absolutely delighted.

"My lads turned in one of the best performances since I took over as manager, but I can't say I enjoyed the afternoon. Part of me didn't want the match to go ahead. Gary (Parkinson, Blackpool's youth team coach and former Boro player suffered a stroke earlier in the week) is really poorly and having to break the news to the lads on Friday was the hardest thing. Many of us were in tears.
"We want to send our love and best wishes to Gary, his wife Debbie and their children. The game doesn't seem important after a thing like that, but we had to be professional, and we were. Now we have to try to end Chelsea's home run next week. Simple, isn't it?"
Newcastle's 26 game unbeaten home record in all competitions was ended, as Blackpool became the first side to win at SJP since Fulham in May 2009. Removing last season's results though, this defeat does mean that the Magpies have won just two of their last twelve Premier League home games.

Hatem Ben Arfa made his Magpies debut from the subs bench, becoming the 153rd player to appear for Newcastle United in the Premier League.

The 23 year-old from the Parisian suburb of Clamart became the 15th French-born player to appear for Newcastle - following from David Ginola, Laurent Charvet, Stephane Guivarc'h, Didier Domi, Louis Saha, Alain Goma, Franck Dumas, Laurent Robert, Sylvain Distin, Olivier Bernard, Charles N'Zogbia, Antoine Sibierski, Habib Beye and Sebastien Bassong. David Terrier and Lionel Perez both failed to appear in competitive first team games during their time at SJP.

And if you're wondering why Jean-Alain Boumsong doesn't appear in that list, it's because he was born in Cameroon but elected to play for France (the opposite to Bassong, who plays for Cameroon and Beye, who represents Senegal). Robert was born on Reunion Island, which is a French Overseas Region.

There were also first selections at this level for unused substitutes Sol Campbell and Cheick Tiote.
Tangerines in Toon -Post War:
2010/11 lost 0-2
2009/10 won 4-1 Gutierrez, Carroll, Nolan, Routledge
1987/88 won 4-1 (LC) Goddard, Mirandinha, D.Jackson, Gascoigne.
1972/73 lost 0-3 (LC)
1970/71 lost 1-2 Hindson
1966/67 won 2-1 Robson 2
1965/66 won 2-0 Robson 2
1960/61 won 4-3 Neale 2, White 2
1959/60 drew 1-1 Mitten
1958/59 won 1-0 White
1957/58 lost 1-2 OG
1956/57 won 2-1 Davies, Milburn
1955/56 lost 1-2 Milburn
1954/55 drew 1-1 Broadis
1953/54 won 2-1 Milburn 2
1952/53 lost 0-1
1951/52 lost 1-3 Foulkes
1950/51 won 4-2 Robledo 3, Milburn
1949/50 won 3-0 Milburn 2, Taylor
1948/49 won 3-1 Milburn 2, Robledo


Full record v Blackpool:

P
W
D
L
F
A
SJP
26
14
3
9
48
34
BR
25
7
4
14
33
60
League
51
21
7
23
81
94
SJP(FA)
3
3
0
0
8
1
BR
2
1
1
0
3
1
SJP(LC)
2
1
0
1
4
4
BR
2
0
0
2
0
4
Cup
9
5
1
3
15
10
Tot
60
26
8
26
96
104
Waffle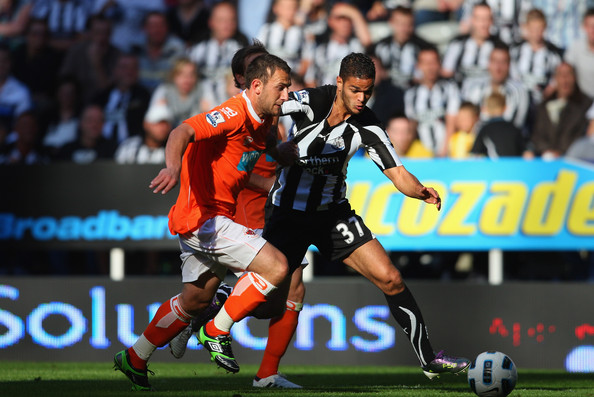 In amongst the widespread Magpie malaise that was evident on Saturday afternoon, one club employee at least did his job properly. Take a bow the SJP Safety Officer, who refused a request from Oggie the Bloomfield Road drummer to beat himself off in Level Seven - a small crumb of comfort at least...

After the hoopla that was the 6-0 toppling of Aston Villa here, seasoned Toon watchers were half-expecting a relapse of sorts - it's our birth right. Meanwhile, the terminally optimistic (and probably Alan Shearer) were engaged in wagering on another goal frenzy.

In commenting post-match that his side had emulated their display against Villa in terms of chances created, Chris Hughton was bang on the money - United recorded 13 shots on target in each home game. There the similarity ended though, partly due to the improved performance of the visiting defence but also because of a lack of fluency in our attacks. And this time, we didn't survive and prosper after conceding a penalty.

Almost two years to the day that Hughton was press-ganged into taking the job, the atmosphere outside the ground today couldn't be more different than among the hate-filled home hordes who vented their feelings before the infamous Hull City game in September 2008.

The orange shirts worn by most those up in Level Seven in 2010 were vaguely reminiscent of the black and amber army in residence back then though, but the strut and stance of the visiting side were those of new boys who were on a genuine high - that they'd lost here last season only added to the occasion for them.

In fairness, their manager is slightly more tolerable than the sand dance kid, but ominously finds those TV cameras and newspaper columns irresistible. Hughton's admission this week that playing the press game didn't come easily to him remains one of his strengths in our eyes.

In warm sunshine, United were slow to get into gear and were grateful to Steve Harper for a fine double save on 12 minutes, denying both DJ Campbell and Brett Ormerod. Defender Mike Williamson saw his 25th minute header rebound back off the post, while Kevin Nolan failed to get sufficient power on his shot soon after, when he was left with visiting 'keeper Matthew Gilks to beat.
There was a warning at the other end when Campbell was flagged offside after breaking forward to net, but the visitors would still go in for their half time cuppa a goal to the good after a Charlie Adams penalty conversion. That came seconds before the whistle, after a first half display from United that had seen Andy Carroll plough something of a lone furrow - winning header after header but with minimal support. At one stage he was reduced to heading upfield balls in the air and attempting to chase them himself - that's unacceptable in a home game against anyone, let alone a fellow new arrival from the Championship.

It was inevitable that Blackpool would then attempt to stonewall for the second half and rely on breakaways - although deploying chunky ex-Magpie Marlon Harewood seemed like a slightly odd way of looking to beat United for pace.

With an open invitation therefore to test the Tangerines, neither Gutierrez or Routledge proved to be capable of providing quality service into the box for Andy Carroll - with the right winger not seeing a great deal of the ball until shortly before he was replaced. Jose Enrique also repeatedly ran into cul-de-sacs, as United's acres of possession too often failed to translate into meaningful attacks.

Sacrificing Smith in favour of Peter Lovenkrands gave United slightly more in the final third but despite looking to be visibly struggling, Nolan would remain on the field throughout. New boy Ben Arfa showed some useful touches and also saw the ball drop agonisingly ahead of him ten yards out. Top-drawer stops from Gilks denied Carroll and Lovenkrands, while another weak goalbound effort was hacked clear. One of those days.
A poor performance then which brought zero reward - but a point would surely have been forthcoming were it not for the assorted hands and feet of Blackpool's 'keeper and one of the games of his life. Disappointment then, but really anything more - save for some concerns about the lack of structure in the closing stages. Depending on your point of view, Newcastle either went all out on the attack or just descended into chaos once Ameobi had joined the fray.

The failure to recruit a further striker at the end of the transfer window was a disappointment, but even with almost a bench-worth of current crocks, Hughton now at least has access to resources that he and his most recent predecessors in the job never enjoyed.

When things started getting sticky against Hull here in 2008 our interim fall guy had the choice of Harper, Gonzalez, Cacapa, Bassong and three total novices in the shape of messrs Danquah, Doninger and Donaldson - basically given squad numbers under false pretences. And by the end of that season, Alan Shearer was contemplating his task as the likes of Edgar, Geremi and that sulky racehorse owner drifted past him on the touchline.

With the frequently-voiced expressions of unity that come from the Magpies dressing room, the morale and motivational side of things is seemingly in the hands of the players. That leaves Hughton with the task of laying out his side to pick up points, adjusting as required in play rather than by reputation and position in the onfield hierarchy.

After fielding the same starting XI for all four league matches thus far, it'll be interesting to see what side starts at Goodison. For a number of players (notably Smith, Nolan and Gutierrez) to post poor performances though with new faces on the bench and other squad players confirmed as not going out on loan was particularly ill-timed, but at this point in the season might just make the manager's decisions easier.

Equally though, his selection for the matches against Chelsea and Stoke will give more evidence of his own priorities this season and mentality when preparing for home games against "non-glamorous" opposition, not to mention a measure of the genuine breadth and depth of his squad.

Too much waffle has already been spouted elsewhere about Hughton's managerial prowess this season, when in reality it's the earliest of early days for him as a manager, let alone Newcastle manager. Last season just doesn't count.

Don't interpret that as a negative attitude, more of an open verdict - and not prompted by the final score.

Biffa