Chris Hughton said:

"The goal was of the highest quality, but the most pleasing thing for me was the team performance. It was a real disappointment last week because it's a home game and we know how valuable points are in this division. We saw it very much as three points lost last week.
"Is Goodison an ideal place to come on the back of a defeat? The answer generally is no because of the quality they've got here. But I thought it was an excellent performance from the first to the 94th minute.

"It was an excellent all-round performance. I know Ben Arfa will probably get the headlines and granted because of the quality of the goal he scored. But today was very much about a very good team effort, coming to a place that has been very difficult for us in the past and very difficult for any side that comes here.
"They showed their quality certainly later on in the game. It was a period we didn't want to go through because at that stage I felt we should have had a penalty, and that would have given us a little bit more leeway.
He (Ben Arfa) is a young player of very good ability. He's one that we knew but it's about fitting him into a team formation and working with the philosophy that we have in the team. He's certainly got off to a good start. He's a lad of wonderful ability and it's about getting him into the areas where he can hurt the opposition.
"We want to see him do his best work in the final third and whether that's a quality cross or getting himself into areas where, as we saw today, he scored a magnificent effort.
"It looks like a shoulder ligament injury (for Harper), which will keep him out for a period of time. How long, it would be a little bit unfair of me to say because we won't know until the next few days.
"I thought it was a challenge that didn't need to have been made - Steve Harper was always getting there first. At this moment he (Fraser Forster) can't (return), he's there on a window- to-window loan, so at this moment he can't return."

Debutant Cheick Tiote said:


"I am settling in the North East very well - to be honest, I am happy to be here. Playing in this league is a dream of any child so I am very happy about that, my debut in one of the great stadium of English football was amazing.
"I am happy with my debut, the refs let the tackles fly in this league and that is one of the strong parts of my game. I can take tackles but I am a good tackler as well."
"With Kevin Nolan and Barton around, our midfield will cherish any battle. I am happy with the win; if we play compact like that then Ben Arfa will make all the difference for us. He is a top talent, someone you pay to watch, on his day he is unplayable."


David Moyes grumbled:

"That's probably the poorest performance we've had since this time last year - I would have booed. The biggest shock was the level of performance. Our performances this season have actually been OK even though the results haven't been great. But Saturday that was no performance. That's when you have to start doing something about it.
We've been in similar situations before. It's a bit of a surprise because we feel we're capable of so much more. The lead comes from the manager so I have to be the one who has to change my outlook in what I expect from them now.
"Last season we lost two games in 24 at Anfield and Tottenham when I felt we quite easily could have come away with something. This was certainly the poorest performance we've had since that time - certainly since last November.
"I totally agree (we were out fought in midfield). They outfought us. Simple as.
"I've gone into the season with real high hopes of the players and expecting to play the way they finished last season. We were competing. The team has hardly changed at all. I expected those performances and those results and we've not had them.
"Last year we had injuries to key players like Arteta and Jagielka so there were reasons why our performances were better in the second half of the season. But we've got none of those excuses this year. All those good players are back and playing. So I've now got to take a closer look at it. Maybe I need to get back to some of the old ways. We'll soon see what they're like then.
"I've been telling them they're good players and a good team and maybe I need to change what I'm telling them now. They have to earn the right to play for this team. Newcastle earned the right today with their competitiveness. They went about their job in a way we didn't.
"I didn't explain to Beckford why I took him off. I don't need to explain. The step up for Baines and Jagielka took a long time. We don't want to be judging him too quickly."

Assistant boss Steve Round added:

"That might have been a bit of frustration (talking about Fellaini's elbow on Williamson). It's a reactive thing, it was not malicious. He is not that sort of guy. He is a combative player, very physical and wants to take the fight to the opposition. It was just one of those things. I thought (the referee) got it right and a booking sufficed.
"I spoke to the (Newcastle) staff afterwards and they were not too critical (of Beckford's challenge on Steve Harper), It wasn't really a malicious challenge. Steve Harper has gone over the top of the challenge. He (Beckford) deservedly got a booking but it was the way he (Harper) landed that caused the injury. We believe it is not too bad so hopefully 'Harps' will get better soon."
Cheick Tiote's debut means he's the 154th player to appear for Newcastle in the Premier League - and the first from the Ivory Coast. Tim Krul then became the 155th and the third Dutchman, after Jon Karelse and Patrick Kluivert.

By our reckoning, those 155 players were born in 42 different countries:

Angola, Argentina, Australia, Belgium, Brazil, Cameroon, Canada, Chile, Colombia, Croatia, Cyprus, Czech Republic, Denmark, DR Congo, England, France, Georgia, Germany, Greece, Italy, Ivory Coast, Jamaica, Netherlands, Nigeria, Northern Ireland, Norway, Paraguay, Peru, Portugal, Republic of Ireland, Reunion Island, Scotland, Senegal, Switzerland, South Africa, Spain, Sweden, Trinidad & Tobago, Turkey, Uruguay, USA, Wales.

Hatem Ben Arfa became the 92nd Newcastle player to score for us in the Premier League.

James Perch has now been booked in all five league games this season and serves a one match suspension. His latest yellow card saw him set a Premier League record - beforehand he had shared with Edgar Davids the dubious honour of seeing yellow in each of his first four outings.

This was Newcastle's first top-flight success away from SJP since February 2009, when they beat West Bromwich Albion 3-2.

Tim Krul maintained his record of never having conceded a league goal for United, his shutout time now extended to 235 minutes (45 mins + 45 mins + 90 mins + 55 mins).

Toon at Goodison - Premier League Years
(half time score in brackets):

2010/11: Won 1-0 (1-0) Ben Arfa
2008/09: Drew 2-2 (1-2) Taylor, Duff
2007/08: Lost 1-3 (0-1) Owen (pen)
2006/07: Lost 0-3 (0-1)
2005/06: Lost 0-1 (0-0)
2004/05: Lost 0-2 (0-1)
2003/04: Drew 2-2 (0-0) Shearer 2 pens
2002/03: Lost 1-2 (1-1) Robert
2001/02: Won 3-1 (1-0) Bellamy, Solano, Acuna
2000/01: Drew 1-1 (0-0) Unsworth og
1999/00: Won 2-0 (0-0) Hughes, Dyer
1998/99: Lost 0-1 (0-1)
1997/98: Drew 0-0 (0-0)
1997/98: Won 1-0 (0-0) Rush (FAC)
1996/97: Lost 0-2 (0-2)
1995/96: Won 3-1 (1-0) Ferdinand, Lee, Kitson
1994/95: Lost 0-1 (0-1) (FAC)
1994/95: Lost 0-2 (0-1)
1993/94: Won 2-0 (1-0) Cole, Beardsley


Full record against The Toffees:
| | | | | | | |
| --- | --- | --- | --- | --- | --- | --- |
| | P | W | D | L | F | A |
| SJP | 75 | 41 | 18 | 16 | 137 | 74 |
| GP | 76 | 20 | 15 | 41 | 90 | 145 |
| League | 151 | 61 | 33 | 57 | 227 | 219 |
| SJP(FA) | 1 | 1 | 0 | 0 | 4 | 1 |
| GP | 4 | 1 | 0 | 3 | 1 | 5 |
| SJP(LC) | 1 | 0 | 1 | 0 | 3 | 3 |
| GP | 0 | 0 | 0 | 0 | 0 | 0 |
| Cup | 6 | 2 | 1 | 3 | 8 | 9 |
| CS | 1 | 0 | 0 | 1 | 3 | 5 |
| Tot | 157 | 63 | 34 | 60 | 235 | 228 |
Waffle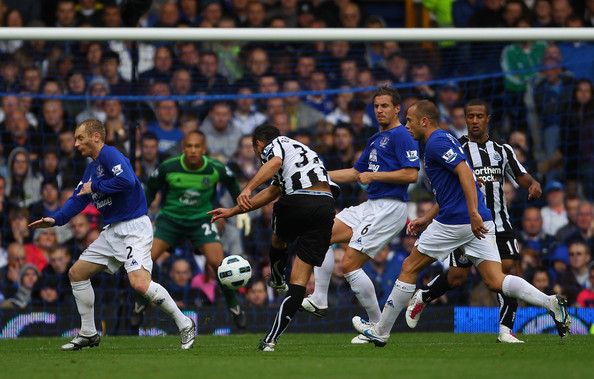 After last week's desperately disappointing home loss to Blackpool, Newcastle bounced back in style to earn their second league win of the season, thanks to a fine team display and a wonderful goal from Hatem Ben Arfa.

The on-loan Frenchman hit a stunning left-footed shot near the end of the first half to give United a first victory in eight games at Goodison Park and extending a winless start to the season for the Toffees.

After naming the same XI for the opening four Premier League games, Hughton handed Cheick Tiote his debut and gave Hatem Ben Arfa a first start. Alan Smith and Jonas Gutierrez dropped down to the bench, which was also occupied by birthday boy Sol Campbell - on his 36th birthday. For the hosts, Tim Cahill was missing (for the sixth successive game against Newcastle) and former Toon transfer target Jermaine Beckford was given a start.

Overcast conditions and light rain saw the floodlights on before kickoff, with the opening exchanges fairly equal. United grew in confidence though, with Tiote looking instantly at ease in a central midfield anchor role and never wasting a ball throughout the whole afternoon.

Steve Harper's only involvement in the opening half hour had been to watch Phil Jagielka's header sail wide, but the 'keeper exited the field on a stretcher just after the half hour, following a horrible challenge from Beckford.

The former Leeds striker had barely seen the ball and frustration may have played a part as he left his foot in on the Newcastle 'keeper after the ball had gone. A booking followed for Beckford while Tim Krul appeared off the bench for his Premier League debut. Harper meanwhile went for a hospital scan on an injured left shoulder.

Then came the moment when an encouraging display turned into a memorable afternoon. Picking up the ball 25 yards out in front of the Gwladys Street End, Ben Arfa steadied himself before unleashing an unstoppable shot into Tim Howard's top left corner, sending the travelling fans into delirium.

An expected response from the home side came in the form of Yakubu adding his physical presence up front, although it took Everton some time to get up a head of steam - and spark their snoozing supporters into life. But with Mike Williamson showing up well at the back and support coming from across the pitch - Andy Carroll again a rock back in defence - Newcastle kept their shape well.

Kevin Nolan should have earned a penalty with fifteen minutes remaining when Seamus Coleman swiped his legs from under him as he bore down on Howard. However, referee Andre Marriner inexplicably waved played on.

Everton piled on the pressure and a frantic added time finale saw Yakubu's shot hit the post and end up in Krul's arms, before Marouane Fellaini - lucky to remain on the pitch after lashing out at Williamson - volleyed wide from close range in the closing seconds.

However there was to be no repeat of last week's late heroics for the home side, as Newcastle held on for a victory that was perhaps even more satisfying than the 6-0 demolition of Aston Villa. Certainly this was a more complete performance than that, inflicting a first home league defeat on Everton since November 2009 - a run of 14 games.

The ghosts of Monsieur Ginola and Robert had been conjured up during the acquisition of Ben Arfa, but in his first full game if his darts and dashes were reminiscent of anyone, it was Kieron Dyer. One second half dribbling run especially evoked memories of Dyer netting at the same end on this ground a decade ago.

This wasn't a perfect performance, with Perch again booked and Routledge dropping off the map for large tracts of the second half. However the positive influence of Ben Arfa and Tiote on the midfield meant that Chris Hughton's side could reveal an expansive side to their play - rather than continually batter away with long balls directed towards Carroll.

And credit is also due to Kevin Nolan, who as childhood Liverpool fan may have been inspired by this outing on the other side of Stanley Park. Whatever the reason though, he again proved his worth when dropping back from the supporting striker role that still seems overly-ambitious to us in this league. Another steady display from boyhood Toffee Barton meanwhile saw abuse gradually wither away, as Goodison malcontents began to grumble more about their own team's shortcomings.

The injury to Harper and consequent revelation that Fraser Forster couldn't be recalled from his loan at Celtic was something we could have done without - and to field Tim Krul in the Carling Cup at Chelsea on Wednesday would seem to be almost inviting further misfortune.

While Ole Soderberg could yet get his first chance in the first team, next Sunday's league visit of Stoke City promises to be a big test for Krul - undoubtedly talented and not lacking in confidence but by no means the finished article. His time is now though and the new four year contact he signed just weeks ago has been backed up by expressions of confidence from his manager.

Recovering from his shoulder injury could yet be the least of Harper's worries.

Biffa