6 mins Former Magpie loanee Patrick Van Aanholt put the home side in front following a trio of defensive blunders; Sol Campbell collided with Tim Krul, Nile Ranger gave the ball away from Alan Smith's harsh pass and Krul then failed to keep out the deflected shot. 0-1

27 mins A fine 20-pass move culminated in Shane Ferguson bounding down the Newcastle left and centring for Peter Lovenkrands, who rose but didn't quite make contact with the ball. Steaming in at the back post though, Nile Ranger had no such problems at cracked it home from close range. 1-1

32 mins Tim Krul's elongated punt upfield resulted in Ameobi briefly having sight of goal before Bruma incurred a yellow card for hauling him down outside the area. Ryan Taylor stepped up to thump home the free-kick, TV replays indicating that the 'keeper had positioned his wall poorly 2-1

Half time: Chelsea 1 Newcastle 2

49 mins An inexplicable infield pass from Ferreira was seized upon by Shola Ameobi, who was allowed to continue heading towards goal by Alex and beat Turnbull with a low right-footed curling shot 3-1

70 mins Van Aanholt's overlapping run down the left flank took him into space and when he pulled the ball back for Anelka, the former French international forward stylishly stroked past Krul from the edge of the box 3-2

87 mins Referee Phil Dowd somehow concluded that Alex's mysterious dismount in the box was worthy of a penalty. Anelka then bamboozled Krul with a weak low effort that went just inside the goalkeeper's right hand post, as the Dutch youngster stood motionless. 3-3

90 mins Bishop Auckland-born toon fan Ross Turnbull was the only North Easterner not going potty at the Shed End, after Shola Ameobi got above Alex to beautifully head home a Jonas Gutierrez corner to win it for the Magpies 4-3

Full time: Chelsea 3 Newcastle 4

Chris Hughton said:

"We showed great character and great finishing to get back in the game. The equaliser for them to get back 3-3 was the softest penalty you will ever see and it got them back in the game. Fortunately, it was us that stopped the game going to extra-time.
"I didn't think it was a penalty. That is an understatement. It disappointed me because at that stage we hang on and win 3-2. If we had not got the winner and it had gone to extra-time, it would have been a travesty.
"This was a game that most people felt we couldn't win irrespective of what side they put out. 'It speaks volumes for the players in the changing room. Hopefully it will give us the momentum to go into the next few games.
"Shola showed why he is still at this football club. He has had periods at the club where injuries have hindered his progress. That was the case last season. But on this form he is a top player.''

Shola Ameobi added:

"The manager knows that I am unhappy - he knows that I want to be playing, like every other guy who is not in the team at the moment. For those of us who have not been playing a lot, this was a chance to show what we can do and I think we managed to do that.
"I have to do my talking on the pitch - hopefully that can push me up into the team on a regular basis. The boys have been doing fantastically this season and produced another great performance at Everton last weekend, so all I can do when given the opportunity is to score goals and play well.
"Outside the dressing room, no-one expected us to get a result, so it was remarkable. But we've taken confidence from our start to the season and are playing with freedom. Some of the younger lads showed a strength of character that was beyond their years."

Carlo Ancelotti :

"It was not our priority. I wanted to win but I'm not so disappointed. I was happy not with the result but for the performance, absolutely. We had a fantastic reaction when we were 3-1 down. We had 10 against 11 and showed good spirit and good personality, which is the most important thing for us.
"You can count on the future with these players. They played with flair, personality and character. This was their competition, they had a fantastic experience tonight. The game was difficult by the end but we are happy with the performance of our players. The match was very good and we came back into the game.
"The referee played a good match, he was fair on the pitch. This is not a problem. It was a good performance."

When asked about waving an imaginary yellow card towards Ryan Taylor when the latter conceded a second half free kick, Ancelotti replied:

"This is something from Italian football, maybe that's the last time I will do that here and I'm sorry for that."
First team debut in a Newcastle shirt for defender Sol Campbell - four days after his 36th birthday. That makes him nine days older than Ian Rush was when he played his first League Cup game for Newcastle, back in October 1997.

Chelsea lost their first home game of the season and conceded a first home goal, after three successive shutouts in their opening trio of home Premier League games. Before Nile Ranger, the last visiting player to score here was John Carew of Aston Villa, in March 2010. Since then Chelsea had won seven successive home games (all in the Premier League).

The last away side to win a first team match at Stamford Bridge had been Inter Milan, registering a 1-0 success in a Champions League match staged in March 2010. Ross Turnbull was also between the sticks for Chelsea that night. Manchester City were the last visiting team to score four goals on this ground, recording a 4-2 victory in the Premier League in February 2010.

Chris Hughton made ten changes to the side that started at Everton on the previous Saturday, with only Fabricio Coloccini keeping his place. Seven of those who started tonight also did so at Accrington, with messrs Donaldson, Tavernier, Kadar and LuaLua stepping down for this tie.

This was Newcastle United's 125th game in the League Cup, coming in the 51st season of the competition, chalking up a 56th victory. Two goals from Shola Ameobi (his 63rd and 64th first team goals) took him to seven in this competition, now joint third in our scorer's list, along with Alan Shearer and Alan Gowling. Ahead lies Andy Cole (eight) and Malcolm Macdonald (twelve).

Nile Ranger scored his third senior goal, following from two in the Championship last season. And was the case with his first-ever strike, Patrick van Aanholt was in the opposing side (having been on loan at Coventry City when Nile netted at the Ricoh Arena in December 2009. Ranger is the 108th different player to net for us in the League Cup (excluding own goals/shootouts).

In terms of away scoring in the League Cup, this was United's best night in front of goal since a 4-0 win over Stoke City at the Victoria Ground in October 1995. That same season marked the last occasion that Newcastle won two away League Cup matches in succession -doing the trick against Bristol City, Stoke City and then Liverpool, before losing at Arsenal.

This was the fifth League Cup meeting and after losing all four and scoring just once, United went goal mad in winning this one. The victory ended a winless run of cup tie visits to Stamford Bridge - registering a first victory at the eighth attempt (the previous seven were twice in the League Cup, on four occasions in the FA Cup and in one Charity Shield tie).

It was also a first victory at Stamford Bridge since November 1986, after 21 fruitless attempts:

Toon @ Stamford Bridge "the winless years":
2010/11: Won 4-3 Ranger, R.Taylor, Ameobi 2 (LC)
2008/09: Drew 0-0
2007/08: Lost 1-2 Butt
2006/07: Lost 0-1
2005/06: Lost 0-1 (FAC)
2005/06: Lost 0-3
2004/05: Lost 0-4
2003/04: Lost 0-5
2002/03: Lost 0-3
2001/02: Lost 0-1 (LC)
2001/02: Drew 1-1 Acuna
2000/01: Lost 1-3 Bassedas
1999/00: Lost 0-1
1998/99: Drew 1-1 Andersson
1997/98: Lost 0-1
1996/97: Drew 1-1 Shearer
1995/96: Drew 1-1 Ferdinand (FAC)
1995/96: Lost 0-1
1994/95: Drew 1-1 Hottiger
1993/94: Lost 0-1
1992/93: Lost 1-2 Lee (LC)
1987/88: drew 2-2 Goddard, Wharton
1986/87: won 3-1 Thomas 2, Beardsley

Full record against Chelsea:
P
W
D
L
F
A
SJP
65
34
16
15
98
67
SB
65
10
18
37
68
125
League
130
44
34
52
166
192
SJP(FA)
5
1
1
3
5
9
SB/SA

6

2

2

2

7

7

SJP(LC)
2
0
0
2
0
3

SB
3
1
0
2
5
6
Cup
16
4
3
9
17
25

SB(CS)

1

0

0

1

0

3

Tot
147
48
37
62
183
220
Have The Magpies ever been so prolific in front of goal at Stamford Bridge?. Yes, it finished Chelsea 6 Newcastle 5 in a league game during September 1958.


Waffle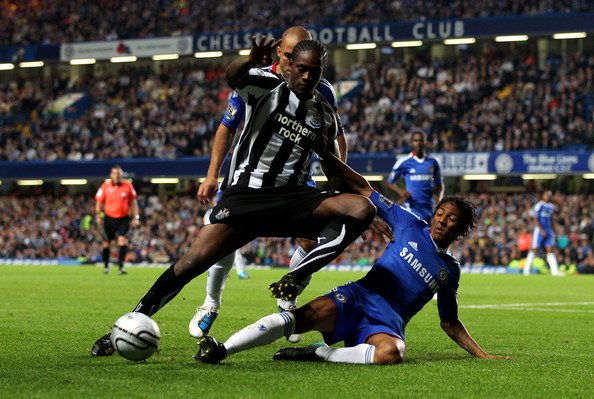 Yes, it may "only" have been in the League Cup, but after 21 visits of varying ineptitude and misfortune since our last victory at Stamford Bridge, we'd despaired of it ever happening again.

Please excuse us then the joy verging on euphoria that accompanied our progression in a competition we've previously advocating exiting from at the earliest possible opportunity.

To finally walk out of this place as winners was a milestone for those fans present and to have achieved it in such a manner in a proper competition was equally satisfying. To be quite frank, we'd have glorified in a 4-3 success here against a combined showbusiness/pensioners XI. At conkers.

After managing to score as many goals in five first half minutes as they'd managed here in their previous ten visits, United even contrived to go 3-1 up before remembering who they were and missing two great chances to surely seal the win - through Shola Ameobi and Peter Lovenkrands.

Playing this game on the anniversary of our 5-5 draw at nearby QPR (a game we led 4-0 at half time) provided a timely reminder of Newcastle's undimmed ability to self-harm and a two goal lead duly became a one goal lead, before a penalty three minutes from time that was inevitably scored.

Have two consecutive games ever provided a starker contrast between a justifiable penalty not awarded and a complete fabrication rewarded? Saturday saw Andre Marriner fail to see Kevin Nolan comprehensively having his legs swiped, while tonight Phil Dowd pointed to the spot after Alex crumpled in the vicinity of Cheick Tiote and Mike Williamson - although a prevailing south westerly breeze seemed to be the main culprit. Don't introduce technology, just don't give whistles to idiots.

So, 3-3 with just three minutes left, with Chelsea having fielded just ten men since Benayoun limped off shortly after his side's third sub had been utilised. And with Ancelotti's side striking the woodwork shortly after the equaliser, Newcastle's best chance of a victory here since Jim Smith was in charge looked in grave danger of becoming another "if only" moment.

But in the way that Saturday's Goodison game somehow evened itself out - Fellaini howking Williamson but staying on to miss his side's best chance of a last-gasp equaliser - then this match was to play out in similar fashion, penalty thief Alex failing to stop Shola converting a match-winning header. That blow finally drained the life out of Chelsea and United held that lead through six minutes of added time, avoiding extra time and the prospect of penalties.

If Chelsea's numerical disadvantage seemed familiar, then a similar misfortune had befallen them during an FA Cup Fifth Round tie at SJP in February 2005. That was the day that then-boss Jose Mourinho responded to trailing 0-1 at half time by making three substitutions.

That backfired on him within minutes though as Wayne Bridge was stretchered off, with two other players limping through the remainder of the game when they would otherwise have been replaced. Newcastle won that 1-0, to end slack-jawed speculation about a quadruple trophy bid - as was the case again in 2010.

Sympathy of course is in short supply from the fans of a club who themselves are no stranger to hard luck stories - Steven Taylor limping off for treatment seconds before Arsenal went 2-1 up at SJP back in March 2009 is still fresh in our minds. It's just one of those things; unfortunate but not the result of anything malevolent from a black and white perspective. Anyway, that 2005 FA Cup victory was payback for the sharp practices of that 2000 Wembley Semi Final loss wasn't it? NUFC.com - Grudges R Us.

Putting aside the wow factor of the result, there was much to be pleased about from United in this game. Aside from a shaky start during which they gifted Chelsea a goal, the attitude and ability a much-changed Newcastle side showed here lent credence to the thought we've finally added depth to the squad, not just given some bairns shirt numbers in the 30's and 40's. There may have been some unusual scoring patterns, but Asian bookies weren't involved, just some honest endeavour.

By the time United return here next May for the final away game of the season (FA Cup Final commitments permitting - it's scheduled for the same day), then Chelsea could well be waving the Premier League trophy, or preparing for a Champions League final.

On the back of two encouraging performances and results from two different Newcastle teams in five days though, there's renewed confidence that our next scheduled visit to Stamford Bridge won't be quite the orgy of misery that Villa Park 2009 was.

After a lifetime of disappointment though, you wouldn't rule it out....Old Trafford away in the Fourth Round anyone?

Biffa