Date: Saturday 20th November 2010, 3pm

Venue: Reebok Stadium

Conditions: in-disciplined

Admission: £23

Programme: £3

Bolton Wanderers

Newcastle United

5 - 1

Teams
18 mins After Fabricio Coloccini found him with a short pass by the corner flag in his own half, Jose Enrique lost possession to Chung Yong-Lee as he attempted to dribble clear. Sticking out a hopeful foot as the ball dropped, the Bolton winger headed the ball forward then beat Coloccini to the ball.

His forward momentum took him into the box, but Kevin Nolan reacted to reach the loose ball first, taking it in his stride but causing it to bounce off his thigh. Sticking out his right arm to control the ball was rightly spotted by Howard Webb and amid loud appeals, the spot kick was given. England reject Kevin Davies coolly s
ent
Tim Krul
the wrong way

from the spot
,
in front of the away end
0-1


39 mins Enrique lost possession in his own half and Mike Williamson jutted out his knee to impede Elmander as he strode towards the box (NB:this was after the challenge that brought an FA charge). From the resultant
free kick

, Matt Taylor's left-footer beat Krul but
cannoned
back off the crossbar.


Elmander mis-controlled the rebound on the edge of the box and Coloccini started to advance forward with the ball. However he ran into Simpson, whose attempted pass to clear the danger bounced off Elmander and into the path of
Chung Yong-Lee

. He shot beyond Krul from just inside the box with United appealing in vain for an offside against the South Korean midfielder. 0-2

Half time:
Trotters 2 Magpies 0

50 mins
Danny Guthrie lost the ball on the halfway line before Kevin Nolan went to ground as he unsuccessfully attempted to block Stuart Holden. He found Yong-Lee on the right flank, who threaded a ground pass to Kevin Davies, loitering on the edge of the box between Coloccini and Willamson. One neat turn and layoff to Elmander and the
Swedish striker had waltzed into the box, taking to touch to cut out the flailing Krul and tap the ball into the net from six yards
0-3

52 mins
Danny Simpson's throw-in midway into the Bolton half found Danny Guthrie, who headed it on to Shola Ameobi, who has his back to goal. Turning as Holden intervened, the home player poked the ball into the path of the lurking
Andy Carroll who left Zat Knight flat-footed before reducing the arrears with a right-footed finish
1-3

72 mins More meek defending, as
Coloccini pumped the ball upfield only for Knight to outjump Carroll on the edge of the Wanderers box, Taylor completing the clearance with a speculative hike forward. That bounced over halfway, with Coloccini reaching it ahead of the chasing
Elmander, only to be fooled by the next bounce and actually take a step back from the ball. The Trotters forward then easily shrugged off Fabricio Coloccini to poke home a right-footed shot from ten yards
. 1-4

90+3 mins
Wanderers substitute Rodrigo Moreno brought the ball over halfway as his side counter-attacked in numbers, slipping the ball outside of Sol Campbell and into the path of Kevin Davies on the right hand side of the Newcastle area.

A seemingly legal challenge by Jose Enrique saw the Trotters striker end up sprawled on the turf before getting up to knock home another penalty. Krul guessed correctly this time (although his team mates looked to be telling him) and dived to his left but was unable to reach the shot, which was placed in the same spot as his first penalty conversion.
1-5

Full time: Trotters 5 Magpies 1

Chris Hughton said:

"We've got character in the team that allowed us to continue to look for chances but as a team it's a poor defensive display - any day where you concede five goals is always a very bad day.
"We're very fresh from a really disappointing defeat for us. That's the feeling at the moment. Monday morning, when your thoughts are on the next game I might have thought something else, but at this moment, yes.

"It was a bad day at the office, that's for sure. I don't think 5-1 was a true reflection of the game. We gave away some very poor goals, certainly one of them was very debatable - the penalty in the second half, which I have seen again and Enrique clearly gets the ball.

"The positive is that we did have opportunities ourselves. Andy Carroll scoring is another plus for him. In any game you're looking to get positives. We did create some chances but this Barclays Premier League is unforgiving if you give the type of goals we did away today.

"I think you have to look at the team very much as a whole and a lot of it's about a reality check. We are playing in the toughest division and from day one we said there would be ups and downs, good days, which we've had. We've got to make sure we bounce back from the bad days.

"I'm more concerned with an overall performance. We've got character in the team which allowed us to look for chances, but as a team it's a poor defensive day when you concede five goals.

"Over the season – and we're a fair chunk into the season – we've had committed players. On the back of one ban with Cheick Tiote, we shall miss Coloccini now. We have a competitive team and a competitive squad.

"Coloccini is not a malicious player. It was a frustrating afternoon for him and Elmander was going to do him for pace. It was a red card. It was a frustrating afternoon for my players. Bolton play a pressing style, though I'm not taking anything away from them, they're a very good team.

"We were up against a Bolton team who were in very good form at the moment. The front two players were a real handful. but if you give the type of goals we gave away then it will be difficult to win any game."

On Fabricio Coloccini's red card:

"No complaints at all."

On the absence of Barton due to suspension:

"A factor. A game with any quality player you have missing from a team, you've got to have belief you have a squad that's good enough to compete. We are aware that Joey's a good player."

Fabricio Coloccini commented:


"I apologised to my team-mates – that is normal. I am sorry for everybody, but now we have to move on. It was a red card, but it wasn't with my elbow – but it was the same, because it was my arm. It was a red card. It's disappointing, although I can't do anything about it now. The next time, I know I can't do it.
"It's finished, and I have to think of another game. It's difficult for me, but I have to learn - that's important. I can't do it again. There are a lot of games, and I have to continue to work and try to be better on the pitch.
"Here we have good players, Sol (Campbell) and Steven (Taylor) have a lot of experience, and they can do it the same or better than me. It's a mistake – it's not a drama - it's a mistake, and I have to learn – no more than that."

Owen Coyle said:

"I felt we started on the front foot, really took the game to Newcastle. We knew we were going to have to be at our best but I felt we were today and certainly warranted the three points.

"The first one's a clear handball as far as I was concerned, there's a couple of other things that went on in the game that went unnoticed so I'm not going to get drawn on that. I'm delighted with the way my players went about it, quality performance, fully deserving the three points. There would be nobody coming away thinking we didn't deserve to win this and I suggest we had a lot more chances than the ones we've scored with.

"My only target is Blackpool at the weekend. We're not at a level where we can click our fingers and think everything will fall into place. We have to come to every game and be prepared to work our socks off.
"There's a coat of paint between many of the teams and margins are minimal in the league between 10-12 teams. The players know if they drop that five or 10 per cent then we won't get the results we are at the moment. The only league table I look at is the one after the season finishes – not where you are after eight, 10, 12 or 25 games.
"We asked the players to give the same as they have been doing and they did that from the first whistle. The goal threat we had and the level of performance was terrific. The only disappointment was that we've lost a goal. Newcastle are a good side with very good players. But my players were fantastic and thoroughly deserved the three points.

"We scored five goals and we could have had a few more. We don't have a big squad. We're running with only 20 players but everyone is capable of getting into the team. That's the difficult thing at the moment; picking the 11 to start games. They are giving me everything they've got."

Magpies @ Reebok:

2010/11: Lost 1-5 Carroll
2008/09: Lost 0-1
2007/08: Won 3-1 N'Zogbia, Martins 2
2006/07: Lost 1-2 Dyer
2005/06: Lost 0-2
2004/05: Lost 1-2 Ambrose
2003/04: Lost 0-1
2002/03: Lost 3-4 Shearer 2, Ameobi
2001/02: Won 4-0 Solano, Robert, Shearer, Bellamy
1997/98: Lost 0-1

Full record against Bolton:
| | | | | | | |
| --- | --- | --- | --- | --- | --- | --- |
| | P | W | D | L | F | A |
| SJP | 54 | 36 | 6 | 12 | 110 | 52 |
| BP/RS | 55 | 14 | 12 | 29 | 80 | 92 |
| League | 109 | 50 | 18 | 41 | 190 | 144 |
| SJP(FA) | 3 | 1 | 1 | 1 | 4 | 4 |
| BP/ER | 3 | 2 | 1 | 0 | 7 | 4 |
| Cup | 6 | 3 | 2 | 1 | 11 | 8 |
| Tot | 115 | 53 | 20 | 42 | 201 | 152 |
This was Newcastle's biggest competitive defeat since a 1-5 home humiliation by Liverpool in December 2008 and the worst result away from home since a 0-6 howking away at Manchester United in January 2008.

The scoreline represented Bolton's record Premier League win and also the first time they've ever scored five goals against Newcastle in 115 League and Cup meetings. The four goal margin of victory had been achieved only twice before, with 0-4 scorelines in August 1980 and April 1908, both of which came at Burnden Park.

2008/09: NUFC after 14 games: 14 points, 15th position (scored 17, conceded 22)
2010/11: NUFC after 14 games: 18 points, 10th position (scored 22, conceded 21)

First-ever dismissal as a Newcastle player for Fabricio Coloccini on his 93rd appearance. He had previously seen red however, while playing for Alaves, Villarreal and Deportivo La Coruna.

First Premier League outing for the blue change kit (it had been seen competitively before, versus Accrington Stanley in the Carling Cup).


Waffle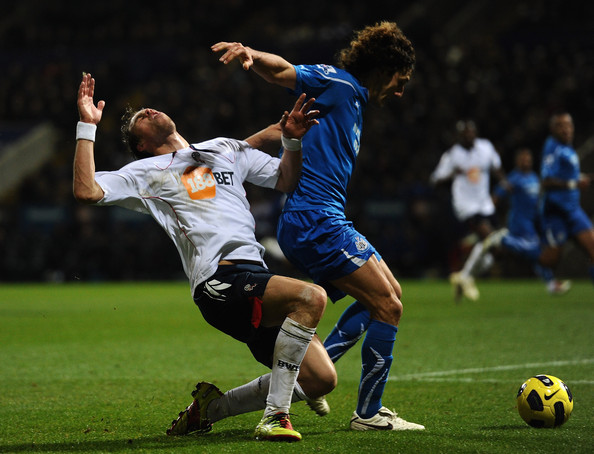 Having prompted debate and calls from "expert" pundits to give him an extended contract after some eye-catching results, Chris Hughton's players now seem to be doing their level best to make his employment prospects uncertain - and free themselves up for pantomime engagements.

Since the highpoint of the Arsenal victory, United have been on the back foot and looking distinctly uneasy against a trio of sides in Blackburn, Bolton and Fulham who unsettled them in similar fashion two seasons ago - with ultimately disastrous consequences.

The diminishing size of the United squad is undoubtedly a factor; exacerbated today by the enforced absence of Joey Barton and Cheick Tiote through suspension. Their replacements Danny Guthrie and Alan Smith managed to give our defence here a flimsy look, drastically reduced any creativity or pace in midfield and rendered the right flank a virtual no-go area.

Even before today, the self-inflicted absence of Barton, Tiote's early misadventure against Blackburn and Mike Williamson's woeful non-challenge on Roberts had all helped to bury positive thoughts. But in what a times seemed to be an almost wilful display of brainlessness here, player after player took turns at supplying "how not to" cameos. Who knows what go into them; does their pre-game music now include heavy metal records with subliminal messages of self-destruction?

It all started as early as the 18th minute when Kevin Nolan chose the wrong place to practise his "funky chicken" moves and was correctly penalised for a handball in the box - although the slack work of Enrique and Coloccini hardly helped him (we'll put the captain's foray to the byline and wild shot in the first minute down to over-eagerness, but had he pulled it back to Carroll then we could have perhaps scored our quickest league goal in over six years).*

Barely two minutes later and Williamson had abruptly stopped Johan Elmander's forward run - something that whistler Howard Webb either missed or chose to ignore, but which those nice TV people were only to happy to re-run ad infinitum until the FA rang up for a copy of the VHS.

Next up was Shola, whose arm made sufficient contact with Gary Cahill for one local reporter to warrant it a red card offence, but which wasn't deemed worthy of action by Webb or Gary Lineker's kangaroo court (we still await sanction for the punch thrown at Colo by some Blackburn thug...)

A second goal then followed after some Simpson dithering, the same player later shoving Kevin Davies in the back while he stood next to the referee - almost comically brainless. And any hopes of a comeback were dashed by more shoddy defending that allowed Bolton a third goal, before a belated response saw Carroll net and he and Nolan then both fail to connect with a Gutierrez cross.

With the United fans finally finding their voices. Hughton readied Lovenkrands and Routledge to come - only for the Trotters to register a fourth to bisect the twin substitutions. Before they'd dirtied their boots, Fabricio Coloccini's nightmarish afternoon then came to an early conclusion on 75 minutes when he was sent off after stupidly elbowing Elmander in the face - Webb conferring with the linesman (who had a perfect view) before brandishing his red card.

With Sol Campbell on, United looked to keep the score down and even came close to scoring a second goal of their own - Lovenkrands shooting against the 'keeper when having clear sight of goal and Williamson hoofing over when a corner fell to him beyond the back post.

In added time though, United's misery was completed by a second penalty - although less clear-cut than the first one - sending further travelling fans towards the exits (although some looked not to have returned for the second half, begging the question why they bothered coming at all....)

In fairness, their heroes leaving here empty-handed had always seemed likely despite our comparative good fortune on the road recently. Although victory would have given us a third successive away win, there seemed to be a general feeling that taking a point would be the best that could be hoped for here - and even that could hinge on the post-England fitness of Carroll.

His willingness to work was a rare positive for a Magpies side lacking any discernible shape and whose passing verged on the atrocious at times. He supplied the two main moments of positive endeavour for his side - netting his eighth goal of the season and later crashing a vicious rising shot off Jaaskelainen's crossbar.

Strike partner Shola meanwhile has now played almost 120 minutes in two games since injuring himself at Arsenal and is patently not right. After finally regaining full fitness and starting to win fans over, it would be a crying shame if he now undid that good work by playing on with an injury - as he did under previous managers when struggling with a hip problem.

The frustration of Tim Krul at what he saw unfolding in front of him was shown during a break in play at 3-1 for treatment to Carroll, when the 'keeper raced to the halfway line to remonstrate with Danny Guthrie - presumably for drifting infield. Suffice it to say, long faces were the order of the day on the way home for the support. Hopefully the players did the wise thing and stopped in the house.

United now have a week to prepare for the visit of a Chelsea side who were beaten at Birmingham City and have lost three of their last four league games. Tiote will at least be available for that one, but both Coloccini and Williamson now join Barton in the naughty corner.

Neither centre half had looked in good fettle in the latest two home games, with Williamson seemingly an obvious candidate to be taken out of the firing line and the prospect that duo of coping with messrs Davies and Elmander in this game leaving us uneasy - with good reason.

Presumably the manager had felt that neither Taylor nor Campbell were ready to return. Well, he doesn't have a choice now, unless Kadar or Perch get a look in. Meanwhile the displays of Smith, Lovenkrands and Guthrie here hardly lent credence to the theory that we have a squad of sufficient strength to see us through. Championship standard frankly, like Routledge.

Three weeks after a 5-1 win commemorated by Demolition Derby crockery, it was Newcastle who were the mugs today after a repeat of that scoreline. Next Sunday however remains a golden chance to get back on track. Who knows which Newcastle United will turn up for that one?

* Shearer v Charlton @ SJP March 2004 (57 seconds)

Biffa