Date: Saturday 8th January 2011, 5.30pm
Live on ESPN

Venue: Lamex Stadium aka Broadhall Way

Conditions: Bullish - as in Hereford Bulls...

Admission: £30 - £12 more than the usual price charged to away fans in League Two.

Programme: £3

Stevenage

Newcastle United

3 - 1

Teams
Half time: Stevenage 0 Newcastle 0

50 mins A shot from Stacy Long took a huge deflection off Mike Williamson and flew into the Newcastle net, with Tim Krul totally wrong-footed. 0-1

55 mins Poor work from Fabricio Coloccini allowed Michael Bostwick - who had forced Krul into a decent first half save - shot from the edge of the box via a post. The United 'keeper raged at his defence for a lack of cover but seemed rattled. 0-2

92 mins Totally out of keeping with anything else that he or his team mates conjured up in the entire game, Joey Barton took possession of the ball fully thirty yards from the Stevenage goal. A split second later he'd arrowed home a fine shot into the centre of the goal, 'keeper Chris Day flailing helplessly to keep it out. It's hard to recall a better Newcastle goal that was less celebrated. 1-2

93 mins The home side promptly went back upfield and a defence-splitting pass allowed Peter Winn to tickle the ball into the net behind which 1,400 utterly bemused supporters stood. 1-3

Full time: Stevenage 3 Newcastle 1

Alan Pardew said:

"I can say that we're sorry about the result and the performance. The performance level was the problem. It's come off the back of a really tough run for us and the players we had missing didn't help either, but the manner of the defeat was disappointing – we're Newcastle, we expect to win here.
"We talked about what we were expecting but the pressure and the physical nature of Stevenage's game was a problem all night. It was a difficult night. We just couldn't match their energy levels and that was a big part of the game – we were dominated in both boxes.
"Looking at some of my players we were running on empty – the team was a shadow of the team that played at Wigan and against West Ham. Four or five players looked like they were shot. We've had a really tough period. The injuries and the effort took its toll tonight and unfortunately we were on the end of a defeat that we wouldn't like.
"There's a few in there that need to understand what this game's about. The Premier League is all well and good but a few young boys got caught out tonight by the passion and the physical side of Stevenage. They bossed patches of the game through their sheer endeavour and enthusiasm. We've got to match that and we didn't do that.

"I didn't think it was a sending-off at all. I didn't think it at the time. The speed he's going at is the speed he usually tackles at - he's so fast. He has gone off the ground but with one foot and the ball is clearly away from the player.

"There was no intent. I've watched it three times and I've gone to see the referee and I will definitely appeal that because I think that's really harsh on the boy. He was obviously trying to get us back in the game and make an impact.''

Kevin Nolan, pre-match:

"I remember watching the game when Newcastle went down there, and seeing how tough it was then. Obviously we have been working over a couple of days on them and it will be a tough game, but we've spoken about it and we all want to have a good cup run. We know that if we prepare right and do the right things then we will be ready for them."

Kevin Nolan, post-match:

"A few of the lads looked a bit leggy in the second half and we weren't very good. All we can do is apologise to the fans who made a massive journey to stick with us for another important game next weekend. Some players were trying hard but you had 11 lads from Stevenage who probably wanted it a bit more than us.

"That was not a sending-off in a million years. Even the centre half said afterwards Tiote didn't touch him. You do anything to win the game, but he stayed down a long time for a centre half."


Graham Westley commented:

"I don't think you win if you don't expect to win. We talked beforehand about David and Goliath - we talked about the fact that David had a plan. David knew what his strengths were. David didn't play Goliath's game. He played his own game and we went out there and played our game and got the result by doing that.

"One of the things we read in the week was Alan (Pardew) saying if they could match our application and our commitment, then their quality would win through. We intended to show that we had the quality as well.

"We established that if we did just 20% of what it would take to win 5-0 we'd still win the game. Three wasn't five but it was a decent result. You only ever win by being positive, we played to our strengths and their weaknesses. The top players are not infallible, they all have their weaknesses and winning is about exposing their weaknesses and playing to your strengths and we did that.
"We haven't missed a day's training during the Christmas period. They've given up their Christmases, they've not seen their families. They've had to stay in hotels. It has been horrific, but credit to them. There are some young lads out there with massive futures in front of them."


Senior debut for reserve striker Phil Airey from the bench, the 19 year-old wore squad number 38.

United finished with just ten players for a second successive FA Cup tie, Ryan Taylor seeing red in our 4th Round loss at West Bromwich Albion in Jan 2010.

As well as Airey making his FA Cup debut, there were also first Newcastle appearances in the competition for messrs Tiote, Best, Perch, Williamson, Routledge and Barton.

Joey Barton scored the sixth goal of his United career and the first in a cup competition. However his lucky charm status ended, Newcastle winning the other five matches in which he'd netted.

United's "unlucky" blue change strip had another outing: lost 1-2 at Norwich (FR), won 3-2 at Accrington (LC), lost 1-5 at Bolton (PL), lost 1-3 at West Brom (PL), lost 0-2 at Spurs (PL), lost 1-3 at Stevenage (FA).

Newcastle's Third Round Record - last 20 years:

2010/11 Stevenage (a) lost 1-3
2009/10 Plymouth Argyle (a) drew 0-0 (won replay)
2008/09 Hull City (a) drew 0-0 (lost replay)
2007/08 Stoke City (a) drew 0-0 (won replay)
2006/07 Birmingham City (a) drew 2-2 (lost replay)
2005/06 Mansfield Town (h) won 1-0
2004/05 Yeading (a) won 2-0
2003/04 Southampton (a) won 3-0
2002/03 Wolves (a) lost 2-3
2001/02 Crystal Palace (h) won 2-0
2000/01 Aston Villa (h) drew 1-1 (lost replay)
1999/00 Spurs (a) drew 1-1 (won replay)
1998/99 Crystal Palace (h) won 2-1
1997/98 Everton (a) won 1-0
1996/97 Charlton (a) drew 1-1 (won replay)
1995/96 Chelsea (a) drew 1-1 (lost replay on pens)
1994/95 Blackburn (h) drew 1-1 (won replay)
1993/94 Coventry City (h) won 2-0
1992/93 Port Vale (h) won 4-0
1991/92 Bournemouth (a) drew 0-0 (lost replay on pens)

This was the 20th time that we've been the subject of a post-WW2 giant-killing:

1948/49 Bradford Park Avenue (h) 0-2 (D2 beat D1)
1956/57 Millwall (a) 1-2 (D3S beat D1)
1957/58 Scunthorpe United (h) 1-3 (D3N beat D1)
1960/61 Sheffield United (h) 1-3 (D2 beat D1)
1961/62 Peterborough United (h) 0-1 (D3 beat D2)
1963/64 Bedford Town (h) 1-2 (NL beat D2)
1967/68 Carlisle United (h) 0-1 (D2 beat D1)
1971/72 Hereford United (a) 1-2 (NL beat D1)
1972/73 Luton Town (h) 0-2 (D2 beat D1)
1974/75 Walsall 0-1 (a) (D3 beat D1)
1977/78 Wrexham 1-4 (a) (D3 beat D1)
1979/80 Chester City (h) 0-2 (D3 beat D2)
1980/81 Exeter City (a) 0-4 (D3 beat D2)
1985/86 Brighton & Hove Albion (h) 0-2 (D2 beat D1)
1988/89 Watford (a) 0-1 (D2 beat D1)
1991/92 Bournemouth (h) 2-2, 3-4pens (D3 beat D2)
1993/94 Luton Town 0-2 (a) (D1 beat PL)
2002/03 Wolves 2-3 (a) (D1 beat PL)
2006/07 Birmingham City (h) 1-5 (CH beat PL)
2010/11 Stevenage (a) 1-3 (L2 beat PL)
Total record against Stevenage
:
| | | | | | | |
| --- | --- | --- | --- | --- | --- | --- |
| | P | W | D | L | F | A |
| SJP | 0 | 0 | 0 | 0 | 0 | 0 |
| SoS/JP | 0 | 0 | 0 | 0 | 0 | 0 |
| League | 0 | 0 | 0 | 0 | 0 | 0 |
| SJP(FA) | 1 | 1 | 0 | 0 | 2 | 1 |
| BW | 2 | 0 | 1 | 1 | 2 | 4 |
| SJP(LC) | 0 | 0 | 0 | 0 | 0 | 0 |
| BW | 0 | 0 | 0 | 0 | 0 | 0 |
| Cup | 3 | 1 | 1 | 1 | 4 | 5 |
| Tot | 3 | 1 | 1 | 1 | 4 | 5 |
Waffle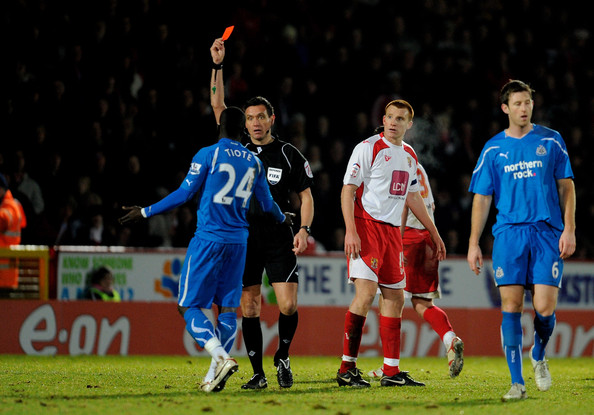 The birds on the match programme cover were doubtless meant to be Magpies, but by 7.30pm on Saturday, vultures would have been more appropriate. Thirteen years after Newcastle took two games to overcome them in the FA Cup, the Hertfordshire side deservedly gained their revenge.

No less than 75 league places separated the two sides at kick-off, with Stevenage having won just three home games since becoming a Football League side last August. An atrocious performance from United though brought obvious parallels with the infamous Hereford debacle and saw us join mighty Stockport County, Burton Albion and Barnet in leaving here empty-handed this season.

United had worn red shirts at Hereford in 1972, but their 2011 counterparts left here with red faces, following a display that was witless and gutless in equal measure. Anxious to avoid unwanted headlines, Alan Pardew had vowed to pick his strongest available XI, although a bug meant that he was forced to send Jose Enrique home. Messrs Ameobi, Carroll, Taylor & Gutierrez also missed out.

Joey Barton tested the home 'keeper with an early shot and the forward runs of Wayne Routledge looked to be causing Stevenage some concern, but there was no end product. He's consistent if nothing else....

First frustrating and then exposing Newcastle's shortcomings at both ends of the field, Stevenage were as rough and ready as might be expected from a fourth tier side. While they inevitably took heart from keeping a Premier League side at arms length with few problems, what wasn't expected was the style with which they dominated after going ahead through yet another deflected goal.

Switching the leaden-legged Leon Best for Nile Ranger had given us no more of a cutting edge or aerial threat - as we idly resorted to inaccurate long balls. Making a second replacement to try and get something out of the game once two behind, Pardew introduced Cheick Tiote with disastrous consequences, that may extend far beyond losing a cup tie in embarrassing circumstances.

Within 13 minutes the Ivorian was dismissed for a reckless tackle on Jon Ashton and will miss the next three games, including the visit to the dark side next weekend (unless United's appeal against the decision is successful). While the challenge that saw Tiote handed a straight red card was reckless and needless (although comparable to the one that Joey Barton was booked for at Wigan), why the midfielder was on the pitch at all is a mystery.

Bear in mind that we were two goals behind and Tiote is hardly what you'd call a creative midfielder. Add in the fact that he left the pitch in mid-match on Wednesday with an apparent hamstring tweak, already has eight bookings and Pardew had both Shane Ferguson and Danny Guthrie as options and our exasperation becomes clear.

Whether he was harshly punished or not is immaterial - he could just as easily have picked up an injury - he simply shouldn't have been on the pitch. Full stop. End of.

Down to ten men, any hopes of remaining in the FA Cup looked over and the home side went in search of further goals, giving United further jitters in the process. In exactly the sort of farcical style we've come to expect though, Barton thumped a glorious 30-yarder home in the second minute of added time. The 'keeper seemed at fault, but whether he's suspect is unclear to us - given that United proved incapable of getting the ball anywhere near him for the majority of the tie.

That goal looked to give us a vague semblance of hope, but from the restart Stevenage swarmed upfield, and former Gateshead forward Peter Winn netted to confirm our exit and provoke more embarrassing national headlines.

United were one of four top-flight sides to suffer what we are obliged to call giant-killings, with the mackems beaten at home by Notts County and our promoted counterparts West Brom and Blackpool also exiting on the road.

Stoke City, Arsenal, Wolves & Manchester City meanwhile all found themselves with an extra game added to their season after being held by lower league teams. And to complete a clean sweep of local Third Round exits, the smoggies, Hartlepool United, York City and Carlisle United all went out.

None of that is of much consolation though when footage of this game is aired at every conceivable opportunity for umpteen years to come. What needs to be avoided though is the sort of navel -gazing introspection that afflicted the mackems after their SJP hammering, when Steve Bruce went in front of the cameras to issue an apology with the gravitas of someone confirming the death of royalty. It's a bloody football match, man.

Given the choice between three points against West Ham and a place in the Fourth Round, we'd plump for the former, now that decades of watching this lot have stripped us of any romanticism (misplaced in the Lisbon and Cardiff areas during April 2005).

Having given those supporters present here a custard pie though, perhaps the players (and press) could spare us from a week of "we're determined to put it right for the fans" quotes and interviews.

The Hereford comparison will be rightly made and it's beyond question that Stevenage will become the very first recipients of the FA's newly-inaugurated Ronnie Radford trophy for best giant-killing act of the season. But harking back to 1972, it's worth recalling that when Newcastle returned to league action following the events at Edgar Street, it was with a 2-0 win against Manchester United - the last time that we beat them at Old Trafford.

Nolan & Co. now have the perfect opportunity for atonement next Sunday. Actions not words.

Biffa