Alan Pardew said:

"I was trying to set the team up with a positive view on the game, we could hurt Chelsea, we just needed to stick to the game plan. I was thrilled by younger players' performances, it was a just result.
"Newcastle is a big, big club, we want to attract big players and bring a few younger players in. I think the focus is to try and beat West Brom, if we beat them we jump above them then there's the possibility of a top ten finish.
"It's outstanding considering we lost Carroll and Ben Arfa through injuries and the suspensions. The staff are very resilient, and never give up. When you get a performance and young players entering the field of play at this club it gives them a great start.
"Ferguson, Lua Lua, Ameobi and Ryan Taylor playing out of position, and experienced players did well. The two centre halves were outstanding, you can't get a result at Chelsea unless you've got very good players. Whilst youth contributed, our senior players were outstanding.
"I'm very, very happy. Our fans were brilliant because they knew we were up against it with injuries and there were a few youngsters out there. They sung and really got behind the team.

"The fans were in great voice today, outstanding support we always get, we can't take that for granted, we've got to give them hope and belief.
"In the context of the game, a draw was a fantastic result for us in terms of the players we had left to put out. Against a club packed full of international players, you have to say it was a fantastic effort from us.

"Sammy (Ameobi) was great for the reserves last week (at SJP against Blyth Spartans). He's got so much to learn, but he's got talent. He's a different player to Shola, but he can travel with the ball and has quick feet. I think he's a player for the future for us."

Asked about Chelsea striker Didier Drogba, whom he was seen to greet on the touchline:

"I'm a big fan of Didier, but I don't think I'll entice him to the North East - it's a bit cold for him at this stage of his career! Foreign players come to these shores and some set the example for others to follow. He's done that and is an outstanding player for Chelsea".

Shola Ameobi:
"It was fantastic for Sammy. I made my debut against Chelsea 11 and a half years ago, and for him to do it is great for our family.
"Sammy's worked really hard, and he's getting his rewards now. He's a confident lad, and he did what he had to do really well.
Sammy Ameobi:
"It was amazing – I couldn't believe it when the gaffer called my name out. I was just looking around thinking 'is he for real?'
"But it was a good experience, although I wasn't as nervous as I thought I would be. It was tough, but to get on the bench is an achievement for a young player, and I never thought in a million years I'd be coming on.
"To be on the same pitch as my brother made it even more special. He's always just told me to keep going – it really is just about hard work."

Commentating for Sky, former Blue Ray Wilkins gushed that:

"I had the pleasure of being involved with Steven Taylor. He's a proper strong young man and I enjoyed his company".
Carlo Ancelotti:

"In my opinion, sometimes I did a good job, sometimes I could do better. It is the club that has to take a decision and judge my job. If my job was good, I will stay. If they think it was not good, I will have to go. I don't know what will happen, we have to wait just one week. A week is not a long period.
"We've conceded in the last minute a lot of times this season. We've lost a lot of points that way. When you concede a lot of goals in the last minute, something is wrong."
As to whether the Chelsea boss should be shown the door, opinion seems divided over his popularity with supporters - even within the same newspaper:

London Evening Standard, Mon 16th May:
Ancelotti took part in the customary lap of honour at Stamford Bridge yesterday and waved to supporters as they chanted 'Carlo, Carlo'.
London Evening Standard, Mon 16th May:

"what was most surprising was the lack of support for Ancelotti coming from the stands...."
Sammy Ameobi became the 164th player to appear in the Premier League for Newcastle and the 34th player to play a competitive match this season in our colours (29 in the Premier League).

He followed his brother Shola in debuting against Chelsea (as a sub at SJP in September 2000) but Shola was the younger of the two when first appearing - 18 years and 10 months compared to 19 years.

Steven Taylor netted his 12th senior goal for the club as United maintained their record of never having lost when he scored. His goal continued a run of late, late efforts this season for us this season and wasn't the latest - that accolade belonging to Fabricio Coloccini:

93 mins Andy Carroll v Aston Villa (h) to make it 6-0
90 mins Shola Ameobi v Chelsea (a) (to make it 4-3 - CC)
94 mins Fabricio Coloccini v Wigan h to make it 2-2
92 mins Peter Lovenkrands v West Brom (a) to make it 1-3
90 mins Andy Carroll v Liverpool (h) to make it 3-1
92 mins Joey Barton v Stevenage (a) (to make it 1-3 - FA)
93 mins Jonas Gutierrez v Wolves (h) to make it 4-1
92 mins Steven Taylor v Chelsea (a) to make it 2-2

PS: Ivanovic's opener wasn't the quickest goal we've conceded - the 41 seconds Theo Walcott took to score for Arsenal at SJP looks to have that record sewn up.

Of the 14 players United used, seven have previously appeared at Academy level for the club - messrs Ameobi, Ameobi, Ferguson, Ranger, LuaLua, S.Taylor and Krul (although the latter played just once). Unused subs Soderberg and Tavernier take that total to 9.

Just eight of the 18 players named were signed for a transfer fee (or in a part-exchange deal) - messrs Krul, Simpson, Coloccini, Enrique, Gutierrez, Barton, R.Taylor and Smith.

Scoring twice boosted our PL away goals tally for the season to 15, the joint lowest in the division (with Stoke City). That total of 15 was the third worst return in 17 seasons of PL participation, matching the total reached in 2006/07. 1997/98's 13 goals remains the low point.

United were without Kevin Nolan for the 7th time in 37 Premier League games this season and again proved unable to win (the number four has sat out Wigan H 2-2, Chelsea H 1-1, West Bromwich Albion 1-3, Spurs a 0-2, Aston Villa a 0-1, Man United h 0-0 and Chelsea a 2-2).

That continued a four match run from our previous PL season of 2008/09, (Bolton h 0-1, Man United h 1-2, Hull City a 1-1, Portsmouth h 0-0). It should be said that United won both Championship matches that Nolan sat out - away at Coventry & QPR.

Toon @ Stamford Bridge: "the winless years":
2010/11: Drew 2-2 Gutierrez, S.Taylor
2010/11: Won 4-3 Ranger, R.Taylor, Ameobi 2 (LC)
2008/09: Drew 0-0
2007/08: Lost 1-2 Butt
2006/07: Lost 0-1
2005/06: Lost 0-1 (FAC)
2005/06: Lost 0-3
2004/05: Lost 0-4
2003/04: Lost 0-5
2002/03: Lost 0-3
2001/02: Lost 0-1 (LC)
2001/02: Drew 1-1 Acuna
2000/01: Lost 1-3 Bassedas
1999/00: Lost 0-1
1998/99: Drew 1-1 Andersson
1997/98: Lost 0-1
1996/97: Drew 1-1 Shearer
1995/96: Drew 1-1 Ferdinand (FAC)
1995/96: Lost 0-1
1994/95: Drew 1-1 Hottiger
1993/94: Lost 0-1
1992/93: Lost 1-2 Lee (LC)
1987/88: drew 2-2 Goddard, Wharton
1986/87: won 3-1 Thomas 2, Beardsley

Full record against Chelsea:

P
W
D
L
F
A
SJP
66
34
17
15
99
68
SB
66
10
19
37
70
127
League
132
44
36
52
169
195
SJP(FA)
5
1
1
3
5
9
SB/SA

6

2

2

2

7

7

SJP(LC)
2
0
0
2
0
3

SB
3
1
0
2
5
6
Cup
16
4
3
9
17
25

SB(CS)

1

0

0

1

0

3

Tot
148
48
40
61
186
220
Shola Ameobi and younger brother Sammy bridged a 58 year gap since siblings last appeared competitively in our colours. It was back in September 1952 that United registered a 4-3 home victory over Preston North End, thanks in part to a brace from Chilean George Robledo.

And also in the home ranks that day was his brother Ted, playing what proved to be his final game for the club (although they both appeared later that month in the Charity Shield).

Since then various sets of brothers have simultaneously been on our books, but never both appeared in the same league game.

Steve and Gary Caldwell were both on the field for a testimonial game against West Bromwich Albion in 2001, while Matty and Richie Appleby appeared together during the Anglo Italian Cup campaign back in 1992.

The Guthries (Chris and Ron), Kennedys (Alan and Keith) and the Withes (Peter and Chris) played first team league games at different times, while the brothers of John Mitten, Robbie Elliott and Shaka Hislop never made it through to the senior setup.

Seasonal comparison with relegation season:

2008/09: NUFC after 37 games: 34 points, 18th position (scored 40, conceded 58)
2010/11: NUFC after 37 games: 45 points, 12th position (scored 53, conceded 54)
Waffle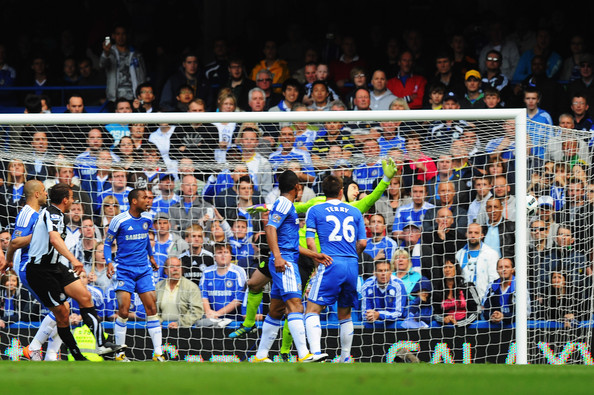 In a season of relative comfort, United have retained the ability to surprise their supporters - and perhaps even themselves - with the occasional eyebrow-raising scoreline. From the unadulterated joy of going goal crazy against Villa and the mackems to Leon Best's three Hammer blows and the unprecedented cliffhanger of that 4-4 draw, this has been an eventful ten months.

On the road though, it's often been a case of quality rather than quantity, with just one goal in our last four away games before today and an overall strike rate on foreign fields that harked back to the attack-free misery of 1997/98 (King Kenny? that makes me a Republican, then...)

There have been marvellous, life-affirming afternoons and evenings away from Tyneside this season: unexpected delights like breaking our ducks at the Emirates and the JJB, or the sheer brilliance of Ben Arfa's effortless arrow into the Gwladys Street net.

Despite revisiting our destructive habit of starting the campaign with one manager and ending with another, the lows of being intermittently cuffed by startlingly average home teams lasted no longer than the next league game - Gyan's flukey leveller more irritating than Reebok or Britannia pastings.

In fairness, we got by with just two managers (neither of them foul-mouthed or with Iain Dowie on speed dial), as opposed to the five separate appointments of our 2008/09 disaster area - progress?

Coming into this game though, it seemed as if we'd had our thrills for the season.

True, the heat had been taken out of this contest by Chelsea's surrendering of the title, while ours and West Brom's ability to maintain forward momentum should ensure a final four minute billing in next Sunday's Match of The Day broadcast. In other words, a dead rubber.

However a nagging feeling remained that there would be a reaction from a home side presumably smarting after surrendering their title but still had a second place finish to nail down. And regardless of the standing of Ancelloti in the Blues' dressing room, after a draw at Gallowgate and a win here in the Carling Cup, surely the lengthy list of absentees would ultimately see us found out.

And enjoyable though the achievement of triumphing here in the League Cup by the odd goal in seven was, the result was devalued by the diminished nature of that competition - a similar situation that accompanied our FA Cup exit at Stevenage, where some pitch invading paper hat grabbed more column inches than the giant killing.

That feeling was reinforced within two minutes, when the home side netted after what looked like minimum effort - and a traditional SW6 pummelling seemed to beckon. Perversely though, we fielded eight of the side who won here in September (through necessity, rather than rotation) and when Ryan Taylor reprised his free kick success, the same feeling that anything was possible re-emerged.

In addition to their ranks of sulking fans (and stayaway corporates) the home side looked to be in a profound huff with themselves. Our fortuitous equaliser and consequent revival worsened that joyless mood and Chelsea became more and more ragged as half-time approached.

After the break it was more of the same, although neither 'keeper really had a great deal to do. But with the game drifting towards to an enjoyable (for us) stalemate, normal service was apparently resumed when a rick by Krul left him exposed and Chelsea with an undeserved winner.

That would have been a disappointing return for the collective efforts of the travelling players, fans and staff, but there was to be another addition to our late goals collection, prompting frantic scenes of celebration totally out of keeping with the gaining of a point.

Alan Pardew had disclosed to the media that he'd been present to observe the glorious madness that was our 4-3 win here in September, although he didn't reveal whether he'd dipped out before the final whistle to beat the traffic - and missed Shola's winner.
He was certainly here for Taylor's leveller today though and deservedly enjoyed the moment. A little earlier, the manager had thankfully disregarded his own recent guff about owing Kuqi pitch time in favour of some young blood, handing Sammy Ameobi a senior debut and giving Kazenga LuaLua a happy ending to a season that had seemed likely to be curtailed by injury.

Already buoyed by a dogged display in an unfamiliar role from 19 year-old Shane Ferguson, to give Ameobi Junior a go was important for him and also the whole Academy setup - proof that a route from kids to reserves to first team remains (even if it does end up at places like Anfield....)

As to whether LuaLua has improved as a player and a person remains to be seen, but his time with Brighton must have been more beneficial than lolloping around Darsley Park with the stiffs. Putting aside his ill fortune with injury, a timely injection of lower league reality followed by a chunk of top-flight pitch time can only have enhanced his value and put a spring in his step.

And although it was achieved in a blue and white striped shirt, his efforts this season outweighed those of Nile Ranger, who already risks losing his status as the next big thing due to his apparent brainlessness, despite the security of his contract.
Quite simply, he's not good enough to be given the "respect" aka slack he seems to regard as his birthright - and Tino did the shooters thing with far more style. Forest Hall's Chuck 'D' returned to the scene of his sole senior goal this season and despite his assist, is arguably no further forward in his footballing career.

Since Ranger scored here in September, he's avoided injury but proved incapable of taking the gaping opportunity presented by sales (Carroll), injury (Ameobi/Best) and uselessness (Kuqi.) His best chance now seems a lower league loan to find form - and maturity.

One game to go then, before the real business begins: sales, signings and seeing what stupidity our squad have indulged in on their holidays. If nothing else though, United managed to send 1,500 of the faithful off in good spirits and improve their manager's standing by a notch or two.

Biffa