In association with NUFC.com


Date: Sunday 22nd May 2011, 4pm.

Venue:

St. James' Park



Conditions: perplexing







Newcastle United

West Bromwich Albion

3 - 3

Teams
16 mins Shola Ameobi won a flag kick at the North West corner that Ryan Taylor thumped over, dropping on the edge of the six yard box before Jonas Olsson attempted to head clear but only found Peter Lovenkrands. The Dane dinked the ball up then headed the ball forward, to where Steven Taylor was lurking in front of goal.

Having already denied the Baggies with a goal-line clearance at the other end, he turned Mulumbu and shot home from close range at the Leazes End for his third goal in as many games. 1-0

39 mins A long ball forward from Ryan Taylor inside his own half was directed towards Ameobi on the edge of the Baggies box, but met first by Meite's header straight in the air. Shola beat him to the second ball and carefully guided a header into the path of Peter Lovenkrands, who was marshalled by Jonas Olsson.

The United man controlled the ball on the run and in the same movement volleyed it goalwards from 12 yards, Albion 'keeper Scott Carson somehow palming it up and then retreated back over his own goal line to catch it. Lovenkrands - and the crowd at that end - instantly realised what had happened and the linesman on the East Stand touchline indicated a goal, with no protest from the visiting side. 2-0

Half time: Magpies 2 Throstles 0

47 mins United were gifted another goal when Danny Guthrie easily dispossessed James Morrison in midfield before pushing the ball out to Jose Enrique on the left flank, just over halfway. Allowed to go forward unimpeded, the Spaniard opted to send over an early cross that was caught first time by Jonas Olsson, whose attempted clearance from eight yards beat Carson at his near post.

Had the misfiring Swede failed to make contact, Lovenkrands was in the vicinity and would have been first to the loose ball after Nicky Shorey only partially tracked the run of United's number 11 - before pulling up. 3-0

62 mins Stephen Reid pumped a ball upfield from the right side of midfield, finding the advancing Somen Tchoyi bearing down on goal from a central position, allowed to advance between Danny Simpson and Steven Taylor. The Cameroon international hadn't scored in the Premier League since beating Krul at The Hawthorns but advanced before knocking the ball home with ease 3-1

71 mins Chris Brunt was in space down the Albion right and found Stephen Reid with a reverse pass before the defender centred for Olsson to rise above the grounded Ameobi and make enough contact with the ball to send it skidding across our six yard line.

Eluding Coloccini, it then fell to Tchoyi beyond the far post and he controlled it before turning infield, making a yard of space for himself by sidestepping the United defender and then lashing a rising shot into the roof of the net. 3-2

90 mins A passing move involving messrs Shorey, Brunt, Morrison and Miller ended with the latter back -heeling the ball from the byline down the Albion left, as both Simpson and Steven Taylor failed to get near enough to break up the play. Olsson then atoned for his earlier error by looping his centre over the idling Enrique and Coloccini towards Tchoyi, who was unmarked at the far post.

Brunt was steaming in behind him but wasn't needed, as Tchoyi stooped to conquer, grabbing his third of the game and fifth of the season against us (having netted in the reserve meeting of the two sides last month), Somen chanted evening? 3-3

Full time: Magpies 3 Throstles 3

Wimbledon-born Alan Pardew said:

"Although we're disappointed, we have to remember it's been a great effort this year. It's been a tremendous effort from this group of players and we can't get away from that. We lost (Hatem) Ben Arfa and Andy Carroll, and I think finishing in 12th position is probably about fair. But we need to build on that next season.

"I thought the game reflected our season in a way. We were brilliant at times, but rubbish at others. One minute we're great, but then another we might not look too much of a threat. I think that's the inconsistency that we need to eradicate, and quality players bring consistency to a club.

"My priority now is to make sure the guys are seen off properly and their programmes are all sorted for the summer. We head into the summer looking for quality players to add to the group.

"I don't think anything is going to happen in the next couple of weeks. A lot of agents and players are manoeuvring at the moment, but most people are not going to be advised to sign at this point. We have to be in there pitching and battling away, and that's what we're doing.

"It was a funny game. We found ourselves 3-0 up, and I'm not sure we deserved as big a lead at that stage if I'm honest. We were seeing the game out, the crowd were enjoying themselves, and it didn't look as though there would be a problem.

"But we gifted them a goal and couldn't get back up to speed from that point onwards. We didn't look like we were going to penetrate them and I thought four or five of our players started to struggle because of the time they've had out.

"We started to really struggle towards the end, and I think that's a reflection of where we are with the squad at this moment. So many of our top players are missing.



"Fergie hit the wall, and we've got to get him stronger. That's where these players are at. They're not there yet - if they do the work, they'll threaten the team. Fergie was brilliant.

"It's such a shame he couldn't see the game out."

Cwoydon born Woy exclaimed:

"I wasn't too happy during the previous 88 minutes as the people on the touchline will no doubt testify, but suddenly the sky became pink and rosy again with a diving header and now I feel quite good about it.

"I was disappointed with the 2-0 and was bitterly disappointed to really look down the barrel of a gun when we conceded the own goal. All credit to the players, they didn't give up hope and they took the game to Newcastle and we scored three good goals.

"I think with the chances we created were worthy of three goals albeit we had to be careful at the other end because there were chances there for Newcastle. Some 3-3 games are somewhat fortunate 3-3 games, in a sense there's only been seven or eight shots, but this was a proper 3-3 game as there were lots of opportunities for both teams.
"It's good, we more than matched Newcastle - 50,000 people every week, a football-crazy city. We have to share the football craziness with two other big clubs. Here really, it's a footballing monopoly for Newcastle United.

"One was surprised they were relegated, not surprised when they bounced straight back up and I think everybody would have been surprised this year had they gone down, quite frankly.

"They would have been less surprised if West Bromwich Albion had gone down, so the club, the players, the staff and in particular the fans, they deserve a really big pat on the back for lifting us out of the mire and even up to a quite elevated position.

"If our goal difference had been even half-reasonable, we would have finished in the top half of the table."

On Tchoyi:

"I might have got that one wrong, I think. When I came, he had hardly played. He had had a couple of games - he started the season late because he had problems getting his work permit, so really I inherited a person who didn't have many games behind him.

"But today was an opportunity for me to give him another opportunity and as you saw, he took it absolutely brilliantly. No doubt he will go on holiday thinking I couldn't spot a footballer if he bit me on the nose."



Baggies in Toon - last 40 years:

2010/11 drew 3-3 S.Taylor, Lovenkrands, OG
2009/10 drew 2-2 Guthrie, Lovenkrands
2008/09 won 2-1 Barton(pen), Martins
2005/06 won 3-0 Solano, Ameobi 2(1pen)
2004/05 won 3-1 Kluivert, Milner, Shearer
2003/04 lost 1-2 Robert (LC)
2002/03 won 2-1 Shearer 2
1990/91 drew 1-1 L.O'Brien
1989/90 won 2-1 Quinn, Anderson
1989/90 lost 0-1 (LC)
1985/86 won 4-1 Reilly 2, McDonald, Clarke
1984/85 won 1-0 Beardsley
1977/78 lost 0-3
1976/77 won 2-0 Gowling, Cannell
1972/73 drew 1-1 Macdonald
1972/73 won 3-1 (TC) Tudor, Gibb, Hibbitt
1971/72 won 4-2 Macdonald 2, Green, OG
1970/71 won 3-0 Young, Smith, Tudor



Full record v West Brom:

| | | | | | | |
| --- | --- | --- | --- | --- | --- | --- |
| | P | W | D | L | F | A |
| SJP | 55 | 28 | 13 | 14 | 116 | 78 |
| TH | 55 | 12 | 18 | 25 | 70 | 108 |
| League | 110 | 40 | 31 | 39 | 186 | 186 |
United missed the chance to win successive home games for the first time this season and once again failed to win a match without Kevin Nolan - something they've been unable to achieve in a dozen top flight attempts (8 this season + 4 back in 2008/09).

At half time we were 45 minutes away from completing a season when the opposition failed to register a single own goal in our favour - the first time that had happened since back in 1998/99. Within two minutes of the restart though, that stat was heading for the recycle bin....
This was the sixth time this season that we've managed to concede three or more goals in one half, coming after similar failings at Bolton and Stoke and at home to Arsenal in the league, plus the Carling Cup home tie v the Gunners and our FA Cup exit at Stevenage.

Somen Tchoyi became the fourth player to have scored a hat trick against us in the Premier League at SJP, following on from Dwight Yorke (Villa), Michael Owen (Liverpool) and Paul Scholes (Manchester United).

It's now just one win in the last eight attempts for United in their season-closing home fixture:

2010/11 West Brom drew 3-3 (S.Taylor, Lovenkrands, OG)
2009/10 Ipswich drew 2-2 (Carroll, Ameobi)
2008/09 Fulham lost 0-1
2007/08 Chelsea lost 0-2
2006/07 Blackburn lost 0-2
2005/06 Chelsea won 1-0 (Bramble)
2004/05 Chelsea drew 1-1 og(Geremi)
2003/04 Wolves drew 1-1 (Bowyer)
2002/03 Birmingham City won 1-0 (Viana)
2001/02 West Ham won 3-1 (Shearer, LuaLua, Robert)
2000/01 Aston Villa won 3-0 (Glass Cort, Delaney og)
1999/00 Arsenal won 4-2 (Speed 2, Shearer, Griffin)
1998/99 Blackburn drew 1-1 (Hamann)
1997/98 Chelsea won 3-1 (Dabizas, Lee, Speed)
1996/97 Nottingham Forest won 5-0 (Ferdinand 2, Asprilla, Shearer, Elliott)
1995/96 Spurs drew 1-1 (Ferdinand)
1994/95 Crystal Palace won 3-2 (Fox, Lee, Gillespie)
1993/94 Arsenal won 2-0 (Cole, Beardsley)
1992/93 Leicester won 7-1 (Kelly 3, Cole 3, Lee)
1991/92 Portsmouth 1-0 (Kelly)
1990/91 Hull lost 1-2 (Clark)

NUFC Top Scorer 2010/11 (all competitions):

Kevin Nolan 12 (all in PL)
Andy Carroll: 11 (all in PL)
Shola Ameobi 9 (6 in PL, 3 in LC)
Peter Lovenkrands 7 (6 in PL, 1 in LC)
Leon Best 6 (all in PL)
Joey Barton 5 (4 in PL, 1 in FA)
Jonas Gutierrez 3 (all in PL)
Steven Taylor 3 (in PL)
Fabricio Coloccini 2 (both in PL)
Ryan Taylor 2 (both in LC)
Hatem Ben Arfa 1 (PL)
Cheick Tiote 1 (PL)
Cheick Tiote 1 (LC)
OG 1 (PL)

Although issues at the other end of the field mean that we've not collected as many points on home soil as we could have, United's goals scored total at SJP was the highest in over a decade:

1999/00: 42 goals scored
2000/01: 26 goals scored
2001/02: 40 goals scored
2002/03: 36 goals scored
2003/04: 33 goals scored
2004/05: 25 goals scored
2005/06: 28 goals scored
2006/07: 22 goals scored
2007/08: 25 goals scored
2008/09: 24 goals scored
2010/11: 41 goals scored

(our 2009/10 season in the Championship saw 56 goals scored on home soil in 23 fixtures).

Dropping from 9th to 12th meant that United's Premier League prize money fell from just over £8m to around £6.8m (according to Sky Sports; other sources put the drop at £2m down to £7.2m). What didn't alter was a fixed payment of £14.6m for UK TV revenue plus another £8m for our 16 PL games televised live in the UK.

Another £10m comes our way for overseas TV rights and £2m from other sponsorship and licensing deals, making the total in excess of £40m (plus the fees for live TV coverage of 2 Carling Cup and 1 FA Cup tie).

Seasonal comparison with relegation season:

2008/09: NUFC after 38 games: 34 points, 18th position (scored 40, conceded 59)
2010/11: NUFC after 38 games: 46 points, 12th position (scored 56, conceded 57)
Waffle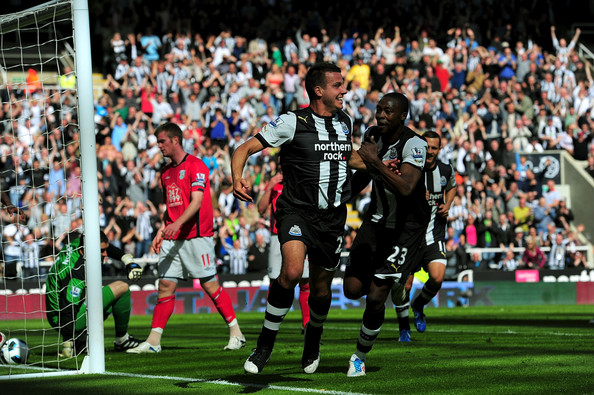 New shirts, old failings.

Two years on from mucking up survival Sunday, we unveiled our own new production - suicidal Sunday. And although our efforts over 10 months meant that this match was meaningless, United did their best to tarnish that achievement, rewarding fans with an the seemingly inevitable custard pie finale to the season.

A week after the delight of a 92nd minute headed equaliser that felt like a winner, our collective carelessness resulted in a similarly late leveller that did a passable impression of consigning us to defeat. That goal further soured a bullish mood that had steadily eroded during the second half and had instant consequences in terms of the table, Albion, Villa and the mackems sneaking above us as we suddenly dropped from 9th to 12th.

Although not quite in the league of the 2004 mass walkout after drawing here with Wolves, the difference between 3-2 and 3-3 was enough separate a good proportion of home supporters from their seats at full time - a bout of booing giving way to a more general grumbling as the dazed-looking players exited the pitch before returning to acknowledge the applause from half-empty stands.

That's a great pity in many ways, at the end of what was a thoroughly entertaining campaign when a squad admittedly short on talent but not on effort preserved top-flight status and amassed our biggest points tally in four Premier League seasons.

Be it the 5-1 drubbing of the mackems, 6-0 and 5-0 victories over Villa and the Hammers, the unbelievable 4-4 Arsenal game, the 4-1 Wolves thrashing, the 3-1 Scouse beating, the hard-fought 0-0 with the champions and some notable away wins, that end of season DVD is actually worth acquiring for a change.

In the great scheme of things it hardly matters how many stayed behind though and today's events certainly won't genuinely influence anyone (be it players or punters) to stay or go. With a hint of perspective though, perhaps natural justice did prevail and a top ten finish to add a stamp of approval to all that has gone on here never materialised. We were 11th when losing at the Hawthorns cost Chris Hughton dear in December 2010.

(As an aside, does anyone really seriously subscribe to this bragging rights/top dog status cobblers, apart from the mackem apologists who pollute the local TV news rooms? Why not revert to the old "Cock of the North" motto, now that a pasty-faced man from Corbridge seems to have claimed that title in perpetuity...)

In post for barely six months, Alan Pardew can doubtless already contribute several new chapters to his eagerly-unawaited biography about his time on Tyne. In fairness though, he has already seen it all before here - plus more - and we're not just talking about the madness of sharing eight goals with Arsenal...

Digging back through the parts of our memory banks as yet uncorroded by cheap gin brought up memories of a 4-3 home loss to Charlton in January 1992, after we had been 3-0 up and coasting at one point. Appearing for the Addicks that day? Alan Pardew.

Despite his many years in the game though, the manager's substitutions left some observers puzzled and contrived to give the opposition the leg-up they needed as we faded badly yet again - not for the first time at home this year.

Both Shane Ferguson and Peter Lovenkrands had contributed to proceedings and were clearly tiring, while the returning Danny Guthrie had done little to enhance his reputation. Regardless of a lack of choices on the bench though, their replacement by a trio of unfit players looked both needless and dangerous - especially as Ameobi (senior) remained on the field for no good reason.

Having previously spoken about only using Alan Smith in an emergency, he was then deployed at 3-1, with fellow injury victims Leon Best and Kazenga LuaLua then added to the fray for good measure - all of them recently returning to the squad and only Lua having appeared in anger recently, and that late on at Chelsea.

If Pardew thought bringing on Smith was a crowd-pleasing gesture then he's clearly been misinformed as to the player's standing among supporters, while his presence hardly helped Barton in his efforts to try and glue the ailing midfield back together. Quite how Ryan Taylor spent his second half is unclear.

Maybe it was that late goal at Chelsea and the positive media reporting of his changes, but what had worked last week at Stamford Bridge didn't here, mostly because the opposition looked a good deal more interested than Chelsea had.

The condition of the pitch may also have played a part, with various Newcastle players struggling to keep their feet and one particular section of the pitch towards the corner of the East Stand /Gallowgate penalty box seemingly having the consistency of quick sand in the second half. Be it excessive watering or a poor choice of footwear, there was certainly something awry - and not just Alan Smith's two tone barnet.

Enough of such malcontented moanings; as others have said, we'd have settled for this meaningless final game, points tally and finishing position back in August. To qualify that though, the seventh spot we sat in when the transfer window closed remained a realistic target, before three wins in our remaining fifteen fixtures (two of which came against relegated Birmingham) dropped us into the bottom half.

Although this result sent 49,000 fleetingly deflated fans away, it hopefully provided those entrusted with the custody of this club with a telling reminder that survival next season requires both improvement and investment. To sustain a feel good factor for another campaign requires something resembling ambition, not just the 'hope for the best' attitude of the last six months which brought us duffers like Kuqi and Ireland.
As is customary at this point, we'll acknowledge those both seen and unseen whose contributions over the season keep this site online - and us on the right side of sanity. Just. You've been a lovely audience.

Biffa