Date: Saturday 24th September 2011, 3pm

Venue: St.James' Park

Conditions: Ba-reathtaking






Newcastle United

Blackburn Rovers

3 - 1

Teams
27 mins Leon Best stabbed a low pass from the left flank to Demba Ba in the Rovers area. His fantastic turn and righted-footed 10 yard shot flew past Paul Robinson - the scorer giving thanks to his maker by prostrating himself on the turf. However, Ba may need with the geography of SJP as he was actually facing North West (and there's no mecca bingo hall on the West Road...) 1-0

30 mins Ignoring ironic shouts of 'shoot!" Danny Simpson's deep cross from the right and Steven Taylor nodded it firmly back across the Blackburn box. Touched on by a defender under pressure from Fabricio Coloccini, the ball dropped nicely for the unmarked Demba Ba to head home from inside the six yard box, strike partner Leon Best also lurking. 2-0

37 mins A loose pass from Ryan Taylor put his side in trouble and Rovers advanced down the left flank, Olsson allowed space by Simpson to clipped a centre over Cabaye to the arriving Junior Hoilett on the edge of the area. With Gutierrez tracking him back too slowly, the Canadian-born midfielder lashed home a first time shot past Tim Krul at the Gallowgate End. 2-1

Half time: Newcastle 2 Blackburn 1

54 mins Cheick Tiote successfully foraged for the ball down the Newcastle left and his hanging cross towards the back post found Demba Ba. His header back across goal looped straight in, despite Leon Best trying to get a touch on the goal line and tangling with defender Scott Dann, who was unable to continue.

Rovers protested that Best had prevented Dann from completing a clearance but that just wasn't borne out by TV replays - the ball was in before Dann's attempted intervention. 3-1

Full time: Newcastle 3 Blackburn 1
Alan Pardew commented:

"Our control of the game was pleasing and the speed of some of our passing and movement was very, very good. We've got real quality in a strong side and we're going to win more than we lose. My forwards are rising to the challenge of proving that I don't need to sign another striker and this team's starting to excite me.
"We controlled the game and I think they fact they went down to 10 men doesn't do us justice. We were magnificent all day. We could have won by more than three.

"Leon Best was as good as Demba Ba and he could have scored two goals. He's had a slow start here because of mainly Ramadan in my view. He had a couple of substitute appearances where he just started to show a little bit of sharpness but I thought he was terrific at Aston Villa and made us control the midfield without actually threatening the goal.
"He did that today and he threatened the goal and he got his three goals. The two strikers in particular were brilliant today and Leon Best had his best game for me and didn't score.
"Strikers thrive on goals and that confidence that Demba's going to get from those three goals here in front of the Toon army will have done him the power of good.
"The two strikers today were terrific and I think that is the best that Best has played for me and he could have had two or three himself. They're a nice pair and they balance each other off.
"We worked hard and we controlled the midfield through Demba, like we did at Aston Villa, but today he did something different in that he threatened the goal. He has always done that in his career, but you need to be at the top of your game to threaten in the Premier League and he is now. He showed that he is going to be a force here.
"In a club of this size, and the expectation that we have at this football club on our strikers in particular, it is very difficult for them. So to have two that are not huge names, they're not Alan Shearer or Les Ferdinand, but my goodness they played as well as anyone has played here as a pair today.
"It's the discipline of the team, if we can keep our discipline we're going to win more than we lose this year because we have all the quality.
"Blackburn did a job on Cabaye today in doing that they left other areas of the pitch we could exploit we showed we're not just a one trick pony.
"We did things here and there I thought Obertan was brilliant today and so was Jonas, in the wide areas we caused a lot of trouble.
"I think the investment we had in the team which has been significant in terms of the squad is there for all to see. We've still got Davide Santon to threaten this team and we've still got Hatem Ben Arfa who had a little cameo today. We're a strong side.
"The two that played today played to a very high standard they are not the most glamorous of names but they did very well today.
"Some of our players are beginning to find their feet in this division and are beginning to blossom and I think there's real competition in all areas.
"I didn't think there was anything wrong with it (the third goal) I thought Demba just got a little header on it and looped it over the goalie. I don't think it was a game deciding goal.
"It's very important to keep the disciplines that we've got because the club is in really good health at the minute throughout the club.
"The fans were brilliant today but it would be nice to have a season where there's really good feeling about the place. We've only just started and hopefully we can continue the feeling we had today."
The goalscorer told the official website:
"It's been a good day after a lot of work this week.
"There have been a lot of bad performances, but today the work paid off for me. I was not fit at the beginning of the season but now, after six games, I'm starting to get my sharpness back and will keep on working until it is 100 per cent.
"The manager said that when I was fit I was going to get my chance and that it was up to me to take it or leave it. You feel happy. I've scored my first goals here this season, and I hope they will keep on coming."

Steve Kean (who looks uncannily like Sky's Spanish-based reporter Graham Hunter - the one who always intimates he's away for tea at Pep Guardiola's etc.) commented:

"I felt as though we came out in the second half and had a go. We were back in the game, Martin Olsson hits the top of the bar and we had a real chance to go equal. But I think the game hinged on a big refereeing decision. I have looked at it and Scott Dann is fouled by Leon Best just as he is about to clear it off the line.
"That is a tough one because we feel if we had got ourselves the right decision on that, we could have got back in the game. It was a treble whammy because we conceded a goal, lost a player in Dann and got booking which eventually saw Martin Olsson sent off.

"They were poor goals we conceded. We have to deal better with the ball coming into the box, having said that we have to prevent the ball coming into the box as often.
"It is not only the defence it is the ease the ball is coming in. That is something we will be working on because if we can be effective on our counter attacks and put our chances away it could have been a different result.
"We have been working on keeping things tighter all week and stopping the service. That could have been a little bit better but you are toiling a bit when you go down a man and the lads are injured.
"We were trying to stop Newcastle's rhythm early on and I think we did that quite well - they want to throw it out at the back and pass it into Tiote and Cabaye. We pushed Formica and Yakubu on to make them kick it and that probably made it a slower tempo game.
"When the first goal goes in there is a bit of intensity but we got ourselves back in the game and if Martin Olsson's goes in it is 2-2. All that said, it certainly hinged on the decision."

12 points from our opening six matches represents the best Premier League return since 1997/98.

Demba Ba's treble made him the first overseas-born player to net a hat trick in the Premier League for us and the ninth different player to do so. His feat was also the eleventh three goal salvo scored in our 660 Premier League games:

1993/94 Peter Beardsley v Wimbledon (h)
1993/94 Andy Cole v Liverpool (h)
1993/94 Andy Cole v Coventry (h)
1995/96 Les Ferdinand v Wimbledon (h)
1996/97 Alan Shearer v Leicester (h)
1999/00 Alan Shearer v Sheffield Weds (h)
2005/06 Michael Owen v West Ham (a)
2010/11 Andy Carroll v Aston Villa (h)
2010/11 Kevin Nolan v mackems (h)
2010/11 Leon Best v West Ham (h)
2011/12 Demba Ba v Blackburn (h)

Ba also emulated Best in getting off the mark for United and going on to score a hat trick in the same game.

Rovers @ SJP - Premier League era:

2011/12 Won 3-1 Ba 3
2010/11 Lost 1-2 Carroll
2008/09 Lost 1-2 Owen (pen)
2007/08 Lost 0-1
2006/07 Lost 0-2
2005/06 Lost 0-1
2004/05 Won 3-0 og, Shearer, O'Brien (2-0)
2003/04 Lost 0-1 (0-0)
2002/03 Won 5-1 Solano, Robert, og, Jenas, Bellamy
2001/02 Won 2-1 Bernard, Speed
1998/99 Drew 0-0 (FAC)
1998/99 Drew 1-1 Shearer (lost 4-2 on pens) (LC)
1998/99 Drew 1-1 Hamann
1997/98 Drew 1-1 Gillespie
1996/97 Won 2-1 Shearer, Ferdinand
1995/96 Won 1-0 Lee
1994/95 Drew 1-1 Lee (FAC)
1994/95 Drew 1-1 og(Flowers)
1993/94 Drew 1-1 Cole
Full record against Rovers:
| | | | | | | |
| --- | --- | --- | --- | --- | --- | --- |
| | P | W | D | L | F | A |
| SJP | 63 | 37 | 12 | 14 | 118 | 69 |
| EP | 62 | 13 | 14 | 35 | 69 | 119 |
| League | 125 | 50 | 26 | 49 | 187 | 188 |
| SJP(TM) | 1 | 1 | 0 | 0 | 4 | 0 |
| EP | 1 | 0 | 0 | 1 | 3 | 4 |
| SJP(FA) | 3 | 1 | 2 | 0 | 4 | 2 |
| EP/ER/Hills | 7 | 4 | 1 | 2 | 8 | 8 |
| SJP(LC) | 1 | 0 | 1 | 0 | 1 | 1 |
| EP | 0 | 0 | 0 | 0 | 0 | 0 |
| Cup/TM | 13 | 6 | 4 | 3 | 20 | 15 |
| Tot | 138 | 56 | 30 | 52 | 207 | 203 |
Waffle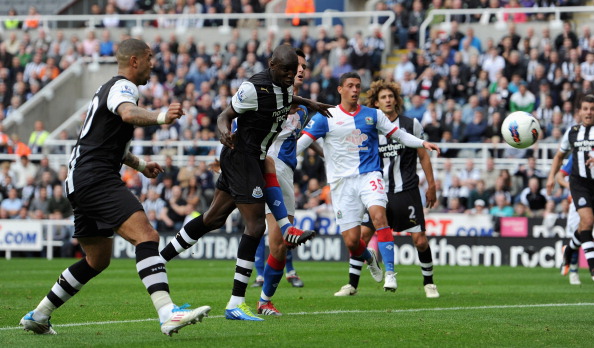 Having admitted taking a photo of the league table on his phone after last week's point at Villa, Alan Pardew could be excused for considering a more permanent record of his side's achievements after this victory - a tattoo perhaps...

In fairness he had promised in the days leading up to this game that those who turned out were in for a treat, but given the inaccuracy of some previous pronouncements that was no means a given.

The frustrations the Magpies boss felt in the days following our last home game largely evaporated though, as he celebrated back-to-back victories at St.James' for the first time in his reign and found reasons for optimism from all angles, as his side made it eleven games unbeaten.

Even the additional Sports Direct signage that now blights the stadium couldn't overshadow the positive vibes coming from the pitch and more belatedly, from the stands. That - like any thoughts that Rovers were capable of recording an incredible sixth successive victory here - were well and truly banished as striker Demba Ba memorably announced his arrival on Tyneside.

Seven goals in a dozen league games late last season gave West Ham (false) hopes of avoiding relegation, but three starts and two substitute outings for Newcastle provided little indication of what riches were to come from him. Confirmation of his Ramadan observance throughout August (daily fasting from sunrise to sunset) added to feelings of uncertainty bordering on bewilderment as to what exactly we'd signed - his failed medical at Stoke early in 2011 also called to mind.

Ba had shown just a hint of his promise with a second half turn, run and shot at Villa, but he looked in the mood straight away here, bearing down on goal early on before propelling a range-finding effort that whistled narrowly over the crossbar.

And almost before his opener had sunk in, Ba had another one and the atmosphere in the ground was noticeably lifted - much of the preceding 30 minutes played out in near silence, with the ongoing unrest between home fans in the Strawberry Corner claiming more victims.

After conceding a goal at Forest in midweek almost immediately after half time, we seemed intent on doing the same here - Martin Olsson seeing his close-range effort loop up and off the crossbar. If that generated feelings of apprehension in the home ranks though, from United's next attack they were wiped away by Ba's hat trick header.

At 3-1 and with Rovers quite literally in a foul mood, the expected return of Ben Arfa to the Premier League fray seemed to be overly-risky. Once Olsson received a second booking though and the visitors went down to ten men the stage was set for a player who has become almost a mythical figure round these parts in the year that he's been sidelined.

A wave of applause began when Ben Arfa made his way to the touchline - even before the fourth official had indicated who he was replacing - and the standing ovation that followed was a tribute not only to the hat trick hero coming off, but also the man coming on and his perceived ability spice up our team/season - rookie Sam Ameobi having inherited that "wild card" role in his absence.

Thankfully though, those around him have shown in his absence this season that they're not totally reliant on whatever magic he produces in order to function as an attacking force and that we're capable of doing more than forcing free kicks in dangerous areas.

Doubtless armed with a scouting report from Villa highlighting his positive qualities, Rovers focused on shackling Cabaye. That ploy though allowed Cheick Tiote more space and he enjoyed his most productive game this season, running into space in possession (notably for the third goal), rather than resorting to his habit of swivelling before dispatching a short pass to an unwitting colleague.
More goals could and should have followed with Ben Arfa, Best and Gabriel Obertan all coming close. To be back in this ground with supporters shouting "Ole!" as the home side sprayed passes around was as exhilarating as it was unexpected.

Despite the good vibes coming from the squad about togetherness and the early promise shown by the likes of Obertan and Marveaux, it all comes back to Ba though. With Shola looking to be running on empty this early in the season, an almighty weight was placed on the shoulders of Leon Best to provide a regular source of goals, apart from hoping that his colleagues would weigh in with a few.

(Of course Best's brace against Fulham again undermined Pardew's case for getting a new striker in, as he had done when netting a treble against West Ham during the January transfer window. The little matter of Nile Ranger's five year deal also goes in the debit column - although that was done just before Pardew was brought in).

And after yet another farcical ending to a transfer window, for one of the players we did manage to sign to come good in this manner is a relief - as well as adding to the conviction of those in charge that they know exactly what they're doing. Our masters would do well though to keep their fingers crossed that Coloccini and Steven Taylor can remain injury free, given the dubious centre half cover Perch provides - as was evidenced at the City Ground.

B used to be for Barton, B is still for Best and Ba - and it's now also apparently for belief. Now just imagine how good a truly united Newcastle could be, with a full and noisy ground for starters and to hell with what's written on the roof.

Biffa