Date: Saturday 22nd October 2011, 3pm

Venue: St.James' Park

Conditions: Uplifting






Newcastle United

Wigan Athletic

1 - 0

Teams
Half time: Magpies 0 Latics 0

81 mins Substitute Sylvain Marveaux played a short pass to Hatem Ben Arfa, who made his way across the edge of the Latics penalty area towards the East Stand before a defenders' boot robbed him. The ball was picked up by Cheick Tiote, who angled his pass out wide to Ryan Taylor and without further ceremony, United's left back lofted a deep cross towards the far post.

Picking out Marveaux, he controlled the ball on his chest and laid it back to the edge of the box, to where Yohan Cabaye arrived to stylishly crack home a rising right footed shot from the edge of the box that flicked Al Habsi's right glove - a memorable way to open his account for us and the pick of the goals that we've scored so far this season.

The scorer made a beeline for the home bench and sought out masseur Mickey Holland, who had apparently been teasing Cabaye about breaking his United duck. And we may have imagined this, but did Steven Taylor really take another whack on his bleeding hooter in the celebrations? 1-0

Full time: Magpies 1 Latics 0
Alan Pardew commented:

"I'm so pleased - this is probably the biggest victory we've had this season mind you, 19 points after nine games is a fantastic effort and we go to the next game unbeaten. I think they see an honesty in the team and I think that's important for Newcastle fans. This is a demanding public here, they want to see good football but they want to see a win more importantly.
"We've played some champagne football at times, but not today - more like flat bitter today - but one class moment won the game they'll forgive everything here if you win.
"We love him (Cabaye) here and in his first nine games he deserved a goal but what a cracking goal he got today - it really was. That pull back to him, and to hit first time takes great technique and it just showed with his celebrations how much it meant to him and to us.
"We talked all week and especially the last couple of days about our attitude and application being the same as Spurs, but it's very difficult to get that into the player's psyche once the game starts.
"Credit to Wigan in terms of their approach to the game - they weren't over physical with us, they didn't try to cause us a problem in other way than playing good football - they were faster and crisper than us.
"But we must have something in the team because we managed to get to the break at zero-zero without any fluency to the team. It was just resilience, a fantastic save from the goalie, some desperate defending – that kept us in the game.
"The second half I felt we'd be better after a little chat and score. It was just a question of whether we could keep a clean sheet because I didn't feel like we'd get two or three goals.
"I've mentioned before that Graham (Carr) is an important figure at this football club. Sometimes a manager takes all the credit but the Chief Scout and the scouting network is important. They have to be out there – they get nasty flights, sometimes they don't get picked up by the agent or there aren't any tickets left.
"I've been saying about him (Marveaux) for a while he's a good chance. We haven't given him a chance yet – the players haven't given him a chance – but he got a small opportunity and showed what a good player he is."
Steven "blood donor" Taylor commented:
"It just wouldn't stop bleeding. The guy's hand came across my nose and it wouldn't stop bleeding for ages so eventually they put these plug things in. I was coughing out blood because it was difficult to breathe when you've got these things blocking your nose.
"It was a crazy one for me - I haven't experienced that before - but would I have come off? No chance. It was just a broken nose - it'd take more than that for me to come off.
"I was a bit frustrated that the referee kept telling me to get off the pitch because of all the blood coming out. I kept saying 'it's not on my shirt' but I can see my face was covered with blood because it was constantly bleeding."

Roberto Martinez said:

"Everyone can see Newcastle are a big traditional club with a massive support and they have a special environment in which to play their football.

"It will only be a matter of time before they're in the top six but you're talking about teams who have been playing in the Champions League for six or seven years and have invested huge sums of money.
"Newcastle are in the process of doing that, but potentially they're as good as anybody in European football. At the moment there are six clubs ahead of everyone else, and in football terms it's very difficult to build those bridges.
"The gap between fourth and 20th is huge. The gap between 8th and 20th is very small. There are six football clubs who work in a different dimension in terms of resources, pattern of play, but between eight and 20th there are very small margins.

"We dictated the game - we were the better team. I'm very disappointed but I'm very proud of the way we played. Wigan have been in the Premier League for a long time because we've developed a pattern of play, anyone can have a lucky win but you cannot have a lucky stay in the Premier League.

"I feel that, unless we play very good football, we will not achieve our aims. Although I think we can play a lot better, more performances like today will, eventually, get us a lot of points. In many aspects, and for long spells, we were perfect. The only thing missing was that we couldn't hit the back of the net.
"We know we are not far away from getting positive results, now we need to be even more stubborn about staying with the things that we do. I know football is cruel but it surely can't be that cruel to us? I'm sure our rewards are just round the corner. We've got a young squad but my players have got great concepts about football. The way they want to play, the way they want to get on the ball, makes me look forward to every day at Wigan. Now I just hope football can give them something back."
United named the same starting XI for the fifth successive game and no less than eight of those players have started every game this season - Krul, Simpson, R.Taylor, Colo, S.Taylor, Tiote, Cabaye and Jonas (that's PL only).

Tim Krul & Co. recorded a fourth clean sheet in nine league games this season - we managed just seven in the whole of the 2008/09 campaign and nine last season.

Yohan Cabaye scored his first goal for the club and in doing so, became the 99th Newcastle player to have found the net for us in the Premier League era.

Latics in Toon -all time:

2011/12 Won 1-0 Cabaye
2010/11 Drew 2-2 Sh.Ameobi, Coloccini
2008/09 Drew 2-2 Owen, Martins
2007/08 Won 1-0 Owen
2006/07 Won 2-1 Parker, Sh.Ameobi
2005/06 Won 3-1 Shearer 2, Bramble
1953/54 Drew 2-2 Broadis, Milburn (FAC)
Full record against Wigan:
P
W
D
L
F
A
SJP
6
4
2
0
11
6
JJB/DW
5
1
0
4
2
5
League
11
5
2
4
12
11
SJP(FA)
1
0
1
0
2
2
SP

1

1

0

0

3

2

JJB

(LC)

1
0
0
1
0
1
Cup
3
1
1
1
5
5
Tot
14
6
3
5
18
16
Waffle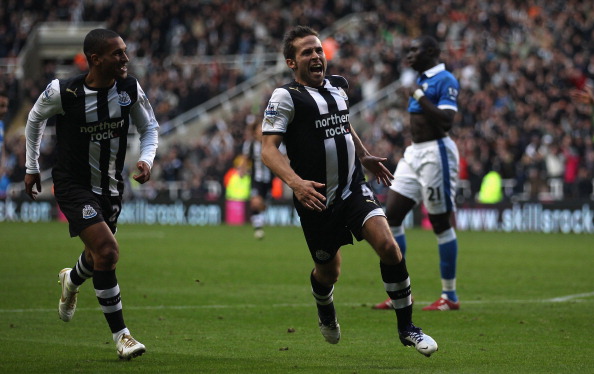 Choruses of "Alan Pardew's Black and White Army" rang out from the Strawberry Corner for the first time as Yohan Cabaye conjured up a late winner to capture another three points and maintain United's increasingly memorable unbeaten run.

In the grand scale of things that's hardly an earth-shattering occurrence - and a couple of "FCB" choruses had emanated from there earlier in the game. As evidence of increasing supporter contentment round these parts however, vocal support of the manager is worthy of note.

That section of the ground had seen some temporary evictions earlier in the season as long-term "corner" occupants differed with newly-arrived brethren, displaced from the defunct singing corner. Thankfully though, the parties involved now seem to have moved on and peace has broken out.

Aside from the soundtrack, the attendance was also pleasing - an old-fashioned Saturday 3pm kick-off, no Sky coverage and lower prices tempting out more fans than for the previous week's visit of Spurs, even allowing for the fact the Latics brought almost 2,500 less visiting supporters.

Our highest gate of the season so far for the visit of the lowest-ranked team was also one in the eye for the many bars advertising live coverage of the game within a short stroll of SJP.

Those fans returned in the expectation that Wigan would be hammered may not have contributed to what was a flat atmosphere in the first half (when the shouts of both benches and both 'keepers were clearly audible at times) but at least refrained from voicing their discontentment when Wigan looked the more likely to break the deadlock in a sterile first half - we weren't always as patient in the days before our demotion and subsequent return.

As they had against Spurs, United struggled to muster a noteworthy effort on goal and weren't able to boss the midfield as they had in previous games against Wolves and Blackburn. With only a miscued effort from Leon Best to their name, the Magpies were grateful both to some wayward shooting from the Latics and another top-drawer stop from Tim Krul to keep the game scoreless.

There was little sign of Demba Ba being able to make it four scoring games on the trot and aside from one headed effort in the second half that Al Habsi grabbed just on his the goal line, his major contribution had been to appear after the break clad in gloves and a short-sleeved shirt.

By then Best had been sacrificed (metaphorically) for Hatem Ben Arfa and the Latics defence looked more vulnerable to the pace and close control of the midfielder who went close with a run and shot. That meant that Gabriel Obertan remained on the field, but looked no more likely to pick a way through the Wigan defence and his eventual replacement by Sylvain Marveaux came amid an audible sigh of relief from the crowd.

More accurate crossing from Wigan could have had Krul & Co. in trouble with Steven Taylor nursing a bloody nose but just as desperation began to set in, Cabaye broke the deadlock with a memorable strike - good enough to win any game, whatever that means (great goals don't count double...).

This being Newcastle there was of course the inevitable late scare and Mohamed Diame should have equalised in the 88th minute when unchallenged in the six yard area, only to skew his header wide. That's been our witching hour/minute so far this season, with Fulham's Dempsey and Wolves' Fletcher both finding the net at that point to make the remaining moments a tad uncomfortable.

United survived that though and successfully ran down the clock, including four added minutes, to again send the fans away happy after building up a head of steam and again retrieving a situation that was partly due to their own shortcomings.

It all added to the positive vibes emitted by and directed towards Alan Pardew, just days after the manager had done his own standing no harm at all with an engaging fan Q&A on local radio. Having allowed himself the mention of silverware, he now directs his attention towards Blackburn, where the natives are revolting and the Carling Cup cannot lie high on Steve Kean's list of priorities.

Having refused to "reveal" his line-up for that game in newspaper speak (although intimating that it'll be a strong side), Pardew does though have some selection decisions to make. The opportunity to start with Santon, Marveaux and Ben Arfa seems a good one, Shola's latest absence theoretically giving Ba and Best 45 minutes each to get some pitch time with our number 10 (assuming Ben Arfa can last 90 - and the tie is settled in that time span, both more than open to question).

Presumably Peter Lovenkrands will return in some form ahead of "sixth choice" Nile Ranger, although not involved today. The centre half position however is a little trickier, as fielding Steven Taylor seems a significant risk given that Mike Williamson is nowhere near ready to return and the prospect of playing Perch in the Premier League fills us with dread.

If Pardew was looking to mislead Rovers with his bench choices today though, that may have explained the selection of the lesser-spotted Alan Smith ahead of both Dan Gosling and Danny Guthrie. Once fans had realised that the bleach-haired surf dude warming up wasn't an extra from Bay Watch, the absence of the two Dans was duly discussed.

With Gosling there always has to be a fitness worry (and he wasn't involved in the midweek Reserve game), while Guthrie is claimed to have made a speedy exit from SJP pre-Spurs when discovering he wasn't in the matchday 18 and is now in the naughty corner. Few tears will be shed if the latter fails to resurface, but in Gosling there looks to be the promise of something solid - and certainly of importance when international call-ups, injuries and suspensions see Cabaye and Tiote miss games.

Like the potential banana skin at Stoke just over the horizon though (no win and just one goal in three competitive visits to the Britannia), that's all for the future. For now, we can reflect on an unprecedented start, a decent sized support going to Rovers and the outbreak of peace on Barrack Road, where the meanest defence in the country currently resides.

Heady days indeed.

Biffa