Date: Saturday 10th December 2011, 3pm

Venue: Carrow Road

Conditions: air sick

Admission: £45

Programme: £3.50






Norwich City

Newcastle United

4 - 2

Teams
39 mins Amid strong protests, City's Surman took a disputed corner and Andrew Crofts' header was eventually deflected into the net off Wes Hoolahan as Simpson attempted to clear. 0-1

45 mins It's that Mag Again: Demba Ba got into double figures for the season when he latched onto Cabaye's perfect chip and dispatched the ball past Ruddy from close range. 1-1

Half time: City 1 United 1

59 mins Fox crossed from the right and Krul parried an unopposed header from striker Grant Holt, only to see it rebound to the former Carlisle front man to head home via the crossbar. Post-match opinion was divided as to whether the goalkeeper should have come further off his line 1-2

63 mins Dan Gosling's personal nightmare began with an inexplicable pass from midfield behind him and to his left. Seized upon by Crofts his right-wing centre was easily headed in by Steve Morison, who had the freedom of Norfolk. 1-3

71 mins Making his comeback from injury, Zak Whitbread lost out to Shola Ameobi just inside the City half as our number 23 nicked the ball and then played a measured pass to the onrushing Demba Ba. He cut inside before thumping the ball into the corner of the goal. Game on. 2-3

82 mins Grant Holt got his second of the game with yet another header, from Bradley Johnson's free kick. Game over. 2-4

Full time: City 4 United 2

Alan Pardew said:
"We went down to 10 men and we were still in the game, so it would be very harsh to suggest that the bubble has burst. Every game is a big one for us. We are in a situation where we have got a nice points tally, but we have come into a run against the top teams and lost players to injury. We are just having one of those little injury runs and that is affecting us.
"To have three first-team centre halves out is unusual. We did well apart from the set-plays. We canít concede from three set-plays and expect to win the game but any team would struggle with the injuries we've got in central defence.
"We were stretched to the limit today, but we hope to have one or two players back next week. We don't need any more blows, particularly injury-wise. We have to keep our spirit about us and we showed that today. We want to stay in the top seven or eight if we can.

"We created chances all day and we looked like we were going to score. We accepted that we weren't going to keep a clean sheet and that we had to score goals.
"We did very well other than the set-plays - Morison and Holt are a handful and so was Hoolahan in behind. They gave us some tough times. Iím not going to offer any excuses, but (for the first goal) Tim caught the ball where it was. If it was out then it was out when he caught it.Ē
"I have just reviewed it (the Gosling dismissal) and I donít think heís gone to hurt the player, but heís late for sure. So heís put himself in the ballpark to be sent off and thatís disappointing."
Two-goal Demba Ba added:
"I just enjoy doing my work and enjoy playing football. I expect myself to do well, because I always prepare for that. I was prepared for all 38 battles and Iím happy when I see all the work Iím doing is paying off.

"Itís difficult to get in the top four ó the teams, they are unbelievable. So if we can make it in the top half we will be happy I think. I'm pretty sure next week we're going to win. We'll do everything to win the game because we need a win. We have the squad here to cope.

"We have (Mike) Williamson, who's on his way back from injury, (Fabricio) Coloccini is hopefully going to be fit for next week as well and (Cheick) Tiote too, so if we have our full squad I think we'll be okay.
"It was difficult for Danny Simpson to compete against Holt or against Morison. If we had our centre-backs, who are big, muscular and can head the ball, it would have been different. We were playing with a brand new defence and it was very difficult."

Paul Lambert said:

"Iím delighted. I thought we deserved to win the game. Newcastle are a good side, you can see theyíve been doing very well in the league. Theyíve got a threat up front and threats in support, but I thought we played very well.
"They were a handful, the Newcastle lads, theyíre big and strong. Russell Martin and Zak I thought were very, very good. Ian and I discussed it during the week, what we thought, and we went with that team and that system and it worked.
"We donít practise them (crosses into the box). If the ballís there to be won, the boys have got a great desire to go and put their head on it. Itís not rocket science. But if the ball goes into the box youíve got Morison who wants to go and head it, Holt wants to go and head it so if youíve got two lads like that in the box youíre just hoping one of them might get on the end.
"Everybody knows David Fox can deliver a ball and Andrew Surman can deliver, but itís important if you do have that delivery that the lads can try to get on the end of it and thankfully thatís what happened.
"Grant (Holt) is every bit as important as he was two years ago when I joined. Heís done that for two and a half years. Heís been a handful. I think he and Morison were excellent today.
"I think the only thing he (Santon) never did was catch it. I saw it on the tape and it was a penalty but the linesman for some reason never saw it. But some you get, some you donít. Footballís like that; you get them for you and you get them against you (referring to the incorrect corner call that preceded Norwich's first goal).
"We move on to the next one. You donít get time to breathe, let alone anything else. Before you know it, youíre bang at it again. Up at Everton next week is another really tough game, so Iíll let it go and then Iíll concentrate on the next one.Ē

Canaries fan Stephen Fry commented via Twitter:

(at 1-1) Nail chewing time

(at 2-3) Oh heavens Ö

(at 2-4) Beginning to breathe a little more easilyÖ all the sameÖ itís never over till the fat whistle blows

(post match) Ariel power? We won because of our brand of washing powder? Oh, you mean aerial...

Newcastle have now scored 21 goals in the Premier League this season and Demba Ba has 11 to his name. Away from home he's grabbed six of our 10 to date.

Dan Gosling marked his first Premier League start for Newcastle with the first red card of his senior career. There was also a first PL start for Davide Santon.

Magpies @ Canaries - post WWII:

2011/12 lost 2-4 Ba 2
2010/11 lost 1-2 Shola Ameobi (FR)
2006/07 won 2-1 Ramage, N'Zogbia (FR)
2004/05 lost 1-2 Kluivert
1994/95 lost 1-2 Fox (pen)
1993/94 won 2-1 Beardsley, Cole
1988/89 won 2-0 Mirandinha, O'Brien
1987/88 drew 1-1 P.Jackson
1986/87 lost 0-2
1984/85 drew 0-0
1981/82 lost 1-2 Waddle
1977/78 lost 1-2 T.Craig
1976/77 lost 2-3 T.Craig (pen), Gowling
1975/76 won 2-1 Nulty 2
1973/74 drew 1-1 Cassidy
1972/73 won 1-0 Macdonald
1964/65 drew 1-1 Robson
1963/64 lost 1-3 McGarry
1962/63 lost 0-5 (FAC)
1962/63 won 2-1 McGarry, McKinney
1961/62 drew 0-0
Full record against Norwich:

| | | | | | | |
| --- | --- | --- | --- | --- | --- | --- |
| | P | W | D | L | F | A |
| SJP | 22 | 12 | 6 | 4 | 44 | 20 |
| TN/CR | 23 | 6 | 7 | 10 | 28 | 32 |
| League | 45 | 18 | 13 | 14 | 72 | 52 |
| SJP(FA) | 0 | 0 | 0 | 0 | 0 | 0 |
| CR | 1 | 0 | 0 | 1 | 0 | 5 |
| SJP(LC) | 1 | 1 | 0 | 0 | 2 | 1 |
| CR | 0 | 0 | 0 | 0 | 0 | 0 |
| Cup | 2 | 1 | 0 | 1 | 2 | 6 |
Waffle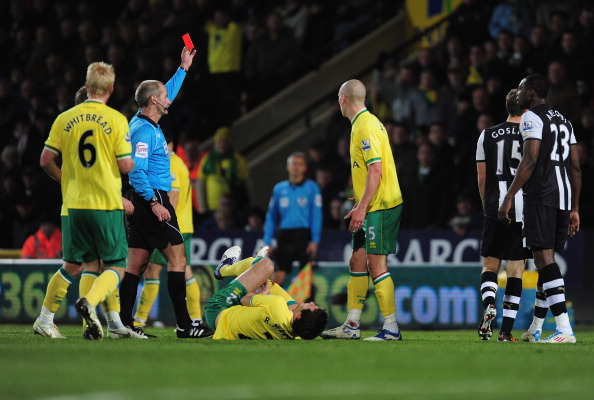 It wasn't the seemingly endless journey to get here, the staggering £45 admission price nor even the awful tinny samba tune that blared out of the tannoy after each Canaries goal.

No, the single most irritating/frustrating aspect of this Saturday was the total bloody predictability of it all.

Beginning his second year in charge, injuries meant that Alan Pardew's 18 squad lacked a single recognised centre half and that almost inevitably proved to be our undoing, all four goals conceded by a painfully makeshift defence that had previously been unchanged in fourteen league games.


Coming after games against the "big three" of Chelsea and the two Manchester sides, our visit to Carrow Road may have been deemed easier by some. At a ground where happy memories are few and far between though, what always looked like a tricky trip ended up with unpleasant echoes of Bolton and West Brom last season as we imploded.

With injured pair Fabricio Coloccini and Steven Taylor replaced by Danny Simpson and James Perch, Davide Santon and Ryan Taylor played at left and right back respectively. However that proved to be a lethal cocktail as City's twin strikers took full advantage of our soft centre and enjoyed total aerial superiority in the United box thanks to our self-imposed no-fly zone.

(By the way, if there's a less fitting fancy dress costume for James Perch to don than Superman then we're yet to see it, managing to beat even Nile Ranger's recent convict garb. You'll believe a Mag can fly? In contrast though, we can look forward to choruses of "If Spongebob scores, we're on the pitch" at future games as a result of Sammy's costume choice for the player's festive bash).

To pick out Perch - or Simpson for that matter - is less than fair though, as they were by no means the only players found wanting as Norwich used their heads, and we lost ours. An ill-advised pass may have set City away for another goal, but quite what possessed Dan Gosling to later lunge into Russell Martin and pick up a straight red card remains a mystery (perhaps the Joker may have been a better choice than the Batman costume he plumped for in Glasgow later that night).

Just six of the starting XI against Chelsea kept their places, with our two centre halves joined in the treatment room by Danny Guthrie (jostling for space with long stay residents messrs Williamson, Tiote and Marveaux). Hatem Ben Arfa and Peter Lovenkrands were dropped to the bench meanwhile, while Tamas Kadar wasn't even in the matchday 18 despite belatedly regaining a squad number.

An entertaining first half had looked destined to end goalless, as referee Martin Atkinson ignored a penalty appeal after Naughton's centre from the Norwich right clearly struck Santon somewhere around the elbow. As people who get paid inordinate amounts of money on TV would say, i've seen them given.

Down at the other end, our best chance had been a deflected shot from Cabaye that had 'keeper John Ruddy scrambling to turn the ball away, before berating the referee for missing a late tackle by United's stand-in captain Jonas Gutierrez earlier in the move.

However a controversial decision five minutes before the break led to City's opener when the linesman awarded the home side a corner after Tim Krul looked to have kept a cross from the left in play. At worst, it should have been a goal kick unless the cross was deflected (which it clearly wasn't), although why Tim didn't leave the ball to go behind is something only he can answer.

Situated in the corner of the side stand across from where the incident took place, most of the away contingent had a good view of that piece of ill-fortune and of the goal that almost inevitably followed. Ba's smartly taken equaliser though left the mood reasonably bright in there at half time.

Flattering to deceive after the interval, the visitors created and spurned a trio of opportunities - Demba Ba coming closest when grazing the City crossbar with a fierce, rising effort.

Simpson then survived another optimistic appeal for handball (provoking further ironic shouts from the travelling support) before Obertan sprinted clear and looked set to play in the unmarked Ba, before electing to cut inside and promptly losing possession.

A nightmarish seven minute period then saw Norwich net twice and Gosling dismissed, before Ba's stylish second made it 2-3 and gave renewed hope to those in black and white on and off the field.
Obertan shot straight at Ruddy before giving way to Sammy Ameobi, but almost immediately any hopes of salvaging a point were ended by a fourth City goal, condemning us to a third league loss.

Having been dreading the new year and its associated transfer chicanery, we now find ourselves almost counting the days down before central defensive cover can be brought in to provide a viable alternative to Coloccini and Williamson rather than our present square pegs/round holes scenario.

If the thought of selling Colo was unpalatable before though Steven Taylor's season-ending achilles problem, then it would now be nothing short of suicidal, with the goalkeeping situation on a par with that if Krul were to be flogged. At least when Carroll went in January, Best and Shola were fit and available as cover of a sort.

On a book-balancing basis though, with striker Maiga on the way in, back line strengthening now even more imperative (and doubts over Simpson's situation remaining), the chances of Tiote coming back from the Nations Cup to wear our colours seem to be shrinking by the day.

After collecting one point from a possible 12, the arrival of Swansea and West Brom to SJP plus the trip to Bolton take on an added significance if we're to maintain the clear water beneath us and the lower positions in the league. And it's not just about the defence: we'll soon be having to manage without our Senegalese goal getter due to international duties; it's high time others starting making their mark up front.

Biffa