Date: Saturday 17th December 2011, 3pm

Venue: St. James' Park

Conditions: deep, crisp....and even






Newcastle United

Swansea City

0 - 0

Teams
Half time: Newcastle 0 Swansea 0

Full time: Newcastle 0 Swansea 0
Alan Pardew commented:

"Sometimes you just need a break. We put balls across and hit a post. Demba had a brilliant swivel, which could have gone in. They (Swansea) have a good work ethic, a good spirit, they slowed the game and made it difficult for us. Outside of their nice play, they had all the tricks in the book, don't you worry about that.
"Had we scored in the first half, it would've been a very difficult game. I think Brendan (Rodgers) will be pleased to get a draw here.
"I really canít complain too much about my side. We stopped them playing which was the aim and put them under pressure and forced errors. The first half was our better half for sure, we got in behind and we created chances and put balls in the box but they havenít keep seven clean sheets for nothing.
"Thereís a good spirit in the Swansea team. Although they didnít keep possession as they would have liked today, they defended very well and the goalie looked strong. Everything we tried to do today they seemed to have an answer. Having said that a little break here and there we may have got the goal and I think we would have won this game and got Swansea to come out a little bit.
"Overall Iím actually not that disappointed, I thought we played well today. I thought Santon did well at left-back, I thought he linked well with Jonas - that looks good with no Ryan today.
"I thought Cheick being back in the side was a massive boost plus Coloccini and we looked more like ourselves today. We certainly looked a strong team - and don't forget they're a mid-table team and we've absolutely bossed them without getting a result.
"I donít need to lift them, I really donít. I think as professionals you know if you played well and if you havenít. They played well today in my opinion and we looked a strong side and on another afternoon if one of those goals goes in in the first half, I could be sitting here telling a very different story. But at the same time you have to pay tribute to the opposition, they defended very well.
"I thought it was the chance for the Geordie folk to show their respect for Gary (Speed) and love for him and they did that and in a really magical way. It was hairs on the back of your neck stuff. Iím sure is family were very pleased about that.
ďItís frustrating in so much that we played well. Swansea have eight clean sheets in the Premier League, they drop deep and defend deep. But they didnít keep the ball as well as they have been because we wouldnít let them.

"They held on Ė we did everything but score. I have no complaints we just couldnít get the goal we needed. I canít fault my players. Itís frustrating, you donít want to draw but you give credit to the opposition. We just couldnít get the breakthrough.

"Sometimes youíve got to fuel your players, and the disappointment he had about not getting on might fuel him for Wednesday night. When you get a 0-0, you always think of something else.
"A couple of times I thought about Hatem, but I just felt they were so deep, with so many numbers back, that I did not think he would find any space, if I am honest. He looks for pockets, and there werenít any.
"Actually, I thought that maybe a diagonal coming in that box with Shola climbing on the back of a centre-half might just be enough. As he was he had half a chance at a set play, and Sammy ended up winning a cross at the far post. That was really the only time we had the space to get a goal.

"He (Tiote) has been out for four weeks and trained two days! Obviously we've done some work in the gym with him - but it was touch and go whether he was going to start. The impact of his name on the teamsheet for us and them was going to be significant. Outside of his first couple of touches, he was terrific.

"That's a bit harsh (referring to Obertan-related grumbles from the crowd). Because he is so quick, you always want him bursting down the outside. I thought he played well first half. He created three or four situations for us. He is a player who has only played 14 Premier League games.

"He is learning, his discipline was much better defensively. I think when you get a 0-0, there can be frustration from the crowd. Overall, I though the crowd was very positive and I thank them for that."

Brendan Rodgers said:

"Thatís an incredible achievement for us Ė and this one has come from a fantastic performance and says everything about our team ethic and hard work. It gets rid of the myth that we canít defend and weíre only all about passing. To come here to such a difficult ground after the start to the season Newcastle have had is terrific.
ďAnd it was almost a perfect away performance. We restricted them and then could have nicked something. We kept the clean sheet and then got into the game, got into some good areas and nearly got a goal that we would have deserved after we picked the rhythm of the game up.
ďWe didnít get the win but if you canít do that, you make sure you donít lose and we did that.
"You know when you go away from home youíre going to have spells when you are under pressure. They had two big men up front in Ba and Best and we knew we were going to have to defend.
ďBut we coped, we stopped the crosses and tactically we were better in the second-half. Our positioning wasnít as good as it can be in the first-half and we got a bit too excited on the ball but we showed great resilience and concentration after the break. It is a terrific point for us.Ē



This was the f

irst-ever top-flight meeting of Newcastle United and Swansea City (Town until 1969).


Swans @ SJP - all-time:

2011/12 drew 0-0
2009/10 won 3-0 Harewood 2, Lovenkrands
1994/95 won 3-0 Kitson 3 (FAC)
1983/84 won 2-0 Beardsley, Wharton
1980/81 lost 1-2 Rafferty
1979/80 lost 1-3 Shoulder
1964/65 won 3-1 Penman 3
1963/64 won 4-1 Hilley 2, Taylor, Thomas
1962/63 won 6-0 Fell 2, Suddick 2, Thomas, og
1961/62 drew 2-2 Leek, Allchurch
1952/53 won 3-0 Davies, Keeble, Mitchell (FAC)
1946/47 drew 1-1 Woodburn
1938/39 lost 1-2 Clifton
1937/38 won 1-0 Imrie
1936/37 won 5-1 Rogers 2, Smith 2, Pearson
1935/36 won 2-0 Connelly, J.Smith
1934/35 won 5-1 Cairns 3, Imrie, Murray
1914/15 drew 1-1 McCracken (FAC)

Full record v Swansea:
| | | | | | | |
| --- | --- | --- | --- | --- | --- | --- |
| | P | W | D | L | F | A |
| SJP | 15 | 9 | 3 | 3 | 37 | 14 |
| VF/LS | 14 | 8 | 1 | 5 | 21 | 23 |
| League | 29 | 17 | 4 | 8 | 58 | 37 |
A second scoreless draw at SJP this season (and a third if the nowts apiece at Loftus Road is added in) but on a more positive note this was our first clean sheet in seven Premier League matches (eight if the Carling Cup defeat at Blackburn is included).

And that first clean sheet coincided with the return to the side of midfielder Cheick Tiote who has been missing with a knee problem since the 1-0 win over Wigan in October.

Haris Vuckic made his second appearance in the Premier League for the final eight minutes of the 90 - one more than he managed before a hand injury forced him off against Fulham back in August.

Injuries left Alan Pardew without Sylvain Marveaux, Steven Taylor and Danny Guthrie, while Ryan Taylor was also added to the absentee list with what was described as a minor ankle injury sustained in training. Dan Gosling was suspended following his dismissal at Carrow Road.

Alan Smith and Peter Lovenkrands dropped out of the matchday 18 but Mike Williamson returned to the first team squad for the first time since limping off during the Carling Cup victory at Scunthorpe back in August.
Waffle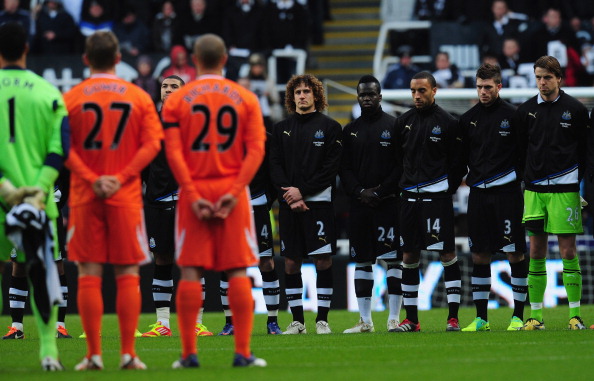 Despite looking more like our old selves on paper and finishing with eleven players for the first time in four games, our winless run was stretched to five games on Saturday, as Swansea City held out for their fifth goalless draw of the season.
Although the home side dominated proceedings, that crucial strike to break the deadlock stubbornly refused to come. Demba Ba came closest with some more rubber-limbed efforts reminiscent of Asprilla, and both he and Fabricio Coloccini struck the Leazes End goal frame in the first half.
United managed seventeen attempts on the City goal, compared to just three off-target efforts from the visitors but Swans' Dutch 'keeper Michel Vorm was on fine form and his defence - including former toon transfer target Neil Taylor - stayed solid, disciplined and compact.
On an afternoon when tributes to the late Gary Speed postponed from the Chelsea game were paid by a near full house, United were boosted by the return of Coloccini, Cheick Tiote and Leon Best to the starting lineup. Injury saw Ryan Taylor lose his ever-present tag as Davide Santon continued at left back while James Perch looked rather more comfortable this week partnered by Colo in central defence as Danny Simpson reverted to right back.
But having failed to find the net in a very one-sided first 45 minutes, which also saw Jonas Gutierrez shave the post with a powerful drive, United needed an early goal after the break to settle the nerves. It almost came when Ba volleyed Simpson's cross just wide and he appealed in vain for a push as he struck his effort. But having weathered an hour's battering, the visitors sensed they could sneak a winner and they came close when Scott Sinclair shot narrowly wide.
Nursing an injured shoulder, Leon Best made way for Shola Ameobi who promptly opened up the Swans defence and tested Vorm. Haris Vuckic and Sammy Ameobi meanwhile replaced cramp victim Tiote and Obertan - the latter of whom contributed little more than his SJP predecessor in the City side - Wayne Routledge.
Hatem Ben Arfa had looked set to come on before Tiote went down suffering from cramp towards the North West corner of the ground and enthusiastic though Vuckic was, Ben Arfa seemed a more obvious supplier of that longed for moment of inspiration to outwit stubborn opposition.
Four minutes of added time came and went before referee Lee Mason blew for full-time Mason had earlier infuriated Pardew for cautioning Yohan Cabaye - the Frenchman's fifth yellow card of the season earning him a one game ban - and Cabaye himself was shepherded down the tunnel after engaging both the officials and Swansea bench in conversation.
A point was still enough to take us back above Liverpool into sixth, but a Craig Bellamy inspired victory for the Reds at Villa on Sunday returned us to seventh. Ten goals scored in our eight home games to date though tells a story, the same time frame bringing 19 last season and 13 in the relegation campaign. We did have chances today and their 'keeper kept a few out, but our attempts at building to a crescendo of attacking lacked the intensity Manchester United summoned up against us - when we somehow held out and one report commented on the "forcefield" round Krul's goal.

And despite what Pardew may say, some of the blame for that has to lie at the shuffling feet of Obertan. Where people are prepared to indulge the raw Sammy Ameobi, expectations of the Frenchman are inevitably higher due to his origins, as are suspicions that Fergie doesn't let anyone go who is in possession of the right stuff (unless they pen unauthorised autobiographies....)

In talking about fans expecting the former Red Devil to beat players on the outside all the time though, the manager is perhaps missing the point. Obertan seems to lack not only the ability to get past his man but also deliver a killer pass. Our hopes were raised when returning to Old Trafford looked to have put some fire in his belly, but that's not really been evident subsequently.

What was a fabulous attendance just about kept faith with the side and most folks bit their lips at full time rather than cursing the lost points. On another day (like the Wigan game), someone would have stuck out a foot or a thigh, we'd have won 1-0 and only the result would be remembered.

But although our lineup looked more familiar, there were still some inevitable issues of the form and fitness variety: Tiote wildly misfiring in the early stages and Best never really imposing himself. The addition of Vuckic though was an interesting move - coming after we'd commented on his lack of spark in reserve games and wondered whether a loan move to inspire/rattle him was required.

Rather than the stick approach, it seems that the carrot was dangled in front of the Slovenian. Hopefully he and Mehdi Abeid will grasp whatever opportunities present themselves rather more intelligently than Nile Ranger has managed thus far.

Looking for positives, a couple of weaving attacks from Davide Santon had the crowd cheering - although Swansea weren't quite smart enough to exploit what was a yawning chasm down our left when Gutierrez failed to drop back and assist Santon - a situation that at times had echoes of the Beresford / Ginola conundrum. One suspects that more offensively-minded teams may note that.

Up this Wednesday, West Bromwich Albion. Three points required, nothing else satisfactory.

Failing to achieve that ahead of visits to those arenas of almost perpetual disappointment, The Reebok and Anfield would add pressure to a level where we could begin to unravel and the Blackburn FA Cup tie be an unwanted distraction to both sides. Like the uncertainty of the transfer window though, that can't be allowed to outweigh the positives and see us tail off for another season.
Biffa