Date: Saturday 4th August 2012, 5pm (local time)

Venue: Kyocera Stadium

Conditions: warm and dry

Admission: €12.50

Programme: press issue only

Den Haag

Newcastle United

0 - 0

Teams

Half time: Den Haag 0 Newcastle 0

Full time: Den Haag 0 Newcastle 0


Alan Pardew said:

"It was a good game for us. Den Haag's season starts next week so they were obviously up to speed. We were the better side and really should have won because we made numerous chances.
"It was a good work-out, but we lacked a little of imagination today and you have to expect that in pre-season games. That's the one thing that is normally missing at this time of pre-season.
"So we will use the next two weeks to sharpen up. The grass was way too long and that stopped us from passing the ball as we like. It also stopped us from beating people. But it was good.
"We do look sharp and fit, which is all I can ask of them, although it would have been nice to score and win the game.
"We had four or five great set plays and we've got to score those. There was only going to be one winner in my opinion but just couldn't open the moment.
"We perhaps lacked a little bit of creativity and flair, so that's something we need to work on.
"There were no injuries as well, which is another big plus. We came off and everybody looks like they are ready for Tuesday. We go to Hartlepool and will try to win there."

Tim Krul added:

"It was nice to be back and see some old friends. I have great memories of being with Den Haag who helped me to get a move to England and Newcastle.
"I had eight years at the club, and I will always be grateful for what they did for me. There was a lot of the Krul family at the game. It would have been better to win and we had enough chances to score, but right now getting everyone fit is the main thing."

When asked about the racist abuse, Demba Ba replied that:

"I did not hear it because I was focusing on the game.

"If they do that they are really stupid dudes. They have to grow up. People have to man up: there are many people on earth and you have to be responsible."


Coach Maurice Steijn commented:

"I am very pleased with the way we have given very little away against a good team - that makes me especially happy, considering we had five new players in the starting lineup.
"I felt that the boys needed to be a little more daring and I told them at half time, but the second half was better. Overall I was very pleased how we played against a fifth placed team from the Premier League."


Although the reserves played a trio of pre-season games in Holland this time last year, this was United's first senior team fixture in the country since our last competitive European outing back in March 2007 - a 0-2 defeat at AZ Alkmaar.

Steven Taylor was the only survivor from that grim night in action today, while Steve Harper was an unused substitute for both games.

We have faced Dutch opponents in pre-season since then - PSV Eindhoven twice playing on Tyneside - while our scheduled visit to Utrecht in 2009 was cancelled amid fears of trouble with mackem fans in Amsterdam.


Waffle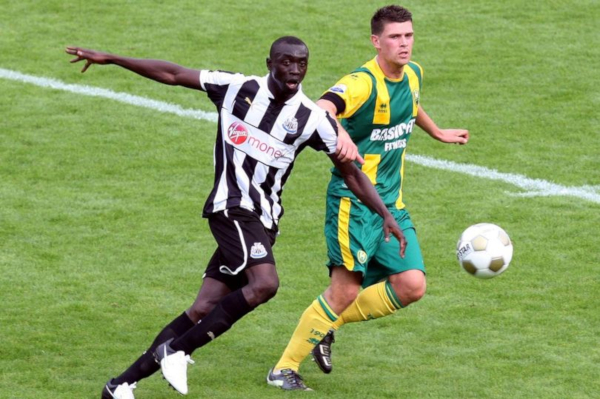 United extended their unbeaten pre-season run to five games on Saturday after a thoroughly uneventful 90 minutes at the Kyocera Stadium, during which neither 'keeper was seriously tested.
However several visiting players subsequently reported that they had been the subject of taunts from home sections of the crowd, causing the club to release the following statement:
"In relation to alleged racist chants reported during Newcastle United's friendly against Den Haag today, the club will be raising the matter with officials at Den Haag and the issue will be dealt with privately."

Reports subsequently claimed that the abuse took the form of 'monkey noises' during the first half -although the incident(s) in question during the game passed us by completely in the main stand and toon fans behind the goal confirmed also that they were unaware of anything untoward until news reports surfaced after full time.

Neither Alan Pardew nor Tim Krul made reference to any problems in their post-match interviews and subsequent comments from Demba Ba (reproduced above) condemning the abuse made it clear that he himself hadn't heard anything and was only answering hypothetically.

We mention this not in any attempt to downplay the abuse or deny that it took place, but to try and counter-balance some hysterical news reports written by people who weren't at that game. This wasn't a return to any 'bad old days' or a large-scale, high profile incident.

(The events at Den Haag were actually overshadowed by Blackburn's scheduled Dutch double friendly the same weekend, with crowd trouble during and after Friday's game against Go Ahead Eagles causing the Sunday fixture at NEC Nijmegen to be called off on police advice).

Back to the game, and lacking French duo Yohan Cabaye and Hatem Ben Arfa, an otherwise full strength lineup took 24 minutes to register a meaningful shot, when Gabriel Obertan latched on to a Ryan Taylor corner but directed a volleyed effort from 18 yards straight at Gino Coutinho.
His opposite number Tim Krul wasn't tested at all in the first half of what was his homecoming game meanwhile - Mike van Duinen prodding his shot well wide when given sight of goal on the half hour.
Continuing with the same XI for the second half, United came close to breaking the deadlock when another Ryan Taylor corner was met by Papiss Cisse - only for his header to be blocked on the line by Stanley Elbers.
The inevitable raft of substitutions saw Shola Ameobi appear to form a front trio with Ba and Cisse and with 11 minutes remaining, Newcastle's number 23 won a free kick down the right flank that was swung over by Gutierrez.
That dropped nicely for an unmarked Mike Williamson to head the ball across the six yard box, to where Shola stabbed it home at the back post - only for the linesman's flag to go up and rightly rule out the effort for offside.
Krul belatedly soiled his gloves with a routine stop on 87 minutes from Charlton Vicento, before the referee blew for full time to put an end to a game that will doubtless be billed as a 'good workout' but was instantly forgettable for those present.

With two weeks and two kickabouts still remaining before the real stuff begins, we'll resist the temptation to read anything much into this game. However, it's fair to say that we remain convinced of the necessity to strengthen our squad with proven quality if we're to achieve the twin aims of competing wholeheartedly in every competition we enter and improving on last season.

By the time we return from Cardiff things may be slightly clearer (at least in terms of Yohan and Hatem) but the closing of the transfer window four games into our season may well mean that we get both domestic and European campaigns underway as something of a work in progress.
Biffa