Date: Tuesday 7th August 2012, 7.30pm

Venue: Victoria Park

Conditions: clear skies to the north, dark clouds over Teesside - as usual...

Admission: £10

Programme: none

Hartlepool United

Newcastle United

1 - 5

Teams
3 mins Dan Gosling sprayed the ball from the centre circle out to Romain Amalfitano, whose right wing centre was turned home by Shola Ameobi from eight yards 1-0
4 mins Ameobi's surge down the left took him beyond 'keeper Scott Flinders but with a narrowing angle as he began to run out of pitch. Sending the ball goalwards, Shola succeeded in finding Sylvain Marveaux and although the Frenchman's initial flicked effort hit the far post, he was able to poke the rebound home between two defenders on the line. 2-0

12 mins A foul on Gosling just over the halfway line resulted in a quick free kick that Marveaux floated forward and into the Pools box. Flinders came off his line but was beaten to the ball by the advancing Shola Ameobi. Sylvain Marveaux sent Flinders the wrong way from the spot 3-0

Half time: Hartlepool 0 Newcastle 3

53 mins Substitute Haris Vuckic latched on to a deflected pass from Ben Arfa ahead of Flinders and flicking the ball over the 'keeper's head and into the empty net at the unoccupied Rink end of the ground 4-0

60 mins Neil Austin's free-kick was played into the Newcastle box and hooked beyond Steve Harper by Anthony Sweeney. 4-1

83 mins Hatem Ben Arfa made his away across the field on the edge of the Pools area before slipping a pass to Gabriel Obertan, who drove a low right-footed effort home from 15 yards 5-1

Full time: Hartlepool 1 Newcastle 5


Alan Pardew said:

"I thought that we were terrific in all areas. I left a few of the big guns at home because it's important that all of the squad are up to speed because we've got such a tough start: Spurs, Chelsea and the European games.

"It's great to see that the undercurrent of the side is strong. Amalfitano and Marveaux were terrific tonight and Obertan came on and did brilliantly as well so our wide players are in good shape: you add in Hatem and Jonas - and that looks a good area for us, going into a long season.

On Shola:

"He just got a little knock, but he's fine. When Shola's in that sort of mood, as he showed against Tottenham last year at home, he can be unplayable."

On Cabaye:

"Cabaye's OK - we're just taking care of him. He's had a couple of little issues on the injury front, but we think he'll be OK."

On Curtis Good:

"He's a naturally left footed centre-half and that's unusual, and that's why we paid that money for him. He's a young player and has a lot to learn but he can also play at left-back.

"He showed he's very very tidy with the ball, and all he's got to do now is get used to the physical side of this game which I think he's going to grasp, and fingers crossed for that."

On pre-season international callups:

"It's very, very upsetting, because you're playing all pre-season, and in the last week you want to focus everybody's minds for the season ahead, and you can't – they're not here.

"We'll have one day to quickly assemble the team. Tottenham are in the same position. We'll have to hope we've done enough work.

"Actually, Cheik looks in the best shape I've seen him. He looks better than this time last year. I've got no problem with him travelling there (to Russia with Ivory Coast). He's ready to go, trust me."

On transfers:

"I think it is quiet - whether we're all enthralled by what's happening with the Olympics I don't know - I certainly am, it's been fantastic.....we've thoroughly enjoyed it. Maybe we should all concentrate a little bit more on the transfer market now.

"The transfer window is still open so everybody's vulnerable when you're a side like us. You try to protect them by knowing that someone will have to pay top, top money for one of our players.

"My message would just to be patient. We've got a great side, and a great underbelly to the team. If we add one or two, or even three, we'll have a great squad."

The returning Hatem Ben Arfa added that:

"It is up to the manager and the fitness coaches – they'll make the decision - But I'm ready to be on the pitch or the bench – no problem. I'll do what the manager says to me. It's nice to be back on the pitch, and I'm happy I played 45 minutes. I feel very good. I will step things up.

"I stayed in Europe for one month, and even though I was on holiday, I played football with my friends. Now I feel good, but I go step by step. Hopefully, I can be ready quickly.

"The most important thing was to be on the pitch and feel the sensation again. You just want to get back to that feeling, feeling good on the pitch, you want to feel good with the ball and with your team-mates.

"I'm very happy to stay here and happy to be back at Newcastle again – I love this club and the supporters. I love them, and they like me. It is very good for me to see the fans here. All the players have stayed here - I think we have to have confidence, as we have very good players.

"Maybe if we feel very good we can finish between fourth and first. Why not? Why can we not say we could be champions? Anything is possible. We can challenge for it. We have good players, a good stadium and great supporters. We have to have confidence. Personally, I believe we can do what I say."


Neale Cooper said:

"From the word go, Newcastle were something special. Every attack they looked like they were going to score and even though we made mistakes at the back I thought they really did look outstanding and really gave us the run around.
"I've not gone in there after that and gone mad because we've worked really hard in the build-up to the Crewe game on Saturday, but that was a lesson in football tonight.
"We'll learn from it though - we got beat heavily by Newcastle last time I was here and we learnt from it and went on to have a really good season that year.
"Top players from the Premier League punish you when you make mistakes, and we got punished tonight. You switch off for a minute and they kill you - that's a fact.
"It's another game for us though - it was planned quite late but they are grateful we gave them the game and hopefully it has worked for us financially too because there was a good crowd here."



Thanks to the return of Hatem Ben Arfa to the fray and the introduction of both Curtis Good and Jak Alnwick, a total of 29 different players have now appeared in our seven pre-season games, with one still to play. Curtis appeared wearing number 33 and Jak had 42 on his back.

That's one more than was used in our 43 competitive fixtures last season, but three less than the 32 that appeared in 2011/12's six pre-season matches (five plus abandoned Fiorentina game).

United are now unbeaten in their last six pre-season games after kicking off with a single goal defeat at Chemnitzer in their opening test. However they've won just three times in that run - against Monaco, Braga and Hartlepool - the same trio of games that Steve Harper has started.


Waffle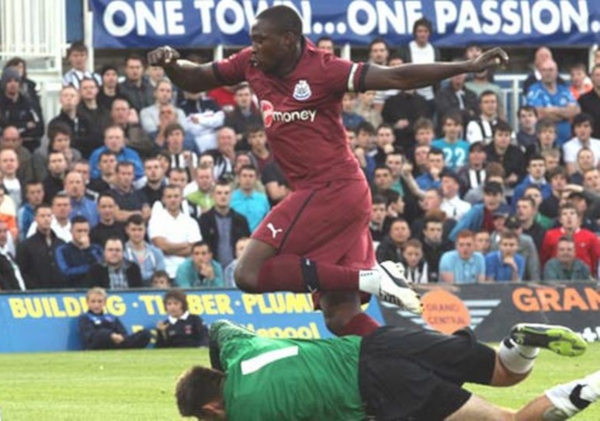 The good citizens of this town may have once executed a monkey in the mistaken belief that it was a French spy, but Alan Pardew and his Gallic invaders received a rather more pleasant reception in Hartlepool on Tuesday.

Although still without Yohan Cabaye and the coveted Mathieu Debuchy, our French contingent was augmented at Victoria Park by the first sighting of Hatem Ben Arfa since last season.

Further boosts came not only in the shape of goals from Sylvain Marveaux and Gabriel Obertan, but also the form of fellow countryman Romain Amalfitano, who moved on from netting for the reserves at Gateshead last week to finding space, creating chances and giving general cause for optimism after his first senior outing on these shores.

Goals from open play had been in short supply during our pre-season continental adventures, but on a night when the big guns of messrs Ba and Cisse were excused duties, there were plenty of others willing to try their luck.

Anxious to give his shadow squad more pitch time, Alan Pardew made ten changes from the starting XI that drew at Den Haag - retaining only Steven Taylor to give the defender his third 45 minute runout of pre-season.
Clad in the maroon change kit (which is a dead ringer for Hartlepool's 2011/12 effort), United raced into a 3-0 lead and had another effort disallowed during a frantic opening to the game.

Amalfitano played in Shola for the opener, with our number 23 then returning the compliment for Marveaux and grabbing his second and our third after captain for the night Shola won the spot kick then passed on conversion duty.

At 2-0, Dan Gosling then had the ball in the net when put clean through by Amalfitano but was flagged for offside and later flashed another effort just wide as the League One hosts struggled to get the ball up to the other end of the pitch and try to test former Pools loanee Steve Harper.

Marveaux meanwhile was denied a quick-fire hat trick when Flinders smothered his 17th minute shot and after making his comeback from an extended period on the sidelines in the final game of last season, thankfully looks ready to play a part in the new campaign.

The only negative of the opening half came in the closing seconds, when Shola Ameobi limped off with an unspecified injury while the game was in progress. He failed to return for the second half, as Haris Vuckic was joined by an inevitably rusty Hatem Ben Arfa to form a makeshift front pairing.
Vuckic quickly netted his first Newcastle goal for a year, before a raft of replacements disrupted United's efforts to increase their margin of victory as the good tempo that they'd played at inevitably began to drop off.
United did manage a fifth goal though to send their fans home happy, Gabriel Obertan's strike doubling the goal tally achieved in our previous six pre-season fixtures.
Biffa