Date: Saturday 11th August 2012, 3pm

Venue: Cardiff City Stadium

Conditions: Hot, humid & humiliating

Admission: £15

Programme: £2.50 for what was at first glance a poorly-produced fanzine.

Cardiff City

Newcastle United

4 - 1

Teams
16 mins: Peter Whittingham picked out Aron Gunnarsson with a long ball that dropped inside a poorly-positioned Davide Santon. The striker let the ball bounce and as it held up on the turf, he thumped a precise first-time effort beyond Krul and inside the far post at the end where the Newcastle fans were housed.

20 mins: Simpson hastily dived in on Jordan Mutch and completely missed him, allowing the midfielder to slide a pass through to Joe Ralls who was able to slip the ball home.

26 mins: The goalscorer turned provider, as a low left wing cross from Ralls wasn't dealt with and Gunnarsson took advantage to plant a shot beyond the 'keeper from ten yards out.

Half time: Cardiff City 3 Newcastle 0

49 mins: Vuckic delivered an accurate cross from the right byline with the outside of his boot and with Gutierrez ready to connect in front of goal, he was shoved by McNaughton. Shola Ameobi confidently dispatched his right-footed spot-kick firmly into the bottom right hand corner.

76 mins: A Vuckic shot that was clearly deflected wide wasn't rewarded with a corner and United were promptly caught out on the next attack by City. A long punt forward from Turner found Slovenian international striker Etien Velikonja. He outmuscled Williamson and converted his shot, despite Krul getting a hand to it.

Full time: Cardiff City 4 Newcastle 1

Alan Pardew said:

"I wasn't happy with any of our display, to be honest with you. In the first half in particular, the application went out the window for a strange reason – I can't really put my finger on it.

"We had a few big hitters missing so it was an opportunity for others today and it wasn't taken, unfortunately. We will gather ourselves after this. I thought we were better in the second half and should have won that half. We had great chance to score a couple of goals.

"In terms of this match, Cardiff were a different proposition for us. We have played a lot of European teams in pre-season and this was our first real British game, if you want to call it that, and we got found out in that first-half.

"Ben Arfa has a slight knee problem, which I think definitely keeps him out of the first week.
"Papiss has got a slight hamstring – we think he'll recover by Tuesday or Wednesday – and Demba has a shin injury, which he's carried for a week or so.
"Yohan Cabaye is not right in terms of work he's done. We are hoping to get him up to speed and get him involved on Saturday. Everybody else is OK, apart from the knocks we got at Cardiff.
"I think we were caught out by the dynamic start from Cardiff. They are a well motivated side and I have always been impressed by them. I can see them right up there battling for promotion."


Malky Mackay said:

"I am delighted, absolutely delighted. First off, I'd like to thank Alan Pardew for bringing a very strong Newcastle squad today.

"I really enjoy a tough test and it was, playing against very good players. I'm delighted with the attitude and application of my players - we passed the ball very well in the first half and scored good goals.

"Jordon Mutch has not played a lot of football in the last couple of weeks with an injury, so it was great to get him on for forty-five minutes today.

"His play in the build-up to Joe Ralls' goal was fantastic. It was great to get Heidar out onto the pitch too, he's a proven Premiership centre-forward and showed great hold-up play at times.

"Also Etien Velikonja - to get him on and to see his runs going in behind people; we were playing some lovely balls in behind their defence - and he took his goal really well. Joe Lewis having come on for the last twenty minutes made a couple of saves as well, so I really think the new boys integrated well."


Adam Campbell became the 30th player to have featured for the first team in pre-season as he made his senior bow in the closing stages. He appeared wearing the number 49 shirt that Gael Bigirimana had previously donned in pre-season, before taking squad number 20.

Our eight game pre-season programme is the largest we've undertaken in the Premier League era, save for the lunacy of 1999, when Ruud Gullit's side played nine friendlies - and still looked pants.

Waffle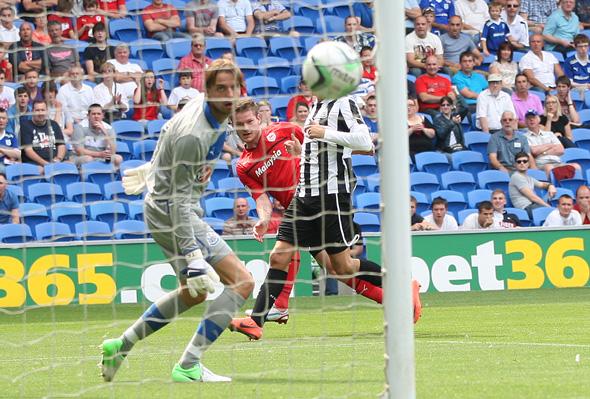 So, after six weeks, eight games and around 8,700 miles, United finally lost their bearings.

A succession of continental kickabouts had allowed Alan Pardew's side to prepare for the new campaign at their own pace, save for the occasional stray Turkish boot or Greek elbow.

Against a side who finished sixth in the second tier last season and then added playoff semi-final agony to League Cup Final misery though, Newcastle quickly found themselves knocked out of their comfort zone.

And in Malky Mackay, City had a manager who been handed the captaincy by Alan Pardew when the pair were at West Ham and who was doubtless keen to show that he was also capable of building and coaching a promotion-chasing team.

In fairness, one look at Newcastle's starting XI here and the bench didn't give rise to a great deal of optimism, despite the domination over third-tier Hartlepool that this squad (plus Hatem Ben Arfa) had achieved.

And so it proved, with Shola left to plough a lone furrow up front until Vuckic appeared against his former club after half time to try and provide the support that messrs Marveaux and Obertan had failed to demonstrate.

By the time Amalfitano injected some zest into our attack though (seeing two shots beaten away), the game was long gone and the pace had dropped - possibly a reflection of the searing South Wales temperatures - at least we played in the evening out in Portugal.

In years to come, a sparkling cameo appearance from youngster Adam Campbell may be recalled by those who turned out, but the real story today revolved around those players not present.

The absence of of Demba Ba, Papiss Cisse, Yohan Cabaye and Ben Arfa meant that anyone turning out in the expectation of seeing Alan Pardew's first XI on the field in this final friendly was to be disappointed. Instead, this game felt like a testimonial, with a random XI on show for the hell of it.

And in addition to the aforementioned big guns keeping their powder dry, the absence of various fringe players who had featured regularly in pre-season provoked some head scratching, until it later became known that a Magpies reserve side including Gael Bigirimana and James Tavernier had been playing Blackpool at the same time as this game.

United's failure to conclude the expected incoming defender deals meant that the starting back five here is likely to take the field against Spurs this coming Saturday - injuries permitting. Hopefully they'll rediscover the art of tackling when confronted with the Cockerels though and not be caught square or flat-footed as often.

In that regard, only another runout for Steven Taylor could be described as a positive from this game, with both Cheick Tiote and Fabricio Coloccini coming off with knocks that may or may not affect their availability for midweek international friendly duty.

Despite not fielding new signing Craig Bellamy, three goals from City in ten first half minutes did the damage and left United reeling in similar style to that fateful day against Leyton Orient in 2009.

Tempting though it may be to try and draw parallels with that 1-6 watershed disaster game though, the circumstances were rather different. For one, the 2012 United came here with a permanent manager, no obvious disciplinary problems and a squad which so far has stayed intact by choice in pre-season, rather than due to a lack of offers.

And whatever colour shirts they wore, Cardiff were a good deal more of a threat than the Brisbane Road boys three years ago: the top-flight aspirations of City's owner this season are believable - especially in a league where Steve Bruce can gain employment.

Enough of this misadventure, which will be forgotten soon enough. Having tramped round Europe, the least we can do is inflict our thoughts on you after 720 minutes and a dodgy penalty shootout: with the caveat though that drawing any conclusions from pre-season games is unwise.

Here's the pitch time of each player this pre-season:

Danny Simpson 443 minutes (25+90+68+90+8+72+90)
Gabriel Obertan 419 minutes (74+29+75+72+2+71+12+84)
Haris Vuckic 403 minutes (65+45+45+90+4+64+45+45)
Jonas Gutierrez 407 mins (16+90+31+90+90+90)
Ryan Taylor 395 mins (65+33+90+90+71+18+28)
Mike Williamson 386 mins (90+45+90+26+90+45)
James Tavernier 380 mins (65+45+90+90+90)
James Perch 378 mins (90+45+90+19+72+62)
Davide Santon 376 mins (25+57+22+90+82+10+90)
Dan Gosling 371 mins (90+29+73+36+26+90+27)
Romain Amalfitano 348 mins (90+61+90+8+80+19)
Shola Ameobi 321 mins (25+61+15+72+19+45+84)
Demba Ba 330 mins (16+78+68+86+82)
Fabricio Coloccini 315 mins (90+90+90+45)
Cheick Tiote 302 mins (29+59+72+71+71)
Gael Bigirimana 285 mins (25+61+31+90+19+59)
Sylvain Marveaux 284 mins (12+59+90+78+45)
Tim Krul 270 mins (90+90+90)
Sammy Ameobi 270 mins (74+45+45+18+88)
Steve Harper 262 mins (90+90+82)
Papiss Cisse 220 mins (22+18+90+90)
Steven Taylor 217 mins (45+64+45+63)
Mehdi Abeid 212 mins (65+45+17+54+31)
Rob Elliot 180 mins 90+90 180
Paul Dummett 45 mins (45)
Hatem Ben Arfa 45 mins (45)
Yohan Cabaye 18 mins (18)
Curtis Good 18 mins (18)
Jak Alnwick 8 mins (8)
Adam Campbell 6 mins (6)

Putting aside the first team regulars and the reserve cameos, we feel moved to comment thus:

Obvious losers include Robbie Elliot - who looks to have found himself back behind Steve Harper - and Sammy Ameobi, seemingly set to continue in and around the side until succumbing to injury.

With regard to Sammy though, the debate as to whether he's better in a wide role or through the middle remains unresolved: staying fit and and notching a couple of goals when inevitably called to deputise in attack could have made a difference - especially with nothing incoming up front and messrs Lovenkrands, Best and Ranger all now history.

For both Gosling and Vuckic, there's the feeling that they have been given the maximum pitch time in a make or break attempt to pull them up to the required level. We're not convinced that either have managed it though, despite the latter featuring both up front and also in a deeper role.

Whether the same applies to Obertan is a matter of great debate, with opinion divided between those who believe Pardew is being bloody-minded in playing "his man" at every opportunity to prove a point to the doubters - or is forcing the player into a increased state of match fitness to try and coax better performances from him and breed self-confidence, like Perch last season.

As was the case last season though, it's the decision-making that seems lacking in him, not pace or stamina. The odd tales of interest from Swansea for him just leave us perplexed.

The fit-again Marveaux is almost in a similar situation to new pair Amalfitano and Bigirimana, all of whom have got pitch time in some low key games with not many watching their first steps. Unlike Sylvain though, the new pair have still to experience playing at SJP due to the Olympic occupation - something which isn't often spoken about but can be a significant factor - just ask Tamas Kadar.

Of those not featuring, Shane Ferguson's chances of making it at this club continue to diminish due to his fitness issues, while the odds against Brad Inman getting out of the reserves and into the first team lengthen, as younger players like Bigirimana and Abeid jump ahead of him in the queue.

For all our attempts at second-guessing the manager though, the significance of pre-season performances may only really be known when his Europa League side takes to the field and the identity of those players departing on loan becomes known - if we can spare any, that is.

Even then though, farming out players to gain experience remains a viable alternative to whatever the reserve league is called this season and Tim Krul's time at Carlisle and Falkirk did him more good than clarting around on a training pitch. For evidence of that, the improvement in James Tavernier during his five game stint after 30 outings last season for various League One sides was evident.

Niall MacKenzie / Biffa