Date: Saturday 18th August 2012, 5.30pm
Live on ESPN

Venue: St. James' Park

Conditions: picture-perfect in the sunshine - and preserved for posterity by some clever HD gizmo available on the official website.






Newcastle United

Spurs

2 - 1




Teams
Half time: Magpies 0 Cockerels 0

54 mins A deep centre from Danny Simpson towards the back post was met by Kyle Walker, whose attempted clearing header dropped behind him and nicely for the lurking Demba Ba. He took a steadying touch before sweeping home a superb right-footed effort beyond Friedel the dropped into the far side of net and celebrating in his trademark style on the final day of Ramadan 1-0

76 mins Lennon menaced on the left hand edge of the Newcastle box before swinging over a right footed cross to the back post as Ben Arfa arrived to reinforce the idling Simpson. Jermaine Defoe reached it ahead of Santon and headed it down and goalwards from six yards via the defender.

Tim Krul made an instinctive stop with his shins but was unable to claim possession as the ball rebounded off him and the post to Defoe, who scrambled the ball home via the same upright 1-1

80 mins Both Lennon and Van der Vaart made contact with Ben Arfa as he skipped into the Gallowgate area from the United left and down he went, with Martin Atkinson pointing to the spot amid no more than hopeful protests.
Ben Arfa and Ba tussled for the ball, with coach John Carver furiously indicating from the bench that the task should go to the latter. Having grabbed the ball after tumbling over though, Ben Arfa clung onto it and slotted his spot-kick home, with Friedel diving the wrong way. 2-1

Full time: Magpies 2 Cockerels 1
Alan Pardew commented:

"I was stupid and I've been in to see the linesman to apologise. There's me telling my players to behave themselves and follow the Olympic spirit and be humble, and they did it except for me.

"It was a stupid moment - the linesman just happened to be standing right in front of me when I thought the ball was out, and I gave him a little shove. I have apologised and I can't turn the clock back, so I will have to take my punishment.

"For me, Hatem was the stand-out player today. He was taking people on in all areas of the pitch and even got two of the Spurs players booked early on. Hatem won and scored the penalty and you need players like this if you are going to do well.

"It was a little white lie by me (to say HBA was unfit). I donít tell too many, but that was one. He looked sharp in training and the only thing we were worried about was that he hadnít had a lot of game time. The more I looked at him, the more I thought he was ready - he really was terrific today.

ďI thought we were really disciplined. We werenít at our best, particularly in the first-half, and tactically it was a really tight game. We kept our two strikers on, which was important, because one of them, Demba Ba, has come up with a truly great goal.

ďI donít think you can under-estimate the importance of this win for us. It was a really tight game and sometimes your character and spirit can see you home, and I think we showed that. That can win through. We had to match what Spurs were doing, we changed things at half-time and I thought we just about edged it.

"The other players have been impressed by him (Anita) in training. His first couple of touches were a little bit indifferent in the game. He was at Ajax for so many years and to come into this atmosphere was really difficult for him. But he grew into the match and did one great bit of skill down the wing.

"It wasnít mixed emotions. It was a fantastic victory. What I did was absolutely ridiculous and I apologise to my team and to the linesman. Getting sent to the stand is something I donít want to do as Newcastle manager.
ďI thought it was out - he was right in front of me and I donít think I pushed him that hard, but he took a stumble and unfortunately that was that. I went in to see him and gave him a little cuddle. I apologised to the linesman and thatís all I can do.
ďIn terms of the team it was a great result. It was tactically a tight game. We kept our strikers on the pitch and luckily we did as that gave us the edge. I thought we just edged it.
ďThe crowd were brilliant and they helped us - it was such a great atmosphere.

"I worry about losing all my players because unfortunately weíre not Manchester United or City, weíre always vulnerable. If you ask me if I sleep well at night. Iíd have to say not always. Iím looking forward to September 1 because by then weíll all know where we are.
ďIím going to put a team out I think can win (in Greece on Thursday) and that might not be all our big hitters all of the time."

Demba Ba:

"After games, Iíve spent a lot of time watching them over again, just to analyse things, trying to see what I had to do to change the bad stuff.

"A lot of things were going on last season, I was playing out wide for much of the time and while I wasnít frustrated at not scoring, I didnít get enough of the ball - I was coming too deep and wasnít there to take the chances.
"Hatem just picked the ball up after he was fouled I didnít know he was going to take the penalty and, to be honest, I thought Iíd be taking it, but this time he was faster than me to it. Iíll take the next one we get, but Iíll have to make sure Iím a little faster on my feet in getting to the ball!
"Fasting (during Ramadan, which ended today) can make it difficult in terms of your energy levels, but only if you do it without a reason. When you have a strong belief like I do, then itís easy. I have faith and that helps me."

Following his first competitive game as Spurs boss, Andre villas Boas said:

"It's a bitter-sweet situation: we must improve but it was a good performance. We had the most chances and were the superior team.

ďYou just have to get the balance right in terms of what you are trying to achieve for the team. There were only one or two changes from last season and they did extremely well before. Iím just trying to get the team organised to get three points in every game.
ďWe just have to strive to make sure we do that and give our fans something to cheer about.Ē
After taking a detour to view the Sir Bobby Robson statue (who gave him his first job in football as a teenager back in Portugal), AvB confirmed that: "I like it"

Whether SBR would have approved of his raggy beard and slightly crumped training kit though is open to question.


Vurnon Anita became the 172nd player to appear for Newcastle in the Premier League and the third full Dutch international after Patrick Kluivert and Tim Krul.

In terms of his fellow countrymen, winger Frans Koenan appeared during our 1980/81 Second Division campaign, 'keeper Jon Karelse made a trio of league appearances between 1999 and 2003 and full back Patrick van Aanholt filled in at full back while on loan in 2009/10.

Demba Ba netted his 17th goal for the club (all in the Premier League) and ended a personal scoring drought that extended across 14 full games and 1,301 minutes since he fired past Aston Villa's Shay Given at the Leazes End back in February

United recorded their first opening day league victory since 2007/08, when Sam Allardyce began life as our manager with a 3-1 success at Bolton. Since then we've drawn 1-1 at Manchester United, drawn 1-1 at West Brom, lost 0-3 at Manchester United and drawn 0-0 at home to Arsenal.

Spurs in Toon: Premier League Era:

2012/13 won 2-1 Ba, Ben Arfa
2011/12 drew 2-2 Ba, Sh.Ameobi
2010/11 drew 1-1 Coloccini
2008/09 won 2-1 N'Zogbia, Duff
2008/09 lost 1-2 Owen (LC)
2007/08 won 3-1 Martins, Cacapa, Milner
2006/07 won 3-1 Dyer, Martins, Parker
2005/06 won 3-1 Bowyer, Sh.Ameobi, Shearer
2004/05 won 1-0 Kluivert (FAC)
2004/05 lost 0-1
2003/04 won 4-0 Shearer 2, Robert 2
2002/03 won 2-1 Speed, Shearer
2001/02 lost 0-2
2000/01 won 2-0 Speed, Cordone
1999/00 won 6-1 Shearer 2, Speed, Dabizas, Ferguson, Dyer (FAC)
1999/00 won 2-1 Glass, Dabizas
1998/99 drew 1-1 Ketsbaia
1997/98 won 1-0 Barton
1996/97 won 7-1 Shearer 2, Ferdinand 2, Lee 2, Albert
1995/96 drew 1-1 Ferdinand
1994/95 drew 3-3 D.Peacock, Gillespie, Beardsley
1993/94 lost 0-1

Full record against Spurs:
| | | | | | | |
| --- | --- | --- | --- | --- | --- | --- |
| | P | W | D | L | F | A |
| SJP | 68 | 28 | 19 | 21 | 119 | 96 |
| WHL | 67 | 20 | 11 | 36 | 76 | 127 |
| League | 135 | 48 | 30 | 57 | 195 | 223 |
| SJP(FA) | 4 | 4 | 0 | 0 | 13 | 1 |
| WHL/OT | 5 | 1 | 2 | 2 | 5 | 5 |
| SJP(LC) | 2 | 1 | 0 | 1 | 4 | 3 |
| WHL | 1 | 0 | 0 | 1 | 0 | 1 |
| Cup | 12 | 6 | 2 | 4 | 22 | 10 |
| CS | 1 | 0 | 0 | 1 | 1 | 2 |
| Tot | 147 | 54 | 32 | 61 | 217 | 233 |
Although appearing on the official match teamsheet, Shola Ameobi wasn't able to take his place as a substitute after tweaking his thigh in the warm-up. Romain Amalfitano replaced him on the bench, with the following post at 17.25 on the Eurosport/Yahoo live match blog triggering internet claims regarding Sylvain Marveaux:

"Shola Ameobi picked up an injury in the warm-up. Sylvain Marveaux was set to be named on the bench in his place, but Newcastle are apparently struggling to track him down! Roman Amalfitano has been named as a substitute instead."

Waffle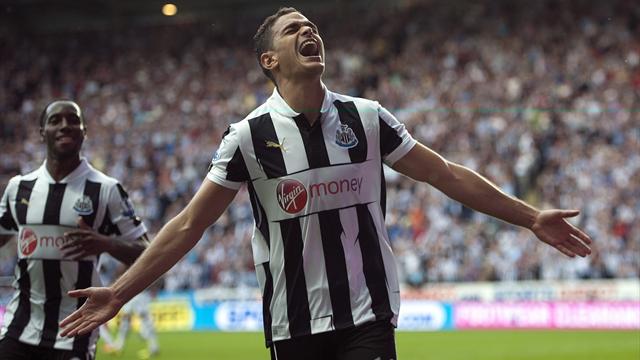 After a summer of speculation as to arrivals and departures, Newcastle returned to competitive action with a starting XI clad in a new home strip but comprising of familiar faces.

And with a packed SJP once again boasting the branding that was hidden for the Olympics, Alan Pardew's side managed to maintain the feelgood factor that has steadily spread since Manchester United were beaten here in the first home game of 2012.

Quite how they would come to achieve that feat though was open to question at various passages of the contest, particularly in a first half when they failed to trouble the visitors with goal attempts worthy of the name and survived two near-misses when Krul's woodwork was well and truly rattled.

And after taking the lead from almost their only clear-cut chance from open play, the apparent fatigue that Newcastle began to show led to an inevitable equaliser and raised doubts as to our ability to see out the remaining time and claim a point - with last season's draw saviour Shola Ameobi forced to withdraw from the bench after straining a thigh in the warm-up.

Bar room logic had it that the unfinished transfer business at White Hart Lane made this a good time to play Tottenham, with three of the four scorers in our 0-5 whopping in London last February no longer at the club and midfield duo Scott Parker (knacked) and Luka Modric(sulking) both missing.

Against that though was the nagging doubt that our best home results against this mob tended to come once the dark nights were here, and that on their previous two season-opening visits messrs Sheringham and Atouba had netted to render our 'Fortress St.James'' tag swiftly irrelevant.

And despite morale-boosting photo evidence that our doubtful quartet of Ba, Cisse, Tiote and Cabaye had all featured in training sessions since the Cardiff defeat, news of Fabricio Coloccini's absence through injury wasn't well-received, given doubts over the ability of Steven Taylor to complete 90 minutes in what would be his first competitive appearance since December.

Whatever uncertainties there were over the formation and approach of Spurs under their new boss, their ability to swarm forward with pace and purpose when gaining possession remained, with messrs Defoe, Lennon and Bale all presenting a threat at various times - although the latter two had a (welcome) tendency to drift in and out of the game.

And that fitness also manifested itself in the speed with which the visitors closed down the opponent in possession, denying them the space and time to do anything other than launch a hopeful forward pass or play the ball sideways. (PFA Young Player of The Year Kyle Walker particularly impressed, but Spurs now look to have realised what an asset he is and secured him on a five year deal in May.)

Rather than keeping anything in reserve, Pardew chose to start with his strongest available line-up, with James Perch appearing in central defence and Ben Arfa out on the right initially, soon drifting towards the centre, where he found rich pickings in the form of free kicks as Spurs retreated.

Arriving at the interval scoreless, neither manager made a change ahead of the second half, but United re-modelled their formation to bring Gutierrez infield and push Ba wider out on the left in the position that he often found himself in last season following the arrival of Papiss Cisse.

Ba then added another eye-catching effort to his show reel, before the United boss made an enforced change just before the hour mark, swapping the touchline technical area for the directors box at the referee's request. That was a conequence of shoving linesman Stuart Burt when he failed to spot the ball clearly going out of play during a Spurs attack.

That left John Carver and Steve Stone in charge at pitch level, with reserve coach and regular home game "spotter" Willie Donachie shuttling between them and Pardew. The latter occupied a seat equipped with a TV adjacent to Derek Llambias (no sign of Mike Ashley today) but then struggled to get the walkie-talkie he was handed to function.

The instruction to replace the fading Cabaye with new boy Anita (runs like a cheetah etc.) was successfully conveyed, but a Spurs equaliser soon prompted yet more to-ing and fro-ing, with the manager by now standing behind the seating deck and thus avoiding having to cuddle the MD when Ben Arfa won and scored a penalty soon after.

And from that point the game was won, as Spurs proved incapable of rousing themselves a second time and United reinvigorated themselves sufficiently to see things through, Obertan appearing off the bench to supply some trademark aimless forward runs (just what was required - for once) before tracking back to cause mild confusion in his defence.

Once again, this looks like a case of who dares wins for the manager, who gambled successfully on his selection and was rewarded by the sight of Ben Arfa artfully winning a throw in out on the far touch line in the closing moments, having given everything to the cause. And Steven Taylor also looked to come through his comeback unscathed, memorably flattening himself on the turf to nod one ball back to his 'keeper in the second half. Over the 90 minutes we showed the more desire.

While nothing ever gets decided on the opening day and the occasion outweighed the performance (we'll play better and not win), this still feels like a significant result - if for no other reason than we retained last season's momentum and interludes of good fortune.......and it'll take more than the departure of dirty 'Arry to alter my profound dislike of this lot. Right, now where's me passport?

Biffa