Date: Wednesday 26th September 2012, 7.45pm
Live on Sky Sports

Venue: Old Trafford

Conditions: grounds for optimism

Admission: a simply scandalous £45

Programme: £3

Manchester United

Newcastle United

2 - 1

Teams
44 mins Anderson was stronger in the tackle than Dan Gosling and held off our man before rifling in an effort that flew in off Rob Elliot's right hand post. 0-1

Half time: United 0 United 1

58 mins Tom Cleverley doubled the home side's advantage when he had space on the edge of the box to curl a low shot past Elliot's despairing dive at the Stretford End 0-2

62 mins Newcastle's twin replacements made an immediate impact when Shane Ferguson forced his way down the left flank to the byline and got his cross over to Papiss Cisse, who headed home from close range 1-2

Full time: United 1 United 2

Alan Pardew said:

"I'm disappointed for the club, because I think we deserved something, if I'm honest. I'm very happy with the performance, especially individually.
"Fergie (Shane Ferguson) came on and changed the game with that left foot of his. It was something we need in the first team – he needs to push on now.
"(Haris) Vuckic could have got the goal of the season with his ability and Bigi (Gael Bigirimana) came on and sprayed it around.
"I could talk about positives all night – Tav (James Tavernier) was solid. He needs to work on his final pass, but he'll get that and play for this football club, for sure.
"The goals were at an awful time for us – two minutes before half time and just as I'm about to try and change the game by introducing a big-hitter. They got a second, and that was disappointing.

"He (Cisse) needed a goal - now the media can't put that (scoreless run) round his neck anymore, his feathers were up, and the second one I thought was in.

"We knew they (Tiote and Coloccini) probably wouldn't last the 90 minutes.

"It was a tough game, they move the ball so fast and you have a lot of work to put in even for 70 minutes, but they both got through that and it was very good."

Fergie commented:

"(Darren Fletcher and (Wayne) Rooney were both excellent. Wayne tired a bit towards the end but that was to be expected and they have done really well.
"I'm very pleased first of all to win an all-Premier League division tie and then because Newcastle had a stronger team than us physically but we played some fantastic football and I think we deserved the victory.
"We want to progress as far as we can in the competition and we'll do our best to do that. Winning is always important at this club."
"The young defenders did their best. It was obviously difficult as (Shola) Ameobi is a big lad, a handful. Then they brought (Papiss) Cisse on, who is one of the best players at the club and has a lot of experience. It was a compliment to us that they did that and I think we handled it quite well.

"The club (NUFC) has come on tremendously over the past couple of years under Alan Pardew. They were challenging for a place in the Champions League last season. They missed out, but are playing in the Europa League and enjoying a taste of the level that their history suggests should be a natural backdrop for the club.
"They have a mid-table place this season and are a more streamlined outfit these days, but they run a tight ship, no doubt influenced by owner Mike Ashley, who has perhaps applied some of the principles that brought him success in the business world.
"They will be all the better for that after a period of unrest and a revolving door for managers. They look a stable club to me now and could make a serious bid to qualify for the top European competition next season.
"Alan got away with his risky selection in Madeira by coming home with a draw from what almost amounted to his reserve side. It's always a gamble when you don't make wholesale changes and if they don't work you are embarrassed and left with egg on your face.
"But you have to back your judgment and aim to select sides that are as fresh as you can get them."


Papiss Cisse scored his first club goal of the season, his first cup goal for United and his 14th in total from 21 games (19 starts) in all competition. As a comparison, compatriot Demba Ba has 20 from 42 games (39 starts).

Cisse's first Newcastle goal of last season also came when he appeared as a substitute, debuting at home to Aston Villa in the Premier League and taking 57 minutes to net. His second-ever outing from the bench as a Magpie saw him repeat the feat here within a minute - now that's what I call a super sub...

This was Newcastle's fourth successive away draw in this competition and in total we've had just one home fixture in the last eight ties.

This was the third time that we have met Manchester United in this competition, with our Fourth Round visit to Old Trafford in the 1976/77 season infamously ending in a 7-2 victory for the home side. A measure of revenge was exacted however in the Third Round tie of 1994/95, when Philippe Albert and Paul Kitson scored the goals to secure a 2-0 win on Tyneside.

This was our 31st unsuccessful attempt to beat the home side at Old Trafford in all competitions (if you read 30 elsewhere it's because they haven't counted the 1988/89 Mercantile Cup tie):

2012/13 lost 1-2 Cisse (LC)
2011/12 drew 1-1 Ba (pen)
2010/11 lost 0-3
2008/09 drew 1-1 Martins
2007/08 lost 0-6
2006/07 lost 0-2
2005/06 lost 0-2
2004/05 lost 1-2 Ambrose
2003/04 drew 0-0
2002/03 lost 3-5 Bernard, Shearer, Bellamy
2001/02 lost 1-3 Shearer
2000/01 lost 0-2
1999/00 lost 1-5 og(Berg)
1998/99 drew 0-0
1997/98 drew 1-1 Andersson
1996/97 drew 0-0
1995/96 lost 0-2
1994/95 lost 0-2
1993/94 drew 1-1 Cole
1988/89 lost 0-2
1988/89 lost 0-2 (Mercantile)
1987/88 drew 2-2 Mirandinha
1986/87 lost 1-4 D.Jackson
1985/86 lost 0-3
1984/85 lost 0-5
1977/78 lost 2-3 Martin, Burns
1976/77 lost 1-3 Nulty
1976/77 lost 2-7 Burns, Nattrass (LC)
1975/76 lost 0-1
1973/74 lost 0-1
1972/73 lost 1-2 Nattrass
1971/72 won 2-0 Tudor, Barrowclough

However this was our first defeat in three cup visits to this venue, after FA Cup semi-final wins here in both 1998 (Sheffield United) and 1999 (Spurs) when Old Trafford was the neutral venue.
Full record against Manchester United:
P
W
D
L
F
A
SJP
73
30
17
26
138
110
OT
73
9
20
44
77
163
League
146
39
37
70
215
273
SJP(FA)
1
0
0
1
2
3
OT/W/MS

3

0

0

3

1

7

SJP(LC)
1
1
0
0
2
0

OT
2
0
0
2
3
9
Cup
7
1
0
6
8
19

OT/W(CS)

2

0

0

2

2

8

Tot
153
40
37
76
223
292
Waffle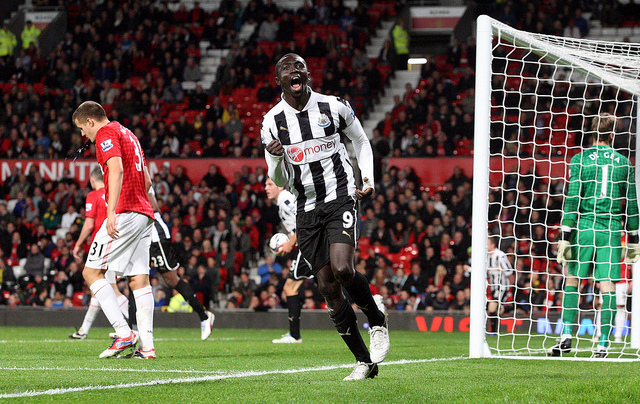 With the exception of the result (and a nagging irritation that runouts for Cabaye, Ba and Ben Arfa would have ended a 40 year hoodoo on this ground), this was a night of positives for Alan Pardew.

A competition which has provided Newcastle fans with almost ritual disappointment throughout its various incarnations never figured large on the agenda of any manager of the modern era. And for our own part, we vividly recall attending ties at the likes of St.Andrews and willing the team not to equalise in the closing moments - to just put us out of our misery.

The return of European football to our workload may have seen us enter the League Cup at a later stage than of late, but that familiar sinking feeling accompanied our pairing with Fergie's side in the draw...and that's before confirmation came of the fiscal madness at the Old Trafford turnstiles.

Still, the famous win at Chelsea under Chris Hughton in 2010 remains fresh in our thoughts and paved the way to end the barren Premier League run at Stamford Bridge. And although lightning didn't strike twice here, this was far from a wasted night for Newcastle fans and players.

Most obviously, the return to scoring form of Papiss Cisse was a tangible positive and our number nine also looked far more like his effervescent self last season in terms of litheness and movement.
Cisse's powers of improvisation also look intact, one outrageous bicycle kick finding the crossbar.

Beginning with a front pairing of Shola Ameobi and Haris Vuckic, it's hard to recall a wasted ball or move involving the former, who was unplayable...but in a good way. His partner meanwhile had the better of what chances came our way and twice came agonisingly close to hitting the target. In terms of effort though, he could take a leaf out of the elder Ameobi's book - quite simply he needs to move around and compete more.

As has been the case in the previous three seasons, this competition allowed James Tavernier to sample first team life in a Newcastle shirt and he acquitted himself well in defence and attack.

There may still be some frustrations in terms of losing the ball in dangerous positions, but in our eyes Tav remains exhibit A when judging the benefits of loaning youngsters to Football League clubs - giving them a grounding in real life professional football that just doesn't come from reserve games.

Unfortunately we're unable to display similar optimism in the case of Gabriel Obertan, making a second return to his former home ground since joining Tyneside and in no way looking like a man with a point to prove.

As in previous cup games this season he enjoyed no lack of possession and clearly has pace, but seems incapable of providing a run and a cross or shot in one cohesive movement - looking more concerned in working the ball back or trying to win a free kick or corner; both instances resulting in a loss of any momentum that we may have built up.

Obertan's lack of end product was highlighted when Shane Ferguson appeared at outside left and in a matter of seconds showed admirable single-mindedness to drive forward, take on his opponent and deliver a cross in the same move.

Cisse lapped that one up to reduce the arrears and the same pair then repeated the feat, coming mighty closing to making it 2-2.

Trying to find something positive to say about Obertan, at least he got somewhere in the vicinity of the opposition penalty area - which is more than can said for the fitful Marveaux. Whether it's a lack of confidence or fitness is unclear, but he's clearly reluctant to try and evade an opponent and instead looking for a routine, unthreatening pass back towards his own goal.

Midway in between the French pair in terms of our optimism/exasperation lies Gosling, who had three attempts to find the net here as he had done last season at the blue half of Manchester. Sadly one was mis-hit, the next over the bar and third not strong enough to beat De Gea.

Like his shots in the Maritimo away game, he's at least now getting into the positions to have a crack. However, he's still to silence those of the opinion that Pardew weakened his midfield pool by losing Guthrie and retaining Gosling, with a consequent reduction in goals and assists.

Perhaps the benefit of another five guaranteed Europa League ties before Christmas will be that he has further opportunities to improve - and that the manager equally has openings in which to try and achieve what would be an almost Perch-like uplift in his value to the squad.

With the outfield positives outweighing the negatives - Tiote far more sensible tonight than on Sunday despite another booking and more vital experience for Bigirimana - goalkeeper Rob Elliot should also be mentioned for blocks from Anderson and Welbeck that built on his display in Madeira.

So an honest display and an honest defeat, with no real reason to complain about the appointment of a Manchester-based match referee for this game, other than to wonder why this doesn't happen all the time and messrs Clattenburg and Oliver don't get SJP appointments.

Losing in normal time was certainly preferable to exiting after another 30 minutes and/or penalties ahead of Saturday's winnable game at Reading, while news of Manchester United's Fourth Round draw away to Chelsea provoked sighs of relief rather than jealousy or anger. Maybe next year...


Biffa