Date: Sunday 7th October 2012, 4pm
Live on Sky

Venue: St.James' Park

Conditions: deflating





Newcastle United

Manchester United

0 - 3



Teams
8 mins van Persie won a corner off Harper and took it himself from the North East side of the ground. His left footer dropped just outside the six yard box in a central area, where Evans had jumped higher than Ba and the ground bound Jonas and Tiote (although replays suggested that Williamson was his alleged marker). Harper got a hand to it but to no avail. 0-1

15 mins Harper sprang to his right and pushed a Wayne Rooney free kick round his right post at the expense of a corner. Rooney swung it over for the unmarked Patrice Evra to glide in and nod home from close range towards the near post.

More confusion over marking was evident upon repeated viewings, with Jonas seen to be visibly asking who was marking the goalscorer. That prompted Ben Arfa to trudge into view as Evra began to stride goalwards, Santon jumping but missing the incoming header and Ba shadowing his run - but remaining on terra firma. 0-2

Half time: United 0 United 2

71 mins Evra fired a pass out to Rooney on the visitors left towards the edge of the box. With Cabaye dropping back, the number 10 turned and knocked the ball back to the waiting Cleverley, who took once touch before dispatching a dipping right foot effort that flew beyond Harper and towards the top corner of his goal. 0-3

Full time: United 0 United 3


Alan Pardew said:

"As much as we wanted to try and force the issue at the start of this game, Manchester United had a golden period and in that first ten minutes we couldn't get near them.

"We were trying to put pressure on the ball and they were just bouncing it around us. But at the end of the day it's not a bit of magic, it's two set plays - something we pride ourselves on and something we are good at.

"Those are the first goals we have conceded from set plays this year, and that's disappointing.

"They got another break because the guy (Cleverley) puts a cross in - there's no doubt about that - and it goes right in the top corner, and suddenly it's game over.

"It's a disappointing result but there were periods in the game where I thought we did well.....when they got that third goal they were on cruise control then."

On the van Persie elbow:

"He's looked at Yohan and he's elbowed him - I think that perhaps needs to be looked at, to be honest.
"There's a bit of history from last year and I don't know if Robin's got caught up in that - I think that was just a little bit of unsavouryness in the game.
"But I'm not going to take anything away from (Manchester) United today, they deserved to win. They came and played very, very well today for periods of that game.
"I actually thought that Yohan wouldn't have gone down if he hadn't done something. I hadn't seen it myself but I've seen it on the replay and it looks like he's looked at him and put his elbow out.
"We wanted to obviously create pressure and get the home advantage with us. There were a few challenges which I thought we should have got a decision (from) which might have just given us a chance to settle down.
"Having said that the goals weren't wonder-goals, they were two set-plays. We're very disappointed with the goals. I think it's tight (Cisse's goal line effort) looking at the angles I've looked at it hasn't all gone over the line.
"Those two incidents decided the fate of this game. I genuinely think if we had got a goal at 2-0 then suddenly the stadium would have come alive. The way we are and the spirit we've got in the group we could've got something.
"I think after 10 games you get a view of your side and I stand by that. I do feel that we definitely need more options to come back to us.
"I think (Fabricio) Coloccini and Steven Taylor have got a good chance for the next game. I don't know about Tim Krul but it would be nice to have that option.

"I don't think the United result is a massive setback - if we get beaten 3-0 by one of the lesser sides, for sure, you'd start looking at your team, but that was against opponents with a lot of talent and it did fall for them a little bit."
"They were on fire at times, but it's not like their goals stemmed from magical football. They were two great deliveries, but we should still defend much better than that.
"We wanted to win so we could go into the derby in really good fettle. Sadly we didn't manage that, so it's all about rolling our sleeves up and having a real go."

Fergie commented:

"They were focused today. It's not easy coming to Newcastle - they're a big aggressive team. I'm pleased with the result and pleased with the performance.
"Ferdinand and Evans were magnificent - absolutely brilliant. That kind of form definitely gives you a solid base. It gives us a security and enables the midfield players and front players to get on with their jobs. They cleared everything.
"We've got to get consistency in the performances and in the results. Once we get that, we'll get into a rhythm. We've got the squad to deal with all the games, we've got a really good squad.
"And after the international break, we'll have Chris Smalling back which will be another addition to our squad which is very important.

"I wanted to try the diamond again after some success against Cluj, which is not an easy place to go to, and against Newcastle in the Capital One Cup. It worked very well for us. Obviously there were moments in the second half when we felt we had to change.
"The diamond closes off the midfield. The only problem is when the ball goes out wide, how far your midfield gets separated. If you try to keep it tight in the centre of the field, then the opposition have to go wide.
"Okay, we took a gamble today because Newcastle are so big up front and they're good crossers of the ball. But the football we played from the central midfield positions through Cleverley, Kagawa, Rooney and Carrick was terrific.
"We played so well on Tuesday against a decent team. People look at the name Cluj and say they expect United to win, but they are a decent side. And because we played so well on Tuesday, I thought we should find out how far we can go with that diamond system."

"The goalkeeper has done fantastically, actually, to get to it, but if the rule is the whole ball has got to be over the line, then it's not a goal. But I would be disappointed because I thought enough of the ball is over."
Red Devils @ SJP - Premiership era:
2012/13 lost 0-3
2011/12 won 3-0 Ba, Cabaye, OG (Jones)
2010/11 drew 0-0
2008/09 lost 1-2 Lovenkrands
2007/08 lost 1-5 Ab.Faye
2006/07 drew 2-2 Milner, Edgar
2005/06 lost 0-2
2004/05 lost 1-3 Shearer
2003/04 lost 1-2 Shearer
2002/03 lost 2-6 Jenas, Ameobi
2001/02 won 4-3 Robert, Lee, Dabizas, OG (Brown)
2000/01 drew 1-1 Glass
1999/00 won 3-0 Ferguson, Shearer 2
1998/99 lost 1-2 Solano
1997/98 lost 0-1
1996/97 won 5-0 D.Peacock, Ginola, Ferdinand, Shearer, Albert
1995/96 lost 0-1
1994/95 drew 1-1 Kitson
1994/95 won 2-0 Albert, Kitson (LC)
1993/94 drew 1-1 Cole

Full record against Manchester United:

P
W
D
L
F
A
SJP
74
30
17
27
138
113
OT
73
9
20
44
77
163
League
147
39
37
71
215
276
SJP(FA)
1
0
0
1
2
3
OT/W/MS

3

0

0

3

1

7

SJP(LC)
1
1
0
0
2
0

OT
2
0
0
2
3
9
Cup
7
1
0
6
8
19

OT/W(CS)

2

0

0

2

2

8

Tot
154
40
37
77
223
295
Our first home loss of the season came after four wins and a draw in all competitions. We were last beaten at SJP in the closing game of last season, when Manchester City also prevented us from getting on the scoresheet.

The scoreline today matched the heaviest home defeat of Alan Pardew's time in charge of United - a 0-3 loss to Chelsea in December 2011....a game that stood at 0-0 when Coloccini hobbled off.

Wayne Rooney has now gone six games without scoring against Newcastle, since he netted in a 1-2 home defeat at SJP in March 2009.


Waffle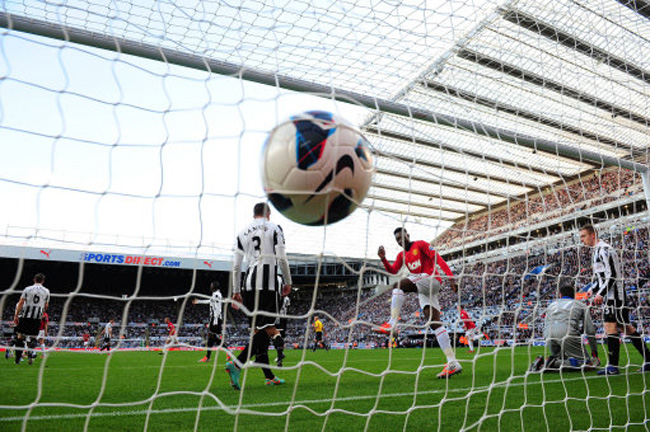 Three days after overcoming Bordeaux by three goals at St. James' Park, Newcastle lost by the same scoreline to the side that they had memorably defeated 3-0 there last season.

The defensive shortcomings evident in draws at Everton and Reading again proved costly as we fell behind - and on this occasion, our much-vaunted front line proved incapable of repairing the damage at the other end.

Regardless of the fact that both Fabricio Coloccini and Steven Taylor were again absent, Alan Pardew would surely have been livid as his side conceded two cheap goals from corners in the opening quarter of an hour.

Defensive duo Evans and Evra were both able to evade their alleged markers and head past Steve Harper to register rare goals, while the presence of ex-Gunner Robin van Persie gave rise to fears that SJP could be in for a repeat of Arsenal's 0-4 half time advantage here back in 2011.

Looking to battle back from those early setbacks, the black and whites had half-chances to reduce the arrears before half time, but crucially were restricted to shots from distance that failed to test David De Gea.

The Spanish custodian however was called into action five minutes after the restart when Demba Ba's effort came back off the crossbar and a stooping Papiss Cisse headed the rebound goalwards - De Gea looking to claw the ball away before it had wholly crossed the line.

The sucker punch came in the 71st minute, when Tom Cleverley's over-hit cross from the left flank looped over Harper and into the top corner of the Gallowgate net.

Cleverley claimed later that he meant it, but regardless of how true that is, the goal ended any lingering hopes of a Magpies comeback - the same player having scored his first senior goal for the Red Devils last month to settle our recent League Cup meeting.

Both sides had four bookings and some tasty tackles could have seen more severe punishment, while Cisse's shirt was tugged in the area and Robin van Persie caught Yohan Cabaye in the face with a flailing arm.

Once again though, Howard Webb and his team proved to be masterfully indecisive, erring on the side of cautions rather than giving red cards, penalties or goals - a bit like the World Cup Final revisited...

The fourth official also seemed to be firmly in the Fergie fan club, more than happy to let the visiting manager ignore the designated technical area and linger on the touchline for most the of the first half.

To blame the officials for costing us anything from this game though ignores the nagging feeling that had we scored, then the visitors would have raised themselves accordingly and threatened Harper's goal once more.

And while Wayne Rooney was too often allowed to roam as he pleased, Fergie's side kept Hatem Ben Arfa well shackled and as a consequence, we struggled in the creativity stakes. Set pieces were a non-event.

Shane Ferguson had his hands full at left back too often to continue his recent run of assists from the left wing, while up front Cisse seemed intimidated by the visiting defence and Ba fared no better.

The introduction of Shola Ameobi failed to help us retain possession up front, while Vurnon Anita's midfield cameo saw hints of promise when he tried to push forward, but could hardly be interpreted as a positive replacement.

The defeat left us in tenth and we'll need to make good use of the next fortnight to ensure things are more coherent for the trip to wearyside. A few more first-choice defenders would be handy, but some backsliding right across the team was evident today - if this defeat pricked a few egos then it won't have been in vain.

Biffa