In association
with NUFC.com



Date: Sunday 21st October 2012, 1.30pm
Live on Sky Sports

Venue: stadium of plight

Conditions: proud/frustrated

Admission: £39 (£35 in 2011/12)

Programme: £3

mackems

Newcastle United

1 - 1

Teams
3 mins With home fans still making their way into the ground, a mackem attack floundered down their left flank on halfway. Danny Simpson intercepted a pass and his first-time ball set Hatem Ben Arfa away down the wing, taking a touch to come inside before feeding Demba Ba deep in the box.

Despite being shadowed by a defender and with only a narrow sight of goal, United's top scorer was able to get a shot on target that Mignolet blocked with his legs. The ball bounced free in the area and fell nicely for Yohan Cabaye to sweep home a low right footed effort into the opposite side of the goal from around 12 yards 1-0

Half time: mackems 0 Magpies 1

86 mins With home fans starting to make their way out of the ground, Mike Williamson stopped a mackem counter-attack by barging ex-Mag Louis Saha out of the way just inside the United half.

Sebastien Larsson's free kick from the right flank dropped around eight yards from goal and in prime Coloccini territory. Sadly though our talismanic defender had been forced off minutes earlier and John O'Shea was able to get his head on the ball.

The goalbound effort looked to be heading for the side of the goal Tim Krul was covering - only to take a cruel deflection off the chin of Demba Ba and leave his goalkeeper helpless as the ball dropped over the line. Demba's reaction to becoming the mackems' second-top scorer this season was a rueful smile. 1-1

Full time: mackems 1 Magpies 1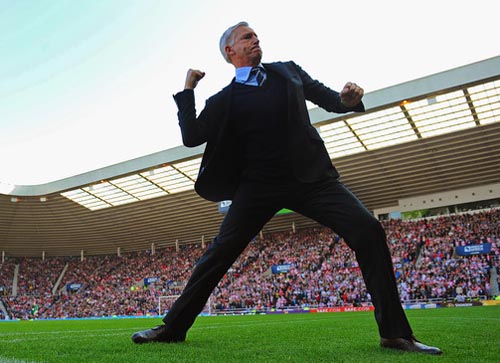 Alan Pardew said:

"It was a magnificent effort. We said to the players before the game how important it was to the fans, we've now shown how important it is to us.

"Playing an hour with 10 men, if we could have just seen it out it would have been one of the greatest victories ever here. But it's a great point and I'm very proud of my players."

About Tiote's sending-off:

"At first I didn't think it was that bad, but looking back at it again we can't have any complaints. But what a response from the rest of the group.

"Maybe if Coloccini had stayed on, he would have seen that out. He was absolutely phenomenal today.

"If you want an example of a centre-half playing where you have got to head it, kick it, cover people, get in the right position and then have the calmness to play, that was your example.

"I come from a famous football club, West Ham, and that was like watching Bobby Moore today. He was terrific.

"You have also got to understand - and it sometimes goes a little bit under the radar - at the Premier League level, what is asked of you physically.

"If we had had 11, I think he could have made the game, but because we went down to 10, there was just too much work for him and both calves tightened up.

"But what a performance, seriously, one of the best he has given for me, for sure."


Pardew later condemned the chants from both sets of fans during the game:
"They were not acceptable. We don't want that in the game - every type of abuse is not right. I hope they are brought to task, if it is found out who they are."


Goalscorer Yohan Cabaye spoke after scoring his sixth goal for United:

"For me, it was a great start, and for the team as well. I was really happy to score my first goal of the season and my first derby goal.
"It's the best moment since I came to Newcastle. It was a great moment and when I saw the fans, they were going crazy so for me.I know how important this match is for the club, for the fans, for the city, for everyone who supports Newcastle.Ē
"I play for Newcastle so for me, the goal is really important. It means everything for everyone, and for me."
Pre-derby comments from local philatelist Steven Taylor:
Asked how many sunderland players would get into the Newcastle side, a smiling Taylor replied:

"Not even one player. That is the quality we possess. We say it all the time. Last year, even the gaffer said it, he has our team above sunderland.

The attacking options we have can hurt any side and then we have Shola Ameobi - the sunderland Slayer - his record against them is phenomenal.

However, it is all very well saying that, but we have to go out and deliver. That is down to the players. It is all right saying, 'Yes, the team sheet looks great' but you have to go and perform.
"I have not got any friends who are Sunderland fans - as for the players, I am friendly with one or two of them from England Under-21s. But that was before they signed for Sunderland.

"Before the recent game against Manchester United everyone was talking about that one, but I was only thinking about the Sunderland game.

I am nervous and I will be until I get into the tunnel. Then I canít wait to get on the pitch. I would rather go and collect stamps than stick on that shirt!

ďWhen I am warming up, their fans have their veins popping out of their necks - itís like I have done something to their family or something!

"But even when I was just starting out I have always enjoyed that hostility and getting abuse off Sunderland supporters.

"It doesnít bother me that much, though, because I like that sort of thing. It will never upset me one bit. They can say what they want; it wonít get to me.

ďI played in that game when Richardson scored with the free-kick. If you lose that match it affects the team, all the players, the whole of the city. It is difficult to forget about it. You cannot even go out to your local Waitrose. You are constantly reminded of it. The supporters hate it if you lose and they have to go to work.

"It is up to us as players to make sure that doesnít happen and we have to give the supporters a good weekend.

"There is definitely more pressure on them, particularly with the performance they had when we beat them 5-1. They did not do particularly well, and we can get in amongst them.

"We have players who can hurt them, too. The attacking options we have got can hurt any side. And then we have Shola. His record against them is phenomenal.

"After seeing the Senegal- Ivory Coast game it could well be as heated as that Ė but without the flying rocks, tear-gas and fires (Steven's obviously behind the times here, they do now have fire in posh bits of sunlun...)

"Last season we did need to explain to the new foreign lads what it was all about.

"This year it doesnít need that. The foreign lads have bought into everything. I was a bit nervous last year because I didnít know if they would adjust to it.

"It doesnít matter how many times you tell someone it is a big game; itís only when they step out on the pitch that they realise it is that hostile. Last year, in the early stages there was a tackle by Yohan Cabaye. He understood it. Everyone else did too.

ďThat was the best thing that happened to us. It is heated, but thatís what it is about.Ē

It sounds like the chest-beater got a little carried away in his interview but it seems to have been infectious, with the Mail indulging their own flight of fancy:

Ameobi smashed home the late penalty last season to deny Sunderland a rare victory at St Jamesís Park. But it was Taylor who fell in the box to win the penalty.

Err....we drew 1-1 after Shola won a penalty and Demba Ba missed it. The mackem slayer later salvaged a point when tucking away a loose ball in open play. Steven Taylor celebrated wildly - but from the seat in the Milburn stand he occupied for half of the season, due to injury.

What the number 27 was actually referring to in the following comments was Ameobi's 69th minute derby spot kick equaliser at Gallowgate back in February 2009:

"They donít seem to like me -ĎI donít know why. I think it was that penalty decision with Steed Malbranque, it didnít go down too well.

ĎI did feel contact although it may not have looked much. I have been taught if you feel contact you go down in the box so that is what I did. Then Shola stuck it away."


HANRATTY rummaged for crumbs of comfort from his side's insipid display, in the manner of passengers on the Titanic who couldn't find a lifeboat, but spotted there was no queue at the bar:

"Newcastle were strong, They played to their strengths and their two forwards were causing plenty of problems. They were strong.
"The sending-off allowed us an opportunity to get more poise into our game and to try and stretch them going wide, but we were anxious and we were trying to play a ball that might not have existed instead of taking more care.
"In the second half sheer pressure alone yielded the goal; it was not flamboyantly brilliant. Maybe we had time to win it but in the circumstances, with Newcastle down to 10 men, and having defended so strongly, that would have been harsh.
"We came through it and didn't get beaten and that point might stand us in good stead. It is a long season ahead. There are a lot of games to play."

"Do you know what? When we equalised, it was one of the best moments, it really was, and to be accompanied by that noise....Thereís an element of relief, but every derby game I have ever been involved in either here or in Scotland, there has always been an element of relief.

Asked if he was aware of the "Steven Taylor, we wish you were dead" chants from home fans:

"I didnít know that. That would be poor, in very poor taste, if thatís the case. I would be disappointed to have heard that.

His reaction to the Taylor pre-match comments:

"It didnít figure in my team talk, but some of the players had passed comment about it. Heís absolutely entitled to his opinion. I am delighted he made their bench.Ē

The 147th Tyne-wear derby ended in the 49th draw, with Newcastle out in front on 53 wins compared to 45 red and white successes. Cabaye's goal was our 221st, Ba's OG their 214th.

The Magpies extended their record of scoring in every Premier League meeting with the mackems to 21 games.

This was United's 700th game in the Premier League and our 190th draw, to go along with 279 victories and 231 defeats.

Shola Ameobi made his 250th appearance in the Premier League. That figure is made up of 139 starts and 111 arrivals from the bench. He can count himself unlucky to have been subbed for the 70th time.

United have now scored nine goals in the Premier League this season, all of them by French-born players (Ba 6, Ben Arfa 2, Cabaye 1)

Cheick Tiote became the first Newcastle player ever to be sent off in a Tyne-wear derby and the seventh in all (mackem sextet Bennett, Gayle, Hardyman, Bramble, Sessegnon and Cattermole were the other half dozen).

Stephen Carr was booked in the 3-2 home win back in October 2005 and retrospectively banned, when a yellow card shown to Scott Parker by Rob Styles was rescinded due to mistaken identity.
The second booking was given to Carr (who had been the perpetrator) and he was then banned, but by then was out of the side due to injury.

Ready To Go - the ten fastest NUFC derby goals:

1908/09 Albert Shepherd 1 min (a)
1955/56 Vic Keeble 2 mins (a)
2002/03 Craig Bellamy 2 mins (h)
1911/12 Tommy Lowes 3 mins (h)
1921/22 Bob McIntosh 3 mins (h)
2012/13 Yohan Cabaye 3 mins (a)
1907/08 Jackie Rutherford 4 mins (a)
2000/01 Gary Speed 4 mins (h)
2007/08 Michael Owen 4 mins (h)
1950/51 Joe Harvey 4 mins (h)

Days out at the dark place - last 20:

2012/13 drew 1-1 Cabaye
2011/12 won 1-0 R.Taylor
2010/11 drew 1-1 Nolan
2008/09 lost 1-2 Ameobi
2007/08 drew 1-1 Milner
2005/06 won 4-1 Chopra, Shearer(pen), N'Zogbia, Luque
2002/03 won 1-0 Solano
2001/02 won 1-0 Dabizas
2000/01 drew 1-1 A.O'Brien
1999/00 drew 2-2 Domi, Helder
1996/97 won 2-1 Beardsley, Ferdinand
1992/93 won 2-1 og(Owers), L.O'Brien
1991/92 drew 1-1 L.O'Brien
1989/90 drew 0-0 (playoffs)
1989/90 drew 0-0
1984/85 drew 0-0
1979/80 lost 0-1
1979/80 drew 2-2 Davies, Cartwright (LC)
1978/79 drew 1-1 Withe
1976/77 drew 2-2 Cannell, T.Craig



All Time Tyne-wear stats:
P

W

D

L

F

A

SJP

67

31

18

18

118

98

SoS/JP

68

20

25

23

91

99

League

135

51

43

41

209

197

SJP

(PO)

1

0

0

1

0

2

JP

1

0

1

0

0

0

SJP

(FA)

5

1

2

2

5

9

NR/JP

*

3

1

1

1

3

2

SJP

(LC)

1

0

1

0

2

2

JP

1

0

1

0

2

2

Cup/PO

12

2

6

4

12

17

Tot

147

53

49

45

221

214
(includes the Newcastle East End FA3QR game at Newcastle Road in 1888)
Seasonal comparison - NUFC last five PL seasons after eight games:
2007/08: 14 points, 9th (scored 13, conceded 10)
2008/09: 6 points, 19th (scored 9, conceded 15)
2010/11: 8 points, 13th (scored 12, conceded 12)
2011/12: 16 points, 4th (scored 11, conceded 6)
2012/13: 10 points, 11th (scored 9, conceded 12)

Waffle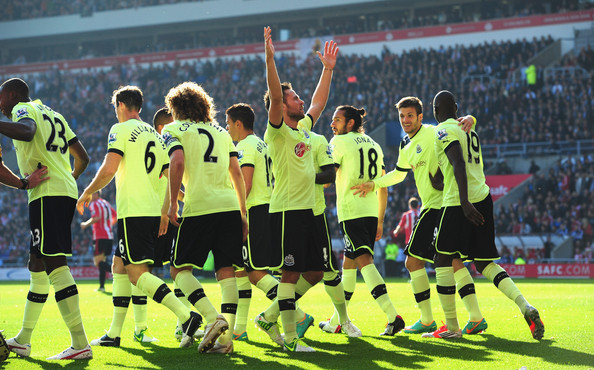 In the days leading up to this game, one of the press calls included some quotes from Alan Pardew about adopting Japanese methods at our training ground. Sadly though, rather than building design, one of his players took alternative inspiration from the land of the rising sun; namely, Kamikaze.

With 25 minutes played everything was going according to plan: the sun was shining, the ball was already in the back of the mackem net and the pre-game colour and noise of the home support had receded quicker than Steven Fletcher's hairline.

At that point though, United's hopes of reprising their single goal success here last season took an even more severe battering than the tin wall behind the away section. Referee Martin Atkinson had blown for a foul by Jack Colback on Cheick Tiote, but before you could shout 'Tora Tora Tora', the United midfielder had caught the £12m mackem with a studs-up challenge. Red mist, red card.

The 31st card of Tiote's 61 game Newcastle career was his second red, but while the other had been at the fag end of a forgettable Cup defeat at Stevenage, this was one had a rather more immediate impact than the midfielder's enforced absence from subsequent Premier League games.

At least it removed the near-certainty that he'd be booked in this match though, having relapsed this season after previously seeming to clean up his act. This was his fifth card in seven outings.

As bright as their shirts before the red card and looking a different proposition to the side who easily succumbed to Manchester United two weeks earlier, Newcastle had looked poised to take advantage of a lifeless display from the mackems before that point.

The dismissal was the first of three pivotal moments, but the Ivorians' indiscretion and the numerical inferiority prompted the other two, with both Shola Ameobi and Fabricio Coloccini both substituted.

The former was a tactical ploy but robbed us of an attacker who was worrying the home side by his mere presence; while the latter was inevitable when fatigue prevented him from maintaining an almost supernatural defensive display right to the final whistle.

Had any one of that trio of events not happened - and the ball not flukely bounced off Demba Ba and past Tim Krul - then three points would surely have been collected on behalf of Tyneside.

Despite those consequences though, for the bulk of the remaining 65 minutes a second consecutive single goal success here looked eminently achievable; with frustration felt that we'd missed out on the chance to seriously damage our local rivals in an 11 v 11 contest with our bench options.

A hint of weakness in the centre of the park when Ba dropped back into midfield was enough to see James Perch appear and he threw himself into challenge after challenge as the mackems showed no signs of exploiting their extra man - Adam Johnson feeble and fellow wide man James McClean more interested in a Stars in Their Eyes-type homage to the suspended Cattermole than playing football.

Vurnon Anita was named on the bench, but his only involvement was to join Shane Ferguson on a post-match jog round the pitch, as the qualities of Perch were preferred to the Dutchman - echoing the Reading away game, when Bigirimana and Tavernier were given the nod.

While it's pertinent to recall Coloccini's faltering first year here though and take on board the differing style of domestic football and the time it can take to adjust, a decent showing in the forthcoming Europa League ties from Champions League veteran Anita would be reassuring.


T

here were some good chances
here

for lone
striker Ba
,
whose bicycle kick went narrowly over the bar just before the break
and then just couldn't get enough power on his second half shot when through on goal. The reshuffle also placed further pressure on Ben Arfa and he showed that there is an industrious side to his artistry. However his impact grew more limited as the game wore on and he'd looked like a boxer clinging to the ropes for some time before making way for Gabriel Obertan.


As had been the case in added time here two seasons ago though, the
the
misfiring mackems

plundered a point thanks to an unintentional deflection in our six yard box; their latest equaliser almost a re-run of Asamoah Gyan's goal at the same end in another 1-1 draw.


There were still over four minutes plus four minutes of added on time

, but United were able to clear their lines from several corners and force one of their own, Ba unable to convert his half-chance.


The final whistle brought muted celebrations from red and whiters aware of their momentary good fortune but unable to celebrate a home win against their hated rivals for the fifteenth time in sixteen wearside derbies. That commemorative mug factory surely still can't survive on "2-1" sales....

And looking beyond the local "bragging rights", that's just one home win in eight games for O'Neill - a run that was sufficient to see his pasty-munching predecessor driven out of town, after failing to deliver on his election promise of winning a derby.

Up in the North Stand meanwhile,
disappointment

was displaced by relief and pride at maintaining our run here. The manager advanced across the pitch to share his obvious joy, while his assistant handily reminding the banjo twangers beneath us that we'd avoided defeat with just ten men.


It's possible to look upon this result and performance as a microcosm of our season so far, with a better result and performance coming when Pardew was able to field a first-choice XI. And despite failing to register a first away win of the season, the manager will be looking to accentuate the positive, Tiote now unexpectedly available for the home and away tests against Brugge.

Looking at our upcoming league programme, it's on home soil where there look to be points for the asking and the chance to build up some much-needed momentum and consistency. While avoiding defeat today was the first objective, the manner in which a point was gained bodes well for the coming weeks - injuries and suspensions permitting....


Biffa

Respectfully dedicated to the memory of Steven Preece. RIP Nobby, sorry it wasn't a win.