Date: Sunday 28th October 2012, 3pm

Venue: St. James' Park

Conditions: mild, overcast and ultimately euphoric.






Newcastle United

West Bromwich Albion

2 - 1


Teams
35 mins Route one: Tim Krul's kick found Shola Ameobi who leapt well to nod the ball on. It fell kindly for Demba Ba and his effort was powerful enough to beat Foster who got hands to it but was unable to . 1-0

Half time: Magpies 1 Throstles 0

55 mins Gera took possession on the Albion left but his initial touch looked heavy enough for Danny Simpson to close him down. He didn't however and Gera had the time to pick out Lukaku with a floated cross that the striker headed firmly past Krul. 1-1

90+3 mins Hatem Ben Arfa's run was halted but referee Foy played advantage allowing Sammy Ameobi to pick up the ball and run forward before shooting. His shot was going wide but it hit Cisse on the back and wrong-footed Foster as it nestled in the back of the Gallowgate net. 2-1

Full time: Magpies 2 Throstles 1

Alan Pardew said:

"It's an unexpected two points. If I'm honest, I was gutted last week that we didn't get the three at Sunderland, because I felt we deserved it.
"We didn't deserve the three points (today), but we got them. Sometimes a bit of honesty, and a bit of hard work, gives you the chance to be in the game. We were still in the game.
"(The crowd) knew we were struggling, and they tried to keep us going. Any kind of flash or moment from us, they were greeting like it was a European night.
"This Thursday-Sunday's tough on us – we haven't got the hang of it. I make no bones about that. We're struggling for training time on the pitch. It looked like we had no rhythm.
"Last year we looked like a rhythmic team – keeping the ball well and moving teams around – and at the minute we're just hanging in there.
"You've got to feel for West Brom today because they have played well. I thought first half we just shaded it and second half we lost our way a little bit.

"But our work rate was great and in the end we got a break. To be honest we haven't had too many breaks this season so we'll grab that with both hands.

"We've won the game and we'll take that...we perhaps deserved to win at Sunderland, and today we've got a goal in a game we did not deserve to win but we have.

"Demba (Ba) appears to have a bit of a nerve problem. It is not a major concern and I don't think it is an ongoing problem, but the major question is whether he can make next week.
"Sammy (Ameobi) looks to provide a little bit of a spark for us. I was searching for some sort of lift for the team and I thought he was very positive for us. We changed the system a couple of times and he tried to create for us."

Steve Clarke commented:

"It is difficult to take, it certainly wasn't what we deserved. A point was the least we deserved if not all three.

"I thought from the start of the game we were in a good shape, we bossed the game and passed the ball really well and created a lot of chances and we didn't deserve that.

"We played well last week against Man City and got frustrated as we got caught on a counter, but today it was just a deflection as I don't think the original shot was going to test Ben Foster."

"It is a sore one to take, but in football these things are sent to test you and you have to rise above it and I think we showed today, as we have all season, that we are a good team.

"I have told the players that they should be proud of their efforts, I was proud of them I thought they put on a great performance and on another day we would have taken three points but today we don't even get one and we have take that on the chin and move on.

"We passed the ball well and opened them up on a number of occasions with good football, it was disappointing Rom missed a couple of chances but he got his goal but going into last 15 mins there looked like only one team that looked like they were going to win but unfortunately we didn't.

"The over-riding feeling is disappointment because when you see your players put in so much effort and play so well and not be rewarded, but we take that disappointment and we will take positives but at the moment it just hurts."


Demba Ba scored his 22nd Premier League goal for Newcastle on his 42nd appearance (39 starts). As a comparison, Alan Shearer took 26 Premier League games to score his first 22 for United.

Papiss Cisse scored his first Premier League goal of the season, ending a 763 minute barren run that stretched back to his outrageous second striker at Chelsea last May (583 minutes this season plus 180 minutes last season).

Our Senegalese duo both scored in the same game for the first time since February when Aston Villa were beaten at SJP - Cisse also coming off the bench in that game for what was his debut.

Baggies in Toon - last 40 years:

2012/13 won 2-1 Ba, Cisse
2011/12 lost 2-3 Ba 2
2010/11 drew 3-3 S.Taylor, Lovenkrands, OG
2009/10 drew 2-2 Guthrie, Lovenkrands
2008/09 won 2-1 Barton(pen), Martins
2005/06 won 3-0 Solano, Ameobi 2(1pen)
2004/05 won 3-1 Kluivert, Milner, Shearer
2003/04 lost 1-2 Robert (LC)
2002/03 won 2-1 Shearer 2
1990/91 drew 1-1 L.O'Brien
1989/90 won 2-1 Quinn, Anderson
1989/90 lost 0-1 (LC)
1985/86 won 4-1 Reilly 2, McDonald, Clarke
1984/85 won 1-0 Beardsley
1977/78 lost 0-3
1976/77 won 2-0 Gowling, Cannell
1972/73 drew 1-1 Macdonald
1972/73 won 3-1 (TC) Tudor, Gibb, Hibbitt



Full record v West Brom:



| | | | | | | |
| --- | --- | --- | --- | --- | --- | --- |
| | P | W | D | L | F | A |
| SJP | 57 | 29 | 13 | 15 | 120 | 82 |
| TH | 56 | 13 | 18 | 25 | 73 | 109 |
| League | 113 | 42 | 31 | 40 | 193 | 191 |
Seasonal comparison - NUFC last five PL seasons after nine games:

2007/08: 17 points, 8th (scored 16, conceded 11)
2008/09: 6 points, 19th (scored 10, conceded 17)
2010/11: 11 points, 9th (scored 14, conceded 13)
2011/12: 19 points, 4th (scored 12, conceded 6)
2012/13: 13 points, 10th (scored 11, conceded 13)

Waffle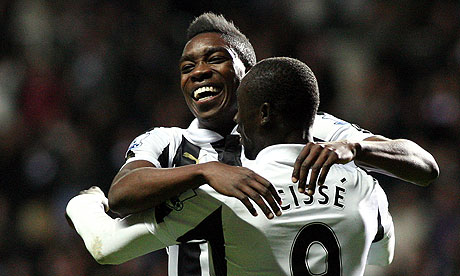 It's been a strange old season so far and today's game conveniently put it in a nutshell. Despite not firing on all cylinders we managed to get a result that could prove to be crucial for fans, players and staff and while Papiss Cisse thanked Allah for his goal, everyone else thanked their lucky stars for the unwarranted win.

Had Sammy Ameobi's late hit-and-hope effort not hit Cisse's back and flown in, then the temptation to recriminate and analyse exactly why victories were proving to be elusive would have been great, although jammy Ameobi's added time deflected effort shouldn't stop some honest examination.

It's no surprise that last season's heights haven't regularly been reached but glimpses have been disappointingly brief so far. Cisse, Cabaye and Ben Arfa are all still to reach any kind of consistency but all of them are still capable of doing something that can win a game.

A league goal for Cisse was proving to be something of a millstone around his neck and that phrase about needing one to go in off his backside came to fruition in a timely fashion to give United an undeserved victory. Hopefully the goal and the three points will inspire him and his side to greater things, starting with a rare and overdue victory at Anfield.

We're not exactly looking for a kick-start to the season but just the odd misfire here and there can have a significant effect on an engine running smoothly and there are still some mysterious ignition problems that were evident against a side who have got off the starting grid sharply.

The result was undoubtedly tough luck on an Albion side who had been the equal of United for most of the game, despite trailing to a Demba Ba goal. United's top scorer had already seen an earlier header saved but blasted home after Shola Ameobi leapt well to nod on Tim Krul's lengthy punt.

Newcastle however failed to build on that positive start and looked nervy whenever the visitors counter-attacked, with Krul the busier of the two 'keepers. The Dutchman made two outstanding saves to deny Romelu Lukaku in the first half when the on-loan striker was clean through on goal. The finishing wasn't great but Krul did everything right to deny Lukaku.

However, it was no real shock when the 'keeper was picking the ball out of his net ten minutes into the second half, when that man Lukaku nodded in from close range after Gera had far too much time and space to chip an exquisite cross that couldn't be missed.

It was a wake-up call to the home side who had looked very sluggish after the break but when Ba limped off with a foot problem and was replaced by Sammy Ameobi, we continued to find chances hard to come by - and remained vulnerable at the other end.

Cisse had already replaced Danny Simpson and Gabriel Obertan had come on for Shola Ameobi so with all three substitutes on the field, the side finishing the game was almost unrecognisable from the one that started it.

Davide Santon had switched sides, Gutierrez had dropped into defence and with a new forward line our team had been reshuffled so much it looked like we might collapse like a pack of cards at any moment - echoing some of the uncertainty against Brugge in midweek when both Obertan and Shane Ferguson appeared to believe they were playing at outside left in the closing stages.

Perhaps crucially however, former Magpies coach Steve Clarke opted to withdraw the dangerous Lukaku and his replacement Shane Long didn't provide the same threat, seemingly unable to take out his frustration at being left on the bench with anyone but himself.

Instead of going for the win, Albion seemed satisfied with just a point and for the last ten minutes allowed United to mount some late attacks. They invariably broke down with Obertan's passing as wayward as his crosses from the byline were lethal - twice almost decapitating Cisse with their ferocity. Had one of them hit him and gone goalwards then Foster would have had no chance.

Some corners from Cabaye were also ineffective - either low and hard and easily cleared or high and floated and calmly gathered by Foster - and Sammy Ameobi and Ben Arfa were finding more blind alleys than open spaces to run into as three minutes of added time began.

But somehow the black and whites conjured up a winning goal well into the last minute of those three and referee Chris Foy (who hadn't had a great day up to that point) can take plenty of credit for allowing an advantage when Ben Arfa was fouled. That gave Sammy the chance to hit a long range effort that wickedly deflected off Cisse to send the home fans wild with delight and surprise.

Not only was it a welcome kick-in-the-teeth for a Baggie side who had become a bit of a bogey side in recent years but it was also a nice hoof in the nether regions for those who insist on leaving the ground early. Hopefully, the associates of those who departed without a genuine excuse for doing so, stuck the knife in and twisted it at every available opportunity for missing the late drama.

Meanwhile, the away fans were left to contemplate a long journey back to the Midlands seriously questioning whether the Lord was their shepherd after all. He certainly seemed to have deserted them before the final whistle on this occasion....

Make no mistake, this was a crucial victory for Pardew & Co and while the three points only lifted us above Swansea City into the top half of the table, anything less than a win would have given our position a decidedly different complexion. A good week, at least in terms of the scorelines.

Niall MacKenzie