In association
with NUFC.com



Date: Sunday 4th November 2012, 4pm
Live on Sky Sports

Venue: Anfield

Conditions: Defiant/deflated

Admission: £48 (£44 in 2011/12)

Programme: £3

Liverpool

Newcastle United

1 - 1

Teams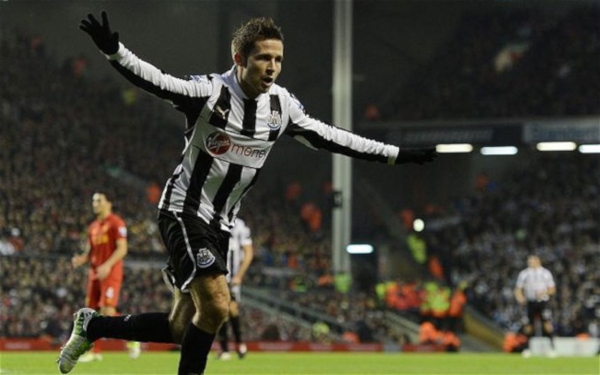 43 mins Hatem Ben Arfa skipped past Jose Enrique and found Yohan Cabaye lurking beyond the far post. Our own fab four took a touch before lashing the ball beyond Brad Jones in the Kop end goal.

In doing so, he became the first toon player to find the net here since Patrick Kluivert back in December 2004, Cabaye's shot here season rightly being recorded as an OG. 1-0

Half time: Liverpool 0 Newcastle 1

67 mins A long hoof from shaven-headed old boy Jose Enrique found Luis Suarez as he nipped in ahead of Coloccini and after chesting the ball down, he adeptly rounded Krul to level 1-1

Full time: Liverpool 1 Newcastle 1

Alan Pardew said:

"I didnít see it (the red card challenge) at the time, so I was really unsure.

"I knew it was my captain, and I know heís got no intent in him. I went to see the referee at the end because I wanted to ask him what it was for, I really didnít know. He said it was dangerous intent, but I wanted the clarification before the referee came off the pitch.

"Looking at it on the video, it doesn't look too good from one angle, but from another angle, he is putting his foot down to stop himself. Knowing Colo as I do, there is no malicious intent there. We might have to accept (the suspension) but I will discuss it further with my secretary.

"Part of me knows there is no intent with Colo. But the other part of me feels that we have got nowhere to go. My feeling is that we won't (appeal) but I want to sit down with my secretary and other people at the club to have a look at it a few more times.
"It was a tough day - I thought if we scored the first goal, we would win the game but we conceded a bad goal. (James) Perch is a bad one, I should have taken Demba (Ba) off at half-time and (Yohan) Cabaye has got a slight strain.
"I don't want to make a big issue of the referee because morale for them must be really low. I had no problems with his performance - I thought that was spot on. It was a tough game to manage. It was two teams going desperately for the win."

Tank-top devotee Brendan Rodgers said:

"I thought he (Suarez) was unbelievable. It was a brilliant goal for Luis and a terrific performance and it bodes well for us going forward. We play him in that false nine role. He's not a traditional number nine who's up there, stood, static.

'That's why when we get a number of players in who can work off his qualities, that's going to make us a real threat. I ask him to get on the move and get defenders out of their positions.

"His cleverness and movement at the moment is world class. It's then important that we've got men running in off that - if we can add to the group, you can see the excitement in our team.

'He gets picked to score goals but of course I would want them to be more spread out. Everyone knows that is the key feature for us. We need to get goals from other areas but I can't complain when we play to that level. Once we get that type of player in that is really going to finish off a lot of great work for us.'

"Coloccini got sent off because he was frustrated. He's been a great defender for the last number of years for Newcastle but Luis is so bright and clever, and a world-class striker in that form really frustrates defenders.

"I can't speak about last season but I'm really pleased about how our game is developing, the way we are moving it fast and quickly through the lines.
"Importantly we are creating chances playing this way. It is five draws now in 10 League games and we have deserved to win three of them at least. They are the margins we are working at at the moment.
"Once we can turn those draws into wins by converting those chances, well be fine but that is about getting in the profile of players we need. If we can get those over the next couple of windows, it bodes really well for us because it will finish off the wonderful football we are playing."
Newcastle's travel sickness has now extended to nine winless away games in all competitions since that memorable 2-0 success at Stamford Bridge back in May - our worst sequence since a nine game run during the 2007/08 season.

United have now drawn their last four successive Premier League away games - one more stalemate than they recorded in the whole of last season. Newcastle's longest unbroken run of away draws in the Premier League is seven, between November 2003 and February 2004.

Magpies @ Anfield: Premier League Years:

2012/13: Drew 1-1 Cabaye
2011/12: Lost 1-3 OG
2010/11: Lost 0-3
2008/09: Lost 0-3
2007/08: Lost 0-3
2006/07: Lost 0-2
2005/06: Lost 0-2
2004/05: Lost 1-3 Kluivert
2003/04: Drew 1-1 Ameobi
2003/04: Lost 1-2 Robert (FAC)
2002/03: Drew 2-2 Speed, Shearer
2001/02: Lost 0-3
2000/01: Lost 0-3
1999/00: Lost 1-2 Shearer
1998/99: Lost 2-4 Solano, Andersson
1997/98: Lost 0-1
1996/97: Lost 3-4 Gillespie, Asprilla, Barton
1995/96: Lost 3-4 Ferdinand, Ginola, Asprilla
1995/96: Won 1-0 Watson (LC)
1994/95: Lost 0-2
1993/94: Won 2-0 Lee, Cole
Seasonal comparison - NUFC last five PL seasons after ten games:

2007/08: 17 points, 8th (scored 17, conceded 13)
2008/09: 9 points, 15th (scored 12, conceded 18)
2010/11: 14 points, 7th (scored 19, conceded 14)
2011/12: 22 points, 3rd (scored 15, conceded 7)
2012/13: 14 points, 10th (scored 12, conceded 14)

Fabricio Coloccini received the second red card of his Magpies career and our 59th in the 702 Premier League games we've played to date. 40 different players (of the 174 we've fielded) have collected those cards and five were subsequently rescinded.

Revisiting those figures with dismissals that stood, the totals are 54 red cards by 36 players.

Sin Binned - United's PL dismissals:

4: Batty, Dabizas
3: Bowyer, Srnicek
2: W.Barton, Bassong, Coloccini, Dyer, A.O'Brien, Robert, Solano, S.Taylor
1: Sh.Ameobi, Albert, Babayaro, J.Barton, Beresford, Boumsong, Bramble, Butt, Carr, Edgar,
Gillespie, Gosling, Griffin, Guthrie, Gutierrez, Hamann, Lee, Nolan, Parker, Pearce, Shearer,
Smith, R.Taylor, Tiote.

(Messrs Bellamy, Beye, Jenas, Shearer & Speed also had red cards later rescinded)


Waffle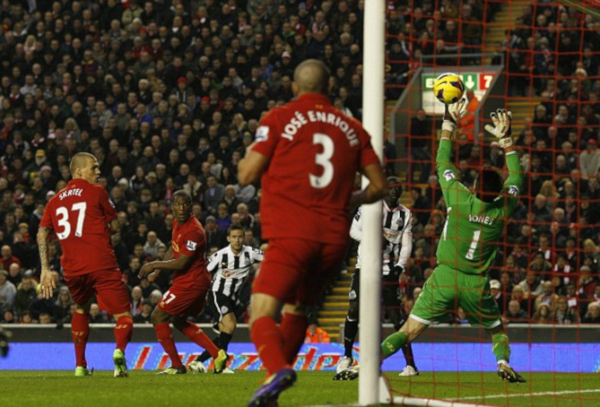 Skinhead toonstomp - old boy Jose watches Cabaye open the scoring
While players and officials pass under the famous "This is Anfield" sign to reach their work stations, there's no similar notice to greet fans in the scandalously over-priced midden of an away end. Were one to be installed though, the most suitable text for toon followers during modern times would undoubtedly be from TV series "The League of Gentlemen" namely, "there's nothing for you here".

The multiplicity of accents and coaches arriving from far flung parts of the British Isles is testament to the fact that it's many years since this was 'a local ground for local people' but home comforts when the black and whites come calling have now been a fact of life for several generations here.

Read it and weep. No win since 1994 in the league, seven straight defeats and last season's rare goal scored by a home player. All to an unrelenting soundtrack of near-silence from the massed home ranks and dreadful, desperate, dispiriting references to slums, stereos and giros from our happy funny fellas; Tyneside of course now boasting full employment and zero crime statistics.

But today was to be one of those rare occasions when we didn't donate three points to aid the cause of whichever ailing and underachieving manager is in the home dugout and give messrs Hansen or Lawrenson footage a-plenty to dissect and highlight terrible marking, defending etc.

Scoring and managing to avoid defeat on the red side of Stanley Park for only the fourth time in eighteen Premier League visits would have been gratefully received by those present had it been offered in advance, but like visits to Reading and the mackems in our previous two away games, there was a sense of making do with a point that other sides would have made into three.

As had been the case on wearside, we ended up a man short but Fabricio Coloccini's dismissal for kicking out at Luis Suarez came in the closing stages and with the scores level. Yohan Cabaye hit a stunning opener just before half-time in front of the Kop, but Colo's red card and three injuries took the edge off what was ultimately a hard-earned but deserved point for Alan Pardew's side.

James Perch, Demba Ba and Cabaye all limped off ahead of another busy week for United, further exposing the lack of depth in certain areas that has already seen a number of players occupying unfamiliar roles - most notably Jonas Gutierrez.

Ba made the starting line-up despite doubts about his fitness due to a shin injury and was joined by Papiss Cisse. Vurnon Anita's appearance at right back ahead of Danny Simpson was the main talking point however and it was down our right side that we looked vulnerable during the usual whirlwind start from the home side here, with Raheem Sterling tormenting the Dutchman.

Another injury blow for Perch though saw him forced off midway through the first half, with Anita redeployed into central midfield and Simpson slotting in at right back.

The home side had plenty of possession but shots from distance didn't worry Tim Krul and although his decisions to punch weren't always convincing, service from the flanks was usually pretty poor - Steven Gerrard marking his 600th game for the Reds with a succession of deep crosses to nobody in particular. Maybe he was preoccupied by wondering where exactly he'll hide the hideous Liver Bird he was presented with before kick off (not Nerys Hughes, by the way).

United came more into the game as the half progressed though and with Ba looking lively, prospects of snatching something on the break remained fairly realistic.

Hatem Ben Arfa almost played in Ba through the middle, but our number 10 delivered the most telling ball of the half two minutes before the interval, allowing Yohan Cabaye to net his seventh goal on his 49th Magpies appearance - a strike rate comparable with that of former favourite (and Anfield goalscorer) Rob Lee.

With only one home league win in five attempts here, the home fans were stunned into silence by the goal and the mood of those in the front sections of the Main Stand didn't improve when an errant pitch sprinkler proceeded to give them a good soaking during the half time interval.

In our twisted world we'd like to think it was a deliberate ploy by the Reds to stir home fans into showing some support - or maybe a misguided club attempt to show solidarity with their US-based owners in the wake of Hurricane Sandy....

On the pitch though United continued to encounter problems, Ba only lasted three minutes before being withdrawn - Sammy Ameobi preferred to elder brother Shola as his replacement.

The Reds continued to dominate the play and Suarez continued to be a nuisance in and around the penalty area, his perpetual motion and incessant moaning and gesturing reminiscent of our old pal Craig Bellamy.

United proved to the architect of their own downfall though midway through the second half, surrendering possession cheaply towards their right flank and allowing Suarez to seize on a through ball and reach double figures for the season, nudging ahead of wor Demba in the scoring stakes.

While undoubtedly a fine strike - and reminiscent of Andy Cole in his pomp - questions were asked of the obstacles both Coloccini and Krul provided to the Uruguayan, with our Argentinean getting the wrong side of his man and Krul helpfully going to ground quickly.

Showing dangerous signs of frustration, the United captain had struggled to contain Suarez on various occasions, looking to have taken on the responsibility full time after some hesitation from Steven Taylor (preferred to Mike Williamson due to his superior pace) had given Liverpool's main threat room to work in.

At the other end though, Sammy Ameobi was having some joy on the break, scampering into the box on one occasion before collapsing in a tumble of arms and legs. More fruitfully, he set up Ben Arfa to cut inside and shoot low and hard on goal, but unfortunately straight down the throat of Jones.

Another forward foray from the substitute then gained a dangerous free-kick that Ben Arfa curled wide, while the diminutive but combative Shane Ferguson also threatened; although his introduction coincided with Liverpool's equaliser.

Once Colo had seen red for his late studs-up challenge on Suarez though, it was a case of hanging on for the final ten minutes of play. That included four minutes of added time that saw a free-kick deflected onto Krul's bar and several poor corners - meaning that none of the Anfield class of 2012 could emulate the stomach-churning late blows of messrs Fowler and Collymore here in years past.

The point left our league position unchanged as 10th, but we stayed above Brendan's boys and are just three points off a Champions League spot. Next up is a trip to Brugge on Thursday, when the availability of both Coloccini and Cheick Tiote gives Pardew the chance to field a more experienced starting lineup than he otherwise may have opted for.

However it's the return of Messrs Carroll and Nolan to SJP on Sunday that now poses more pressing selection questions, with Colo and Cheick suspended and utility players Ryan Taylor and James Perch on the sick list.

While Steven Taylor will doubtless relish a chance to tussle with big Andy, with just two recognised centre halves in the shape of him and Mike Williamson, we're running out of options - Danny Simpson's failed attempt to fill in there away at Norwich City last season wasn't pretty....


Biffa