Date: Thursday 8th November 2012, 7pm local time
Live on ESPN

Venue: Jan Breydel Stadium

Conditions: mild.

Admission: £25 (South lower), £33 (South East) and £55 (West).

Programme: An official edition is in existence but not sold, apparently because it was printed before the Brugge coach was sacked and included his comments.

Brugge

Newcastle United

2 - 2

Teams
14 mins There were shades of Enrique and Suarez last Sunday, as a searching forward pass from the recalled Ryan Donk found Ivan Trickovski pelting downfield and the Macedonian midfielder took a touch in the box that cut out Coloccini before tucking the ball past goalkeeper Tim Krul 0-1

19 mins Maxime Lestienne's speculative centre from the left was headed clear by James Tavernier but dropped only as far as Jesper Jørgensen. The Dane took a couple of touches as Bigirimana attempted to block him and was able to get away a low-right footed effort from around 22 yards that Krul disappointingly failed to reach as it bobbled past him into the net 0-2

41 mins Sylvain Marveaux dug out a deep cross from the left wing that dropped in the box and saw Gabriel Obertan jump but fail to make contact with an attempted header. His marker Tom Hogli did make contact and headed it out of his area into the path of Vurnon Anita.

The Newcastle midfielder registered his first goal for the club with a crisp first-time volley that flew past Bojan Jorgacevic to halve the deficit 1-2

43 mins Goalscorer Anita was the inspiration for United's equaliser with a cross-field pass out the left where James Tavernier overlapping. The rookie defender killed the ball with a touch before knocking it infield and into the path of the advancing Sammy Ameobi.

He wriggled away from his marker and slipped a pass out to Shola Ameobi and his elder brother managed to beat the home 'keeper at his near post by toe poking the ball home from around eight yards with his right foot 2-2

Half time: Brugge 2 Newcastle 2

Full time: Brugge 2 Newcastle 2

Alan Pardew said:

"We are going to have to kick ourselves if we don't beat Maritimo at home, with all due respect to them. We have got ourselves in a great position and are looking to just wrap the league up perhaps with that win there, which is our next game.

"We knew the game was still there for us - they did not have much possession, so we knew we could get at them. We were confident we could get back in the game.
"Vurnon scored a fantastic goal. That gave us a lift, and to pop up and score the equaliser before half-time was a bonus. It was fantastic.

The second half was anybody's game. Both sides wanted to win it - we didn't get the win, but we will take the point.
About Shola and Sammy:

"I thought they were both good tonight. We had Ameobi to Ameobi - which is almost like a song - for the second goal, which was nice.

"It was a great little turn from Sammy. He has just got this way of getting out of corners that I have not seen many players being able to get out of. He wriggles out of situations.

"He still needs to tighten up a little bit on the tactical and intelligence sides of the game. He takes people on where perhaps he should pass, but he will learn that. He showed his talent tonight - and he marks at set-plays, which he needs to do. He's 6'5". He's not very good at it, but he's learning."

Making his managerial debut, Philippe Clement (who replaced Georges Leekens earlier in the week and played for Coventry City in a 4-1 defeat at SJP in February 1999) commented:

"The way in which we played should boost this team. I also reckon our fans enjoyed the game: lots of willingness to fight, many chances, you name it. It was hard to take two goals just before half time, but the players reacted well after the interval.

"The tie could have gone either way, but the biggest winners today are the fans. It's clear that there is a basis we can start from. The players have picked up on many things in a very short time, they also showed a lot of goodwill, albeit that I never had my doubts in that respect.

"This game showed that when you play en bloc it's much easier to play and earn good results. This Club can still have a great season; the vital thing for me is the way in which the team reacted.

You can also feel the chemistry between players and fans. When you feel the energy rolling off the stands, it's very satisfying.The players should take a lot of confidence out of this game towards the next one.

"It's also positive that the heads didn't go down after that double setback just before half-time. They stuck to the plan after the break and didn't go looking for solutions all on their own.

"It was great fun (to be the coach), but sometimes I had to keep myself from running on that pitch myself!"

United in Europe (not including penalty shootouts):

Played: 126 Won: 72 Drawn: 25 Lost: 29 For: 216 Against:122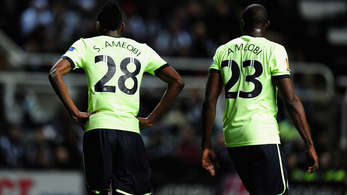 Shola and Sammy Ameobi both started - the first time that brothers have done so in a senior competitive fixture for the Magpies since the Robledos back in 1952 (excluding the 1992 Anglo-Italian Cup appearances of the Applebys and non-competitive outings for the Caldwells).

Shola Ameobi scored his 14th goal in Europe to edge further ahead of Craig Bellamy (11) in our all-time European scorers list, but remain a sizeable distance behind Alan Shearer (30).

Vurnon Anita scored his first Newcastle goal and in doing so, became the 60th Magpie to have scored for us in Europe (not counting OGs). He'd failed to find the net in 15 previous Champions League and Europa League ties for Ajax plus two for Newcastle and last scored in a Dutch League game for Ajax against Heracles back in April.

Mike Williamson marked his 29th birthday with his 85th NUFC appearance. He's started five of our six Europa League games this season - Gabriel Obertan is the only player to have started all six, while Gael Bigirimana is the only other player to have featured in them all, starting five and appearing off the bench in one).

Our record 426 minute European shutout record was extended to 440 minutes.

Goal number 74 for Shola was his second of the season, both of which have come in this competition.

It's no away win in ten games in all competitions for Newcastle now, since that memorable 2-0 success at Stamford Bridge back in May.
United are

now unbeaten in

all
six
games where they've

w

orn
the

lime

change strip

(t

hree

wins, t

hree
draws)



This is the fifth time this season in all competitions that Newcastle have gone behind but recovered to force a draw (Atromitos away, Aston Villa home, Everton away and Reading away being the others, when in all cases we were one goal down - not two as was the case here.)

The predicted return of Xisco to first team action didn't happen, but our Spanish superstar did make the squad for Brugge before failing to be selected among the matchday 18.

United in Belgium - competitive games:

1969/70 Anderlecht lost 0-2
1994/95 Antwerp won 5-0 Lee 3, Sellars, Watson
2001/02 Lokeren won 4-0 Ameobi 2, LuaLua, Quinn
2006/07 Zulte Waragem won 3-1 Martins, Sibierski, OG
2012/13 Club Brugge drew 2-2 Anita, Sh.Ameobi

Europa League Group D - 2012/2013:

| | | | | | | | | | |
| --- | --- | --- | --- | --- | --- | --- | --- | --- | --- |
| | Team | P | W | D | L | F | A | GD | Pts |
| 1 | Newcastle | 4 | 2 | 2 | 0 | 6 | 2 | +4 | 8 |
| 2 | Bordeaux | 4 | 2 | 1 | 1 | 6 | 4 | +2 | 7 |
| 3 | Brugge | 4 | 1 | 1 | 2 | 4 | 7 | -3 | 4 |
| 4 | Maritimo | 4 | 0 | 2 | 2 | 1 | 4 | -3 | 2 |
Remaining fixtures:

Thu 22.11.2012
NUFC v Maritimo
Brugge v Bordeaux

Thu 06.12.2012
Bordeaux v NUFC
Maritimo v Brugge
Thanks to ESPN commentator, Jon Champion, who gave NUFC.com an unexpected name-check on air during the second half. In a quiet moment, he mentioned to "expert summariser", Chris Waddle, that he had spotted in our OTDIH section that he'd netted for our reserves way back in 1980.

Memory man Waddle - while not sharing his pearls of wisdom about pelanties (sic) - recalled the "11,000" who saw the stiffs at SJP while the first team played in front of "4,000 at Cambridge".

Errr, not quite. There were 5,684 at the Abbey Stadium while 4,200 watched the 19-year old score the winner against Liverpool's second string at Gallowgate. Still, like his unique language-mangling match summaries, ex-mackem Waddle wasn't letting facts get in the way of his ramblings....

Waffle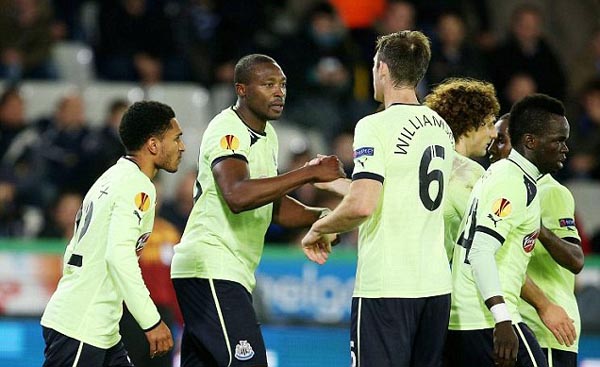 After the low-key expeditionary forces that were dispatched to Greece and Madeira, Newcastle's third Europe League away tie of the season saw hordes of fans descend on Belgium, turning this particular corner of a foreign field into an inebriated but good-natured black and white base camp.

An abundance of affordable travel options and impatience of United fans to sample the unique atmosphere of watching their team overseas meant that only half of the 5,000+ who made the journey actually got tickets for the game, but that failed to detract from what many European first-timers reported as their best-ever away day following the toon.

To misquote the terrace chant, Brugge wasn't a sh*thole and they didn't wanna go home, with some taking most of the week to get there and back by land, air and sea from as far away as Australia and the USA and intending to party for as long as they - or their wallets - allowed.

For those with experience of previous European campaigns, the game or the trip may not have quite touched the heights of Antwerp, Bilbao, Rotterdam or Milan, but was still a welcome reminder of just how great these experiences are - when neither set of fans or the authorities tarnish the occasion, save for the ludicrous and illogical decision to leave thousands of seats unsold in the stadium.

Of course the antics of some of Tyneside's cultural attaches were a little too much for the locals to comprehend, but mostly fell into the amusing rather than objectionable category, with the presence of far right sympathisers failing to sour proceedings any more than occasional "no surrender" chants.

Reports from several locals of Birmingham City's visit here last year told of policing problems including shoplifting, but most of the issues faced by the tourists whose visit to this World Heritage site clashed with our arrival were of how to take photos of the historic buildings without flags from the likes of "Rothbury Mags" intruding on them. The water cannon was there, but never needed.

To the game then and in classic style, United served up a dire opening to the tie which saw them deservedly fall two goals behind within twenty minutes and look in a state of panic every time the home side pumped the ball over the top of our defence.

That was despite the unexpected presence of both Fabricio Coloccini and Cheick Tiote, who were drafted in to start after incurring domestic bans for recent red cards. However United clicked into action before the break and French duo Gabriel Obertan and Sylvain Marveaux both missed good chances to score before Anita launched the comeback in some style.

A collective effort from the Ameobis then restored parity before half time, as Brugge reverted to the nervous state that saw them incur four successive league defeats and sack their coach. However the Belgians then deviated from the script and there was to be no second half collapse, substitute Tchite, Bacca and Odjidja all testing Krul as the home fans found their voices again.

Steven Taylor was lucky to get away with a shirt pull in the box on Bacca late on, but a home win would have been harsh on a Magpies side who had deserved at least a point after their comeback.

As a consequence of Bordeaux's 1-0 win over Maritimo meanwhile, Alan Pardew's side can now ensure qualification for the knockout stages of the competition by beating the Madeira minnow on Tyneside in two weeks time.

That would leave just the away game in France early next month, before hostilities resume in mid February. And at that point, the partners of some Newcastle fans could just find themselves whisked off on an unexpected romantic "Valentine's Day break" - drinking in some town square.

PS: There's just time to include Mark Bowie's own contribution to proceedings: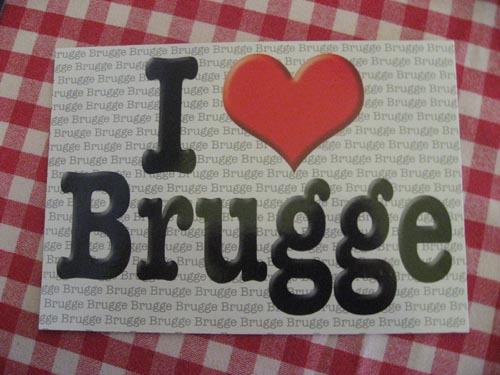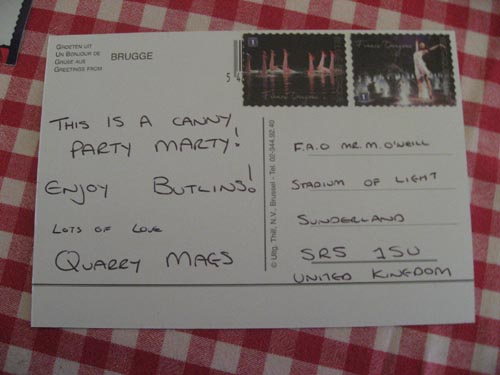 Biffa