Date: Sunday 11th November 2012, 3pm

Venue: St. James' Park

Conditions: unconvincing





Newcastle United

West Ham

0 - 1


Teams
37 mins Deep cross from the left was aimed at Carroll, who climbed above Steven Taylor but failed to make contact. The ball dropped beyond him and rebounded off the unwitting Santon to the edge of the Newcastle area, where Joey O'Brien arrived before Shane Ferguson to ping it goalwards.

The effort looked to be curling away from Tim Krul's far post, but fell perfectly for the unguarded Kevin Nolan to clump it home right-footed from just inside the six yard box. Suspicions that he was standing offside proved unfounded and the former Magpie turned and stood looking somewhat shell shocked on the byline before a clutch of team mates arrived to engulf him 1-0

Half time: Magpies 0 Hammers 1

Full time: Magpies 0 Hammers 1

Alan Pardew said:

ďIt hurts too much to judge our start at the moment. We have a side that has played its 17th game and it is proving difficult to get into a rhythm at home at the moment.

"Away from home, we have been strong and solid and dogged without really pulling up many trees. But at home, we need to perform better than we did today, for sure. Defensively, we shouldn't have conceded that goal. We made a mistake on that and gave Kevin an easy opportunity.

"I didnít think Europe had much impact here, we had a team that was protected from that. We prepared well and had a good mind set, but we just didnít click and the pressure did not produce a special moment.

"We are kicking ourselves. It was the West Ham performance we knew we were going to get, but what we lacked was the verve and imagination to unlock them. We had eight or nine shots but none with any purpose or quality. Newcastle at home must score one, two, three or maybe four and we got none today.

"It's nothing to do with our European game - we made lots of changes and the team was fresh - but we didn't do ourselves justice in the first 30 minutes. We didn't come alive until they scored and that is not good enough. We've got a home game next week and we're under pressure to produce a performance and win."



Big Sham commented:

"I think this was my most satisfying win. I thought the win at QPR was a good performance but we have to look at where QPR are. They are struggling and we've taken advantage of that.
"Newcastle were a fantastic force at home last season and have started the season well with some good performances. It was a fantastic professional performance by all the players and a fantastic three points.
"Winning a Premier League game away from home is a tough ask so to beat Newcastle at Newcastle is obviously very pleasing. It was a fantastic result and a clean sheet - you couldn't ask for any more.
"We defended superbly when we needed to and we broke out and exposed them in a counter -attacking way when we had the chance. Every now and again the odd shots that they had on goal were saved by our goalkeeper, who has a massive amount of experience.
"He (Jaaskelainen) didn't panic or put us under any pressure. He made the clean sort of saves that you'd expect him to make. The foundation of a successful season is your goalkeeper and your defenders keeping as many clean sheets as possible. You can then become a better attacking force and you entertain more and win more games and that's what we all want.
"A newly-promoted side picking up 18 points from 11 games is outstanding, but we need to make sure we don't switch off and take life too easy now.

"We've done a great job up to now, drawing with Manchester City and beating Newcastle - let's hope we can keep picking up points against the big boys.

"Andy Carroll is disappointed he didn't score but it was a really good save. He wants to get off the mark with that goal but he's our target man and that partnership with Nolan is outstanding. That's five Nolan has in 11 games. He gets the attacks flowing and reads the situation brilliantly in the box - he always seems to be in the right place at the right time.
"The only disappointing aspect was that Andy didnít stick the ball in the back of the net for his first goal. Thatís not being critical of him but overall Kevin Nolan was man of the match and showed the Newcastle fans what they were missing. His link-up play with Carroll was superb.
"His winner was an instinct you canít teach or coach. Youíve either got it or you havenít and he has had it from an early age when he broke into the Bolton team. We knew we had to release him and let him go and find his own way in the box and we couldnít coach that, we just let him do it.
"As the years have gone on he has continued to do it successfully and that got even more successful at Newcastle when he and Andy played well together. Even though Andy is not scoring, they work in tandem.Ē
Kevin Nolan:

"I can't thank the (Newcastle) fans enough for the reception. It was absolutely unbelievable. I had an absolutely fantastic time here, I love Newcastle and love everything about it - my family and I made so many friends here and my boy is a Geordie.

"It was a perfect scenario to score the winner. It was quite emotional when I did and I had a little moment with Mark Noble afterwards.

"But I have moved on and so have Newcastle. West Ham are another great club with the same sort of supporters and weíve made a great start. Now we want to push on and the first target is that magical total of 40 points which ensures survival.

"I left Newcastle on great terms. Alan Pardew was absolutely fantastic to me, we still share the odd text and just before the play-off final he gave me some great words and support, I'll always have that.

"I would never, ever slag off Newcastle because I loved every single minute of my time up here - apart from the relegation of course. But it was nice to hear and nice to hear the support. The fans have been really good to me, it's nice to be back and it's nice to see some old faces and catch up with old friends.
'What we're trying to do at West Ham is what we tried to do at Newcastle. When we came up it was about getting them back to where they belonged and then eventually into Europe. That's what I feel that West Ham should do with the support we've got and the backing from the boardroom."

Hammers in Toon - Premier League years:
2012/13: Lost 0-1
2010/11: Won 5-0 Best 3, Nolan, Lovenkrands
2008/09: Drew 2-2 Owen, Carroll
2007/08: Won 3-1 Viduka 2, N'Zogbia
2006/07: Drew 2-2 Milner, Solano
2005/06: Drew 0-0
2002/03: Won 4-0 LuaLua 2, Shearer, Solano
2001/02: Won 3-1 Shearer, LuaLua, Robert
2000/01: Won 2-1 Cort, Solano
1999/00: Drew 2-2 Dabizas, Speed
1998/99: Lost 0-3
1997/98: Lost 0-1
1996/97: Drew 1-1 Beardsley
1995/96: Won 3-0 Albert, Asprilla, Ferdinand
1994/95: Won 2-0 Clark, Kitson
1993/94: Won 2-0 Cole 2



Total record against West Ham

:



| | | | | | | |
| --- | --- | --- | --- | --- | --- | --- |
| | P | W | D | L | F | A |
| SJP | 59 | 31 | 19 | 9 | 115 | 63 |
| BG | 58 | 15 | 14 | 29 | 65 | 102 |
| League | 117 | 46 | 33 | 38 | 180 | 165 |
| SJP(FA) | 3 | 3 | 0 | 0 | 7 | 3 |
| BG | 2 | 0 | 2 | 0 | 2 | 2 |
| Cup | 5 | 3 | 2 | 0 | 9 | 5 |
| Tot | 122 | 49 | 35 | 38 | 189 | 170 |
Newcastle were beaten for the first time in six League and Cup games, but now have just three Premier League victories in eleven attempts this season.

In our first eleven Premier League games of the season we've managed just one clean sheet, compared to four during the same period in 2011/12. The final eleven games of last season saw Newcastle record no less than six clean sheets.

United suffered their third league defeat in the game immediately following a Thursday night Europa League engagement, having won two and lost the other one.

Andy Carroll's last three appearances at SJP have come for three different clubs: Newcastle, Liverpool and West Ham.

Seasonal comparison - NUFC last five PL seasons after eleven games:

2007/08: 17 points, 10th (scored 18, conceded 17) (Sam Allardyce)
2008/09: 12 points, 14th (scored 14, conceded 18) (Kevin Keegan/Chris Hughton/Joe Kinnear)
2010/11: 17 points, 5th (scored 20, conceded 14) (Chris Hughton)
2011/12: 25 points, 3rd (scored 17, conceded 8) (Alan Pardew)
2012/13: 14 points, 10th (scored 12, conceded 15) (Alan Pardew)


Waffle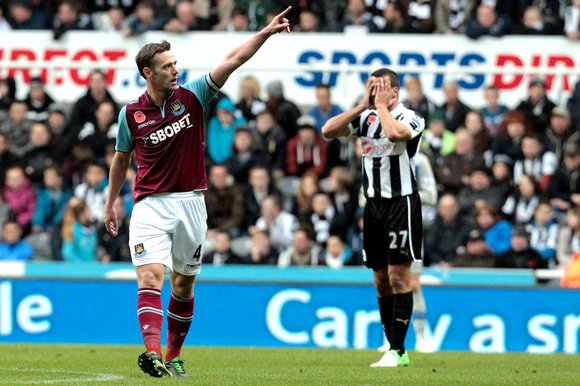 As he had done on numerous occasions for Newcastle - including in both previous outings against West Ham - Kevin Nolan's knack of being in the right place at the right time ultimately decided the destination of the points in this game.

His first appearance in opposition colours at St.James' Park since leaving in June 2011 was just one of several sub-plots that made this clash of two Uniteds so intriguing. Nolan's sidekick Andy Carroll was openly coveted by Alan Pardew in his pre-game press conference - either a pointer to our future transfer policy or an attempt at mind games, depending on your viewpoint.

And while Pardew oversaw the 71st Premier League of his Newcastle tenure against one of his old sides, the bloke in the away dugout managed 50 less in his Magpies career before the owner (and public opinion) drove him back down the A1 with a big fat cheque to go with his big fat...ego.

Given all of this, the likes of Demba Ba (ex-Hammer), Neil Macdonald (ex-Mag) and Modibo Maiga (very nearly a Mag before Cisse was signed) were relegated to supporting roles in the soap opera, while George McCartney's mackem associations were overlooked altogether. Rather than pen pics, the match programme really should have included some sort of flow chart of who did what to who.


A smirking
Allardyce had left here almost exactly two years before, having guided Blackburn Rovers to victory over a Newcastle side including messrs Nolan and Carroll. That resulted hastened the departure of Chris Hughton from Gallowgate, but proved to be almost the last hurrah for big Sham, who was himself ousted from Ewood just hours after Pardew was unveiled by the Magpies.

Fast forward to 2012 and the gum chewer was equally jubilant as he took his leave - basking in the glow of what he described as the best Hammers performance since their top flight return.

And while there was the usual Allardyce mythologising over a decent but flawed display from a side with numerous weak links (substitute Demel in particular), it was the home side who tried and failed to play the much-maligned long ball game. Artless punts, as we said at the time.

Protestations by Alan Pardew that his side weren't suffering from the effects of Thursday's trip to Belgium were undermined by Tim Krul's admission that they were collectively lacking the strength and fitness to come from behind today - something we haven't actually done for over two years.

What did seem again apparent though were shortcomings in the head as well as the legs of the Magpies. Pardew euphemistically referred to problems with his side's rhythm this season, but an apparent dullness of thinking is becoming habitually evident: be it the increasingly over-ambitious dribbles of Hatem Ben Arfa, the general poorness of our deliveries into the box or the fact that our two strikers seem incapable of avoiding each other when making forward runs.

The appearance of the lion-hearted Nolan though also led inevitably to notions that his successors were lacking some of the appetite for the struggle that his combative playing style (and that of Joey Barton) epitomised during his time on Tyneside. However that does ignore the revival in fortunes we enjoyed last season after deliberately going in another direction, both on and off the field.

Had Tiote and Coloccini been available then we may well have shown more midfield bite and defensive composure, but in their absence we were comparatively toothless (although Fergie pleasingly tried to shift some skin) and worryingly rudderless in terms of leadership. The loss of Gutierrez saw referee Mike Dean ferry the captain's armband to Ba but really it was immaterial.

Although it's often the case that coming back here puts a spring in the step and and extra few % into the performance, our former captain seemed noticeably fitter than when he left, supplying a couple of lung bursting runs in both halves.
N

olan wasn't in the mood for dancing
though when firing home at the Gallowgate End,
r

efrain
ing
from
his

usual
goal
celebration
on a day when the original chicken dancer Robbie Elliott was in town
.


Starting off in great voice, our inability to take a firm grasp on this game dampened the home crowd's contribution until the later stages of the first half, noise levels rising again when Shane Ferguson's goalbound effort bounced off a defender and a deflection almost took Ben Arfa's shot in.

By then though, another forced reshuffle had come when Jonas Gutierrez was unable to continue after a heavy tackle involving

Yossi Benayoun
-

who also ended up being substituted.
That brought Vurnon Anita into the fray, but those looking for evidence that getting off the mark for his new club in midweek had improved his overall contribution and effectiveness had a job on their hands.


With Shola on for the second half (brother Sammy missing due to injury), the omens looked good initially,
when Ba heade

d goalwards and the ball seemed
have crossed the

goal
line b

efore
'keeper
Jussi Jaaskelainen

reached it. However the official's decision to play on was later seen to be the correct one, if for no other reason than various camera angles all proved inconclusive.

Sensing that we were rapidly running out of ideas - although it was fairly bloody obvious given the aimless wafts upfield that passed for service - the visitors looked to hit us on the break; only Krul's instinctive stop preventing Carroll from scoring his first West Ham goal after Nolan teed him up.
For much of this game our huff and puff was laboured and predictable as it had been
against West Bromwich Albion, but
the dollop of good fortune that

led to
a last-gasp winner was conspicuous

by its
absen

ce. Go a little further back and scraping a draw against Villa and edging past Norwich hardly look to be glittering results - none of those home performances were anything special frankly and today was just the latest instalment in that decline.

After a stuttering draw at Reading thanks to the fist of Ba and this demoralising defeat at the hands of the Hammers, Pardew could be excused for approaching our next post-European game against Southampton - another of his former employers - with a certain trepidation. There again, we look slightly happier on our travels, with less pressure to make the play and take the initiative.

Before that though, there's the little matter of Swansea City on home soil, when not just the result but the manner of the performance now assumes greater importance. Against a backdrop of an injury and suspension list that is steadily eroding the experience in our squad though, the pressure is starting to ramp up a little - and questions asked of the manager by those in charge of the purse strings seem to be proving more difficult to answer.

While Marty's mackem muddle remains the source of much mirth, each poor result they suffer amplifies the opportunity missed to beat them. It's worth reflecting on whether the mild discontent expressed so far over our lack of form this season would be a more pronounced anger were the mackems riding high in the table - and putting our continued averageness into sharper focus.

Regardless of our tactics and formation and the many online "experts" ready to provide guidance to the manager in that department, our concern lies more with things like attitude, commitment and desire - getting back to playing as a team. Losing to better footballing outfits is one thing, but coming second best to a side like this quite another. We're supposed be better than that.

Biffa