Date: Saturday 17th November 2012, 3pm

Venue: St. James' Park

Conditions: threadbare





Newcastle United

Swansea City

1 - 2


Teams
Half time: Magpies 0 Swans 0

58 mins Attempting a first-time clearance from Mike Williamson's backpass, Tim Krul's effort was misplaced and fell right at the feet of Pablo Hernandez, midway into the United half on the City left.

His cross cut out Williamson and picked out fellow Spaniard Michu to dive and place a ten yard looping header into the Leazes End goal with ease - the ball-watching Davide Santon having failed to shadow Swansea's top scorer on his run. 0-1

87 mins Picking up a loose ball just over halfway down the Swansea right, Pablo Hernandez picked out the unattended Danny Graham with a raking crossfield pass and he was able to advance on goal before testing Krul from just inside the box.

United's 'keeper flung himself to his left and blocked the effort, but the deflection fell nearer to De Guzman than the retreating Williamson and the Dutchman netted his first Premier League goal with a right footed shot from a rapidly narrowing angle. 0-2

93 mins Well into added time, Hatem Ben Arfa took Cheick Tiote's pass down the left flank and sped towards the byline. His pullback fell into the path of Sylvain Marveaux as a result of Gael Bigirimana's instinctive block and when the Frenchman's first-time effort from six yards clattered back off the crossbar, Demba Ba rose highest to head it in 1-2

Full time: Magpies 1 Swans 2

Alan Pardew said:

"We played 4-3-3. We were 4-3-3. Sammy (Ameobi) was on the left-hand side, and joining with Demba (Ba) and I thought he did a good job. Shola (Ameobi) came on at half-time and upped us again. We had our best spell when the two were together.
"I think it's important that we threaten the goal, and we did that. Unfortunately, the first goal was everything with us getting beat last week, and it did affect us. I thought it might, and it did.
"I can't say I'm massively disappointed – I was after West Ham. "I had a young team out. Up until they scored, we definitely bossed the game, and looked like the side who could win. We had really good chances – we just couldn't score.
"We have Maritimo on Thursday, and that's a tough game for us after two defeats now, We have to get a win there.
"We kept being promised that the decision would be overturned and that Senegal were going to let Papiss (Cisse) play. We kept waiting and waiting and it was about 1.40pm when we finally found out that wouldn't happen. So it did affect our preparation and him missing today was a blow to us. We didn't do anything wrong and he should have played.
"Up until they scored I was in a fairly good mood. We had a young side out with a lot of experienced players missing, and we had a real good application to the game, a good shape to us and were putting good pressure on them.

"We created numerous chances but just couldn't get the goal, and I felt if we scored the goal then we would have been in a great position. Unfortunately they scored, and the period after that is where we lost a bit of confidence and shape. You would expect that from a young side and with what happened last week.

"It's in the last third where we lack a little bit of potency and that was a bit disappointing, but I'm not going to fault the players in their application - they tried their very best against a good side in Swansea, who had a lot more experience on the pitch and that showed.
"I have no complaints about the performances today, but we need our best players and we have to try and bring them back.

"Our next agenda is Europe, and its another home game and that could give us a lift if we win it. It will probably secure qualification and that would at least be one hurdle cleared."


Michael Laudrup commented:

"I would describe it as a really great away performance. It was the best away performance this season, including QPR and Liverpool. At times we played very well and I don't remember a game, not even a home game, where we created so many chances.

"In the first half when we had four or five big chances and you don't score you start thinking is this the day where we lose 1-0 because we couldn't score, but I still prefer that to a game where we don't create anything. I always tell that to the boys.

"If we have a day where we can't score then bad luck but I still think it's important to create the chances. And we've done that apart from one, maybe two games.Every game we create from five to eight, nine very good chances and we have to continue with that.

"It's ok for the fans to dream - I cannot allow myself to do it. I'm looking at the 16 points we have and 16 at this stage is very good. We can enjoy a couple of days and then we have three games in six days. [We've got] two home games against two great sides like Liverpool and maybe the surprise of the season up to now, West Brom. Then we have Arsenal away.

"I'm looking at the points and then after the game against Reading on Boxing Day we'll turn to the second half of the season. After that game we will have played 19 games. Let's see how many points we'll have and where we are and then we can start talking about realistic goals for the rest of the season."
"The only negative was that we had to suffer until the end because we did not score more goals when we had the chance, but I can live with that."


Newcastle lost two successive home games for the first time during Alan Pardew's time in charge - the previous occasion came in September 2010 to Blackpool and Stoke City. One has to go back to March 2009 for the last time they were beaten three times in a row (by Man U, Arsenal, Chelsea).

Swansea won at SJP for the first time as a Premier League side, becoming the 30th side to do so of the 43 who we've faced here. Three current PL sides (Norwich City, Reading, Wigan Athletic) and ten former PL sides have never won here (Barnsley, Bradford City, Coventry City, Derby County, Ipswich Town, Nottingham Forest, Oldham Athletic, Swindon Town, Watford, Wolves.

Demba Ba has now scored 8 of our 13 PL goals this season, that mackem Fletcher 6 of their 10.

Swans @ SJP - all-time:

2012/13 lost 1-2 Ba
2011/12 drew 0-0
2009/10 won 3-0 Harewood 2, Lovenkrands
1994/95 won 3-0 Kitson 3 (FAC)
1983/84 won 2-0 Beardsley, Wharton
1980/81 lost 1-2 Rafferty
1979/80 lost 1-3 Shoulder
1964/65 won 3-1 Penman 3
1963/64 won 4-1 Hilley 2, Taylor, Thomas
1962/63 won 6-0 Fell 2, Suddick 2, Thomas, og
1961/62 drew 2-2 Leek, Allchurch
1952/53 won 3-0 Davies, Keeble, Mitchell (FAC)
1946/47 drew 1-1 Woodburn
1938/39 lost 1-2 Clifton
1937/38 won 1-0 Imrie
1936/37 won 5-1 Rogers 2, Smith 2, Pearson
1935/36 won 2-0 Connelly, J.Smith
1934/35 won 5-1 Cairns 3, Imrie, Murray
1914/15 drew 1-1 McCracken (FAC)

Full record v Swansea:
P
W
D
L
F
A
SJP
16
9
3
4
38
16
VF/LS
15
9
1
5
23
23
League
31
18
4
9
61
39
SJP(FA)
3
2
1
0
7
1
VF
3
2
0
1
3
1
SJP(LC)
0
0
0
0
0
0
VF
0
0
0
0
0
0
Cup
6
4
1
1
10
2
Tot
37
22
5
10
71
41
Seasonal comparison - NUFC last five PL seasons after twelve games:

2007/08: 18 points, 10th (scored 19, conceded 18) (Sam Allardyce)
2008/09: 12 points, 18th (scored 15, conceded 20) (Kevin Keegan/Chris Hughton/Joe Kinnear)
2010/11: 17 points, 5th (scored 21, conceded 16) (Chris Hughton)
2011/12: 25 points, 3rd (scored 18, conceded 11) (Alan Pardew)
2012/13: 14 points, 12th (scored 13, conceded 17) (Alan Pardew)


Waffle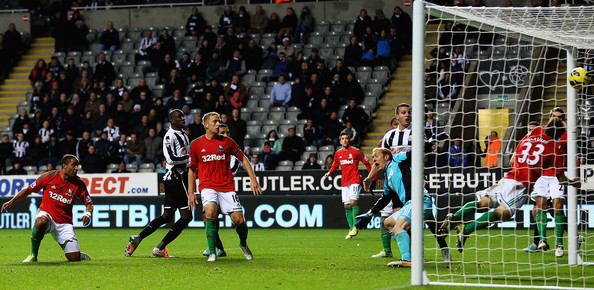 Deserters miss Demba's late effort

Demba Ba's eighth goal of the season was all that United had to show for another desperately disappointing home display, which leaves them with just one win from their last seven Premier League games.

The striker reacted first to head home in the 93rd minute after Sylvain Marveaux's shot rebounded off the crossbar, but that was too little and far too late for many dispirited home followers, who had already vacated their seats.

A moribund first half performance had failed to banish memories of the previous week's meek and uninspired display against West Ham - with only a couple of shots from Hatem Ben Arfa and a glancing header from Ba threatening to enliven the boredom.

Alan Pardew's ongoing dilemma over who to play up front this time was made easier when an ongoing dispute with the Senegal FA over Papiss Cisse saw him barred from playing by FIFA's five day rule - neither he nor Ba having travelled for a meaningless midweek friendly in Niger, but only Ba having official dispensation not to do so.

With Shola Ameobi benched after his Nigerian debut against Venezuela in Miami, it was left to younger brother Sammy (himself withdrawn from midweek England U21 duty due to injury) to spearhead the attack alongside Ba.

Fabricio Coloccini was again suspended (missing the second of three games after his Anfield red card) which meant that the defence picked itself, while the increasingly problematic midfield area was boosted by the return from suspension of Cheick Tiote, but lacking injured trio Yohan Cabaye, Jonas Gutierrez and Gabriel Obertan.

And this week's recipient of the captain's armband was Steven Taylor - appointed to the role in the absence of others and apparently as a reward for maturity on and off the field. Obviously slack jawed pre-derby press conferences (and post-derby carpetings) don't count....

Hopes of a breakthrough were fleetingly raised when a flurry of goal efforts came after the interval, Shola arriving to boost our attacking options as Sammy moved out to the left flank in place of the withdrawn Shane Ferguson. However, the visitors continue to look threatening when their neat passing movements took them upfield and went ahead after Tim Krul's inadvertent assist.

Far from inspiring us to greater efforts though, that setback deepened the gloom around Gallowgate and United rapidly ran out of ideas and into blind alleys - what crosses that did come in barely worthy of that name.

Ex-Mag Wayne Routledge and local lad Danny Graham appeared off the bench in the closing stages as City deservedly wrapped up a first SJP success since 1980 to go with their deserved draw here last season. Ba's late effort was then barely celebrated on or off the pitch and did little to lighten the mood round as we dropped to 12th - our lowest position since May 2011.

And with tricky fixtures now lying ahead at Southampton and Stoke, quite what sort of team will take to the field against Maritimo on Thursday evening is anyone's guess. Now that the dark nights are here, this season is threatening to turn into a winter of discontent - and the carrot of Europa League progression is no longer enough to placate supporters.

We plainly weren't a team in their pomp until suffering two home defeats in a week. The first XI remains strong but now on a purely theoretical basis, as we're now at the umpteenth reshuffling of the squad.

Flaws manifest themselves in a gradual downturn, when the team play well only intermittently and have stopped scoring in those spells of meaningful pressure. We're being tested - and apparently found wanting - by injuries, suspensions and a lack of depth.

As struggling teams generally find to their cost, a downturn in scoring results in more pressure on the defence. And at the risk of stating the patently obvious, each goal conceded is more costly, turning wins into draws and draws into defeat.

In our particular case, just as significant as the loss of attacking potency is the fact that both Ryan Taylor and James Perch are missing, and no equally versatile replacements exist. Between the two of them, they played 60 games last season in a multiplicity of roles, meaning that others weren't continually wheeled out, secure in the knowledge that their place was assured regardless.

In a season when our various commitments would have made them even more useful, to be without both is a sizeable blow. And to have put the farm on Anita in the summer is turning out to be a significant millstone. Arguably behind Bigirimana in the pecking order, opinion on the former Ajax man so far seems divided only as to whether midfield or full back is his worst position - our present predicament means that he doesn't have the luxury of an extended settling in period as was afforded to the likes of Kevin Nolan.
Regardless of who is in the starting XI or who comes on or off though, Pardew can reasonably feel let down by the players at his disposal recently and that a certain duty of care wasn't observed.

Continually rotten attempts at crosses, a noticeable lack of midfield movement and willingness to abdicate responsibility onto defenders wherever possible. Additional irritations today included Krul's wayward kicking - not just for their goal - and the ease with which our defence was led a merry dance by Swansea's counter attacks and players running from deep. You hum it, i'll play it - or just sit and grind my teeth; basics, basics, basics.

As he nears his second anniversary in charge here, Pardew may not yet be under pressure as a result of his side's worst run of form - that remains six winless games in early 2011 - but those Manager of the Year awards now seem a lifetime away.
We've previously praised the manager's press calls as far superior to those of his predecessors in terms of information and candour, even if his views do often grate on opposition fans - hardly a crime and certainly more meaningful than the bland platitudes of the current Norwich City boss).

Increasingly though he seems to be suffering from foot in mouth syndrome - not to the extent of the 'read my lips' misadventure of the Andy Carroll sale, but in terms of treating his public like idiots by insulting their intelligence in terms of what they've just witnessed.

It may be his way of showing loyalty to his player by sheltering them from criticism, but keeping a straight face while talking about his side playing well, dominating the opposition and lining up in certain formations fools few. His continued blowing of Obertan's trumpet is understandable as an attempt to reinforce his own judgement, but his post-match claim that the enforced absence of Cisse resulted in this defeat stretched the bounds of credibility.

As we know only too well, for a Newcastle manager to peddle nonsense to be public on a regular basis erodes credibility and invariably leads to one place - Washington services and the A1 South.
The alarm bells aren't ringing yet, but there's a discernible erosion of public confidence and an increasing clamour for cash to be splashed in the transfer window.

Rather than pushing on though as we did last January, mid-season recruitment may well end up being for salvage purposes - and the influx of players demanded by some supporters realistically achievable only at the cost of losing the prized assets who raised our expectations last season.


Biffa

Dedicated to the late Alan Graham aka Kip. Northampton Mag who will be sadly missed.