In association
with NUFC.com



Date: Sunday 25th November 2012, 3pm

Venue: St.Marys Stadium

Conditions: heavy rain in Hampshire....
and an absolute shower in stripes

Admission: £35

Programme: £3

Southampton

Newcastle United

2 - 0

Teams
34 mins Ricky Lambert received the ball facing towards his own goal and just inside his own half, wheeling round to find the onrushing Jason Puncheon. He charged forwards with Davide Santon in vain pursuit and although Tim Krul beat him to the ball on the edge of the Newcastle box, the goalkeeper's left-foot clearance fell into the path of Nathaniel Clyne on the Saints right.

Taking the ball on his cheet and striding forward and away from Shane Ferguson, Clyne tried his luck from distance as Krul recovered his position between the posts. And although his right-footed effort looked to be dropping wide and past the lurking Lallana, Ramires anticipated Mike Williamson's header out and reached it ahead of Danny Simpson.

Sidestepping the approaching Krul on the corner of his six yard box, he rolled the ball sideways for Lallana to sidefoot home - the despairing lunge of Williamson on the goal line seeing him connect with the ball only after it had crossed the line. Exactly the sort of goal a team concedes when they are collectively in the proverbial. 0-1

Half time: Saints 1 Magpies 0

60 mins Krul's clearance from Steven Taylor's backpass reached Cheick Tiote, but his loose header out towards Santon on the left touchline was half-intercepted by Puncheon. The ball ballooned up and infield with Cork beating Tiote to the resultant header and releasing Lallana into space.

He then improved upon by tipping the ball over Simpson's head and after a little shimmy to deter the advancing Williamson, he played a short pass to Schneiderlin out on the Saints left. He promptly bisected Simpson and Gutierrez with a low pass to Lallana in the box, who exchanged passes with Puncheon and took and then backheeled the return, giving Puncheon an opening towards the byline.

He drove the ball across the Newcastle six yard box and Krul looked to have averted the danger as he dropped forward to collect it, with Ramirez in the vicinity but seemingly shepherded by Taylor. However the 'keeper failed to hang on to the ball, Taylor instinctively took a pace back to try to cover the goal and Ramires was able to poke home from five yards out with a rising left-footed volley 0-2

Full time: Saints 2 Magpies 0

Alan Pardew
said:



"

It was all good up until when it kicked off - it was nice to see some old friends and nice for the fans to give us a nice ovation but obviously it stopped when they got amongst us.

"They did a good job today and we were unlucky as they had a great result at QPR (won 3-1 last week) and their tails were up. Their confidence was there and that made it even more difficult for us. There's no doubt we're lacking a bit of confidence, and that showed in that first half. Second half we came out with a renewed vigour and spirit and should have really equalised.

"We had a great chance to square it up, although perhaps not deserved, But we're struggling at the minute. We're really up against it in terms of numbers, and it's difficult.
We've got 11 senior players out and it looks like Steven Taylor could be another one out for a while with a hamstring injury.

"The difference between last season and this is playing in the Europa League. I feel sorry for the young players like Shane Ferguson who are trying to find their feet in this league, they are trying to find some confidence and it us hard for them.

"Everything seems to be going against us and we have to be tough, but we are not creating the chances that we did last season. The team is not creating.
We are struggling at the minute.


"

Southampton deserved to win and we have got nothing to argue about.
We are going to need the fans, they are the greatest set of fans, the team needs a lift and we need them to lift us.


"We're worried, of course we're worried, because we are Newcastle United and we've really got that dressing room to take into Wednesday night. It's not like we can add four or five players from the squad into that group.
"That is our group and they have been soundly beaten and are going to another tough place. We have three days to try and lift the team to try and get ready for another tough game.
"I am looking forward to the next game and hopefully performing better for our fans. They came a long, long way and they are the greatest set of fans in the country, in my opinion.
"Perhaps we need them more than we did last year because the team really needs a lift."

Nigel Adkins:

"It was good. We've got a 2-0 victory, a clean sheet, which is what we've been striving for, which was really pleasing for the whole team, especially the defenders, because they've worked ever so hard.

"There's a stability in team selection at the back, which has obviously been of benefit. But we played against a top forward line in Newcastle today and we've marshalled them very, very well, so I'm delighted for the defenders.
"Paulo's made a good save in goal. Jose and Maya at the centre of defence have done very well, and so has Clyney and Luke Shaw.
"It's pleasing. We've got a thoroughly deserved 2-0 victory, we could have scored some more. Their goalkeeper's made some really good saves. Jay Rodriguez's goal, having viewed it, looks as though it was onside, although the linesman's flagged for offside, and there's a shout for a penalty claim as well.
"I thought some of the attacking football was really, really good, and our defensive resolve and the shape about the team was really pleasing.

"You've got Adam Lallana, Gaston Ramirez, Jason Puncheon and Rickie Lambert there. They all contribute in a massive way and they're exciting. They get supporters off their seat, there's a flair about them, a fluidity of movement and there's goals about them. Some of the attacking football was really, really good.

"We're a young side, but we're a fit side. We talk about Morgan Schneiderlin and Jack Cork in the middle of the park, again they've got that solid base, but they can go and pass the ball and move the ball around, so all in all it's a really pleasing victory."
Newcastle's travel sickness has now extended to ten winless away games in all competitions since that memorable 2-0 success at Stamford Bridge back in May - our worst sequence since a nine game run during the 2007/08 season.


After scoring on his first reserve appearance in eight months the previous week, Nile Ranger was recalled to the squad but left on the subs bench. His last senior outing in Newcastle colours came during a 2-2 draw at Chelsea back in May 2011.

Toon @ Saints - last 20:
2012/13: Lost 0-2
2004/05: Won 2-1 OG, Carr
2003/04: Drew 3-3 Ameobi, Bowyer, Ambrose
2003/04: Won 3-0 Dyer 2, Robert
2002/03: Drew 1-1 Bellamy
2001/02: Lost 1-3 Shearer
2000/01: Lost 0-2 No scorer
1999/00: Lost 2-4 Shearer, Speed
1998/99: Lost 1-2 Hamann
1997/98: Lost 1-2 Lee
1996/97: Drew 2-2 Ferdinand, Clark
1995/96: Lost 0-1 No scorer
1994/95: Lost 1-3 Kitson
1993/94: Lost 1-2 Cole
1988/89: Lost 0-1 No scorer
1987/88: Drew 1-1 O'Neill
1986/87: Lost 1-4 A.Thomas
1985/86: Drew 1-1 Beardsley
1984/85: Lost 0-1 No scorer
1973/74: Lost 1-3 Macdonald
Full record v Saints:

| | | | | | | |
| --- | --- | --- | --- | --- | --- | --- |
| | P | W | D | L | F | A |
| SJP | 36 | 27 | 5 | 4 | 84 | 32 |
| St. Mary's | 37 | 4 | 11 | 22 | 30 | 63 |
| League | 73 | 31 | 16 | 26 | 114 | 95 |
| SJP(FA) | 3 | 2 | 1 | 0 | 4 | 1 |
| HCG/TD/SM | 6 | 1 | 0 | 5 | 6 | 13 |
| SJP(LC) | 0 | 0 | 0 | 0 | 0 | 0 |
| TD | 1 | 0 | 0 | 1 | 1 | 4 |
| SJP(FC) | 1 | 0 | 1 | 0 | 0 | 0 |
| TD | 1 | 0 | 1 | 0 | 1 | 1 |
| Cup | 12 | 3 | 3 | 6 | 12 | 19 |
| Tot | 85 | 34 | 19 | 32 | 126 | 114 |
Waffle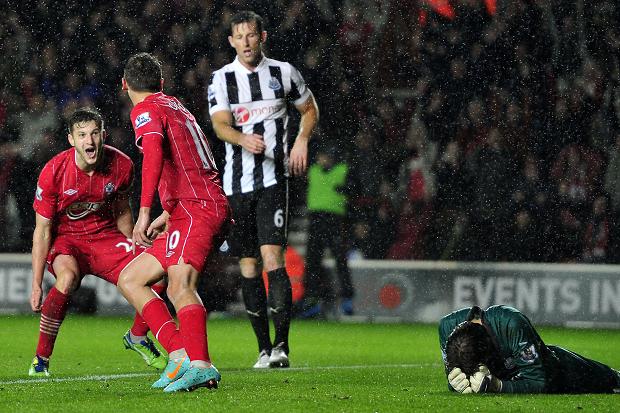 Newcastle suffered their third straight league defeat at a soggy St. Mary's on Sunday afternoon as Alan Pardew's side's season threatens to disappear down the plughole and the achievements of last season become more of a curse than a blessing - in particular our much vaunted European return.

It's now just one win in the last eight Premier League games since eight year contracts were doled out to him and various staff members, with performances on the field deteriorating as the squad gets more and more stretched by injuries, suspensions and an almost total absence of form.

The latest to limp out was Steven Taylor, who tweaked a hamstring late on and joined a sick list including Shola Ameobi, Hatem Ben Arfa, Yohan Cabaye, Dan Gosling, Gabriel Obertan, Ryan Taylor, Haris Vuckic and even Xisco. Fabricio Coloccini meanwhile served the final game of his ban.

Such was the paucity of talent available that even Nile Ranger was recalled from his exile on the mean streets of Forest Hall to bulk up the travelling party. His first public return to the club that kicked him out for his waywardness though consisted of no more than a few warm-up jogs, home supporters either ignorant of his history or indifferent to his presence.

Cheick Tiote was included and James Perch returned to the bench. Jonas Gutierrez meanwhile was declared fit and took the armband, although only capable of a low key and ineffective performance. He at least played though, meaning that one less rookie was called upon, namely Gael Bigirimana - undoubtedly possessing of promise, but being done no favours by growing up in public.

Having the three clubs promoted from the Championship on his managerial CV has been something of a millstone round Pardew's neck thus far this season, with his side stumbling to a fortunate draw at Reading and deservedly defeated by West Ham at home - both to a backdrop of catcalls and abuse from his former fanbase. We'll probably get Charlton in the FA Cup Third Round draw next Sunday.

This time round, the welcome was rather more favourable (reflecting a departure from St.Marys that was personality based, rather than purely on results) but he was never in danger of seeing the visitors depart with all three points, as he had in his last game in charge of the Saints here in 2010.

Current incumbent Nigel Adkins is no stranger to subjecting us to discomfort, his Scunthorpe side having caused a rare blemish on our promotion season in 2009. And we were similarly undone against equally unfashionable opponents here, second best to a team who recently formulated a blend of pace, movement and confidence (perhaps they found our missing attributes) and used it to good effect here.

Pardew called his side leggy, many in the away section favoured gutless after another performance which summoned up the bad old days of our annual capitulation at the Dell.

Even the most optimistic fan would concede that our season has been disappointing, with only occasional moments to cherish and no domestic display when we truly dominated throughout and enjoyed a secure lead.

What points we have gathered have come as the result of some individual brilliance, a healthy dose of good fortune and some game-changing work from both Tim Krul and Demba Ba. Now even that has gone though, with every error by the goalkeeper punished savagely and the goalscorer unable to make any headway, when routinely crowded out by numerically superior opponents. That all contributes to a sense of helplessness only seldom glimpsed since our top flight return.
Even if we're not actually in the worst league form since our relegation, by crikey it feels like it.

Krul and his defence had the goalframe to thank on three occasions for keeping the score down while he made two more notable stops and enjoyed favour from a linesman late on, as the Saints looked to have broken through for a third time only to be denied by an offside flag.

A failure to muster a worthwhile effort on target in the first half was due in part to Cisse's unique tactic of staying a yard beyond the home defence at all times and permanently offside. Vurnon Anita and Davide Santon then brought saves out of Gazzaniga after the break, either side of going further behind. However, the Saints managed to keep a first clean sheet of the season without difficulty.

Swapping Sammy Ameobi for Shane Ferguson and replacing Anita with Sylvain Marveaux were purely statistical substitutions, as the new arrivals made not a jot of difference to our listless display and contributed further to the confusion about what formation our shapeless throng were playing in.
A midweek visit to Stoke is probably the last place to visit as we try and halt the slide, although Ba's hat-trick there last season was one of the highlights of the season. That win came against a Potters side who were attempting to juggle the extra demands of a Europa League campaign with domestic commitments. The boot is firmly on the other foot this time round though.

City currently boast the best defensive record on home soil in the country and the possibility of United losing four consecutive league games for the first time since the 2008/09 relegation season looms large, with only the return of Fabricio Coloccini from suspension providing any comfort ahead of what looks like an equally miserable trek across the country.

Returning home after this one was an elongated and miserable affair; periodic downpours only adding to the gloom now that the dark nights are back, both metaphorically and meteorologically speaking.

Going slightly deeper than immediate post-match "useless so-and-so's" rage/inquest though, trying to make sense of our current plight is a task bordering on an lifetime obsession. And as in most cases when there's a drains up, the root cause is revealed to be a combination of failures.

The level of injuries we've suffered from have to be mentioned, as it seems hard to credit that it's all down to misfortune. The only difference from previous years seems to be that more of the problems look to be happening during games rather than in training - the latter haunting us to such an extent during the Graeme Souness era that he swapped training grounds with the Academy. Maybe it's just down to the stupid bloody coloured clown shoes that masquerade as football boots these days.

And the universal clamour of "told you so" currently being heard focuses on the failure to strengthen ahead of this season of increased commitments, with full back rightly seen as the chief failing, but not the only one. That particular situation has been exacerbated by the current media nonsense surrounding Danny Simpson - a man soon to be contractless and who was surplus to requirements last season but now a first-choice selection. He hasn't got better, we've just got worse.

If the most regrettable pronouncement of Pardew's time in charge was the Carroll stays, then his fanciful talk about getting his hands on a cup this season runs it a close second. Teaming up with a gang metal thieves would seem his best hope of securing silverware at present, with good fortune already coming our way in the form of the Europa League draws throwing up pliant opposition.

Presumably that loose talk was based on the expectation of getting new recruits - further proof that the manager says one thing and is then told another; something that's harder to get past when it's his own players left feeling misled, rather than journalists and supporters.

Inevitably there's disquiet in the camp - agents wouldn't be doing their job if there wasn't. And with the ongoing farce of the transfer window just about to gear up once more, thoughts of the next payday, or what continental players euphemistically call, "project", are never far away.

When opportunity knocks, young pretenders invariably get the chance to fill in, either making their mark or getting found out. From Keith Dyson to Lee Clark, careers have been shaped here by catching a break and doing more than filling a shirt. Chris Waddle did it, Bruce Halliday didn't.

At the risk of sounding like some Pravda press release from Barrack Road, it's unrealistic to expect that any "normal" football club will possess enough experienced players in cold storage to cope with the level of absenteeism we're currently experiencing.

That's not to say we haven't made a grave and potentially disastrous error of judgment in not arming themselves with defensive cover, but that only the truly wealthy or fiscally incompetent can afford to splash that much cash.

The recent increase in players graduating to the Newcastle first team doesn't imply that we're in the presence of a golden generation and temperatures have suddenly risen in the hotbed, merely that we're relying on the footballing equivalent of seasonal labour to see us through a shortage - a bit like the post office at Christmas.

And if you're looking for a measure of our continued failure to develop our own talent to the required level - aside from the presence of Yven Moyo, Mehdi Abeid and Romain Amalfitano - then a check of the teams currently hosting our reserve players out on loan at may provide a clue: Bradford City, Crewe Alexandra, Blyth Spartans, Darlington and St,Mirren - one struggling SPL team and no Championship sides.

We remain advocates of the loan system and certainly James Tavernier benefited more from spending last season playing for various League One clubs than playing reserve games on a windswept training pitch. Compared to other top-flight sides though, our fringe players are invariably deemed capable only of playing at a lower level, consequently missing out on learning from a higher standard of opponent and sampling life at a better club.

And looking at ex-Mags, once you get past the category of "seasoned pro" operating in reduced circumstances like messrs Lovenkrands and Ramage, then there's a big gap. Once upon a time, players who didn't make it at Gallowgate found employment at Brunton Park or Victoria Park. Now they melt away into genuine obscurity, be it in the Conference, Northern League, Ireland or Iceland. Never mind top stars, we no longer produce second-raters who will make a living in the game.

If anything, the lack of suitable cover in the reserves should have had Pardew banging on the door for budget-priced cover from the lower leagues lower this season, knowing that many of those currently in possession of first team squad numbers realistically had no more chance of playing than himself, Woodman, Stone or Carver.

Instead though he's left to muddle through with whatever side he can put out, hoping that the crowd don't turn on him and no more of the random and unforeseen misfortune we're only too familiar with befalls him. At least if his prize assets are knacked, there's less chance of them leaving in January....

We had our own master plan for how this season would go, plodding along in the league to achieve a safe mid-table position - and win the Europa League, emulating the boys of 1969. That's why we're not in charge - and the man who is remains more qualified, experienced and recognised by most of his contemporaries, if the trinkets on his sideboard from last season are any indication.

Pardew has asked for support from the stands, it's time that he got some from the dressing room and people who talk a good fight actually graft for their reward, starting on Wednesday.


Biffa