Alan Pardew said:

"The pressure was building, we had a lot of criticism which I thought was unfair and we've had to accept that, and yet our fans were with us tonight from the off. We were all over Wigan, we wouldn't let them settle and we deserved to take the lead.
"We were under pressure and our players had to stand up that and they did - they should be applauded for that.

"Confidence is important. Whatever level of football you play at, everybody needs confidence. It does not matter what team you are, Look at Chelsea and Arsenal and look at Everton. Everybody is demanding so much of teams.

"It was not one of my biggest (wins as a manager) but it was important. We have had bigger victories and turned over bigger clubs. We have had to do a job and we did it very, very well.

"We have not always been in the situation we were tonight - we came out of the Stoke game and on any other given day we would not have lost that match.

"We were very unlucky to lose that fixture and took the energy and confidence out of the game into last night and we would not let Wigan play or step off them.
"I don't think he's (Bigirimana) ready though and he shouldn't be playing in this team if I'm honest. He should be playing in our under-21 team, but we are in such a place that he gets an opportunity and you would like to think that he will take that.

"He did more than that - it was a fantastic goal and something he will treasure for the rest of his life."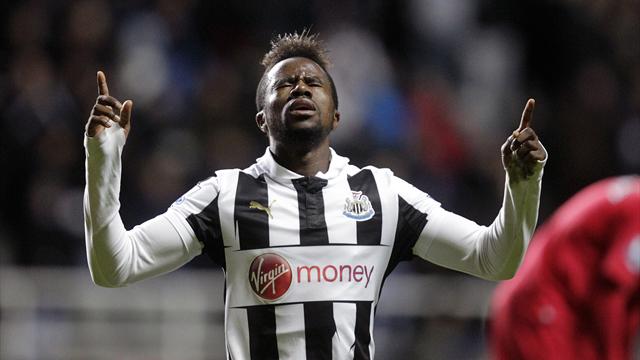 After a disastrous November, December began with a happy Monday on Tyneside after Demba Ba's double and Gael Bigirimana's first career goal end our five game winless run in the Premier League.

For once the crucial decisions went in favour of Alan Pardew's side, with a collision between Papiss Cisse and Maynor Figueroa on thirteen minutes in the visitors box saw the latter dismissed and the former celebrating with his striking colleague Demba Ba moments later as he converted the penalty.

That opening goal had come via a fine passing move involving the strike pair and Vurnon Anita that was by far the most cohesive piece of play we've managed in recent weeks - further proof that something approaching normal service was on the way to being resumed round these parts.

Eight minutes later it was pretty much game over when Davide Santon's shot was pushed out by Ali Al Habsi to Ba, who coolly knocked in the rebound to leave the Latics looking set for a long and fruitless evening.

Thoughts turned to our clouting at the JJB back in April when United's defence disintegrated and Roberto Martinez's side ran in four goals before their half time cuppa. And had the referee tonight chosen to penalise Wigan with a second sending off for old boy Gary Caldwell, then a similar scenario may well have unfolded in our favour.

As it was though, aside from Cheick Tiote tried his luck with a trio of first-half strikes from distance we didn't bombard Al Habsi's goal and our new training ground drill (players lining up in the area as if they're about to start a conga) failed to bring that elusive goal from a corner.

It wasn't all good news for the home side though, with Tiote not reappearing for the second half - a decision initially thought to have been taken due to some warnings from the referee before what looked an inevitable fifth domestic booking of the campaign, triggering a one match ban.

It later materialised that he'd tweaked a hamstring and within five minutes of the restart, Santon was also heading for the home dressing room with a similar ailment. And when the tiring Jonas Gutierrez was relieved - to the irritation of Ba - it was almost inevitable that we'd end up a man short, playing the last five minutes of normal time with ten men when Demba couldn't continue.

Much more of this and our yuletide hospital date will involve bairns coming to visit stricken players...

As well as the scoreline though - and the leg-up provided by the referee at a time when Wigan had more than held their own in the exchanges - there was a sense that little gambles and decisions were at last paying off for the Newcastle boss and his staff, in stark contrast to what was on the way to becoming a feeling of powerlessness.

Opting to push Sylvain Marveaux through the middle and send Gael Bigirimana out to the right flank caused a few eyebrows to be raised, but the Frenchman prospered in the additional space caused by our numerical superiority and went on some confidence-raising runs that weren't far away from setting up further goals.

And for our Burundian rookie, there was also a channel to work in and some link ups with Danny Simpson on the overlap before a sight of goal saw him shank his effort well over the bar. That proved to be merely a range finder though for an absolute peach of a strike.

A more tenacious display from Vurnon Anita meanwhile saw him rightly applauded on a couple of occasions as he successfully harried to gain possession. Not quite David McCreery but something to build on at least.

Aside from the comedic booking of Sammy Ameobi within seconds of coming on and Cisse somehow managing to stray offside when he and Ba were clean through on goal, the game was then played out to a conclusion and the players left the field to cheers of relief.

After the relatively unimportant diversion of a French Europa League excursion which is set to test the outer limits of the squad, attention now focuses on next Monday's visit to an ailing Fulham side who have been unimpressive on their own ground since scoring five times against us in less than 40 minutes back in January.

With the options available to him looking to be increasing (notwithstanding the surely imminent bans for Tiote and Jonas plus whoever else's turn it is to knack themselves), a maximum return from Craven Cottage is absolutely essential, as we look for a first away win of season and also to right the wrongs of a dreadful November that brought just one point from a possible twelve.

The victory did nothing for our league position - remaining 14th - but the five point gap down to the relegation zone now looks a lot less precarious ahead of a tough set of fixtures over the coming weeks - which at least can be faced without the added burden of Thursday night Euro ties. The squad shortcomings haven't gone away, but a little of the self-induced pressure has, mercifully.