Alan Pardew said:

"We wanted to qualify, that was the first agenda in this competition, and we did that with a game to spare. I think it would have been difficult coming here if we both hadn't qualified and they played their best team on that pitch.

"It would have been difficult for us because they have got some very good players, but the bottom line is we have qualified and we can look forward to February.

"I am just hoping that, fingers-crossed, when we come out of the other side of the window, we have got a stronger squad. I was a bit disappointed, really. We both played mixed teams - we had both qualified, which made it psychologically a difficult game.

"The pitch was difficult. They play rugby on that pitch and it was heavy on the legs. I thought they coped better with the pitch, and they were the better side and they deserved to win.
"Certainly looking at my group there, I think they need to learn a little bit more about this game away from the black and white and the pressure of the jersey here and the level we are playing at.

"I will probably look at loaning a few of those who played tonight, hopefully after January when I have got a stronger position in the squad."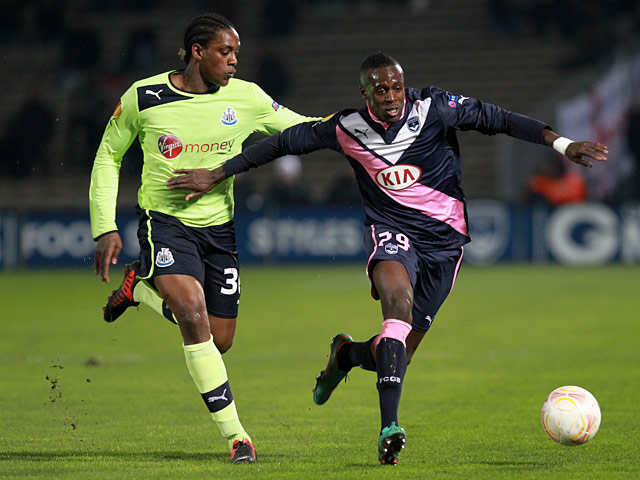 After some of his side's less impressive performances Alan Pardew has trotted out a line about them being more flat beer than champagne, but quite what alcohol-related comparison came to mind after this non-display is a matter of conjecture.

As we were in wine-producing country, something along the lines of a young vintage lacking body and with no discernible finish may be suitable. And as for any mention of a special reserve, forget it.
Of course the actual result was almost immaterial after successive draws against Brugge Maritimo left our opponents this evening in poll position to win the group - Newcastle needing to win what would have been their first away game of the season in order to finish top and avoid the seeds.

That fact plus our concerning Premier League form and selection issues was always going to result in a youthful and inexperienced Magpies side contesting this game. However it's pertinent to mention that Bordeaux indulged in a similar welter of changes from the side that had drawn with Sochaux the previous weekend,

Ten of the dozen players used by Francis Gillot had come through the Girondins Academy and included 19 year-old midfielder Biyogo Poko, making his first start. Striker Cheick Diabate also featured and the lanky Malian scored in each half before leaving the field to applause from home fans often critical of him after just his meagre contribution of just two goals in 17 previous outings.
And had it not been for some outstanding saves from Rob Elliot, the punishment could have been more severe for United. An early one-handed stop from Henri Saivet will have given him confidence in what was only his fifth club start, while he also did well to block efforts from Ben Khalfallah and ex-mackem David Bellion.

At the other end, Shola Ameobi had returned from injury to take the captain's armband and resume an occasional partnership with Nile Ranger - back in favour due to his improved attitude and effort and in no way included due to our current plight and the desperate need for bodies from anywhere.

The return of ranger to the Magpies starting XI inevitably provoked differing opinions among those present and earwigging a few conversations, there seems to be a broad division on age lines: the younger element unconcerned with his chequered history, but more senior fans in varying stages of the "disgrace to the shirt / sack him" viewpoint.

For our own part, there's a certain discomfort seeing him trotting out on the field after the multiple examples of immaturity and stupidity, but taking the moral high ground argument to its full extent would result in not going within a country mile of professional football, never mind Newcastle United.

The previous ambivalence we felt with messrs Bowyer and Barton was complicated by the fact that both had demonstrated some ability and tenacity on the field, along with other more questionable attributes. And expanding that view, the antics of Kieron Dyer and Craig Bellamy hardly fell into the positive role model while they were on our payroll, but those episodes now seem largely forgotten.

In that regard, Ranger has a harder job on his hands, having no previous playing achievements to his name in our colours. His extended contract award exactly two years ago was based on unrealised potential and our not wanting to lose an asset cheaply - and sadly nothing has changed, except that we'd now flog him for any sort of return to cut our losses.

The only chance of that is to give him some pitch time and say vaguely nice things about him, as Bobby Robson did with Silvio Maric. Having him score against us in a giant-killing cup tie in a couple of years from now is an occupational hazard that we're quite willing to take the risk on - if for no other reason than seeing wrong 'uns prosper sticks in the throat.

Having said that, there is some element of talent in Nile and he did look to have bulked up since last sighted, helping him when tussling with defenders here and turning them with some success. Given the poor service from Sammy Ameobi, Shane Ferguson and Sylvain Marveaux, he had little choice....

Sammy duly paid the price for his aimless contribution when he was replaced by Vurnon Anita at the break and United came out for the second half looking somewhat more purposeful. In what proved to be our best period of the contest, Shola had a fine left-footed effort saved by Kevin Olimpa and Mehdi Abeid curled an effort wide soon after, having made space for a shot on the edge of the box.

Gregory Sertic shaved the outside of Elliot's post with a 25-yard effort but with Fabricio Coloccini ready to come on, the home side doubled their lead and left us with the even more unlikely target of needing to score three times and keep Bordeaux out in order to win the group.

Regardless of that, Pardew still opted to risk Coloccini and prompted further bafflement by then putting on Papiss Cisse. Thankfully, neither appeared to pick up any injuries to impact domestically, but opting to field both for no apparent reason was as illogical as throwing on Cheick Tiote when losing in the FA Cup tie at Stevenage back in 2011 - and seeing him promptly red-carded.

And were Williamson to have been carrying a knock then that would make risking the last of our trio of "first-choice" central defenders in a meaningless game an even more ludicrous decision.

Rather appropriately in this wine-producing region, we really were scraping the barrel tonight and few of the fringe players did much to enhance their reputations. A clutch of more experienced performers meanwhile looked very much second best all night.

With no fewer than eleven league games now scheduled before our next Europa League action, the excuse of being hampered by Thursday games is now no longer valid though and with a fearsome set of fixtures on the horizon, a victory at Fulham is essential.
Depending on our success - or lack of it - we may well see this team sent out to face Brighton in the FA Cup. It would be hard to imagine them playing worse than they did tonight if that game gets switched to the beach. Those present travelled here with low expectations - and left disappointed.