Date: Saturday 22nd December 2012, 3pm

Venue: St. James' Park

Conditions: damp, relieved.





Newcastle United

Queens Park Rangers

1 - 0


Teams
Half time: United 0 Rangers 0

81 mins The inspiration for the breakthrough came from Davide Santon, who picked the ball up from James Perch as the game moved into the final ten minutes before cutting infield from the left and slipping a pass to Marveaux.

Drawing two defenders towards him, the Frenchman hesitated momentarily before springing the trap and knocking the ball out wide to the unmarked Shola Ameobi. He took a touch, switched inside to evade the retreating Adel Taarabt and then clipped a left-footed effort beyond Green and inside the far post of the Leazes End goal. 1-0

Full time: United 1 Rangers 0

Alan Pardew said:

"It was much more like it today, we looked a little bit more resilient defensively. They didn't really create any problems for us up front and it was just about a moment really.

"(With) the results that we've been getting, you could just sense that we were getting a little bit nervous and a bit edgy, but we called upon the man that loves the big occasion - and Shola delivered.

"I know the crowd weren't particularly pleased when I took Cisse, a goalscorer, off but I just felt Shola... he's a big man and this was a big occasion and he likes big occasions.

"It said QPR on the programme but really it was bigger than that, I think we all knew that and he has that calm head - he knows what is demanded here - to produce a quality goal, and it won us the game.

"I wanted to get Shola on the pitch, and thank goodness I did because it was a really class finish. He could have taken the shot with his right foot, which is his stronger foot, but to have that composure in that area is first class.

"I felt we had better option on the bench for this game - Sylvain Marveaux has looked a lot crisper, while Gabriel Obertan gives us some pace and is positive.

"It's difficult when you're manager of a club as big as this to express how important a win like that was. There's a feelgood factor in the dressing room. That Christmas pudding might taste a little sweeter now.

"I feel sorry for our fans. We have put them through the rack, really, over this last period. They have watched some football that hasn't been our best. But you have periods in your tenure as a manager and sometimes a season.

"Last season, we sailed through one or two low moments but not many. This year, it's been a sustained little run. But the last five games, two wins in the last four Premier League games, they are starting to look the right sort of stats now.

"Now we need to back that up and get a big win against one of the big clubs, and that would really cement us into mid-table."


'Arry commented:

"There are a lot of players at this club who earn far too much money. Far too much for their ability and what they give to the club. I don't really want to see the owners have their pants taken down like they have in the past.

"A lot of agents made money out of them (QPR's owners). I fined a player last week and he was earning more than any player earned at Tottenham. You shouldn't be paying massive wages when you've got a stadium that holds 18,000 people.

"Newcastle holds 52,000 and most of their players will be nowhere near some of the wages some of the players are earning here."He (Boswinga) didn't want to be on the bench and didn't want to be a substitute, so he went home. He has been fined two weeks' wages, £130,000. Not too bad for two weeks - decent isn't it?"

"Let's not kid ourselves, it's a hard job we have got on here. We have got to try to improve a little bit in the transfer window to give ourselves half a chance. We are short of options in one or two positions. If you look at Newcastle, they can go and bring a couple of fresh forwards on to make the difference but we haven't got that option really.

"We have got Bobby Zamora and Andy Johnson out with long-term injuries and we are desperately short of one or two bodies. Hopefully we can get to the window, get another result or two before then, and let's see what we can do in January."

Ryan Nelsen - who captained New Zealand against Brazil at Gallowgate in the Olympic football tournament last summer - said:

"I think, probably overall, we're a bit disappointed with how we played at Newcastle. We stayed in the game right to the end and we needed a bit of magic but it didn't really fall for us
"It is quite fun (at Newcastle) St James' Park is one of my favourite places to play - the crowd is really passionate and the rain and the atmosphere. It brings back - maybe I'm getting a bit old and sentimental - memories of good old English football.I'm pretty sure I heard horns and the cavalry and all that.
"I think we looked pretty good. We're looking for that break and it nearly came.The manager is not happy after any type of defeat," Nelsen added. "We're all disappointed with the performance.

"Everybody has got to stand up for themselves. We didn't really deserve to get anything from a creative point of view. We should be hard to beat, we just lack something from everybody going forward.
"It's about keeping your position while creatively going forward - the belief is still there, we know that when we don't play that well we're still in games. In the Premier League, you've got to stay in games."
Shola Ameobi scored his third goal of the season and the first in the Premier League (the other two coming in Europa League ties).

His 41st Premier League goal was his first since netting against the mackems in March at the Gallowgate End. It puts him level with Les Ferdinand and one closer to both Andy Cole (43) and Peter Beardsley (46). The sheet metalworker's son is way out in front with 148 goals.

R's in Toon - all time:

2012/13 won 1-0 Sh.Ameobi
2011/12 won 1-0 Best
2009/10 drew 1-1 Harewood
1995/96 won 2-1 Beardsley 2
1994/95 won 2-1 Kitson, Beardsley
1993/94 lost 1-2 Allen
1988/89 lost 1-2 Ranson
1987/88 drew 1-1 O'Neill
1986/87 lost 0-2
1985/86 won 3-1 Beardsley, Reilly, McDonald
1984/85 won 1-0 Reilly
1982/83 won 1-0 Keegan
1981/82 lost 0-4
1980/81 won 1-0 Waddle
1979/80 won 4-2 Shoulder, Withe 2, Cassidy
1977/78 lost 0-3
1976/77 won 2-0 Burns, Cannell
1975/76 lost 1-2 Gowling
1975/76 won 2-1 T.Craig, Gowling (FAC)
1974/75 drew 2-2 Tudor, Macdonald
1973/74 lost 2-3 Tudor 2
1968/69 won 3-2 Burton, Dyson, Gibb
Full record v QPR:
| | | | | | | |
| --- | --- | --- | --- | --- | --- | --- |
| | P | W | D | L | F | A |
| SJP | 21 | 11 | 3 | 7 | 30 | 29 |
| LR | 20 | 7 | 4 | 9 | 25 | 35 |
| League | 41 | 18 | 7 | 16 | 55 | 64 |
| SJP(FA) | 1 | 1 | 0 | 0 | 2 | 1 |
| LR | 1 | 0 | 1 | 0 | 0 | 0 |
| SJP(LC) | 0 | 0 | 0 | 0 | 0 | 0 |
| LR | 2 | 2 | 0 | 0 | 7 | 1 |
| Cup | 4 | 3 | 1 | 0 | 9 | 2 |
| Tot | 45 | 21 | 8 | 16 | 64 | 66 |
This proved to be another miserable return to SJP for Harry Redknapp as QPR became the sixth different club he's taken charge here since February 1990, when he arrived with AFC Bournemouth:

AFC Bournemouth (2) lost 1, won 1 (on pens)
West Ham (7) lost 3, drew 2, won 2
Portsmouth (1) lost 1
Southampton (1) lost 1
Portsmouth (4) lost 3, won 1
Spurs (3) lost 1, drew 2
QPR (1) lost 1

'Arry's last win here was also the biggest of his managerial career at the ground, when his Pompey side scored three goals in four first half minutes en route to a 4-1 victory in November 2007.

However, he's ended up on the losing side on the first occasion that he's visited NE1 with a new team, a record that he extended on Saturday.

That record also includes his first appearance here as a player for West Ham in a 0-1 defeat in April 1967 and for AFC Bournemouth - a 0-2 loss in January 1973.



Waffle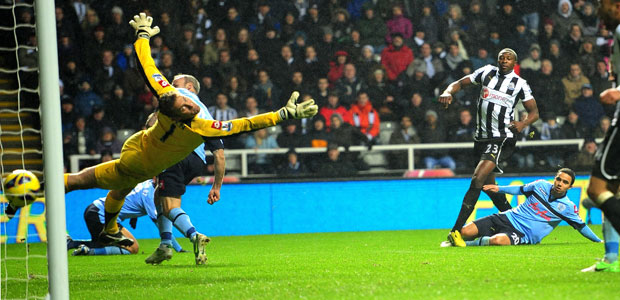 Super sub Shola Ameobi gave his boss Alan Pardew the best Christmas present he'll receive this year by firing a fabulous late winner to secure three precious Premier League points for his side.

It was a moment of magic that rarely looked like coming, as United dominated proceedings against a Rangers side unbeaten in four games, but seldom looked like making the breakthrough on a soaking wet Tyneside afternoon.

Heavy rain and surface water on the pitch threatened to dampen the day but the game went ahead due to the efforts of the ground staff and despite no let up in the downpour, the surface remained playable.

United fielded the same starting XI beaten by Manchester City, but with only one win in last eight league outings, the hoped-for bright start failed to materialise and visiting 'keeper Rob Green was as under-employed as Tim Krul.

Some awful deliveries from the flanks - particularly the left - meant there was little for Demba Ba and Papiss Cisse to feed off, with a succession of corners wasted.

Our best chances of a dire first half came from free-kicks with Ba hitting two dreadful kicks high over the bar into the Gallowgate End, with Cheick Tiote volleying another effort even higher.

The visitors went close three minutes after the break when the horrible Djibril Cisse hit a low effort that flew narrowly wide. Llike fellow ex-mackem Anton Ferdinand, he was reminded of his past affiliation by the crowd.

With time beginning to ebb away and his side looking in desperate need of inspiraton, a trio of substitutions made the difference for the manager - although some home fans greeted his choice of withdrawal with derision.

Shola replaced a dejected Cisse (who had just headed over the bar) and Gabriel Obertan came on for the ineffective and lethargic Jonas Gutierrez, with Tiote making way soon afterwards for Sylvain Marveaux.

Available again after an eight match absence, Obertan looked dangerous when galloping down the left flank, showing fine touch and control given the conditions.

Shola's goal was the one moment of sheer quality in a frustrating game and a deserved match winner, with Marveaux almost wrapping things up soon after when Vurnon Anita surged upfield on the counter attack after an impeccable intervention from Fabricio Coloccini had thwarted the R's.

Picking up the ball on halfway and with the crowd roaring him forward, Marveaux's run ended with a firm shot from the edge of the box beaten away by Green - Obertan having made ground to position himself in space to Sylvain's left but not getting the pass.

After much of what had gone on before though, to see any home player attempt a shot and get it on target was a bonus and Marveaux could have grabbed his first league goal soon after with a fiercely-struck low free kick that just failed to bend inside the post.

QPR pressed in the five minutes of added time and a foul by Mike Williamson after Perch inexplicably failed to clear his lines with a simple ball to Obertan made for a nervous and thoroughly avoidable conclusion to the game.

That gave Taarabt a chance to shoot at goal from 25 yards but his chipped effort was gratefully grabbed at the second attempt by Krul and the final whistle then sounded amid great relief, Pardew joining his players on the field to applaud the crowd and glancing at the sky - perhaps giving silent thanks for a prayer answered.

The victory proved to be even more precious with Reading, Wigan and Southampton all joining Rangers in defeat to give us some breathing space ahead of the daunting trips to Old Trafford and The Emirates.

Unfortunately (and predictably) we will be without Tiote for Boxing Day, having been booked for the fifth time this season. Messrs Williamson and Gutierrez remain one away.


Biffa