In association
with NUFC.com



Date: Wednesday 26th December 2012, 3pm

Venue: Old Trafford

Conditions: engrossing/excruciating

Admission: £45

Programme: £3

Manchester United

Newcastle United

4 - 3

Teams
4 mins Hernandez knocked a pass sideways from the Manchester United right towards the halfway line for Michael Carrick to make a hash of controlling the ball and knock it towards Demba Ba. He turned and took off for goal before unleashing a well-directed low effort from outside the area through the legs of his marker Evans.

De Gea parried the shot in the direction of the retreating Rio Ferdinand, but the ball fell nicely for James Perch (who was onside) and he calmly knocked the ball home from seven yards 1-0.

25 mins Santon's intervention to prevent Valencia progressing down the right flank brought the two players to a standstill and a free was awarded. Van Persie swung it into the area where it dropped among a clutch of defenders and looked to get away from Mike Williamson.

Hernandez seized on the loose ball and took a touch to get away from Williamson before shooting goalbound from the corner of the six yard box. Tim Krul blocked that effort but the rebound dropped in front of the goal around six yards out, with Evans getting there just ahead of Danny Simpson to force the ball home into the unguarded net at the Stretford End 1-1.

28 mins A passing move involving Coloccini, Marveaux and Anita led to the latter feeding a pass out to Simpson on the Newcastle right and with plenty of space in front of him, a touch took him into the right hand side of the area.

Opting to knock the ball across the box rather than shoot, former mackem Jonny Evans got ahead of Cisse to reach the ball first but rather than knocking it clear first time succeeded only in diverting it into the goal.

With no appeals for offside and home defenders arguing amongst themselves, the linesman's flag was raised to indicate and offside - a decision that Alan Pardew was quick to protest about to the fourth official, while Danny Simpson went over to the flagwaver and was directed to the referee.

Referee Mike Dean then spoke to that nearside assistant and gave the goal, correctly spotting that Evans not Cisse had touched the ball and therefore the offside flag was superfluous as the visiting player had never become active. 2-1

Half time: United 1 United 2

58 mins Van Persie pulled back before sending a curling cross towards the middle of the Newcastle box. Although headed away by Perch, the ball fell for Patrice Evra and after evading an unconvincing attempt at a block from Marveaux, he whacked a left-footed grass-cutter from the edge of the box through Ba's legs and beyond Krul's outstretched left hand, the ball looking to bobble up right in front of the unfortunate 'keeper. 2-2

68 mins Gabriel Obertan had been on the field less than ten minutes when he rushed forward to collect Coloccini's throw in, Ba doing enough to deter Ferdinand from reaching it. The substitute was easily able to ignore Chris Smalling's half-hearted shadowing as he took the ball to the byline then pulled it back across the area, cutting out Evans towards the near post in the process.

Papiss Cisse arrived just before Evra and unleashed an absolute snorter from ten yards that flew past De Gea. Never mind Swansea's Williams and van Persie, if that ball had hit the 'keeper then it would have decapitated him....3-2

71 mins Valencia motored down the right wing and laid the ball across the edge of the penalty area from where the unmarked van Persie to crack a first-time shot at Krul - having seemingly caught Coloccini in the face near the halfway line as the pair ran side by side. Krul blocked the shot but when the ball rebounded back, Williamson failed to connect with an intended clearance as he swung round. The ball was touched back to van Persie by Giggs who made no mistake at the second time of asking 3-3

90 mins With the visitors looking out on their feet, Michael Carrick dinked an angled ball into the Newcastle box and three home players timed their runs perfectly; Hernandez knocking it first time past the helpless Krul - Williamson unable to get back in time and Simpson rooted to the spot 3-4

Full time: United 4 United 3

Alan Pardew
said:


"I can't remember a defeat being as painful, if I'm honest. I genuinely think we could have won – we scored three goals and had some great opportunities. We hit the post and the bar.
"You've got to be able to defend that situation – the last goal was galling. We'll be asking questions of ourselves of at least one of their goals, for sure. There were so many good things. It was such a young midfield, but a little bit of inexperience in there has let them come on to us.
"I genuinely feel for the players, but at the same time we have to learn. there's no point saying 'we've put in a great performance', because we got nothing. It's like a boxing match – on points you're winning after 10 rounds, but after 12, you got beat.
"We have to let that hurt – I made my feelings very clear after that game. We should have won. I don't think we're at panic stations about where we are in the division yet – we know we've got players coming back - but some of our defending, admittedly against Man United at Old Trafford and their tradition and history, had to be better.
"We've got to set our standards higher than a couple of those goals. If we hadn't conceded soft goals, we'd have a few more points. That's the difference between mid-table, and where we're at."
"We had a game plan to take the game to Man United. We put a lot of pressure on them, on the break in particular. However, we came away with nothing and after the way we played offensively we are disappointed with that.

"We hit the post at 3-3 and hit the bar as well. My frustration is with my team because defensively we should have done a lot better. Regardless of it being Man United and the history and tradition of the place, and their late finishes, we should have taken something from the match, 100%.
"We have come here against an experienced side and probably lacked a bit of experience in that midfield in the second half, but we have to defend better. That back four has been together for a while with our goalkeeper and my expectations of them would have been greater. I was disappointed with the goals they conceded, especially the last one.
"I just felt for the whole game we had a goal in us. Whatever the score was, I thought we could score again. I said to the players at half-time, 'you have to expect Man United will score'.
"The key moment was probably from Sammy Ameobi. He came off the bench and I thought his effort was in, but it hit the inside of the post and went into the goalie's hands. I did think to myself then it might not be our day.
"I was upset with that (Anita) tackle. I thought it got lost a little bit (following the winner). I don't think Valencia has tried to hurt the player, he just timed it badly. It is too early to say how long he will be out for, but it's a bang on the ankle and we'll have to wait and see whether he'll make Arsenal. He would be a loss to us because I thought he was terrific."

On his side's second goal:

"At the time I thought it was an own goal. It doesn't matter who is offside, he could be 20 yards offside if the defender sticks it in. I don't know if the striker got a touch before the defender but I don't think so. I can't see a problem with it."

Comments from his press conference 48 hours later:
"You take November out of the calendar year and you have to say what a bloody great year we had. But unfortunately November soured it and it's put us in a tricky position for this first half of the season.
"If we had picked up six points and been sitting on 26 with fourth place at 33, we would have been all right. We are really six points short of actually doing very well with the squad we have had.
"But we mustn't take our eye off it and think it's been okay or it's acceptable. It isn't and we have got to do better. We haven't got the riches of some of the bigger clubs.
"I looked at Everton last year and after 18 games, they had 20 points, so they had a similar first half to the one we have had - and in similar circumstances, I might add, with injuries and the like.
"What we must do is replicate their second half of last season because it's fed into this year, where they find themselves in the Champions League places.
"I know, looking at my best team, I am not far away, but underneath that we need to strengthen. I don't think there's any doubt about that.
"Our morale has always been good, but I want it to hurt, defeat should be hurtful for Newcastle United. You can't accept defeat, even at Old Trafford, and especially in the manner it was.

"You can't be going around smiling and all being happy with that. We need to be recharged. We have got to focus on Arsenal."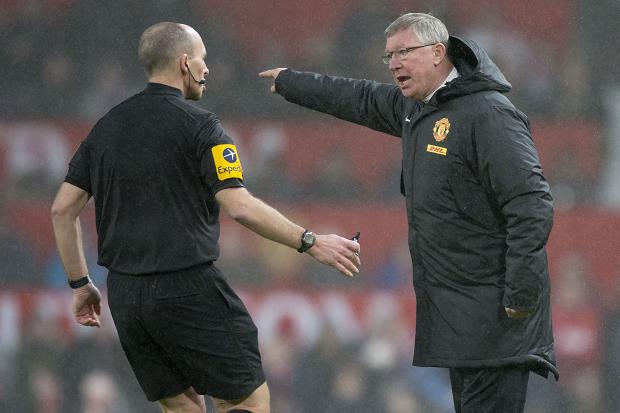 Fergie's freshly-forged fabrications (taken from the MUTV transcription, during which they look to have altered his contention that Demba Ba was the man involved in the second Newcasle goal to Cisse):

"I wish this was the last game of the season! What this tells you about is the courage of our team. Fantastic courage. The players never gave in. We improved our game enormously (in the second half) which we had to do.
"The referee changed the linesman's mind. The referee said it was an own goal, but if you see it again... the referee couldn't see it and that's why his linesman has to come into it. The Newcastle striker is in an offside position and as the ball's played in, he pulls Jonny Evans' arm. If that's not interfering with play, what is interference?
"I think it was a bad decision but Mike Dean deserves the benefit of a video replay, which I had. When I saw it, I knew right away it was a mistake. We had a lot of decisions against us in the first half and sometimes that can demoralise a team. But the players didn't give in and that's a great quality to have. I'm pleased that we came back three times after going down three times and then scoring the winner.
"Chicharito deservedly got the winner, his movement and courage were unbelievable. He and van Persie were absolutely phenomenal, I thought. It's a really significant result for us. It puts in a good position. As I always say of December, it's a month that tells you everything and when we come to the end of the Wigan game on 1 January, we'll still be top of the league."
Friday's Fergie press call then proved to be quite illuminating, as he responded to Pardew's comments from his own media briefing the previous day:

"I was demonstrative but I was not out of order. The press have had a field day. The only person they have not spoken to is Barack Obama because he is busy. It is unfortunate but I am the manager of the most famous club in the world. Not Newcastle, a wee club in the north east.
"I was demonstrative. I am always demonstrative. Everyone knows that. I am an emotional guy. But I was not abusive.
"I shouted Mike over. We walked towards each other. I was only on (the pitch) three or four yards. That has been overplayed. The problem for me is that the profile of this club is huge.

Alan Pardew has come out and criticised me. He is the worst at haranguing referees. He shoves a ref then makes a joke of it, then he's got the cheek to criticise me. It's unbelievable. His whole staff, every game. He was at it the whole game on Wednesday. He forgets the help I gave him, by the way."
James Perch scored his first senior Newcastle goal on his 64th appearance in all competitions (45 starts). His first career strike since netting for Forest against QPR back in January 2010 made him our 104th Premier League scorer.

He became the seventh Magpie to score in the Premier League this season - along with Shola Ameobi, Ba, Ben Arfa, Bigirimana, Cabaye & Cisse - and the first English- born player to do so since Danny Guthrie at Fulham in January 2012 (not including own goals).

Perch's goal removes him from the list of current outfield players yet to score in a competitive senior match for us. That now consists of seven names: messrs Abeid, Amalfitano, Campbell, Ferguson, Santon, Tavernier and Williamson - the latter now on a 95 game barren run.

This was the tenth 4-3 (or 3-4 game) Newcastle have featured in during their 711 Premier League history - but only the fourth time they've lost a "seven goal thriller." The time in brackets is when the crucial fourth goal was scored - or conceded - and 90 minutes is taken as when the clock stopped, although the goal may be later:

Apr 1996 Liverpool (a) lost (90th minute)
Sep 1996 Aston Villa (h) won (67th minute)
Feb 1997 Leicester City (h) won (90th minute)
Mar 1997 Liverpool (a) lost (90th minute)
Apr 1999 Derby County (a) won (60th minute)
Sep 2001 Man United (h) won (83rd minute)
Dec 2001 Leeds United (a) won (90th minute)
Dec 2002 Bolton Wanderers (a) lost (63rd minute)
Oct 2004 Man City (h) won (89th minute)
Dec 2012 Man United (a) lost (90th minute)

After a one-season Reebok revival, we reverted to type in games played on St. Stephens Day:

NUFC - Boxing Day Record - Premier League era:

2012/13 Manchester United (a) lost 3-4
2011/12 Bolton Wanderers (a) won 2-0
2010/11 Manchester City (h) lost 1-3
2009/10 Sheffield Wednesday (a) drew 2-2*
2008/09 Wigan Athletic (a) lost 1-2
2007/08 Wigan Athletic (a) lost 0-1
2006/07 Bolton Wanderers (a) lost 1-2
2005/06 Liverpool (a) lost 0-2
2004/05 Blackburn Rovers (a) drew 2-2
2003/04 Leicester City (a) drew 1-1
2002/03 Bolton Wanderers (a) lost 3-4
2001/02 smoggies (h) won 3-0
2000/01 Leeds United (h) won 2-1
1999/00 Liverpool (h) drew 2-2
1998/99 Leeds United (h) lost 0-3
1997/98 Derby County (a) lost 0-1
1996/97 Blackburn Rovers (a) lost 0-1
1995/96 no game
1994/95 Leeds United (a) drew 0-0
1993/94 no game

* Championship

Since we lost 3-5 at Old Trafford in November 2002, there have been five more occasions in the Premier League before today when the visiting team have scored three or more goals?

Feb 2004 Man U 2-3 smoggies (80th minute winner)
Nov 2008 Man U 4-3 Hull City (57th minute winner)
Sep 2009 Man U 4-3 Man City (90th minute winner - M.Owen)
Apr 2012 Man U 4-4 Everton
Sep 2012 Man U 2-3 Spurs (52nd minute winner)

Magpies @ Old Trafford - Premier Years:

2012/13 lost 3-4 Perch, og(Evans), Cisse
2012/13 lost 1-2 Cisse (LC)
2011/12 drew 1-1 Ba (pen)
2010/11 lost 0-3
2008/09 drew 1-1 Martins
2007/08 lost 0-6
2006/07 lost 0-2
2005/06 lost 0-2
2004/05 lost 1-2 Ambrose
2003/04 drew 0-0
2002/03 lost 3-5 Bernard, Shearer, Bellamy
2001/02 lost 1-3 Shearer
2000/01 lost 0-2
1999/00 lost 1-5 og(Berg)
1998/99 drew 0-0
1997/98 drew 1-1 Andersson
1996/97 drew 0-0
1995/96 lost 0-2
1994/95 lost 0-2
1993/94 drew 1-1 Cole
1988/89 lost 0-2
1988/89 lost 0-2 (Mercantile)
1987/88 drew 2-2 Mirandinha
1986/87 lost 1-4 D.Jackson
1985/86 lost 0-3
1984/85 lost 0-5
1977/78 lost 2-3 Martin, Burns
1976/77 lost 1-3 Nulty
1976/77 lost 2-7 Burns, Nattrass (LC)
1975/76 lost 0-1
1973/74 lost 0-1
1972/73 lost 1-2 Nattrass
1971/72 won 2-0 Tudor, Barrowclough


Full record against Manchester United:

P

W

D

L

F

A

SJP

74

30

17

27

138

113

OT

74

9

20

45

80

167

League

148

39

37

72

218

280

SJP

(FA)

1

0

0

1

2

3

OT/W/MS

3

0

0

3

1

7

SJP(LC)
1
1
0
0
2
0

OT
2
0
0
2
3
9

Cup

7

1

0

6

8

19

OT/W(CS)

2

0

0

2

2

8

Tot

155

40

37

78

226

299
Seasonal comparison - NUFC last five PL seasons after nineteen games:
2007/08: 26 points, 11th (scored 26, conceded 29) (Sam Allardyce)
2008/09: 22 points, 12th (scored 25, conceded 27) (Kevin Keegan/Chris Hughton/Joe Kinnear)
2010/11: 22 points, 13th (scored 28, conceded 29) (Chris Hughton/Alan Pardew)
2011/12: 30 points, 7th (scored 26, conceded 25) (Alan Pardew)
2012/13: 20 points, 15th (scored 23, conceded 30) (Alan Pardew)
Rookie defender Remi Streete travelled with the toon squad as the "19th man."

Nine of the fourteen players who participated in our 3-0 win over the Red Devils at SJP back in January also took to the field today (players italicised featured in January but not December):

Krul, Simpson, Williamson, Coloccini, Santon, R.Taylor, Cabaye (Perch 78), Tiote, Gutierrez, Ba (Obertan 90), Shola Ameobi (Best 75). Subs n/u: Harper, Vuckic, Ben Arfa, Sa.Ameobi.


Waffle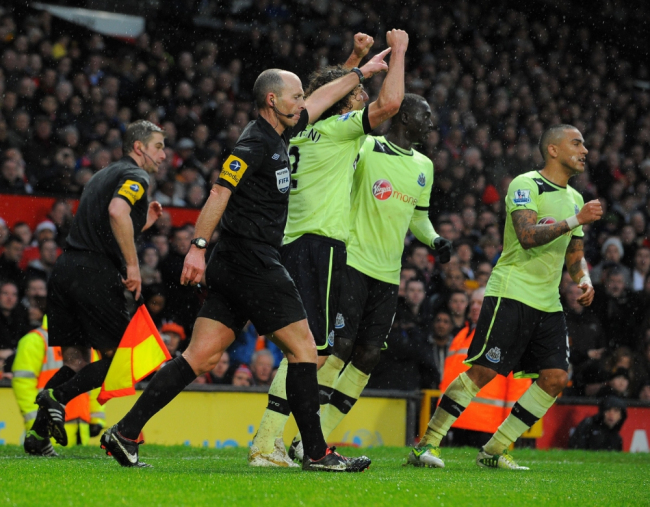 Having begun the year by unexpected putting three goals past Manchester United, Alan Pardew's side did it again in the penultimate game of 2012 - a feat few had foreseen. Unfortunately for Newcastle though, the same back five that had kept the Red Devils at bay in January were unable to do so again, despite being aided once again by an own goal - Evans this time, not Jones.

Taking the lead on no less than three occasions, the visitors left empty-handed after being pegged back on each occasion and then conceding a winner in the dying seconds of normal time, although an improbable nine minutes of additional time was still to be played. Behind those bare stats though lies subsequent controversy and disquiet that soon developed into a slanging match when the FA bottled out of taking decisive action.

At the heart of it was Alex Ferguson, who plumbed new depths here by his berating of referee Mike Dean and officials as his side bullied their way to victory. The conduct of the bespectacled septuagenarian was nothing short of a disgrace as he and his staff confronted Dean at the end of half-time and continued to rant at the nearside linesman and fourth official throughout the game.

The cause of his ire was a wrongly disputed offside call that rightly cost his side a goal - a second decision in our favour in as many league visits (after our first penalty here in over 35 years). That was obviously too much for the demented old fool who recently addressed the Harvard Business School - presumably teaching them how to blame their rivals and any passing officials.

Wearing their luminous green Euro shirt as the rain fell in sheets, the Magpies had looked full of purpose from the first whistle and Ba came close in the first minute before he strode clear soon afterwards and hit a low shot that De Gea made a mess of, allowing James Perch to rifle home.

For the next 20 minutes the visitors looked well worth their lead until Evans tapped home, but once the controversy at the other end put us back in front, Alan Pardew's side more than held their own and could even have gone in for their cuppa two goals to the good, Sylvain Marveaux striking a fabulous free-kick that bounced back off the bar, with De Gea well beaten.

The indefensible intimidation of the officials as the teams returned to the field then continued throughout the second half when Fabricio Coloccini stood firm in the penalty area with Hernandez hopefully appealing for a spot-kick. A second equaliser was followed by the goal of the game to restore our advantage before the Red Devils picked a way through our faltering back line and left the game locked at 3-3 with 20 minutes to play.

With the Ameobis on for for Ba and Cisse (the latter not flouncing off this week), the play switched from end to end and Sammy almost put us in front again after jinking into the area and curling a low shot that bounced back off the post to the grateful De Gea - the second time we'd hit the frame.

Thereafter the game belonged to the home side though, with two glaring chances spurned, merely adding to the agony as four minutes of Fergie time was signalled and Krul then fished the ball out of his net for the fourth time in the game - the first time this season we've let in that many goals.

Four additional minutes became nine though, when Antonio Valencia somehow avoided his second booking of the game when he went through the back of Vurnon Anita near the halfway line and almost within touching distance of referee's assistant Jake Collin - who failed to intervene.

Anita was stretchered off with an ankle problem that thankfully proved to be no worse than bruising but which will only add to our ongoing selection issues with both him and Gutierrez now unavailable for Saturday's trip to Arsenal - Williamson also suspended as a result of today's booking.

And to add insult to injury, with John Carver making his feelings known to Rio Ferdinand as the players left the field after nine minutes of added time, news of Manchester City's second successive defeat on wearyside was confirmed by the PA announcer - taking the mackems one place above us.

Almost inevitably, the manner in which this game unfolded evoked memories of the 3-4s at Anfield in 1996 and 1997: the same feelings of helplessness as the goals were conceded, the same nagging sense of impending doom before conceding the winner and that depressingly familiar gut-wrenching "just knew it" feeling when it went in just as time ran out. Can I just say that i've now had enough of these supposedly character forming episodes for several lifetimes, thanks for asking.

Perhaps the worse thing though is the life-balancing, soul-selling mental gymnastics one resorts to when holding the lead at a place like this - the footbal supporting equivalent of Robert Johnson selling his soul to the devil in return for an other-wordly ability to play and sing the blues.

And thankfully we were able to resist those primeval urges to plunge headlong into the jubilant home fans, trying to knock as many of them out as possible or throttling the hordes of celebrating tourists with their newly-purchased bootleg friendship scarves (in the event we contented ourselves with a non-violent pre-match protest of spoiling people's photos by pacing back and forth past the "three disgraces statue" commemorating a Belfast pisspot, a squinty jock and an Ashington turncoat).

No points then and more players lost, but a brave and committed performance should have brought some reward and easily have seen the 40-year winless streak halted. Given some of the dark days here in years past, this was a display to be proud of, albeit with some nightmare defending.

While Arsenal enjoyed their questionable Boxing Day break - would a Metro strike see Newcastle get a postponement we wonder? - Pardew's side must now go to the Emirates after an exhausting and traumatic defeat that leaves them languishing dangerously near the drop zone. That we played this well and left empty-handed is of scant consolation at this point.

Quite what we've got left in the tank for the Gunners is open to question, but there is a crumb of comfort in an extra day to prepare for Everton's televised visit, by which time the window will be open and another 31 days of madness will be revving up, abetted by David Craig. Now that really is the unacceptable face of football.


Biffa