In association
with NUFC.com



Date: Saturday 29th December 2012, 5.30pm
Live on ESPN

Venue: Emirates Stadium

Conditions: unprecedented/incredulous

Admission: £35.50

Programme: £3

Arsenal

Newcastle United

7 - 3

Teams
20 mins Lukas Podolski released Theo Walcott down the Arsenal left with Danny Simpson caught out of position on the halfway line and James Perch wrongly appealing for an offside decision. The England international took a touch inside on the corner of the box to better his angle before his excellent side-footed finish along the deck saw the ball tucked beyond Tim Krul inside the post 0-1

43 mins Bacary Sagna's foul on Gabriel Obertan gave United a free kick towards the left hand edge of the Arsenal area and despite his recent poor dead ball efforts, Demba Ba lined up to take it.

His right-footed effort deflected off the head of Jack Wilshere (standing in no-man's land away from the four man wall) and wrong-footed Szczesny, who recovered to spring to his right as the ball whistled past him 1-1

Half time: Gunners 1 Magpies 1

50 mins Wilshere picked out Podolski pushing forward down the Arsenal left and he thought he'd won a throw in off Simpson down towards the corner flag, only for the decision to go against him.

Simpson took the throw and sent it forwards towards Ba, but he succeeded only in finding Podolski again and his header landed inside the box and in front of Cazorla. His first-time ball picked out Oxlade-Chamberlain on the "D" and as Davide Santon went towards him, he cracked home a right-footed effort to Krul's right. Now tell me Simpson isn't a useless tosser. 1-2

59 mins A fine pass sprayed from the centre circle out to the left touchline was taken in his stride by the unmarked Gabriel Obertan and his weaving run saw him elude Sagna and funnel the ball back within the six yard box. It glanced off Koscielny's boot and into the path of Sylvain Marveaux, who steered it left-footed into the net from close range 2-2

64 mins Tiote lost possession in his own half and looked odds-on to upend Wilshere but instead allowed him to continue his run into the left hand side of the Newcastle box unchecked after a smooth exchange of passes with Podolski.

Reaching the byline and shadowed by Perch, he dinked a centre over Krul's head looked like dropping in before Fabricio Coloccini reached it ahead of Walcott and headed it onto the crossbar from point blank range. That took the ball back over the head of Krul again and into the path of Podolski, who had ambled forward and took full advantage by heading the ball home from just inches out 2-3

69 mins Krul's kick downfield was won by Ba and he directed a headed infield to Marveaux, who broke forward and headed for the Gunners box before a slight deviation took him towards the left wing and the waiting Obertan.

Rather than the obvious though, Marveaux spun anti-clockwise as two defenders loitered and then supplied a delightful cross with the outside of his left boot to Demba Ba, who streaked past a hesitant Gibbs and forced the ball right-footed between the goalkeeper and his near post. 3-3

73 mins Oxlade-Chamberlain slowed almost to walking pace in the middle of the pitch and halfway towards the Newcastle before routing the ball out to Sagna on his right. He moved infield and supplied a pass between Santon and Bigirimana to Podolski on the edge of the box, who turned and found Gibbs on the left side of the area, running into space beyond Perch and Simpson.

Gibbs pulled his pass back from the byline and although Podolski failed to make contact, the ball fell to the unmarked Walcott and he had time to turn and clip a curling right footed effort into the roof of the net from eight yards before Bigirimana could close him down. More statuesque defending punished 3-4

84 mins Sagna chugged forward before drawing substitute Shane Ferguson and touching the ball out to Walcott on the edge of the box. He turned provider with a driven low cross that neither Perch nor Santon got near as Giroud skipped beyond them to score with a diving header 3-5

87 mins With Newcastle in complete disarray, Walcott motored goalwards from the right and was able to elude the half-hearted challenges of Obertan and Bigirimana before stabbing the ball towards Giroud. Coloccini looked capable of getting to it but stayed rooted to the spot as the Arsenal forward pulled the ball to the right to avoid Perch and then cracked home a fine low drive 3-6

90+2 mins Adding insult to injury but showing some magnificent vision and application, Walcott took a free kick conceded by Santon near the corner flag and then proceeded to bob and weave into box and round Shola Ameobi and Obertan.

Tiote's lunge then looked to have halted his progress illegally at the expense of a penalty, but the Arsenal man's momentum took him forward and back to his feet in one movement before he provided an exquisite finish for his hat trick by dinking the ball between Krul and the near post. 3-7

Full time: Gunners 7 (SEVEN) Magpies 3

Alan Pardew
said:


"I thought at 3-3, we should have shut up shop and we couldn't do that. The energy levels between the two teams was evident towards the end. Arsenal looked energised and our team looked really leggy.

"The fourth goal knocked the wind out of our sails a little bit because we then conceded some bad goals. It's why we ended up with the scoreline we did.

"It is hard to take. But we put in a real effort against Manchester United on a really sodden pitch, and that took its toll and the bench today really didn't have enough on it.

"I didn't put Remie Streete on there to make a point. He really was my only defender and he shouldn't be anywhere near my bench – that's the truth of it.

"We really were down to the bare bones. At least Mike Williamson will come back on Wednesday and hopefully Vurnon Anita.

"We put the ball at risk too many times today and at the end showed too much naivety as we tried to get another goal. Maybe the fact we are scoring so freely has made us too open.

"Even with the players we had available, it was important we attack the game, which we did. We had some great offensive performances today.

"Sylvain Marveaux had what was probably his best game for us and Demba Ba scored two goals. But you need to defend as a team and we needed to show a little more nous in the last 20 minutes.

"If Arsenal had played on Boxing Day, we certainly wouldn't have had the scoreline that we did."

Wenger:

"I agree with you (that Newcastle played their part). The game was not as comfortable as the result indicates. We suffered for big parts in the game, especially in the first half when I felt we played with the handbrake, we were a bit nervous, not free of the chest.
"We had problems to win the ball back from them. Every time they came back but we kept going and in the end of course it became easy, but it was a difficult game for us.

"We couldn't see any sign of giving up, even at 3-3. It's not easy, mentally. You're 1-0, 1-1, 2-1, 2-2, 3-2, 3-3 and you come back again - that's not easy. You cannot win every game 7-3. Your team has to be capable to sometimes win 1-0."

Highest aggregate scorelines in Premier League history:

Sep 2007 Portsmouth 7–4 Reading
Nov 2009 Spurs 9–1 Wigan
Aug 2011 Manchester United 8–2 Arsenal
Dec 2012 Arsenal 7–3 Newcastle
Dec 2007 Spurs 6–4 Reading

Newcastle conceded more than six goals in a game for the first time since their 1-8 top flight reverse at West Ham back in April 1986.

We also let in six goals in one half of play for the first time since our 0-6 loss at Old Trafford in January 2008 (after getting to half time goalless). We're checking to see when the last time was that we participated in a game when eight goals were scored in one half - if ever.

United scored 3 or more goals in successive Premier League away games for the first time since December 2001 (3 at Arsenal followed by 4 at Leeds - both victories)

NUFC Ten goal "thrillers" - all-time (league):

Nov 1959 Everton (h) won 8-2
Mar 1927 Everton (h) won 7-3
Dec 1933 Everton (a) won 7-3
Jan 1960 Manchester United (h) won 7-3
Dec 1960 West Ham (h) drew 5-5
Sep 1984 QPR (a) drew 5-5
Sep 1953 West Brom (h) lost 3-7
Dec 2012 Arsenal (a) lost 3-7
Dec 1908 mackems (h) lost 1-9

NUFC games with more than ten goals (league):

Oct 1946 Newport County (h) won 13-0
Mar 1928 Aston Villa (h) won 7-5
Jan 1934 Liverpool (h) won 9-2
Sep 1930 Manchester United (a) won 7-4
Dec 1909 Liverpool (a) lost 5-6
Sep 1958 Chelsea (a) lost 5-6
Nov 1930 Portsmouth (h) lost 4-7

Sylvain Marveaux became the 105th Newcastle player to score in the PL for the club while teenage defender Remi Streete was named on the bench for the first time.

Demba Ba scored his 12th & 13th Premier League goals of the season on what was his 20th PL appearance this season. He netted 14 PL goals in 18 games by the end of 2012 and has 29 goals to his credit during his 58 games in all competitions for NUFC (54 starts)


NUFC Premier League Top Scorers:

1. Alan Shearer 148
2. Peter Beardsley 46
3. Andy Cole 43
4. Les Ferdinand 41 / Shola Ameobi 41
5. Nobby Solano 37
6. Rob Lee 34
7. Gary Speed 29 / Demba Ba 29
8. Obafemi Martins 28
9. Craig Bellamy 27


At (5s) 6s and 7s - worst NUFC PL defeats:

2000/01 0-5 Arsenal (a)
2003/04 0-5 Chelsea (a)
2011/12 0-5 Spurs (a)
1999/00 1-5 Man U (a)
2007/08 1-5 Man U (h)
2008/09 1-5 Liverpool (h)
2010/11 1-5 Bolton (a)
2002/03 2-5 Blackburn (a)
2011/12 2-5 Fulham (a)
2002/03 3-5 Man U (a)
2007/08 0-6 Man U (a)
2002/03 2-6 Man U (h
2012/13 3-7 Arsenal (a)

NUFC's year ending results - Premier League era:

2012/13 Arsenal (a) lost 3-7
2011/12 Liverpool (a) lost 1-3
2010/11 Spurs (a) lost 0-2
2009/10 Derby County (h) drew 0-0
2008/09 Liverpool (h) lost 1-5
2007/08 Chelsea (a) lost 1-2
2006/07 Everton (a) lost 0-3
2005/06 Spurs (a) lost 0-2
2004/05 Arsenal (h) lost 0-1
2003/04 Blackburn (h) lost 0-1
2002/03 Spurs (h) won 2-1
2001/02 Chelsea (h) lost 1-2
2000/01 Manchester United (h) drew 1-1
1999/00 Leicester City (a) won 2-1
1998/99 Liverpool (a) lost 2-4
1997/98 Liverpool (h) lost 1-2
1996/97 Spurs (h) won 7-1
1995/96 Manchester United (a) lost 0-2
1994/95 Norwich City (a) lost 1-2
1993/94 Chelsea (a) lost 0-1

Magpies @ Gunners - Premier years

2012/13: Lost 3-7 Ba 2, Marveaux
2011/12: Lost 1-2 Ben Arfa
2010/11: Won 1-0 Carroll
2008/09: Lost 0-3
2007/08: Lost 0-3
2007/08: Lost 0-3 (FAC)
2007/08: Lost 0-2 (LC)
2006/07: Drew 1-1 Dyer
2005/06: Lost 0-2
2004/05: Lost 0-1
2003/04: Lost 2-3 Robert, Bernard
2002/03: Lost 0-1
2001/02: Lost 0-3 (FAC)
2001/02: Won 3-1 O'Brien, Shearer, Robert
2000/01: Lost 0-5
1999/00: Drew 0-0
1998/99: Lost 0-3
1997/98: Lost 1-3 Barton
1996/97: Won 1-0 Elliott
1995/96: Lost 0-2 (LC)
1995/96: Lost 0-2
1994/95: Won 3-2 Keown og, Beardsley, Fox
1993/94: Lost 1-2 Beardsley

(@ Highbury until 2005-06 season, Emirates thereafter)

Total record against Arsenal:
| | | | | | | |
| --- | --- | --- | --- | --- | --- | --- |
| | P | W | D | L | F | A |
| SJP | 78 | 40 | 19 | 19 | 142 | 89 |
| H/Em | 79 | 22 | 17 | 40 | 85 | 134 |
| League | 157 | 62 | 36 | 59 | 227 | 223 |
| SJP(FA) | 2 | 0 | 2 | 0 | 4 | 4 |
| H/Em/W/VG | 8 | 4 | 0 | 4 | 7 | 12 |
| SJP(LC) | 1 | 0 | 0 | 1 | 0 | 4 |
| H/Em | 3 | 0 | 0 | 3 | 0 | 8 |
| Cup | 14 | 4 | 2 | 8 | 11 | 28 |
| Tot | 171 | 66 | 38 | 67 | 238 | 251 |
Waffle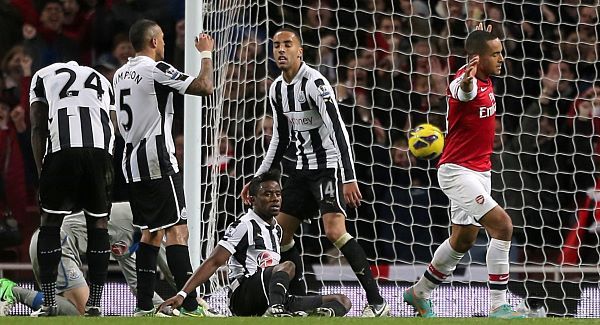 Just three days after after scoring three times but leaving Old Trafford pointless, there was more late heartache for a beleaguered United at the Emirates on Saturday night. But if the last-gasp loss to the Red Devils was cause for both pride and frustration, then our fifth successive loss away from St.James' Park was rather more humiliating.

Once again United managed to work themselves into a position of sharing six goals at the three quarter mark but then proceeded to unravel alarmingly - conceding seven goals for the first time in league competition for over quarter of a century. Only this club could score six goals in two away games of this magnitude and end up empty-handed.

We'd questioned what Alan Pardew's side had left in the tank after their Boxing Day exertions and they duly succumbed in the closing stages to a team granted a seven day Winter break after a Boxing Day tube strike (although Fulham and QPR managed to stage their games that day).

And it showed over the ninety minutes, although the Magpies were arguably the better side in the first half and enjoyed the majority of possession. Going behind to the flying machine that is Theo Walcott, the black and whites had spurned some good chances to level - notably from a rare Cheick Tiote effort that was on target - before a slice of luck deservedly took them in level at the break.

The Gunners regained the lead just five minutes after the interval but another valuable assist from Gabriel Obertan restored parity before we conceded - and they did. 3-3 and although a more objective judgment via the goggle box may have rightly been that we were drowning not waving, from the back of the away end there was genuine hope that we could go on to snatch a second famous victory on this ground in three seasons - not least due to a snoozing home defence.

But before Pardew's troops could regroup, some more sloppy defending allowed Walcott to break our spirit for the final time. What happened after that were a series of self-inflicted but truly cruel blows for a side that by then had gone from being on the ropes to KO'd out on the canvas. Walcott somehow managed to complete a hat trick while Giroud was denied a ten minute treble by a post.

Once the jaw-dropping, mind-numbing shock of the score subsided though, there were small glimmers of positivity among the wreckage - not least Marveaux and Bigirimana's displays and a seldom-glimpsed ability to score goals from close range.

At the risk of hiding behind statistics, we're not the first side to have come a cropper here this season when the Gunners have found their fluidity as an attacking force - Spurs being hit for five and Southampton shipping six. Again though, it's the manner of our capitulation that raises more concerns about direction, unity and attitude - not to mention more tangible worries about personnel.

Having attracted criticism from various quarters (including us), no blame could be attached to Mike Williamson for any of the seven goals conceded here, as he served a one match suspension and was replaced by makeshift centre half James Perch. The lack of defensive options open to us could be gauged by a first naming of Remi Streete as a senior team substitute, the 18 year-old returning from a nine month injury absence to provide notional cover at centre half.

When bemusement at having scored six goals on the road in rapid sequence but leaving empty -handed subsides, the stark facts are that United have lost eight of our last ten Premier League games and sit just three points clear of the drop zone as the second half of the season begins.

Everton's visit to Tyneside in four days time will test the strength of the squad again, but at least our Goodison comeback earlier in the season was an indication of this team's ability to bounce back - albeit with the forward presence of Demba Ba to dig us out of several holes.

The variable performances of Fabricio Coloccini are the latest concern in a squad where players enjoying both form and fitness are a rare commodity, while question marks over the effectiveness of his leadership remain. The loss of Tiote to the Ivory Coast leaves us with a further midfield gap to be plugged - although after a performance like this, we're glad to see the back of him frankly.

Our irritation at some of our substitutions this season meanwhile was evident again when Simpson was replaced by Ferguson - although the broken toe suffered by the former wasn't known at that point. What is crystal clear though is that Shane is no more of a left back than Charles N'Zogbia ever was and to pretend otherwise is unfair on him - and us.

But the cupboard is bare though, with not even Jonas available to fill in. The much-vaunted plan of having players for every position at different levels in the club exists on paper but not in flesh and blood. The left back in most recent reserve game is now out on loan - at Blyth Spartans.

Pardew did kindly confirmed that he wasn't trying to make a point to his employers by including the totally unproven and only recently fit-again teenage centre half Remi Streete on the bench, just in case anyone hadn't spotted he'd done precisely that - the other course of action was to name less than seven subs as Sam Allardyce had done ten days earlier.

Kevin Keegan once tried to make a similar point on this ground by including Nile Ranger on the bench just days after his U18 debut but hopefully the current Magpies boss will be rather more successful in getting his desired reinforcements in January - the ones he needed in August, we mean.

A mixed bag of results at the bottom of the table on Saturday meant that Newcastle remain fifteenth but Wigan, Southampton and Reading closed the gap while Aston Villa, Fulham and the mackems also tasted defeat.

When we next take to the field, the three teams immediately below us will have been in action and an admittedly long-odds trio of victories for Villa, Wigan and the Saints would be enough to drop us into the bottom three for the first time since May 2009.

PS: I don't want to start any blasphemous rumours, but somebody at SJP has a sick sense of humour. The first post-match email we received was entitled "Newcastle United Lingerie Reduced Now!" Unwanted confirmation that it wasn't just the team caught with their pants down...


Biffa