In association
with NUFC.com



Date: Saturday 5th January 2013, 12.30pm
Live on ITV1

Venue:

Amex Stadium



Conditions: dismal

Admission: £28 (£24 in 2011/12)

Programme: £3.50

Brighton

Newcastle United

2 - 0

Teams
33 mins Approaching the halfway line on the Albion right, Gordon Greer swung a fine crossfield pass to the opposite wing where Wayne Bridge galloped forward and reached it just on the line, pulling a first time centre back across the box as James Tavernier moved across in an attempt to block.

With his back to goal on the edge of the six yard box towards the near post, Spaniard Andrea Orlandi took a touch which brought the ball back infield and as his alleged marker Mike Williamson dallied, stabbed the ball into the opposite corner of the goal with his outstretched boot. 0-1

Half time: Seagulls 1 Magpies 0

87 mins A neat 1-2 out on the Brighton right allowed Lopez to poke the ball forward into the path of substitute Will Hoskins as he completed an arcing run to stay onside. With Williamson too far away to offer any cover, he calmly nutmegged Elliot with a first time effort from ten yards 0-2

Full time: Seagulls 2 Magpies 0

Alan Pardew
said:


"We are missing too many of our top players and we need them back and quickly. Fabricio Coloccini and Papiss Cisse picked up minor injuries midweek and I couldn't risk losing them for some important Premier League games looming. In the situation we're in, the most important thing is our Premier League status.

"The truth is that not once this season have I had my best side out. We're not too big to go down. I think it is important to spend. We lost Cheick (Tiote) and Demba (Ba), one to African Nations and one to a transfer.

"The most important thing for us is our Premier League status now because we've put ourselves at risk with all the injuries and the run we're on. We need to make sure we're a Premier League side next season. We're not hiding from that. We need our best players back.

"I'm a bit aggrieved I can't put out a stronger team than that because there are young players who gave everything. Unfortunately they shouldn't be playing for Newcastle in the third round, they should be in our development team.

"But that's where we're at. We didn't have enough good players on the pitch. That team is a shadow of the team we can put out. We never thought we'd be in this position. We should have brought in one or two more. We're paying the price.

"It didn't help us having to play with 10 men and I don't think the player helped us either. 'He looked up at the referee and started rolling around. It was disappointing to see a fellow professional do that. The foul is nothing.

"The (FA) Cup usually leads only to disappointment because, somewhere along the line, you get knocked out, but my record at Newcastle is awful.

"I never thought we would be in the situation we are in – I've got a united dressing room and I think the spirit is strong, but we need better players out on the pitch.

"We're down to the bare bones. We are in a difficult patch at the moment and we are very, very short. I think the board knows that.

"People talk about players taking responsibility, but that's a difficult word to quantify. They gave their full effort, but it's difficult for young players who should be in our development side to produce their best for the first team with everything that's going on.

"We are working round the clock to bring new players in and get injured players back, but I make no bones about it and there's no hiding away from it. We are fighting to stay in the Premier League, and we are not too good to go down."

Poyet:

"I'm honest enough to say we were lucky with the missing players from Newcastle. We needed to take advantage and I think we did that.

"The team Newcastle played last year was better than the team we played today. We had a great opportunity to beat a Premier League team because of the players they have missing.

"We were lucky. Lucky not to have Tim Krul in goal, not to play against Fabricio Coloccini, Danny Simpson, Yohan Cabaye, Cheick Tioté, Jonás Gutiérrez, Hatem Ben Arfa and Papiss Cisse.

"It was still up to us and I think we deserved it overall by the way we played. For me we were the better team, we controlled the game."

Fresh from a 19 game loan stint at St. Mirren (including 90 minutes on Wednesday) defender Paul Dummett made his Magpies first team debut wearing number 36. Dummy became the 31st player to appear in competitive senior team matches for the club so far this season.

Seven of the 14 players fielded by Newcastle in this tie were making their FA Cup debut for the club: messrs Elliot, Tavernier, Dummett, Anita, Bigirimana, Marveaux & Sam Ameobi.

Four of the 14 players fielded by Newcastle in this tie appeared in last season's 0-1 defeat on this ground: messrs Perch, Santon, Williamson & Shola Ameobi.

Magpies in Sussex:

2012/13 lost 0-2 (FAC)
2011/12 lost 0-1 (FAC)
1991/92 drew 2-2 G.Peacock, Kelly
1990/91 lost 2-4 Quinn, Brock
1989/90 won 3-0 Quinn 3
1983/84 won 1-0 Waddle
1982/83 drew 1-1 McDermott (FAC)
1978/79 lost 0-2
1961/62 won 4-0 Allchurch, Thomas, Kerray, Suddick
Total record against Brighton:
P

W

D

L

F

A

SJP

6

3

1

2

11

5

GG

6

3

1

2

12

8

League

12

6

2

4

23

13

SJP

(FA)

3

1

0

2

3

3

GG/AS

3

0

1

2

1

4

SJP

(LC)

0

0

0

0

0

0

GG

0

0

0

0

0

0

Cup

6

1

1

4

4

7

Tot

18

7

3

8

27

20
Newcastle's Third Round Record - last 20 years:
2012/13 Brighton & Hove Albion (a) lost 0-2
2011/12 Blackburn Rovers (h) won 2-1
2010/11 Stevenage (a) lost 1-3
2009/10 Plymouth Argyle (a) drew 0-0 (won replay)
2008/09 Hull City (a) drew 0-0 (lost replay)
2007/08 Stoke City (a) drew 0-0 (won replay)
2006/07 Birmingham City (a) drew 2-2 (lost replay)
2005/06 Mansfield Town (h) won 1-0
2004/05 Yeading (a) won 2-0
2003/04 Southampton (a) won 3-0
2002/03 Wolves (a) lost 2-3
2001/02 Crystal Palace (h) won 2-0
2000/01 Aston Villa (h) drew 1-1 (lost replay)
1999/00 Spurs (a) drew 1-1 (won replay)
1998/99 Crystal Palace (h) won 2-1
1997/98 Everton (a) won 1-0
1996/97 Charlton (a) drew 1-1 (won replay)
1995/96 Chelsea (a) drew 1-1 (lost replay on pens)
1994/95 Blackburn (h) drew 1-1 (won replay)
1993/94 Coventry City (h) won 2-0

This was the 22nd time that we've been the subject of a post-WW2 giant-killing and the third time in as many seasons, all under the management of Alan Pardew:
1948/49 Bradford Park Avenue (h) 0-2 (D2 beat D1)
1956/57 Millwall (a) 1-2 (D3S beat D1)
1957/58 Scunthorpe United (h) 1-3 (D3N beat D1)
1960/61 Sheffield United (h) 1-3 (D2 beat D1)
1961/62 Peterborough United (h) 0-1 (D3 beat D2)
1963/64 Bedford Town (h) 1-2 (NL beat D2)
1967/68 Carlisle United (h) 0-1 (D2 beat D1)
1971/72 Hereford United (a) 1-2 (NL beat D1)
1972/73 Luton Town (h) 0-2 (D2 beat D1)
1974/75 Walsall 0-1 (a) (D3 beat D1)
1977/78 Wrexham 1-4 (a) (D3 beat D1)
1979/80 Chester City (h) 0-2 (D3 beat D2)
1980/81 Exeter City (a) 0-4 (D3 beat D2)
1985/86 Brighton & Hove Albion (h) 0-2 (D2 beat D1)
1988/89 Watford (a) 0-1 (D2 beat D1)
1991/92 Bournemouth (h) 2-2, 3-4pens (D3 beat D2)
1993/94 Luton Town 0-2 (a) (D1 beat PL)
2002/03 Wolves 2-3 (a) (D1 beat PL)
2006/07 Birmingham City (h) 1-5 (CH beat PL)
2010/11 Stevenage (a) 1-3 (L2 beat PL)
2011/12 Brighton (a) 0-1 (CH beat PL)
2012/13 Brighton (a) 0-2 (CH beat PL)

Waffle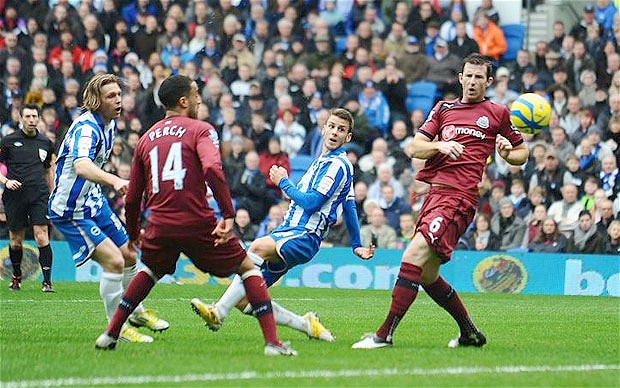 "And as for Brighton, despite the fact we'll be trooping to the far end of the country, the prospect of defeat seems almost preferable to what would be publicly portrayed as a morale boosting victory - but one that condemns us to at least one extra game. The worst case scenario would be a draw and a replay sandwiched between pivotal league games against Norwich and Reading."

That was our own downbeat assessment of our FA Cup campaign in the wake of losing at home to Everton last Wednesday and Alan Pardew seemed to be in a similar frame of mind - at least if his post-match interviews were any guide.

Pausing only to unconvincingly claim that this was the best team available to him - presumably to head off claims of fielding a deliberately weakened one - his comments then cut straight to the chase and the rather more pressing concerns of his side's increasingly parlous league position.

Pardew's previous exits at Stevenage and the Amex had ended with players missing for subsequent league fixtures and that particular curse was to strike again today. Lee Probert looked to caution Shola Ameobi based on secondhand information having not seen the first offence and defender David Lopez then did his best to ensure Shola walked with some disgraceful play-acting.

But to blame the loss on the dismissal would be to ignore the woeful hour that preceded it. We never had a toehold in this game and never looked like taking the lead. At times it was debatable whether we were actually there at all.

Brighton deservedly went ahead after James Perch had earlier cleared off the line and Rob Elliot grabbed another dangerous effort. Goal attempts at the other end saw long-range shots from Gael Bigirimana, Shola Ameobi and Vurnon Anita but none ever looked likely to beat Albion's Casper Ankergren.

The substitutions at half-time spoke volumes about our predicament; Paul Dummett returning from loan duty to make his senior debut and Ranger, whose Newcastle career looked to be over, brought on to partner Shola up front. But whatever the plan was, it went straight out of the window when Shola was booked twice in 15 minutes for fairly innocuous transgressions - although having already been carded, the second challenge was senseless to say the least.

Ex-Magpie Kazenga LuaLua appeared from the bench to a mixed reception from the away contingent and had half-chances to score either side of his side's second. Before that clincher though, ten man United enjoyed their best spell and both Marveaux and Ranger missed reasonable opportunities to force what would have been an unwanted replay - something certainly not in the script.

Please don't call this result a cup shock though. A Newcastle side featuring the currently-pined-for creative duo of Hatem Ben Arfa and Yohan Cabaye lost here last season to a Seagulls side who were in better form and backed by a more optimistic set of supporters.

That was more of an upset than this, even if Brighton have stagnated since. Twelve months later, questions are starting to be asked round these parts why Gus Poyet's esteemed reputation has so far failed to mount a convincing promotion charge and the Seagulls sit behind teams managed by less glamorous chaps like Steve Bruce, Tony Mowbray and Nigel Pearson.

Accompanying our "Mission Accomplished" headline, was the final score, recorded "Brighton 2 Newcastle Res 0" but that's not quite the full story - as the side we fielded here was in no way comparable to the second string XI trotted out at Peterborough in the League Cup in 2009.

That night Chris Hughton made ten changes, replacing them with his reserve side. Here today though were three quarters of our current first-choice back four, three of the midfield (including both summer signings) and a man who scored our last Premier League winner. Calling it a weakened team is grossly misleading - there was no semblance of a team here at all.

After some reflection - and a withering description of Ameobi junior's poorness delivered within unintentional earshot of that player at Clapham Junction station on Saturday afternoon - it did occur to us that not only did the manager pick a team to lose, but he also did so to try and highlight the paucity of fringe talent waiting in the wings (or on them).

Was it in fact a plea for proper players? A re-run of the Bordeaux away game, when a similar set of loafers chucked away the opportunity to enhance their reputations and increase the chance that they'll remain within touching distance of the matchday squad when or if the injury problems and recruitment difficulties ease. A public parade of the rubbish he's got beyond the first XI.

If so, it's a dangerous game for Pardew to play. His predecessor Hughton was far less voluble and had accumulated rather more points when he was given the elbow. The manager's calls for further recruitment have grown more strident in recent weeks and unless he's pushing against an open door and is secretly confident of the required reinforcements arriving, to start harking back to the failures of his superiors to do the business last summer is a risky strategy.

At the risk of turning on the Geordie cup cliché machine, it's a disgrace to see us limp out of a competition that we were synonymous with once upon a time. We pilloried Manchester United and the FA for their pullout for that World Club Championship thing once upon a time, but three successive exits to lower league opposition is the sort of suspicious pattern that alerts online bookies.

It's an absolute tragedy for Newcastle supporters that the FA Cup is now considered to be on a par with the Anglo Scottish Cup or Zenith Data Systems trinket. But putting aside memories of "it's wor cup", fastest Wembley goals and the like, to have gone from the Robledo Brothers to the Chuckle Brothers - sorry, the Ameobis - is hard to take - even if there are extenuating circumstances that made this an almost desirable result for the manager and the club.

What sticks in the throat of those fans who journeyed here and those who scowled at the telly everywhere between Blyth, Bucharest and Baltimore was the fact that Newcastle were so obviously going through the motions. Call it passion or professionalism or whatever, "it" was in remarkably short supply here among those players clad in our perennially unlucky maroon kit.

If the manager is looking for sympathy among his followers though, he won't achieve it through talking up the likes of Shola as a big player. His mackem quelling capabilities aside, the number 23 continues to do exactly what he's done for over a decade: mix up unrelenting averageness with occasional inspiration At the time when Pardew's visits to Tyneside were once a season, Newcastle fans were watching, a younger Shola was proving that he couldn't play two games in four days.

But with the departure of Ba, Pardew had nowhere else to turn - as he did when Shola was just stuck on the field in game after pre-season game like a pack horse. Whether Papiss Cisse was 100% fit or not is immaterial, he shouldn't have been anywhere near this tie given both our current plight and the continued ill-fortune that dogs us. Even if Cisse had been an unused sub, he'd probably have slipped on a discarded stick of Brighton rock in the car park and knacked himself for six weeks.

Going back to our "simply the worst" theory, perhaps the non-appearance of Adam Campbell was a deliberate ploy to avoid tarring him with the same brush - or an admission that the livewire young forward might just do enough to unsettle Brighton into conceding a goal.

Obertan's replacement by Marveaux meanwhile looked like a meaningless rotation for the ten man side that might have been aimed at retaining the ball long enough to reduce the chances of Brighton knocking a few more goals in to achieve a more eye-catching victory that would have in turn made the newspaper match reports even more cutting.

Presumably Shane Ferguson is still in the naughty corner after his Emirates misadventure, while Mehdi Abeid meanwhile looked exactly what he is - a discard from the Racing Club Lens reserve side. We've let go of midfielders who were no less talented - and had visibly more appetite for wearing this shirt. Today he was almost comically bad.

God knows how poor Romain Amalfitano is, if he cannot force his way into this misfits XI. And as for Nile Ranger, national TV, national embarrassment. A scruffy, deluded idiot with no place in this club at any level. Again though, not a rookie - this was his 62nd senior team appearance since August 2009. Paul Goddard made 70.

So, 17 Premier League games to secure our top flight status and another cup campaign, although our attitude towards the Europa League in February will presumably depend on how many points have been collected by then. On current form, seeing a re-run of this tripe from this lot will be a more powerful disincentive to go to Kharkiv than the sub-zero temperatures.

The fixture list we were facing this term was available for all to see in June and anyone matching up our squad with the programme that lay ahead could see there was a serious mismatch. We now need to play catch-up on and off the field and new signings and players returning from injury need to give our season a dramatic lift. Instantly.

That's the essential short term fix, but the long-term one is just as necessary and difficult and involves working out once and for all why we're incapable of rearing proper players. Moneybags Manchester City have had a similarly poor first half of the U18 and U21 season to Newcastle but nobody seems to care, as long as high rollers remain in the first team.

We don't have that luxury and have to develop talent, be it from up the road or further afield. Whether the raw materials are inferior or the tuition is lacking is for someone else to decide. And hopefully set about fixing. Finally. Dumping the likes of Ranger would be a good start though and send out a positive message. We're as lacking in credibility as we are in Premier League points.


Biffa